Classic Slow Cooker Pot Roast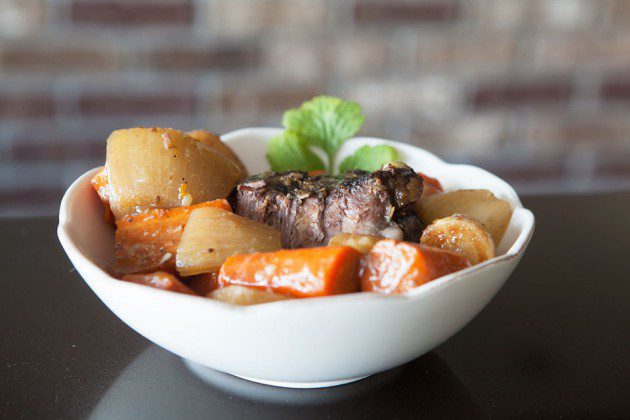 3 lbs. beef chuck roast, tied around with twine (if you buy it at Whole Foods, it'll come this way already)
1 medium white onion, peeled and cut into 1" pieces
3 large carrots, peeled and cut into 1" pieces
3 large parsnips, peeled and cut into 1" pieces
4 garlic cloves, minced
2 cups + 2 tbsp low sodium vegetable broth
2 tbsp Worcestershire sauce
2 tbsp ghee, or homemade clarified butter
1 tbsp + 1 tsp tapioca flour
1 tsp ground thyme
2 tsp coarse kosher salt
1 tsp freshly ground black pepper
In a mixing bowl, stir together tapioca flour and 2 tbsp vegetable broth until smooth. Add to crockpot, along with remaining broth, Worcestershire sauce, onions, carrots, parsnips and ground thyme.
Preheat cast iron skillet over medium heat. Season roast with sea salt and pepper, and rub with garlic. Add ghee to skillet, and use your tongs to place roast on skillet. Sear on all sides, about 2 minutes per side. Using tongs, carefully transfer the seared roast to crockpot, placing it on top of vegetables. Cover and cook on low for 8 hours.
Tools You'll Need:
- Crockpot
- Cast iron skillet (or frying pan)
- Tongs
- Small mixing bowl
- Cutting board and knife
- Measuring cups
- Measuring spoons
Serving size:
1 serving --
Calories:
624
Fat:
37 g.
Carbohydrates:
14 g.
Protein:
61 g.
Recipe by
AmazingPaleo.com
at https://www.amazingpaleo.com/2016/02/18/classic-slow-cooker-pot-roast/