Pumpkin Walnut Protein Bars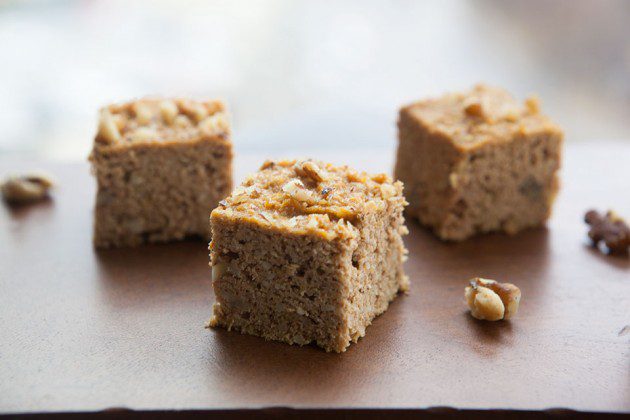 6 tablespoons Alter Whey Protein Isolate (this protein powder is unsweetened)
½ cup cashew meal
½ cup coconut flour
1 teaspoon baking powder
1 teaspoon cinnamon
½ teaspoon ground ginger
¼ teaspoon ground cloves
½ teaspoon sea salt
½ cup pumpkin puree
3 eggs
½ cup full fat canned coconut milk
4 tablespoons honey
1 teaspoon vanilla extract
¼ -½ cup chopped walnuts
Coconut oil spray, to spray baking dish
Preheat oven to 325 degrees Fahrenheit.
Spray baking dish with coconut oil spray and set aside.
Add all dry ingredients (except for the chopped walnuts) to mixing bowl and mix until well combined. Set aside.
Add all wet ingredient to your food processor and process until smooth. Pour wet ingredient mixture into dry ingredient mixture and combine. Fold in chopped walnuts and mix until combined.
Pour batter into baking dish and bake for 35-38 minutes.
Let cool completely before cutting into 16 protein squares. Enjoy!
Tools You'll Need:
- 8x8 baking dish
- Food processor
- Mixing bowl
- Spatula
- Measuring cups
- Measuring spoons
Serving size:
1 bar --
Calories:
141
Fat:
9 g.
Carbohydrates:
11 g.
Protein:
6 g.
Recipe by
Amazing Paleo - Healthy Paleo Diet Recipes
at https://www.amazingpaleo.com/2016/02/16/pumpkin-walnut-protein-bars/