Coffee Nut Protein Muffins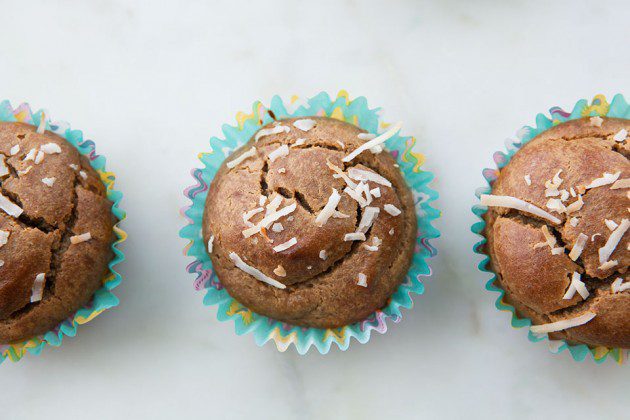 1 cup raw cashews
1 tbsp cashew butter
4 tbsp Alter Whey Protein Isolate (unsweetened whey isolate protein powder)
½ tbsp baking powder
½ tbsp baking soda
2 eggs
1 banana
2 tbsp honey
1 shot espresso
1 tbsp coconut oil, melted
2-3 tbsp unsweetened coconut flakes, to garnish
1 cup raw cashews
1 tablespoon cashew butter
4 tablespoons Alter Whey Protein Isolate (unsweetened whey isolate protein powder)
½ teaspoon baking powder
½ teaspoon baking soda
2 eggs
1 banana
2 tablespoons honey
1 shot espresso (I used this)
1 tablespoon coconut oil, melted
2-3 tablespoons unsweetened coconut flakes, to top muffins
Coconut oil spray, to spray muffin liners
Preheat oven to 350 F. Line a muffin pan with 9 muffin liners and set aside.​​​​​
Add all ingredients, except coconut flakes, to a blender and blend on high until smooth.
Distribute batter evenly between the 9 muffin liners, top each with coconut oil flakes and bake for 30 minutes. Let cool a bit and enjoy right away, or refrigerate for later consumption for up to 1 week.​​​​​​
Tools You'll Need:
- Muffin pan
- 9 muffin liners
- High speed blender
- Spatula
- Measuring cups
- Measuring spoons
Serving size:
1 muffin --
Calories:
285
Fat:
20 g.
Carbohydrates:
11 g.
Protein:
7 g.
Recipe by
AmazingPaleo.com
at https://www.amazingpaleo.com/coffee-nut-protein-muffins/