Kale and Golden Beets Salad with Blood Orange Vinaigrette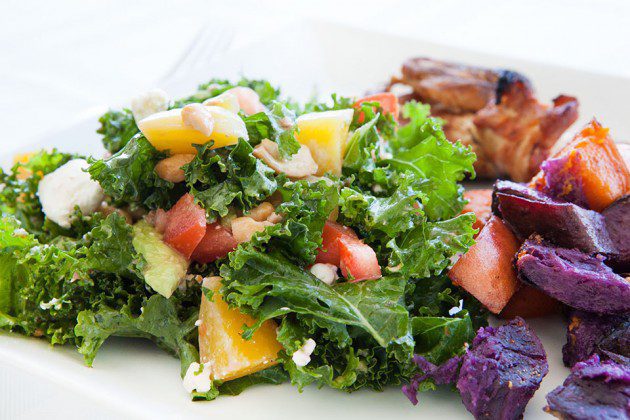 ¾ cup olive oil
¾ cup freshly squeezed blood orange juice (from 3 medium oranges)
½ teaspoon finely grated blood orange zest
2 tablespoons freshly squeezed lemon juice
2 tablespoons finely chopped shallots
2 teaspoons whole-grain mustard
1 teaspoon sea salt
½ teaspoon freshly ground black pepper
1 bunch of kale
3 golden beets, trimmed and peeled
1 roma tomato, diced
4 tablespoons chopped walnuts
4 tablespoons feta cheese (optional)
Place all ingredients (except oil) in a medium, nonreactive bowl and whisk to combine.
While whisking, add oil in slowly until fully incorporated.
Refrigerate in a container with a tight lid for up to 3 days.
Place beets in a saucepan and add water to cover; add in 1 teaspoon of white distilled vinegar as well. Bring to a boil, reduce heat and simmer until tender, about 35 minutes. Place pot under running cold water and let rinse until beets can be handled. Let cool completely and cut into 1" squares.
Wash, pat dry and chop kale. Place kale in salad bowl, and add in tomatoes and cooked beets. Pour in about ¼ cup vinaigrette (save remaining for later use) and toss to coat.
Top with walnuts and feta cheese (if using). Serve right away and enjoy. Don't forget to add your favorite grilled protein and a side of sweet potatoes to make this a complete meal!
Recipe by
AmazingPaleo.com
at https://www.amazingpaleo.com/2016/04/11/kale-golden-beets-salad-blood-orange-vinaigrette/