Chocolate. A weakness to many…to which I am no exception. It is so indulging, so satisfying, so comforting. This plant-based all-natural delight has played, and continues to play, a very important role in our culinary world. There is so much we can make with chocolate; anywhere from cocoa rubbed ribs to chocolate chip waffles. Chocolate is so versatile and I love that about it!
Chocolate is also good for you…and that my friends, should make you rejoice. Something that is oh-so-good tasting AND is also good for you? That is a total winner in my book. Chocolate contains many antioxidants that help your body fight against free radicals, which could potentially cause cancer or heart disease. It also has been said to reduce LDL cholesterol, reduce blood pressure and stimulate endorphin production (which makes us HAPPY!)
Our beautiful mother nature sure knows how to pamper us!
Today, I am sharing a recipe that has triple the goodness. My Paleo Triple Chocolate Muffins will take you to a whole new world. They are so irresistible…so much so in fact, that my husband just ate three of these babies in a row in less than two minutes.  Ha! He is funny. But smart…in that he recognizes a good recipe right away.
Make these Paleo Triple Chocolate Muffins during a rainy afternoon (or during a really hot one, where you can barely stand being outside), they will sure lift your spirits and bring you joy!

Paleo Triple Chocolate Muffins
Ingredients
3 cups almond flour
2 tablespoons of coconut flour
1 teaspoon of baking soda
½ teaspoon of sea salt
1 teaspoon of cinnamon
½ cup of shredded coconut
3 tablespoons of unsweetened cocoa powder
4 eggs (including yolks)
½ cup of coconut milk (canned)
2 teaspoons of vanilla extract
4 tablespoons of maple syrup
¼ cup of cacao nibs
¼ cup carob chips (divided)
½ - 1 tablespoon of unsweetened almond milk
Instructions
Preheat oven to 350 degrees.
Place muffin liners in muffin pan. Set aside.
Combine dry ingredients (almond flour, coconut flour, baking soda, sea salt, cinnamon, shredded coconut and cacao powder) in a bowl. Set aside.
Combine wet ingredients (eggs, coconut milk and maple syrup) in a separate bowl. Set aside.
Pour wet ingredient mixture into dry ingredient mixture and combine well.
Fold in cacao nibs to muffin mixture.
Add muffin mixture to muffin liners; divide mixture evenly between the 12 muffin liners.
Bake for 40-45 minutes.
Once muffins have been baked, let them cool for an hour.
Melt ⅛ cup of carob chips (along with a ½ -1 tablespoon of almond milk), and using a small spoon drizzle it over your muffins. Sprinkle the other ⅛ cup of carob chips right on top!
Eat and be Paleo-merry!
Notes
Tools You'll Need:

- Measuring cups
- Measuring spoons
- Mixing bowls
- Spatula
- Muffin pan
- Muffin liners (x12)
- Small microwavable bowl
- Small spoon
Nutrition Information
Serving size:
1 muffin --
Calories:
249
Fat:
19 g.
Carbohydrates:
13 g.
Protein:
9 g.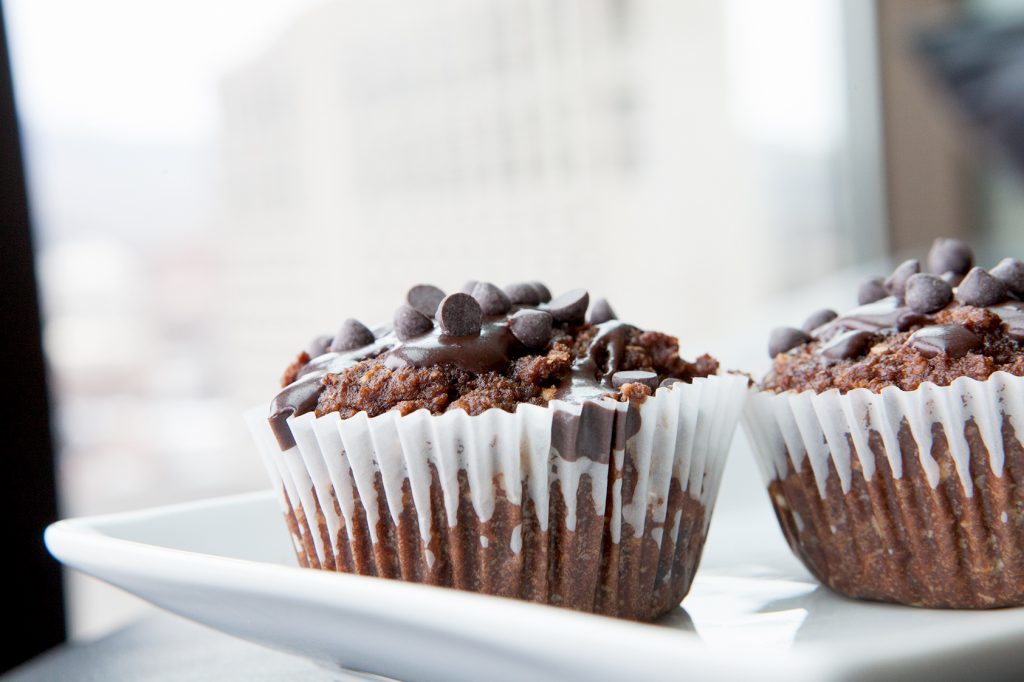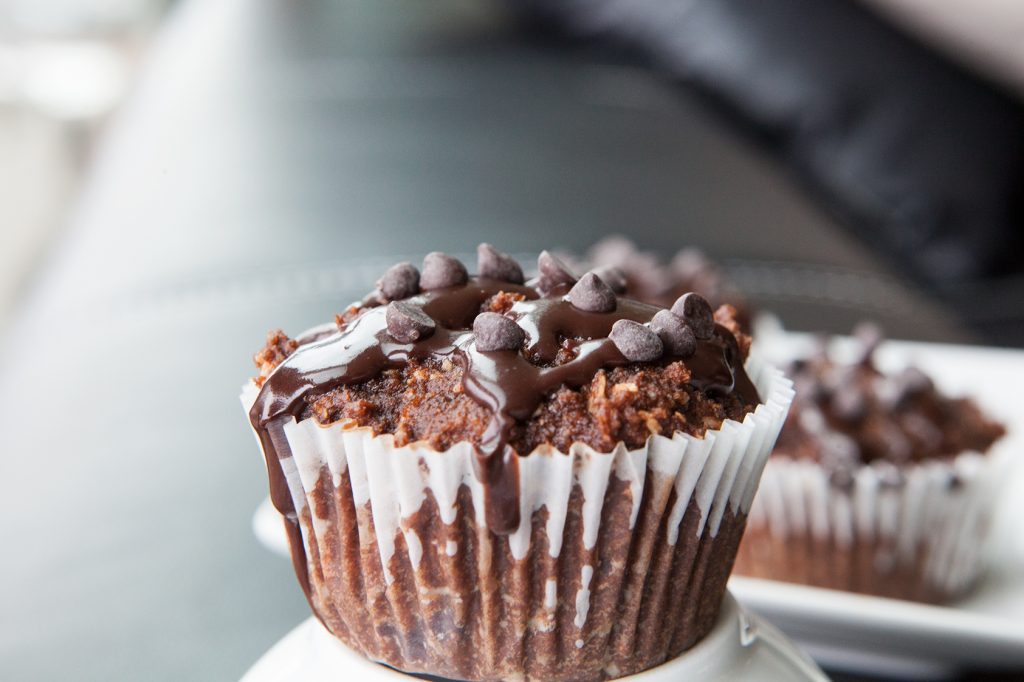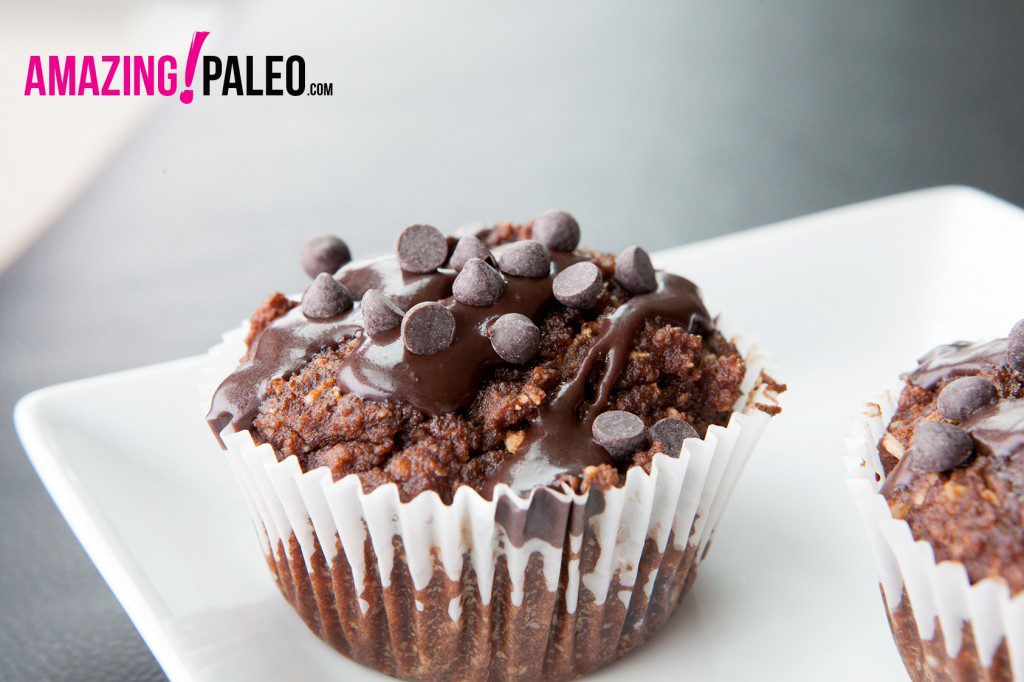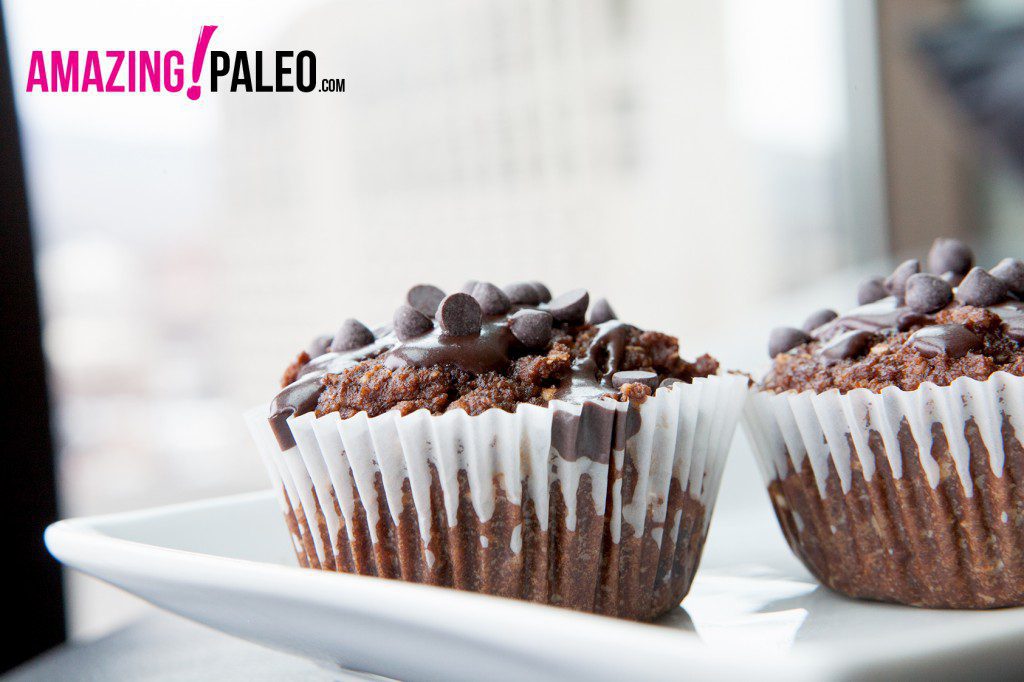 PIN ME!