I have THE fish recipe for you. My Paleo Diet Sea Bass in Coconut Sauce Recipe is colorful and flavorful…one of my favorite fish recipes to date!
This Paleo Diet Sea Bass in Coconut Sauce recipe is very easy to make, so no matter what your skill level in the kitchen is, you'll be able to make this recipe no problem and feed your family a healthy Paleo Diet recipe they will love.
At home, I served it with brown rice (which is gluten free and I can tolerate) and with Patacones…if you don't eat rice, you can serve it with cauliflower rice or with Parsnip Mash instead…those two would work just fine!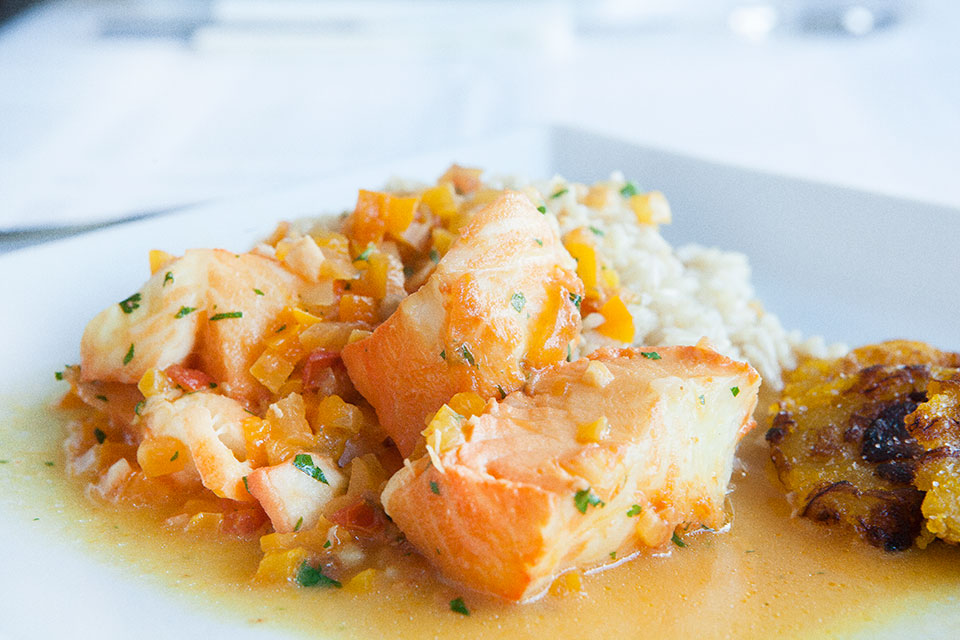 The weather in Boise has been warming up little by little, and the days have been lasting longer and longer. This is just SO exciting! If you live in the US, I am sure you have been experiencing the same kind of thing. Seeing flowers bloom, watching patio restaurants open again for business, hearing birds chirp in the morning…it brings so much hope and joy, as we know that good weather is just around the corner! I cannot wait to be able to go outside without a sweater or jacket on, and to go bike riding on the weekends.
Till that great weather comes, I'll leave you with a taste of the coast. The Ecuadorian coast to be precise. This fish dish is very popular where I am from, as all of these ingredients are fresh and readily available year round (especially the coconut!). Enjoy!

Paleo Diet Sea Bass in Coconut Sauce Recipe
This Paleo Diet Sea Bass in Coconut Sauce Recipe is packed with flavor and texture. A delicious fish recipe that is healthy, gluten free and dairy free!
Ingredients
For the Sea Bass:
For the Coconut Sauce:
2 tablespoons extra virgin olive oil
1 medium white onion, finely chopped
2 bell peppers, finely chopped (I used yellow and orange bell peppers)
2 large tomatoes, finely chopped
1 full fat canned coconut milk
1 teaspoon finely ground tapioca flour
4 tablespoons finely chopped cilantro
Sea salt to taste
Instructions
Place Sea Bass in a mixing bowl and set aside.
Mix orange juice, lime juice, garlic, cumin and Sazon Goya Seasoning in a small mixing bowl. Pour mixture over sea bass, cover and refrigerate for 2 hours.
Place frying pan under medium heat; once hot, add olive oil. Add in onions, tomatoes and peppers, and cook for about 5 minutes. Add sea salt to taste.
Add coconut milk and tapioca flour to the frying pan, mix well and let cook for about 10 more minutes.
Reduce heat to low, add the sea bass squares (don't add the sauce it was sitting in though) to the frying pan and let cook for about 20 minutes.
Sprinkle chopped cilantro and serve. I like to enjoy this fish with brown rice (if you don't eat rice, substitute it with cauliflower rice) and Patacones.
Notes
Tools You'll Need:
- Mixing bowls
- Cutting board
- Sharp knife
- Citrus juicer
- Measuring cups
- Measuring spoons
- Large frying pan
- Spatula
Nutrition Information
Serving size:
1 serving --
Calories:
403
Fat:
19 g.
Carbohydrates:
16 g.
Protein:
43 g.