Okay. This Strawberry Poppy Seed Paleo Bread is going to blow your socks off. Not kidding! I am adding it to my Top Five Favorite Paleo Treats list because that's how GOOD it is! #iminlove
I have a set of must-haves when it comes to Paleo treats, and this little one fits every single thing on my special list! Let me show you what I mean:
Sweetness…check.
Moistness…check.
Fluffiness…check.
Nuttiness…check.
Uber satisfying…check!
And on top of all of the wonderful things mentioned above, this bread is also incredibly nutritious. I'm telling you, a total winner.  MAKE IT!
This bread is made with all-natural whole foods, all of which are Paleo-approved. Every single ingredient in this recipe serves a purpose, and that purpose is to create an incredible bread that is not only delicious, but that is also good for your body! Gotta love healthy treats; its the only kind we should ever eat!
I hope you get a chance to make this yummy bread in your own kitchen (it is very easy to prepare, so don't be shy), and if you do, I bet it'll bring just as many smiles to your home as it did to ours!
As always, please leave comments below of what you thought or any questions you might have!
Strawberry Poppy Seed Paleo Bread
Ingredients
For the strawberry sauce:
1 cup diced ripe strawberries
2 tablespoons honey
2 tablespoons lemon juice
For the bread:
Instructions
For the strawberry sauce:
Place all strawberry sauce ingredients in a high-speed blender and blend on high until smooth. Transfer to a small mason jar and refrigerate for 1+ hours.
For the bread:
Preheat oven to 350 degrees Fahrenheit.
Grease mini bread pans and set aside.
Peel and grate zucchini. Place grated zucchini on a paper towel to let zucchini moisture be absorbed by the towel.
In a bowl, mix together dry ingredients (except poppy seeds).
In a separate bowl, mix together wet ingredients (except zucchini and strawberries).
Pour wet ingredients into dry ingredients, and mix well to combine. Then, fold in zucchini, strawberries and poppy seeds.
Divide mixture into three bread loaves and bake for 45 minutes.
Remove from oven and let cool. Once cooled completely, remove from pans, slice, top with strawberry sauce and enjoy!
Notes
Tools You'll Need:
• High speed blender
• Two medium bowls
• Measuring cups
• Measuring spoons
• Cutting board
• Sharp knife
• 3 mini bread loaves (5½" x 3" x 2¼" high)
Nutrition Information
Serving size:
1 slice --
Calories:
213 kcal.
Fat:
14 g.
Carbohydrates:
17 g.
Protein:
5 g.
*Recipe slightly modified from PaleOMG.com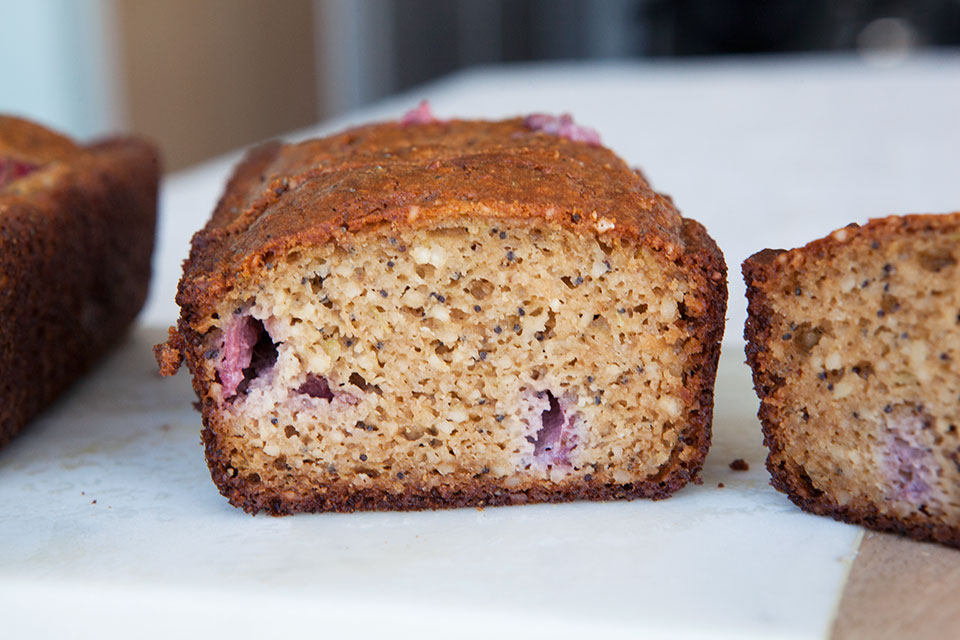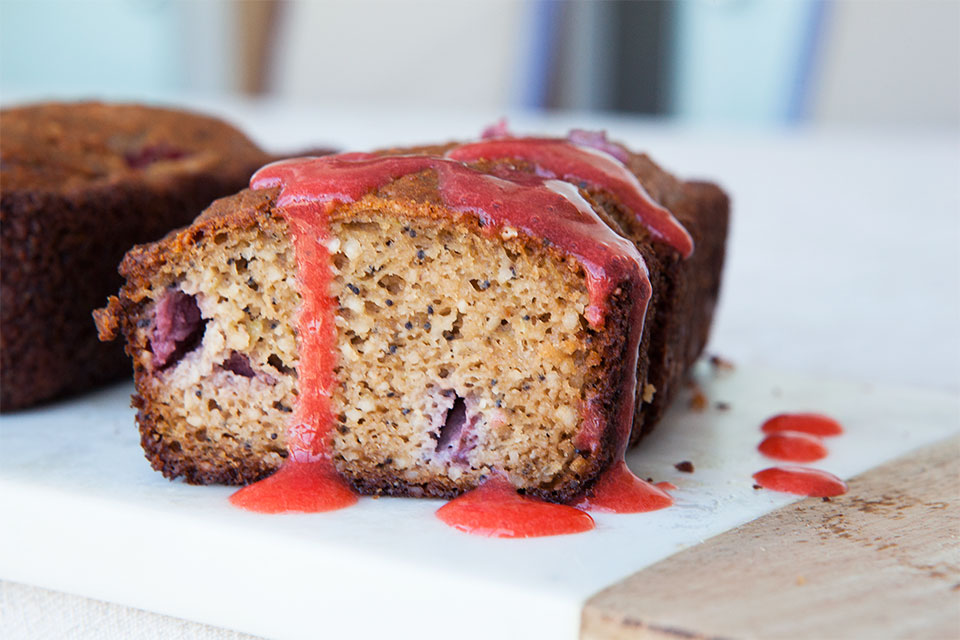 PIN ME!