I just saw two of my really good friends from college this past Friday. We haven't seen each other for a little over two months and we needed to change that, so we planned a date night in a matter of minutes over chat. We decided that movies + treats + sweatpants was the best combo for a chill girl's night-in.
Before our date, my friends told me they've been craving my Paleo brownies for a while and asked me to bring a batch over. I was super excited about baking them a treat, because I absolutely LOVE baking goodies for people I love and love to watch them eat it! I know, I know. I am one of those weirdoes that likes to watch people eat.
For our specific kind of get-together, however, I knew this Paleo Chocolate Chunk Banana Bread would be a better fit! I told them that this new recipe had a moist brownie-goodness-feel to it, delicious chocolate chunks with every bite, and was a lot less heavy to enjoy at night. They totally embraced the Paleo bread idea…and so, ingredient shopping I went!
Girl's night was so fun! We watched funny movies, talked our ears off, ate tons of delicious food and sipped on our fave drinks.
My friends loved the bread and said they felt like it was a combination of a cake and a brownie. One of them said that she couldn't even taste the banana in it, that I had "hid" it pretty well…that if she had to guess what it was, she would've guess chocolate cake for sure.
So if you're needing a banana bread that is a less banana-ey and more chocolat-ey, this treat was made for YOU!
Oh oh, and I recommend enjoying it with friends. It just makes it taste THAT much better. XO

Paleo Chocolate Chunk Banana Bread
Ingredients
¾ cup raw cashews
½ cup coconut flour
½ cup raw cacao powder (or unsweetened cocoa powder)
1 teaspoon baking powder
1 teaspoon baking soda
Pinch of sea salt
4 medium ripe bananas
4 large eggs
2 tablespoons honey
1 teaspoon vanilla extract
¼ cup coconut oil
⅓ cup Enjoy Life semi-sweet chocolate mega chunks
Coconut oil spray (to grease bread pan)
Instructions
Preheat oven to 350 degrees Fahrenheit.
Grease bread pan with coconut oil spray (or regular coconut oil) and set aside.
Add cashews to food processor and process until butter-like texture is reached. Allow cashew butter to cool (about 5 minutes), and add in bananas, eggs, vanilla extract and coconut oil. Process until smooth.
Add dry ingredients (coconut flour, cocoa powder, baking powder, baking soda and sea salt) to a mixing bowl and combine well.
Pour wet ingredients from food processor into dry ingredients, and mix well.
Fold in chocolate mega chunks to the mixture, and pour batter into bread pan. Add a few mega chunks on top of the batter for decoration.
Bake for 55 minutes.
Let cool and refrigerate overnight before slicing. Enjoy!
Notes
Tools:
- Bread pan (9" x 5")
- Food processor
- Mixing bowl
- Spatula
- Measuring cups
- Measuring spoons
Recipe slightly modified from
Bakerita.com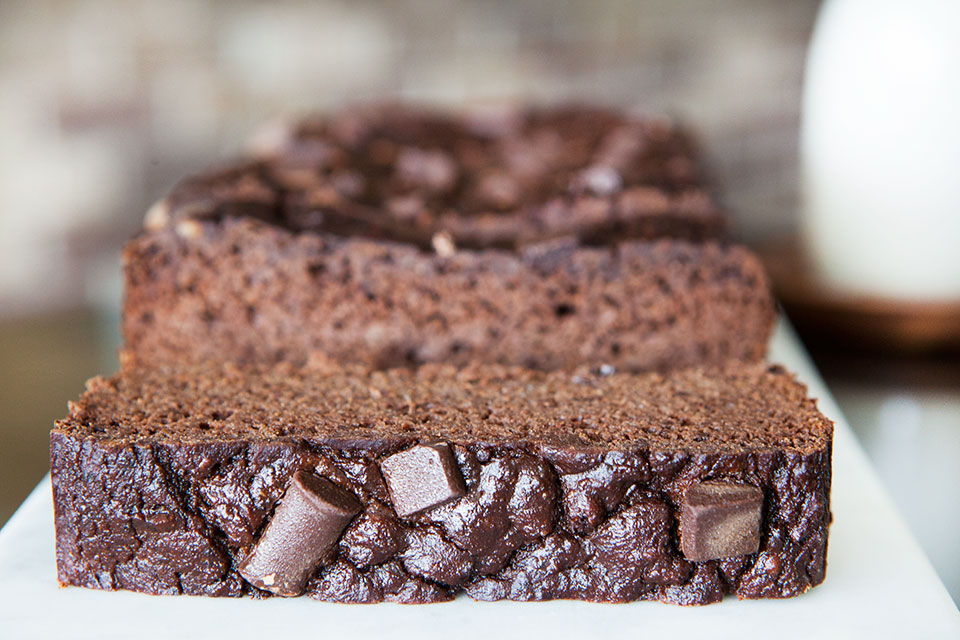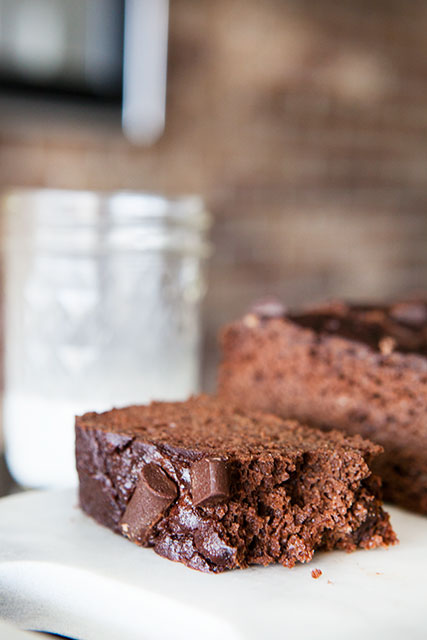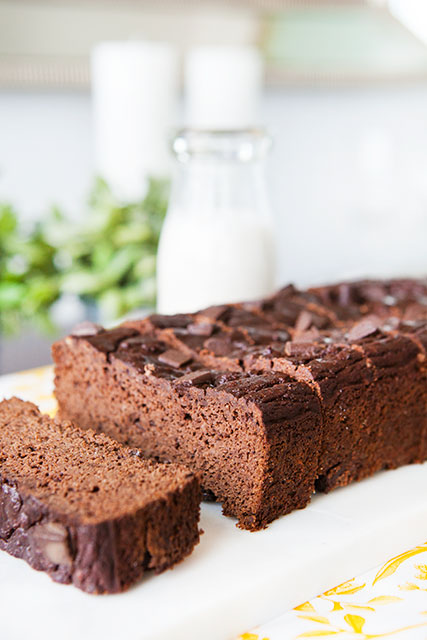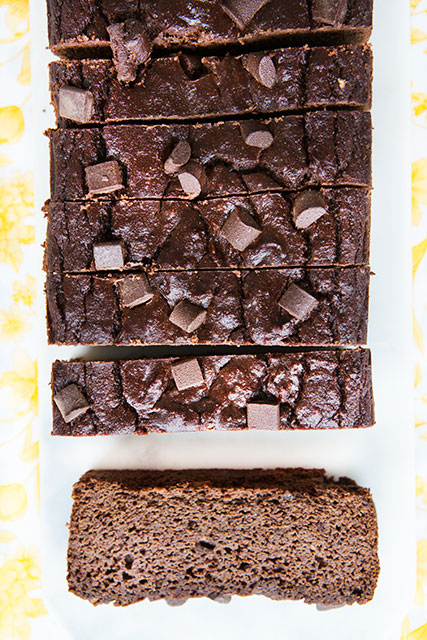 PIN ME!