Say hello to my gluten-free, dairy-free, processed sugar free, and all-paleo Carrot Cake Cupcakes! I created this little number earlier this summer, and for one reason or another, I haven't been able to post them on the blog until today! Better late than never though, right? So here they are, in all of their glory, ready to be made by you and fill your house with delicious carrot-cake aromas and put smiles on your (and your family's) face!
This recipe came to be, because one of our friends is a carrot cake lover and I was on dessert duty on one of our get togethers. We were going to an outdoor play where you can bring a picnic, and I thought that individual carrot cake cupcakes would be cute to bring! So I went to Walmart, got myself a big cupcake carrier and got to baking. I used a homemade paleo cheesecake frosting and candied walnuts to decorate them, and they turned out super cute and yummy; I ate one at home prior to going to our event, and boy, were they delicious! After enjoying my treat, I carefully placed the rest of the cupcakes in the cupcake carrier and left them in the fridge, so they'd be nice and cold for our friends.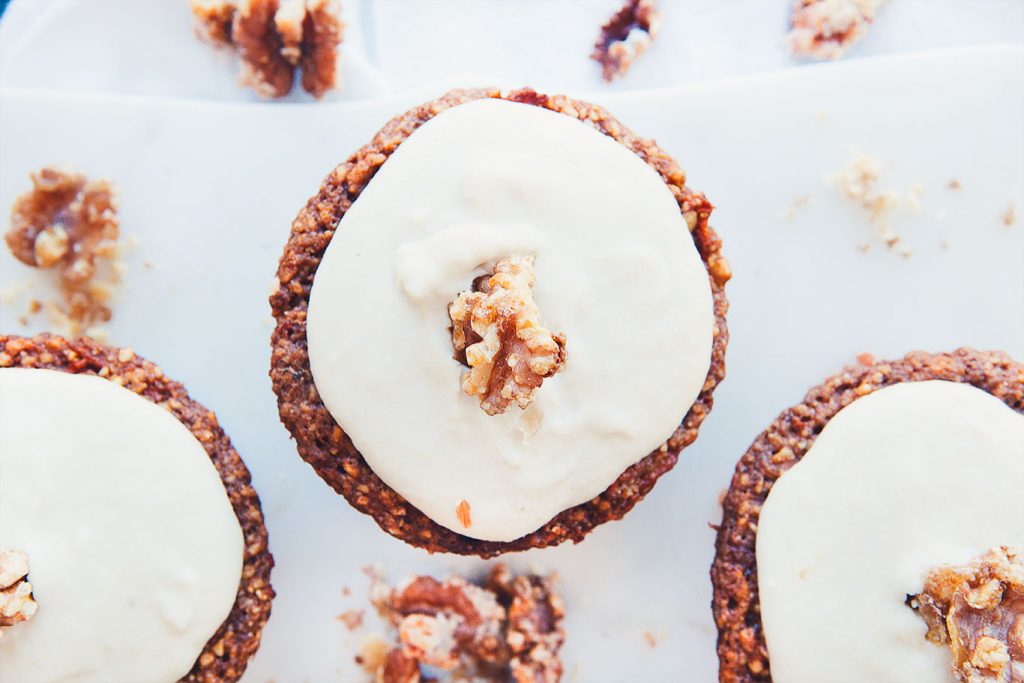 We got to our event and it was super hot and humid. Some of our friends were already there and they had brought a large blanket for all of us to sit on and were using it to save our spot. It was a very hot (and kind of humid) day, and I immediately started worrying about my cupcakes, since I knew we'd eat them after everyone enjoyed their salty snacks first. I worried because I was afraid the heat would make them soggy and not as enjoyable.
And, well, my fear came true. After about two and a half hours of being under the sun and hot temperatures, the cheesecake frosting and the muffins were not as tasty as they were at home. BUMMER! The cheesecake frosting sort of turned yellow, which made them not very appealing to eat, and the cupcake itself was sort of soggy (just like I predicted). My friends still ate them, bless their hearts, but I knew they were not as excited about them. Maybe if I had taken them frozen, it would've worked? Who knows.
Lesson to be learned: eat them at home after baking or right after taking them out of the fridge. Do not let them bake in the sun like we did, haha. Glad it was me who learned the lesson and not you!
So, pretending the hot summer day never happened to these cuties, and that they stayed in their perfect original shape, I'd say that these are PERFECT for a get together. They are individually portioned, so you as a host don't have to worry about slicing the dessert and dishing it, they pack a perfect punch of flavors with every bite, they are adorable and make for a really nice dessert table setting, and they are very fun to eat.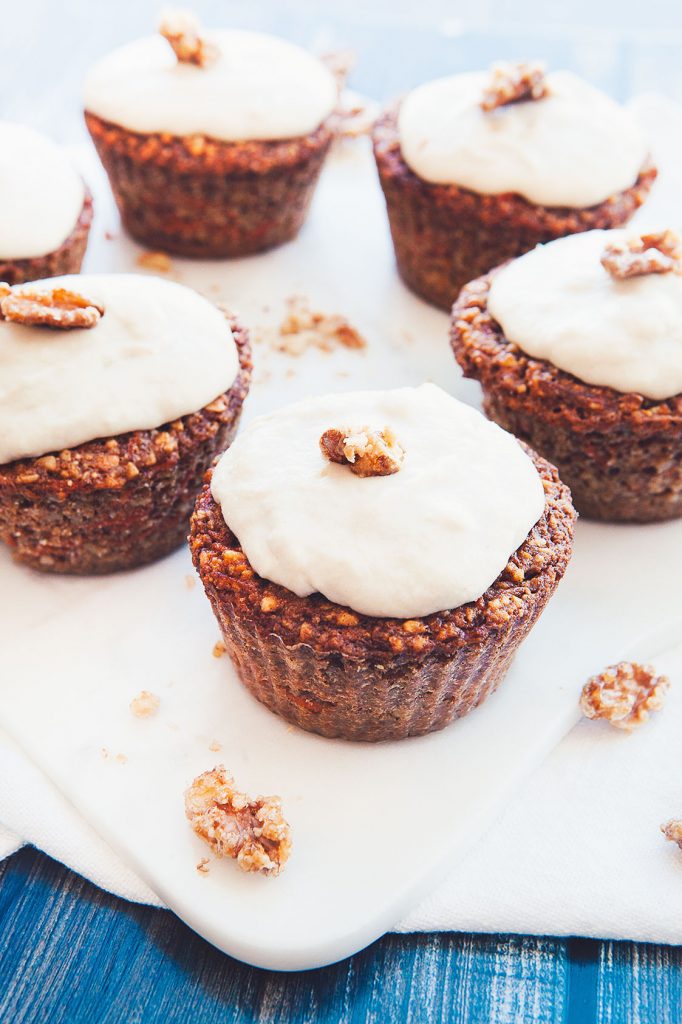 They are also nutty, spicy, healthy, nutritious and a wonderful treat for the upcoming fall season! If I were you, I'd make these as soon as the fall weather drops on us, on a colder afternoon to enjoy them with a hot cup of tea while sitting on your favorite couch with a blanket! Sounds really nice, doesn't it?
Hope you enjoy this recipe as much as I did prior to heading out to our friend get together, hahah! Be sure to accompany them with a warm beverage (coffee, tea) or with a cold glass of non-dairy milk. YUM!

Carrot Cake Cupcakes
These easy to make Carrot Cake Cupcakes are naturally gluten free and dairy free, and make for the perfect party dessert. Delicious, moist and healthy!
Ingredients
For the cupcakes:
2 cups cashew flour
3 cups shredded carrot
6 eggs
½ cup melted coconut oil
⅔ cups maple syrup
2 tbsp pumpkin pie spice
1 tsp baking powder
1 tsp baking soda
½ tsp sea salt
For the cheesecake topping:
1 cup raw cashews, soaked overnight and rinsed
⅓ cup honey
2 tsp fresh lemon juice
3 tbsp canned full fat coconut milk
⅓ cup melted coconut oil
Candied pecans, to decorate
Instructions
Preheat oven to 350 F. Line a muffin pan with 12 muffin liners and set aside.
Place the cupcake ingredients in a standing mixer's bowl. Place bowl in standing mixer and mix on medium until incorporated. Divide the batter into the 12 muffin liners and bake for 45 minutes. Let cool completely and refrigerate.
Add cashews to a high-speed blender and blend on high until smooth. Add in honey, lemon juice and coconut milk and blend until well combined. While blender is on, slowly add in melted coconut oil. Blend until mixture is smooth and creamy.
Add 3 tbsp of the cheesecake topping on top of the cupcakes and decorate with candied pecans. Place cupcakes in refrigerator overnight before eating.
Notes
Tools You'll Need:
- Muffin pan
- 12 muffin liners
- High speed blender
- Mixing bowls
- Spatulas
- Standing mixer
- Measuring cups
- Measuring spoons
- Citrus squeezer
Nutrition Information
Serving size:
1 cupcake --
Calories:
564
Fat:
49 g.
Carbohydrates:
30 g.
Protein:
8 g.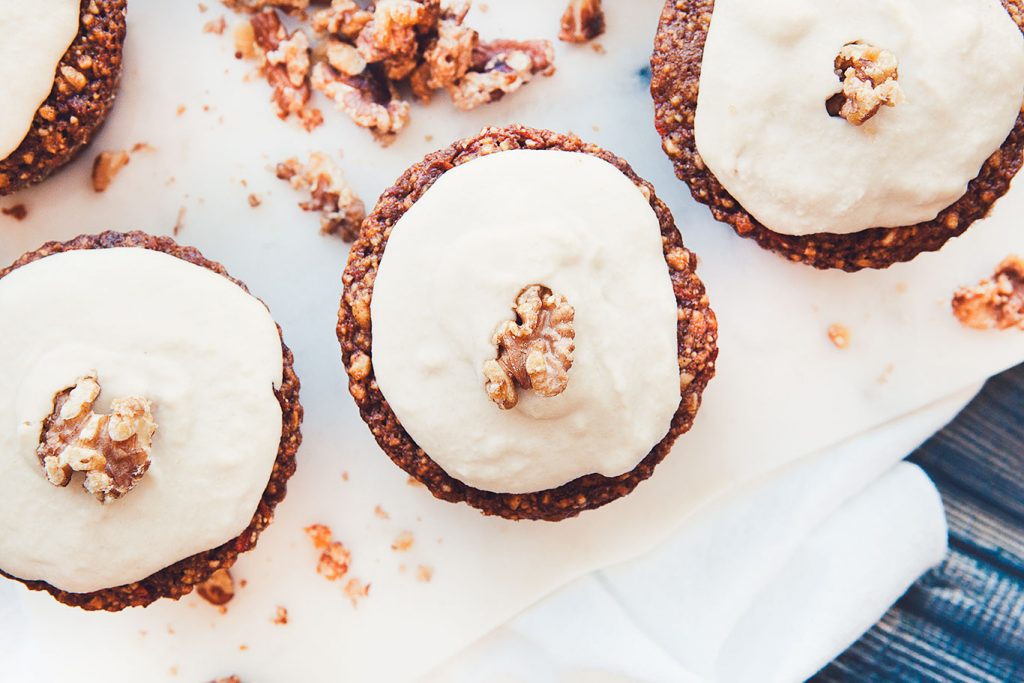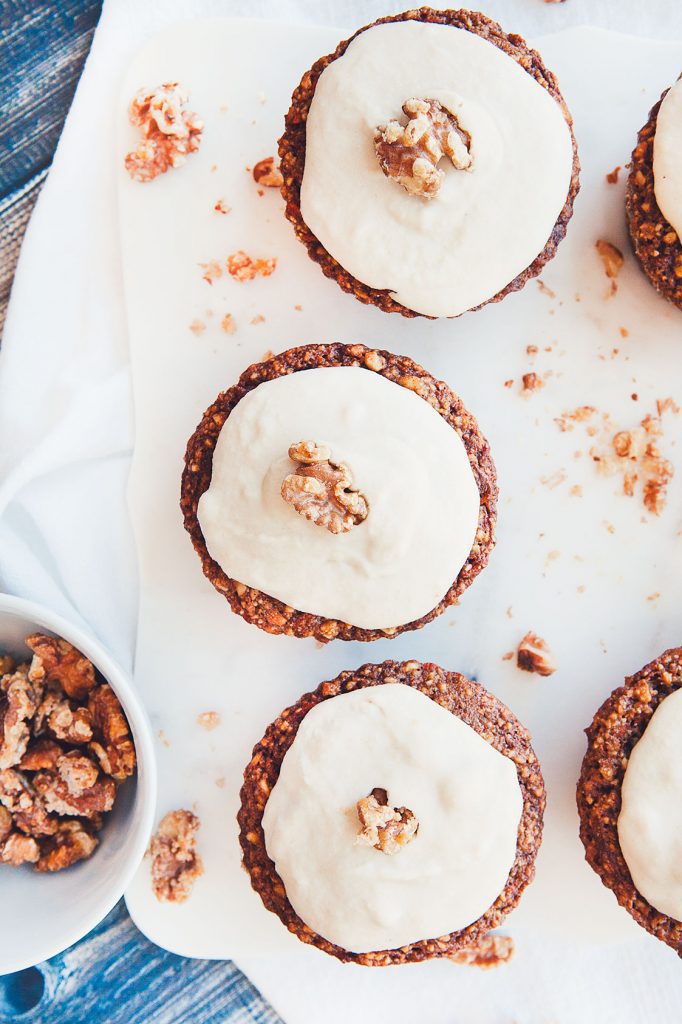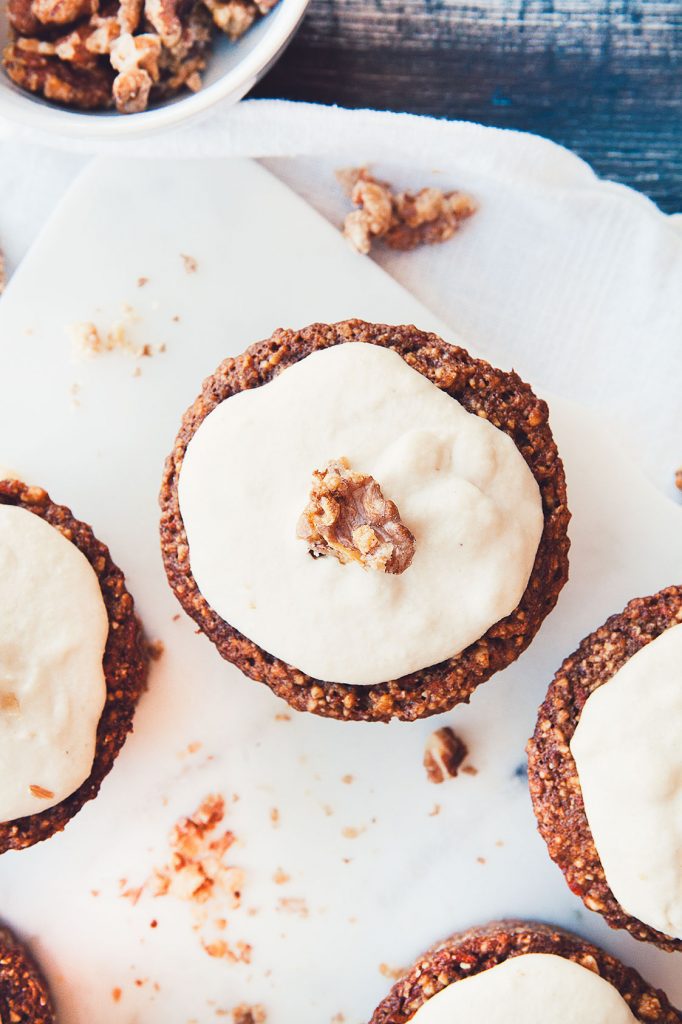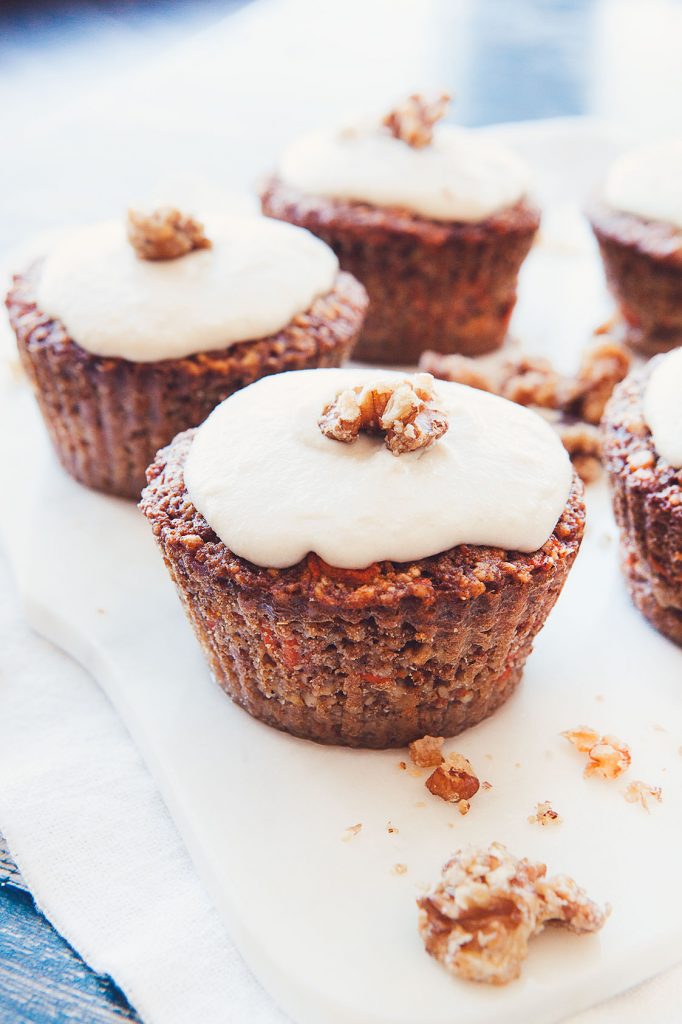 PIN ME!