This Paleo Nut and Berry Crunch will change your way of looking at brunch. It is a phenomenally sweet, crunchy and satisfying side dish to serve your friends and family on a fun Sunday brunch. But who are we kidding…you can really have this berry crunch anytime! And if you're anything like me, you'll have it as a late night snack…you know…just at that time of day when the crazy cravings come. Don't you just hate those? Ugh.
Good news is, you can crash those cravings with a heart-healthy berry crunch bowl! Indulge in this raw, full-of-goodness treat…it is so good for you! Berries provide wonderful antioxidants that help you fight against free radicals and give you lots of vitamins your body needs so much.
I made this recipe for a baby shower I hosted and also to take to a Super Bowl party! Ha! It turned out to be super "versatile" as everyone, in both parties, loved this dish. 😉 Give it a try; I am sure you'll love it!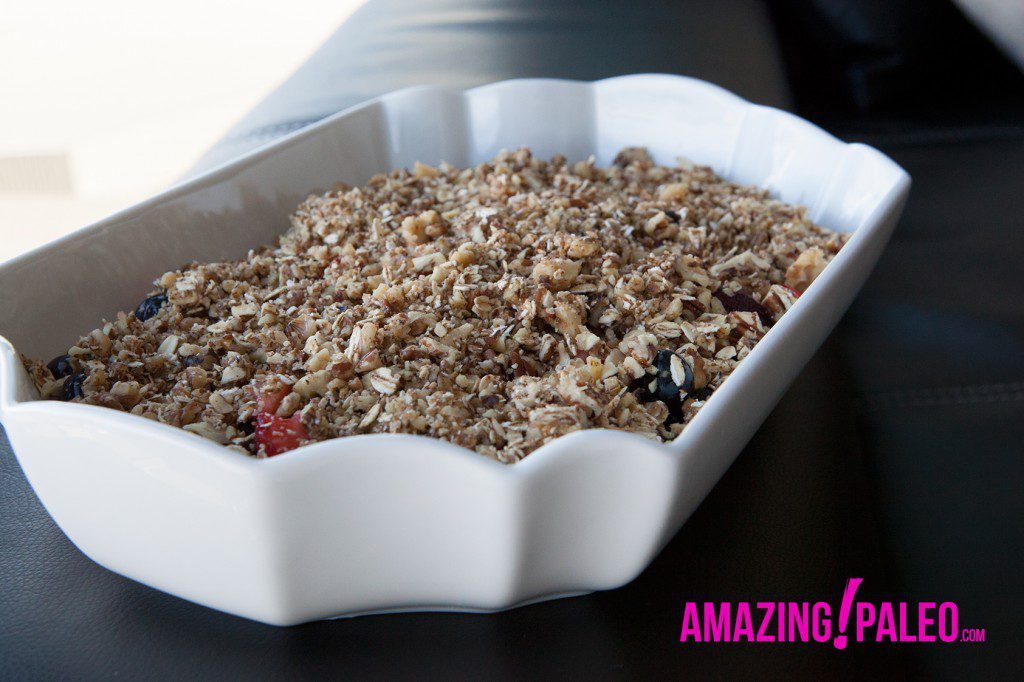 Paleo Nut 'n' Berry Crunch
This Paleo Nut 'n' Berry Crunch is a hearty and healthy dessert that is sure to please a crowd.
Ingredients
2 ½ cups of diced strawberries, cored
2 cups blueberries
1 ½ cups raspberries
Juice of 2 limes
½ cup blanched slivered almonds
1 cup raw walnuts
1 cup raw pecans
5 tbsp maple syrup, divided
¼ tsp sea salt
½ tsp cinnamon
Instructions
Place strawberries in a bowl, add lemon juice and refrigerate overnight.
Mix in blueberries, raspberries and 2 tbsp maple syrup to the bowl containing the strawberries, and refrigerate while you prepare the rest.
Add slivered almonds, walnuts, pecans, sea salt, cinnamon and 3 tbsp maple syrup to a food processor, and pulse until nuts have broken down a bit.
In a 2 quart serving dish, layer berry mix and nut mix: add ¾ of the berry mix as a first layer; add the entire nut mix as the second layer; add the remaining ¼ berry mix as the third layer. Chill for 1 hour before serving, and serve with favorite whipped topping and a cherry on top.
Notes
Tools You'll Need:
- Food processor
- Mixing bowl
- Measuring cups
- Measuring spoons
- 2 qtrs. serving dish
- Citrus juicer
- Fruit knife
Nutrition Information
Serving size:
½ cup --
Calories:
247
Fat:
18 g.
Carbohydrates:
21 g.
Protein:
4 g.
* Disclaimer: the photos in this post contain gluten free rolled oats instead of slivered almonds, which would make the recipe non-Paleo. My recipe calls for unbleached slivered almonds, instead of gluten free oats, making it 100% Paleo approved! But if you want to use gluten free oats, be my guest…it's delicious this way too!