Here is a super simple Paleo Chocolate Covered Strawberries recipe for you guys…one that sets you in the right mood for an delightful Valentine's Day! A girl's gotta have chocolate on the official day of love in some way or another, right? Might as well be on fresh, juicy, strawberries to make it extra romantic (and extra fancy).
I love making these little cuties, because they taste magical, and they virtually take zero time and zero effort to prepare. All of which are things I appreciate, and borderline require, when it comes to homemade shtuff.
You'll need simple ingredients and simple tools. No need to get fancy here.
Add a few glasses of bubbly to these, and you got yourself a really wonderful night with your honey, away from the restaurant crowds and the expensive pre-set menu meals (because who on Earth needs those?!).
These Paleo Chocolate Covered Strawberries are:
Well balanced
Crunchy (hardened chocolate + sprinkles/nuts)
Quick to make
Dairy free
Gluten Free
DELICIOUS!
This would also be a fabulous Paleo recipe for any holiday! Be sure to pin it and recreate it for your honey or friends! XO

Paleo Chocolate Covered Strawberries
These paleo chocolate covered strawberries are extremely easy to make and turn out just like store bought! Bets part? They are incredibly delicious!
Serves:
15 chocolate covered strawberries
Ingredients
1 lb. of fresh strawberries with leaves
16 oz. dark chocolate (dairy free)
Optional: sprinkles, chopped almonds or pecans
Instructions
Line large plate (or ceramic tray) with wax/parchment paper. Set aside.
Wash your strawberries well; place strawberries on paper towels for them to dry completely.
Add water to a soup pot and place over medium-high heat. Set your Pyrex measuring cup in your pot and add chocolate to it. Your chocolate will slowly melt; be sure to gently stir chocolate (using a spoon) for it not to burn. *Note: If you have a double-broiler, you can use that chocolate-melting method instead (recommended!)
Once chocolate is completely melted, pin a strawberry with a toothpick and dip it in the chocolate; be sure to get most of the strawberry dipped, for it to have a nice chocolate coverage.
Place chocolate dipped strawberry on parchment paper, and add chopped nuts to it if desired. Repeat until all strawberries have been covered by chocolate.
Place strawberries in refrigerator for 1 hour to allow the chocolate to harden. Enjoy!
Nutrition Information
Serving size:
Per chocolate covered strawberry --
Calories:
205
Fat:
15 g.
Carbohydrates:
16 g.
Protein:
3 g.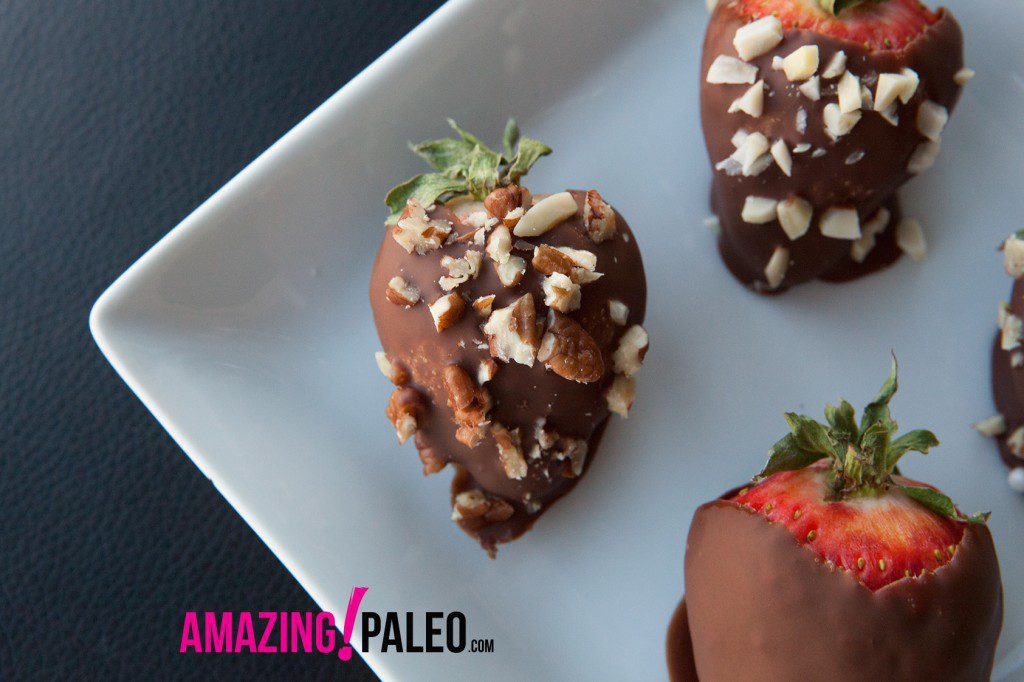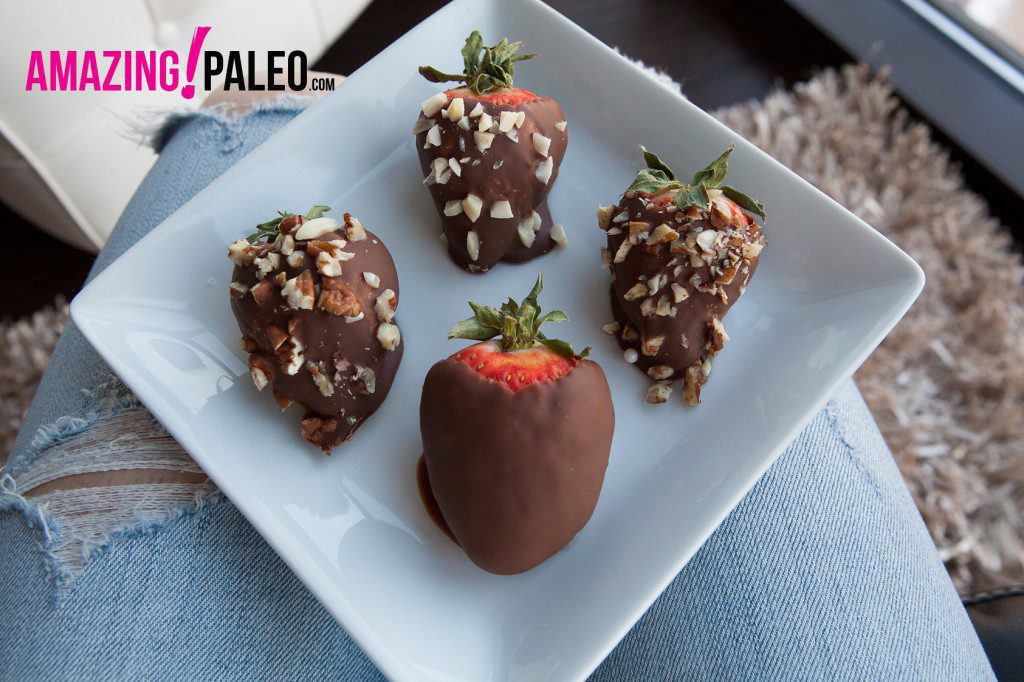 PIN ME!