I have a thing for creamy foods. For example, I am a total sucker for yogurt (dairy-free ones, like: cashew, coconut, etc.), Paleo smoothies (obvs — see why here!), thick curries, and creamy desserts (like cheesecake, fudge and brownies). I don't know exactly what it is about feeling that smooth creaminess in my mouth, but alls I know is that I loooooves it.
If I could, I would eat everything creamy…because why would anyone want food that is somewhat dry? We aint cats! And even cats want our human food sometimes. Creamy is where its at!
As you can probably figure out, the recipe I am about to share with you today has a creamy aspect to it.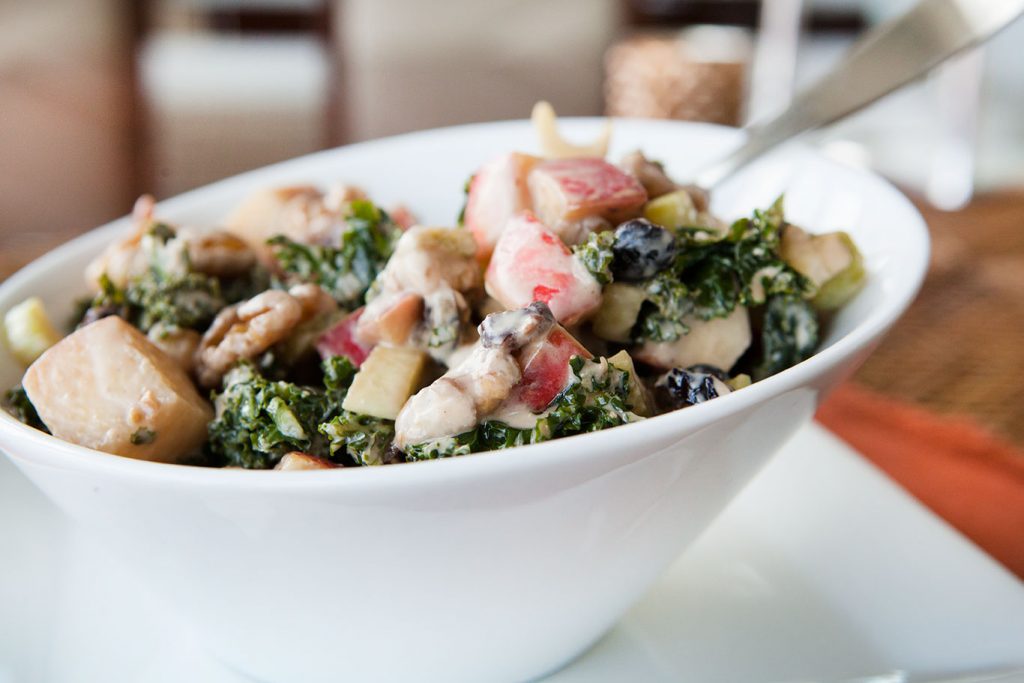 This salad's creamy dressing really helps soften up the kale, even after massaging the kale with a bit of oil (aka massaged kale…you'll learn about this method in my recipe below). Another thing about the dressing is that if you let the salad ingredients sit with it overnight, all the flavors get to sink in and it takes the recipe from good to great! I highly recommend making this recipe ahead of time and refrigerating it overnight before serving it, you'll be really happy you did.
My husband and I have been enjoying salads a TON these last few months, and this has got to be one of our favorites. Its everything you'd want a salad to be…and then some. It's got amazing ingredients like kale, apples and walnuts, it's creamy AND it's even fancy sounding. It's the real deal.
The first time I made this salad was to bring as a side dish to our Supper Club night (a fun activity we started doing with our friends last month), and the salad was fantastic. However, it wasn't as creamy as the leftovers I got to eat the next day. When I first made the salad I didn't refrigerate it overnight, but now I know better than that. To achieve softness and to make every bite be packed with flavor, make sure you allow the salad to sit in your refrigerator for 5+ hours.
Creamy Paleo Waldorf Salad
Ingredients
5 cups kale, washed, de-stemmed and chopped
4 crisp gala apples, cored and cubed
1 cup celery, diced
1 cup walnuts
1 cup dried cherries
1 tablespoon grape seed oil
1 cup Paleo mayo
4 tablespoons Dijon mustard
4 tablespoons apple cider vinegar
1 tablespoon honey
1 teaspoon sea salt
Black pepper, to taste
Instructions
Place kale in a mixing bowl and drizzle 1 tablespoon of grape seed oil on top. Use your hands to distribute the oil on all leaves, and gently massage the kale for it to become soft.
Add in apples, celery, walnuts and dried cherries. Toss to combine.
Place mayo, mustard, apple cider vinegar, honey sea salt and pepper in small mixing bowl, and whisk well to combine.
Add dressing to the salad and refrigerate for 5+ hours for the flavors to sit in. Enjoy!
Notes
Tools You'll Need:
- Large mixing bowl
- Small mixing bowl
- Cutting board
- Sharp knife
- Measuring cups
- Measuring spoons
Nutrition Information
Serving size:
1 serving --
Calories:
309
Fat:
13 g.
Carbohydrates:
21 g.
Protein:
3 g.