You guys…happy Friday! The best day of the week is here, and with it, everyone's improved moods. Haha. It's true!
Fridays are the best days of the week in my opinion, because you have the whole entire weekend ahead of you. Two full days of fun await, where you can chose to do as you please. Best. Feeling. Ever.
I am stoked because there is a pretty neat festival happening in Boise right now, which started yesterday, but goes on until the very end of the weekend. It's called Tree Fort Music Festival, and the cool thing about this festival is that it's broken down in a lot of mini festivals; they have: alefort, comedyfort, filmfort, hackfort, kidfort, performance art, skatefort, storyfort, yogafort. Freaking awesome, right? Something for everyone.
My husband and I will be meeting up with some of our best friends after work today to start the festivities at all of the forts. We'll first be hitting up one of our friend's friend's short film screening, and then we'll roll straight into happy hour. My kind of hour. They boys have already been talking about Irish Car Bombs, so you one can only expect wild moments ahead. Obviously, those have milk, and all of the girls have intolerance to dairy (enter eye roll emoji here), so we won't be participating in the chugging of liquids. BUT, we will definitely entertain some other spirit beverage. There is no leaving us behind tonight, boys!
I don't follow a ton of indie bands, nor any other kind of indie artist for that matter, so I am not particularly looking forward to any specific event at Tree Fort. However, I have found that it is when I least expect it, that I find my new favorite artists. So, Tree Fort artists, you best be shinning for me tonight! (wink wink)
Also, I have been making so many Paleo treats in my kitchen this week, that my fridge can barely keep up. We have Paleo treats coming out of our ears, and my husband and I can only eat so many. So I told our gang that we can all do a quick pit stop at our condo in between shows (we live downtown, so all the action is one step away) to refuel and indulge. All of the boys, including my husband, were collegiate athletes and are giants in their own muscley ways, so they can handle all of them treats. They are excited for the indulgence, and so am I. I need my fridge back. I call them my "recipe testers", and it's a mutually beneficial transaction. Score!
This 10 Minute Fudge is in my freezer right now, patiently waiting to be devoured. Isn't it so cute? I love the sprinkles on top. I got these at Whole Foods, but they are not Paleo. You can simply omit these from the recipe, or substitute them with nuts or cacao nibs, if you're wanting your treat 100% Paleo. The fudge keeps well in the freezer for about one month or so, and you can eat them either frozen or room temperature. I like them room temperature, my husband loves them frozen. To each their own…so enjoy them as you like them. Hope you love them!
Besos amigos, and rock your weekend! XO

10 Minute Fudge
This 10 Minute Fudge recipe is super easy to make, and is one to satisfy the chocolate lover's cravings! It's also gluten free and dairy free, a must try!
Instructions
Line a 9x5" bread pan with parchment paper, and set aside.
Add shredded coconut to a food processor and process until the coconut reaches a creamy consistency; scrape down the sides as needed. Add in nut butter, melted cocoa butter, maple syrup, vanilla extract, cacao powder and sea salt, and process until all ingredients are well combined. Transfer mixture to a mixing bowl and fold in medjool dates.
Add the mixture to the lined bread pan, spreading it evenly with a spatula*. Top with sprinkles and freeze for 30 minutes. Remove from freezer, cut into 16 squares and enjoy at room temperature. Leftovers can be stored in the freezer for up to 1 month.
*Note: if after you spread your mixture, there's a small liquid film that forms at the top (a little excess from the maple syrup or melted cocoa butter), lightly tap it with a paper towel to remove it.
Nutrition Information
Serving size:
1 square --
Calories:
157
Fat:
19 g.
Carbohydrates:
9 g.
Sodium:
40 mg.
Fiber:
2 g.
Protein:
3 g.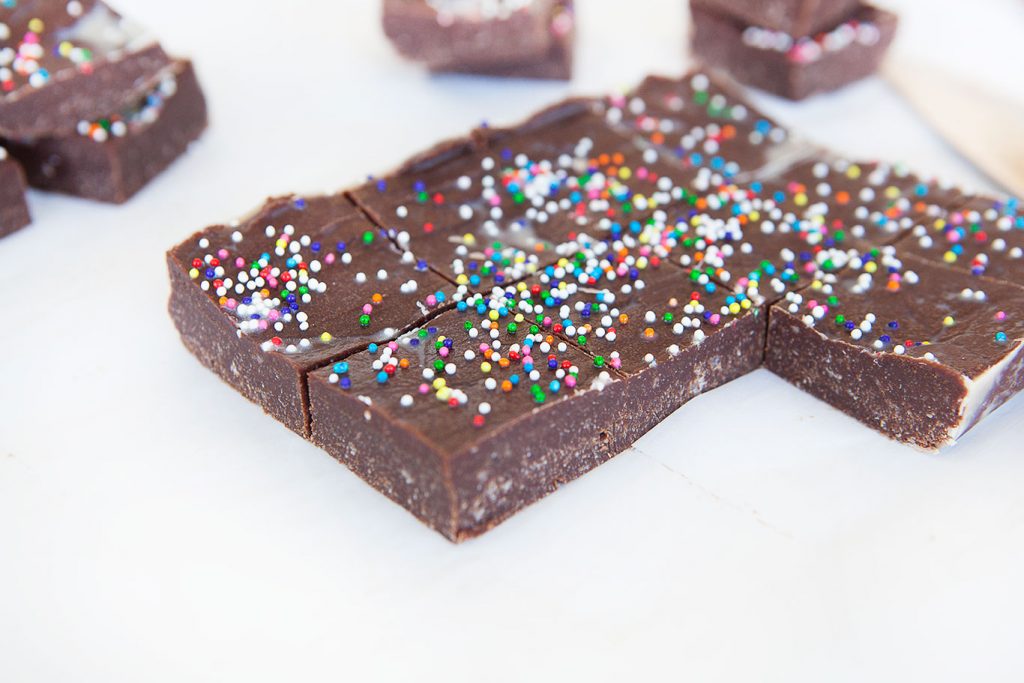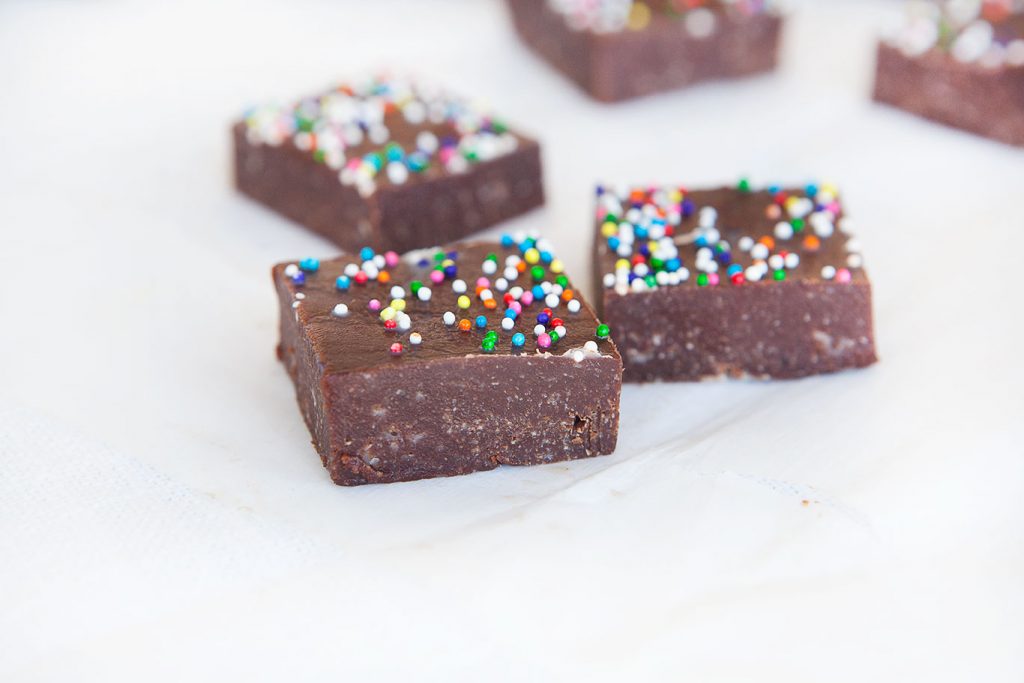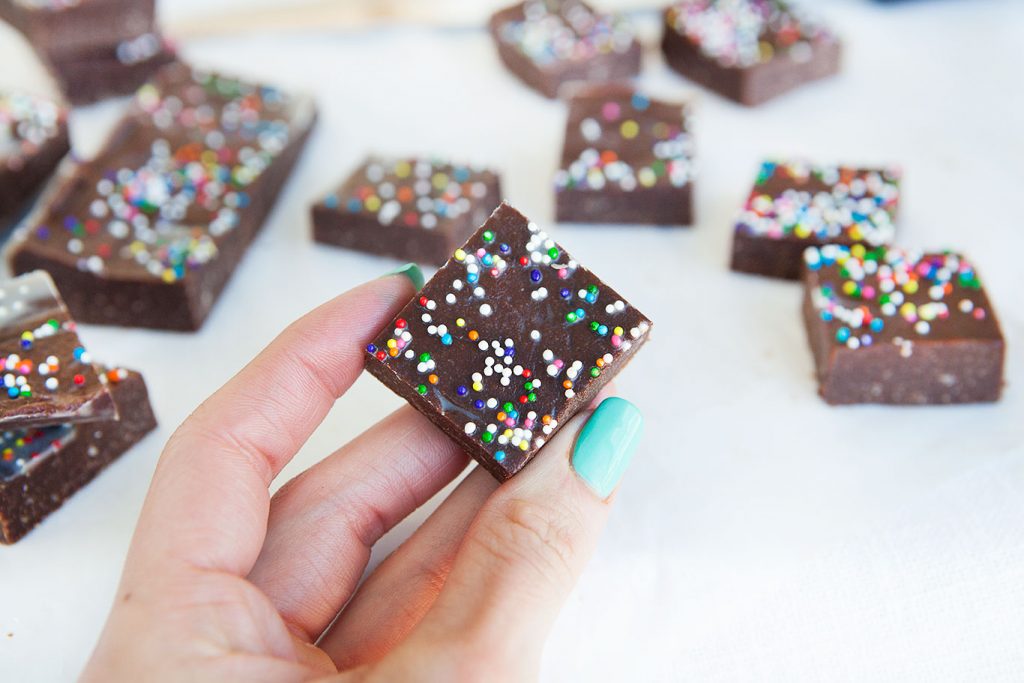 PIN ME!

Other Paleo fudge recipes you'll love: