Salads on repeat. That's what our life looks like when the weather starts warming up. There is something about higher temperatures that makes us crave lighter, colorful dishes that are fresh and nourishing. Much like this delightful Turmeric Cauliflower Kale Salad with Roasted Pepitas recipe.
Greens, shaved veggies, fresh fruits, roasted seeds and light vinaigrettes, sound so good after eating crockpot foods, soups and casseroles for four months straight. And don't even get me started about grilling proteins for salads. Because grilling brings me life! Especially when the weather is nice enough to enjoy grilling comfortably, without being punched in the face by harsh winds and without having to wear three layers of sweaters.
This Turmeric Cauliflower Kale Salad with Roasted Pepitas recipe is a cross between a winter salad and a summer salad (so I guess we can call it a spring salad!). Nice and light, but also with some good substance to it. A citrusy freshness is brought to the dish by the massaged kale, and the baked turmeric cauliflower adds a nice comforting touch. Which created the perfect texture and flavor match.
Since Boise is sort of tricking us right now with the weather (giving us sun, but remaining a bit cold), I wanted to create a salad that represented my current environment. And that's how my Turmeric Cauliflower Kale Salad with Roasted Pepitas recipe came to be! You can have this salad as is for a light lunch, or you can add a sunny side up egg or some grilled chicken to it too.
So, how I about I tell you a little about this past weekend. Because it was pretty awesome.
It started off Friday after work, where we met some of our friends at a hotel called The Modern Hotel and Bar. Don't know why my husband and I don't go to their bar more as the place is super rad. We took an Uber there because we didn't want to drive nor walk (it's only a few blocks away from our place, but it was pouring rain and we didn't want to get wet). Our friends, Preston and I stayed there for a good thirty minutes, had a few refreshing drinks, and then headed out to explore Treefort Music Festival.
We joined the Alefort tent, which was a foodie's heaven. Not only did they have all sorts of beers and ciders, but they had a bunch of local restaurants participating in the event. Also, they had set up little stations where they sold their signature dishes in smaller snack-sizes for everyone to try. So cool.
We were at Alefort for around three hours, and after tasting a bunch of ciders, headed over to one of our friend's favorite local restaurants called Bitter Creek. Our friend was really in the mood for good poutine, so he directed us to his fave place for it. He was happy as a clam eating his poutine, as well as an assortment of what seemed like twelve different appetizers. Cider got us hungry, so we ordered a bunch of yummies.
Saturday rolled around and Preston and I opted not to exercise and take it easy that morning. A wise decision. We took a stroll to Whole Foods (if you follow me on Instagram, you probably saw some of my Insta stories that day) to grab food, and then we went bike shopping. Preston bought himself a sick commuter bike, a very efficient and comfortable one. He is so happy with his purchase and wants to ride it every day! After all, his bike before was a $50 clunker from Walmart. The pedal had been bent for sometime and he looked silly trying to ride it around lol. One leg would wobble with the peddle as he rode. Classic.
Sunday, Preston and I worked out, worshipped and spent some time checking out the last day of Treefort Music Festival. It was such a nice day. And I especially loved that we got to unwind and spend some quality time alone together. By the evening, were pretty pooped, so decided to cook at home and follow our meal with a movie.
Our weekend was epic. And I feel so incredibly blessed to have the friends we have. God has definitely blessed us with quality people in our lives, who are kind, generous, loving and inspiring. Take care of your friendships, as people is what matters most in life.
"To have a friend and be a friend is what makes life worthwhile." – unknown
XO

Turmeric Cauliflower Kale Salad with Roasted Pepitas
This Turmeric Cauliflower Kale Salad with Roasted Pepitas is very easy to prepare; a delicious lunch or dinner recipe! It's also Paleo, Gluten-Free & Vegan!
Serves:
2 individual salad bowls
Ingredients
For kale base:
For cauliflower:
For spiced pepitas:
Instructions
Make the kale base:
Add all ingredients to a large salad bowl, and using your hands, gently massage the oil and lemon juice on the kale. Do this for about two minutes, and place it in the refrigerator to rest. Save the avocado for later, when you're ready to assemble the salad.
Bake the cauliflower:
Grease a 9x13" baking dish with coconut oil. Set aside.
Preheat oven to 450 degrees Fahrenheit.
Add cauliflower florets to greased baking dish; pour melted coconut oil on florets and season with spices. Bake for 25 minutes (use a spatula to move veggies around halfway).
Remove from oven and let cool.
Roast the spiced pepitas:
Preheat the oven to 375 degrees Fahrenheit.
Toss all of the ingredients together in a mixing bowl.
Spread ingredients on a baking sheet and bake for 5 minutes, shaking the pan once to prevent pepitas from burning.
Let cool, and use to top salads or eat as a snack.
Assemble the salad:
Take out your kale base from the refrigerator and add cauliflower florets to it. The florets can be warm or cold; it's your choice. I like mine a bit warm, fresh out of the oven. Toss a few pepitas on top of the salad and garnish with avocado slices. Add fresh ground black pepper and nutritional yeast on top.
You'll have a few pepitas leftover, lucky you! Save them for later to top salads or eat them as a snack!
Nutrition Information
Serving size:
per individual salad bowl --
Calories:
350
Fat:
30 g.
Carbohydrates:
17 g.
Sodium:
980 mg.
Fiber:
10.6 g.
Protein:
7.2 g.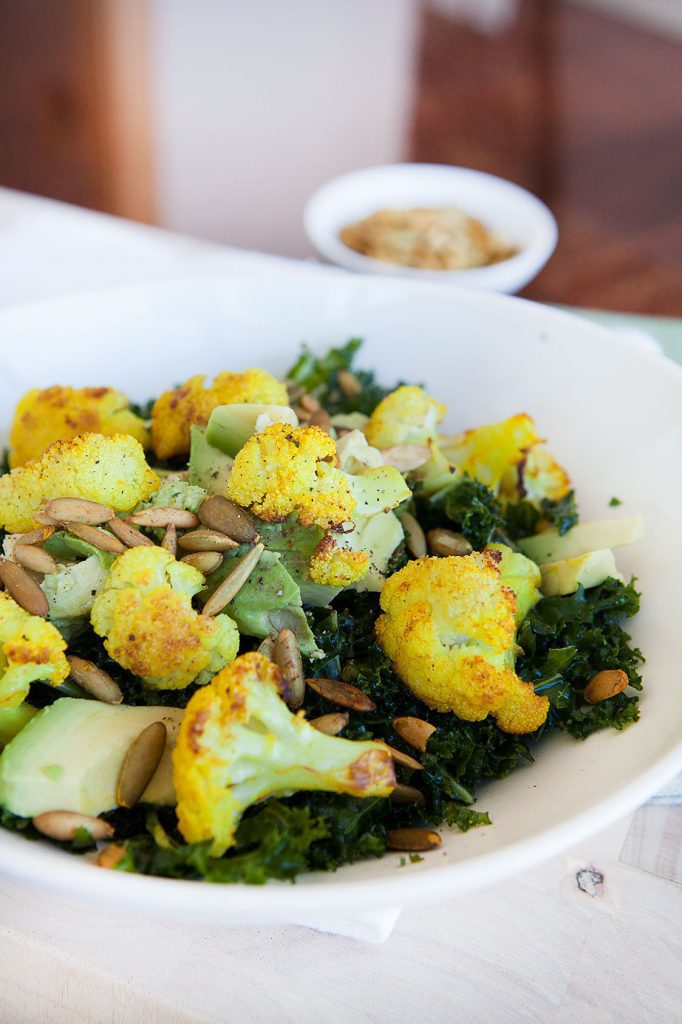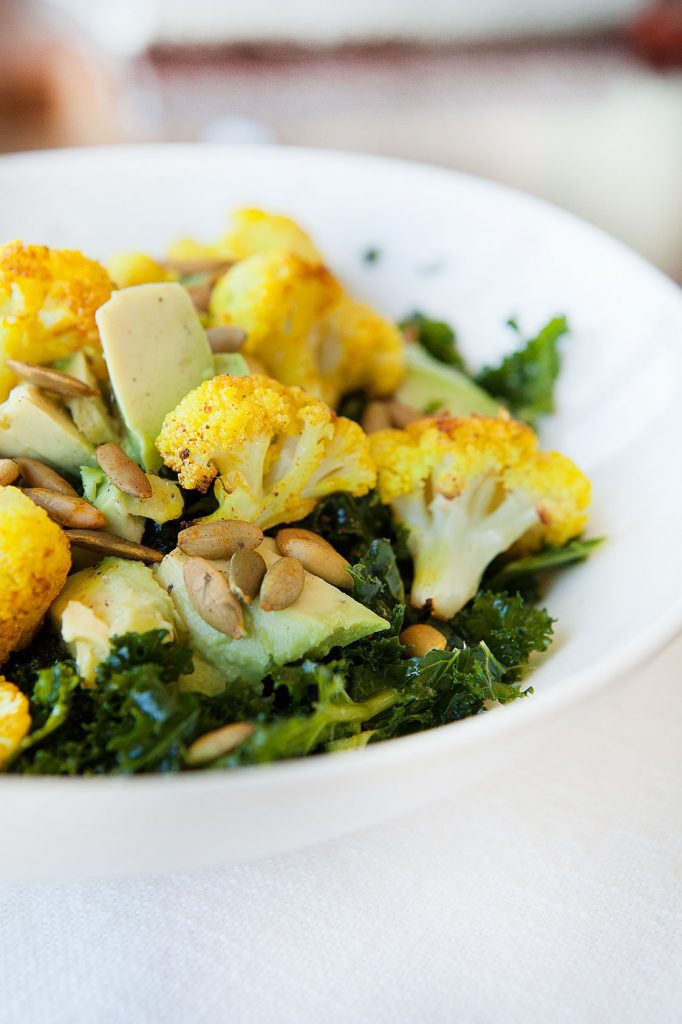 PIN ME!

Other Paleo salad recipes you'll love: