For no particular reason, I have been making a lot of different types of nut butters lately! I feel like my refrigerator has become a nut-butter jar collector. Probably housing seven different nut-butter jars. No joke; it's straight up crazy. That's a lot for our family of two, especially since my husband solely consumes a reduced fat peanut butter (not Paleo approved…boo!) called Better 'n Peanut Butter. So, see, it really is all up to me to consume all these butters. It's pretty much mission impossible…or mission 'lets-get-fat-fast'. I needed to act and come up with a game plan…I didn't want them to go bad, but I didn't want them to make me fat either.
I'd been slowly using it up by applying a spoonful here and a spoonful there (or cupfuls) on some of my baking recipes or using them as frosting for my protein cakes. But I still had a lot left!
Then it hit me, I could use the extra nut butter to create a refreshing paleo treat!  That's what I needed, something that went with summer and the feverish temperatures. Something…cold? Yes! But nut butters in cold recipes? What-oh-what could I possibly make?
I thought, "I scream, you scream, we all scream for ice-cream." ICE-CREAM! That was it!
I saw these cute Popsicle makers at our city's Co-Op the other day and I thought they'd be the perfect nut butter ice-cream creator. I bought the yellow ones of course, Yellow is my favorite, it's so bright and merry. I guarantee that if colors had a face, yellow would for sure smile at you!
For this Banana Nutella Popsicles recipe I used only two ingredients: Bananas & Paleo NUTELLA!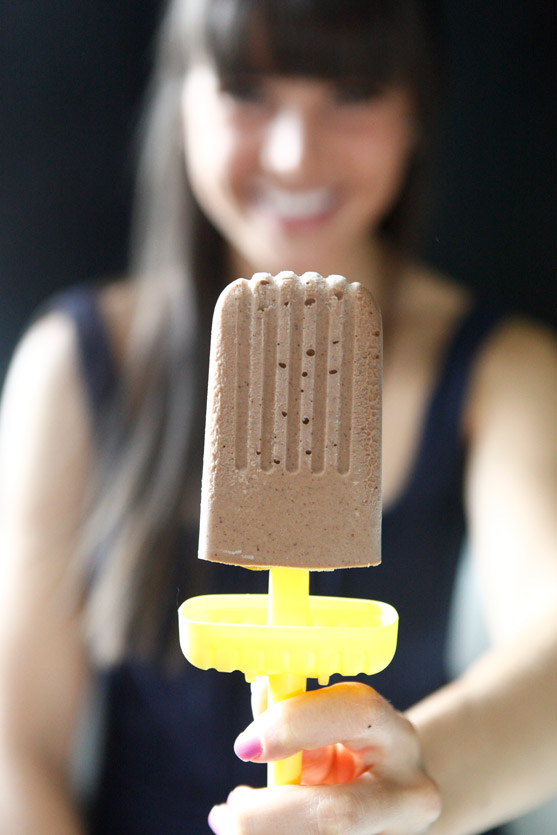 Banana Nutella Popsicles
Instructions
Add bananas to a food processor and process until well mashed. Add in Paleo Nutella and process to combine well. Transfer mixture into pancake pen using a funnel.
Fill up popsicle molds ¾ full and freezer for 5+ hours.