Goooood morning cuties!
How about we start this Wednesday off with something extra delicious? Because life is too short to not make Wednesdays great!
What do you say? You and me. Lets make these Banana Protein Paleo Waffles at home today, and let's enjoy every. single. bite.
Why these particular waffles as our Wednesday breakfast treat of choice, you may ask? Well, because these…they are LIFE.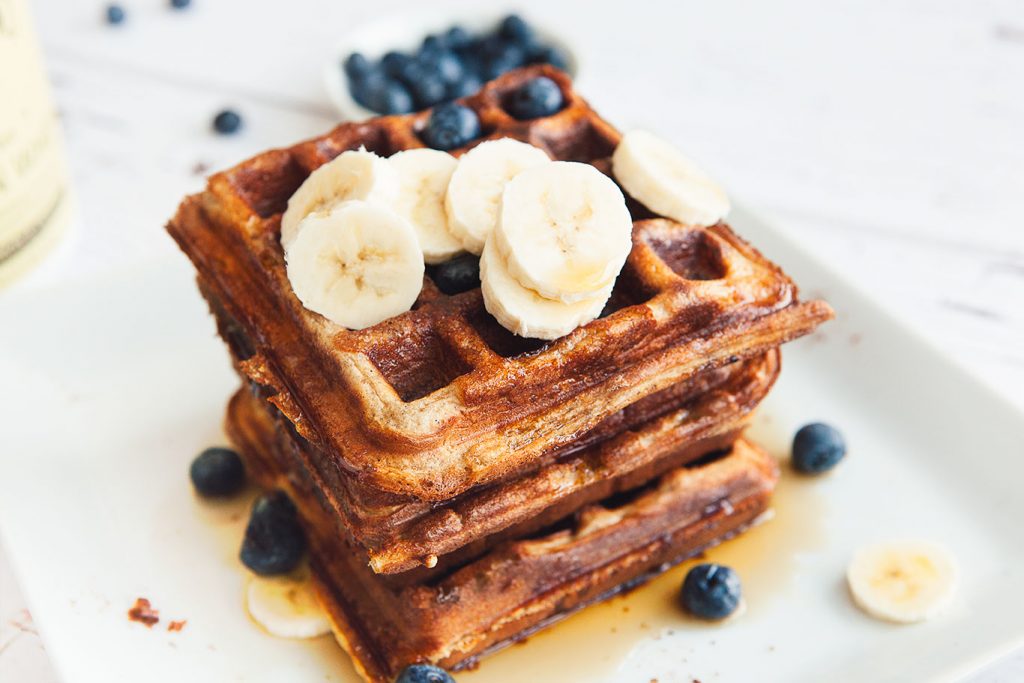 Got a waffle maker? Go get these ingredients now, before the kids and the hubs wake up. You know you want to make them. I see you, fast grocery shopper you. And who knows? Maybe you won't need to go to the grocery store at all. You may have all these ingredients on hand already.
Now, for those of you who eat Paleo or lead a gluten-free life, you'll be thrilled to have a new waffle recipe in your recipe arsenal that fits your way of eating. But for those of you who are not Paleo or gluten-free, don't stop reading quite yet. I have a strong feeling you'll ditch any other waffle recipe you have and stick with this one after you try it. It is THAT good. And healthy. A major double win.
Here is why I love these Banana Protein Paleo Waffles so much.
They are:
Fluffy
Crispy on the edges
Perfectly balanced (not too sweet)
Packed with protein
Gluten-free
Grain-free
Nut-free
Processed sugar free
SO TASTY
See? What did I tell you? Our Wednesday morning just got a whole lot better.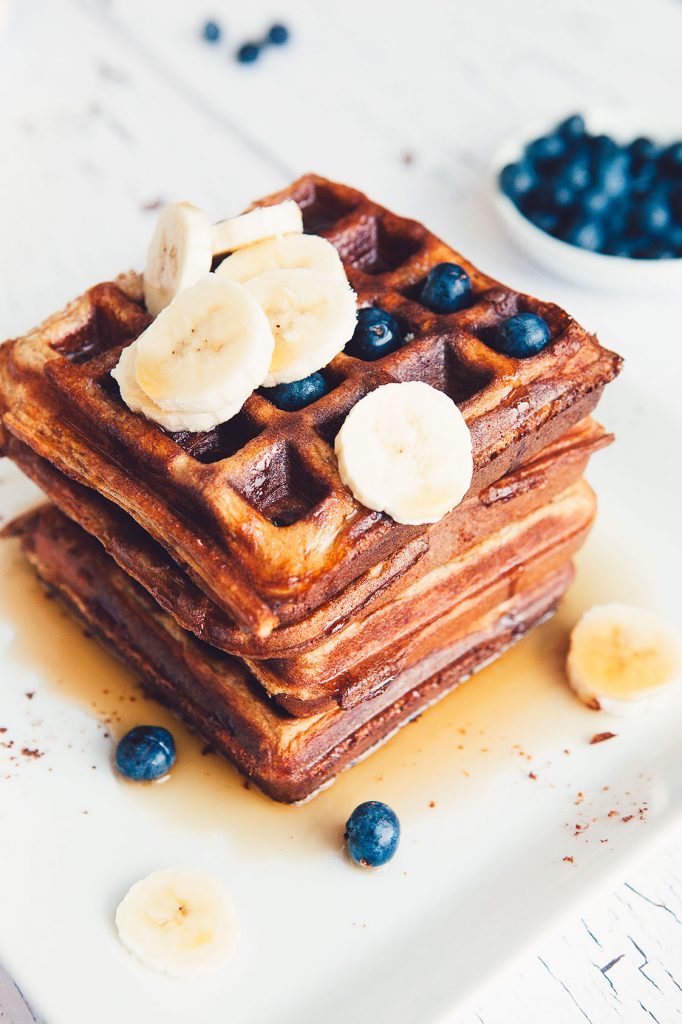 Just look at how sexy the waffles' golden glow is. ? And that drippy maple syrup that made its way to the bottom of the plate after a good pour? Ahhh. I am telling you, LIFE.
These didn't last long in our home when I first made them. All six square waffles the recipe yielded were gone in two days. Which is sort of quick for a home of two.
My husband inhaled three for breakfast alone, I practiced major self-control and only had one, and then the remaining two were gone the next morning after our workout. Waffle-eating-beasts over here. NBD.
So what will I do differently today? I will double the recipe. Or perhaps limit my hubs to eating only two at a time. But nahhh, who am I kidding there. Doubling the recipe it is.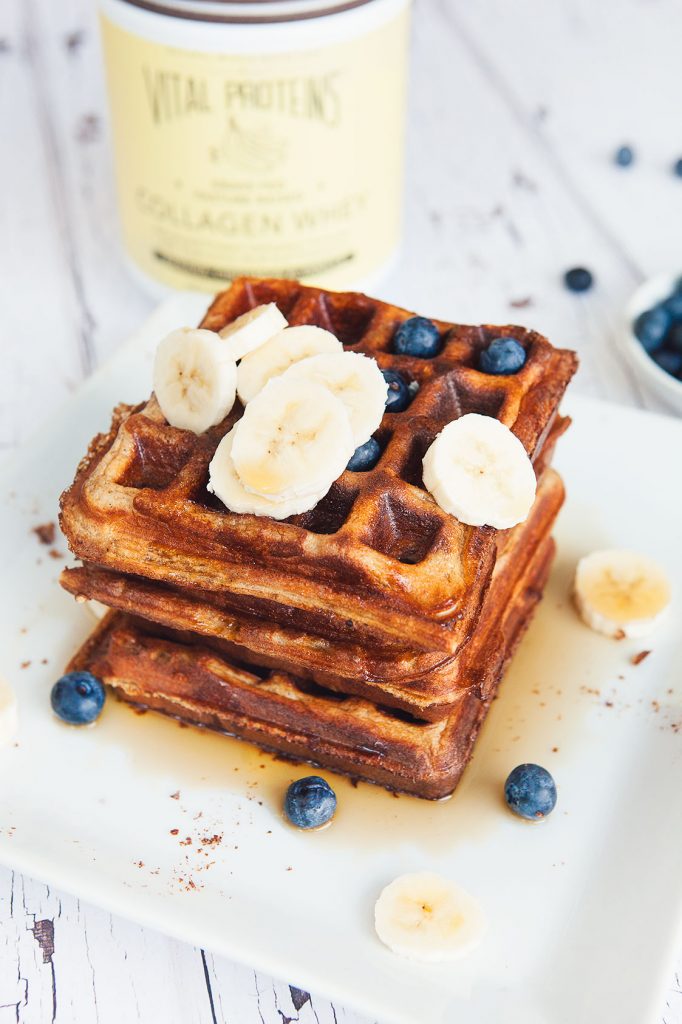 Let's take a moment to talk about the flavor of these waffles. Because that's the best part of food, is it not? I mean, don't get me wrong, healthy and gluten-free and processed sugar free and all of those things are amazing and wonderful in food too, but flavor is king.
These babies have a slightly sweet taste, in spite of the lack of added sugar, and a slightly banana-y taste, in spite of the lack of banana.
You = "Wait what?"
Me = "Yes. They are magical."
You = "No, really. How can that be possible?"
Okay, okay. There's a secret to that trick. Wanna know what it is? It's this magic right here.?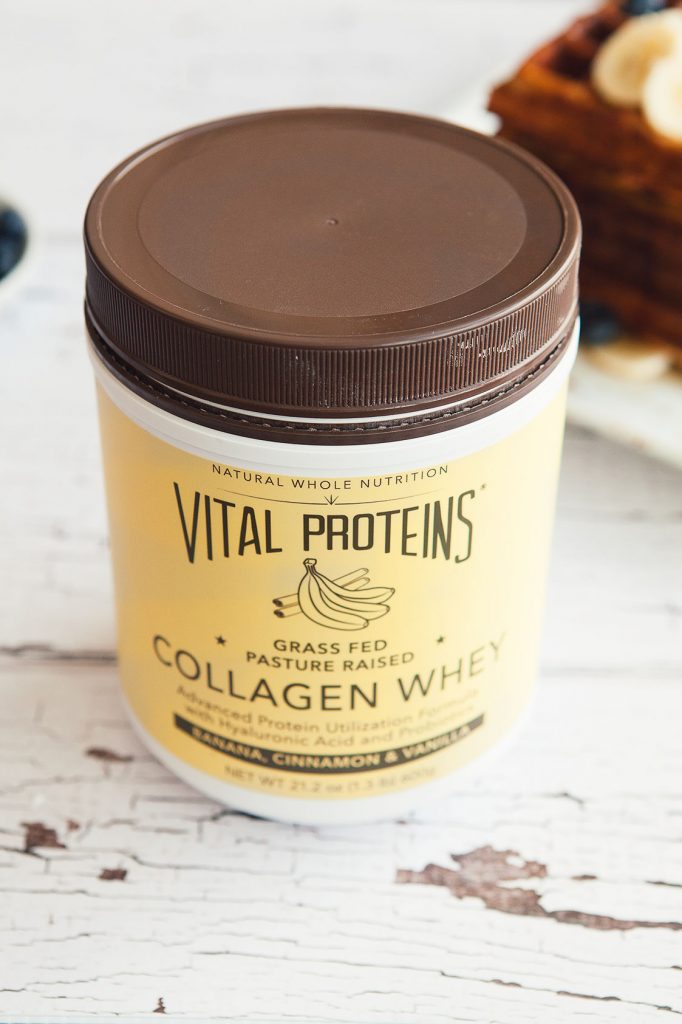 Yup. That beautiful light yellow jar is alllllll magic. And it is called Banana Cinnamon Collagen Whey.
This beauty is made with grass-fed whey, organic banana, organic cinnamon, Madagascar bourbon vanilla bean, probiotics…need I say more?
The reason why I love this whey protein so much is because:
It is packed with probiotics (great for gut health) & amino acids (great for muscle recovery)
It helps with my athletic performance
Improves my hydration
Feeds me quality protein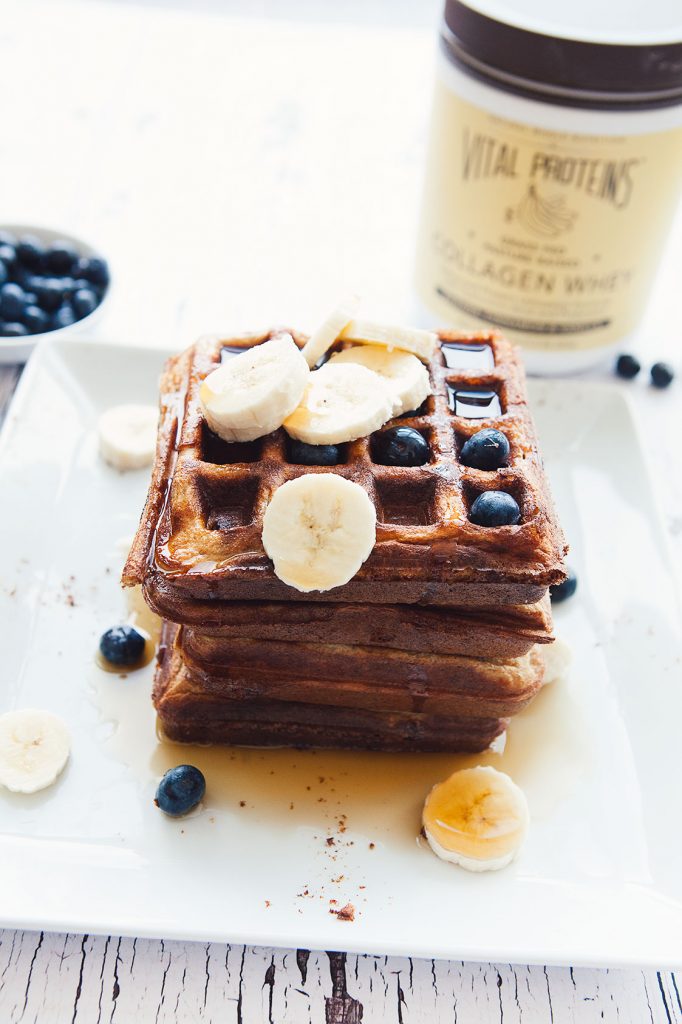 These Banana Protein Paleo Waffles are not only meant to be for breakfast. Enjoy these as a mid-day snack with a nice cup of coffee, pack them for your kids as an easy and nutritious school snack, serve them in your next brunch and even enjoy them for brinner. Possibilities are endless with these babies.
Go have fun with these. And have a happy, happy Wednesday!
---
WATCH HOW TO MAKE MY BANANA PROTEIN PALEO WAFFLES (60 SEC):
Banana Protein Paleo Waffles
These Banana Protein Paleo Waffles are gluten free, grain free & nut free. Fluffy, healthy and delicious, a family breakfast favorite!
Ingredients
¾ cup applesauce
4 eggs
1 tsp vanilla extract
2 tbsp melted coconut oil
1 cup arrowroot powder
1 cup Vital Protein's Banana Cinnamon Collagen Whey
1 tsp baking soda
¼ tsp cinnamon
¼ tsp sea salt
Instructions
In a large bowl, mix arrowroot protein powder, baking soda, cinnamon and sea salt.
In a separate bowl, whisk applesauce, eggs, vanilla extract, and coconut oil. Pour over dry ingredients and mix until no lumps remain.
Cook per waffle maker instructions. Batter should yield 6 waffles, so divide accordingly.
Serve right away with desired toppings, or refrigerate for up to 4 days.
Notes
Tools You'll Need:
- Waffle maker
- Two mixing bowls
- Spatula
- Whisk
- Measuring cups
- Measuring spoons
PIN ME!

Thank you Vital Proteins for sponsoring this post!