Creamy Paleo Coco Bites to the rescue!
Have you ever been in such a hurry that you need to leave your house faster than lightening and there is no time at all for you to pack a lunch?
Ah, yes. That's happened to me…quite a few times. And when it happens, it stresses me out, as I know for a fact that there will be a time during my day when "hanger" will come to strike. If you haven't met "hanger", lucky you! You don't want to meet this emotion. It is an uncontrollable feeling of ill mood and anger as a result of being deprived of food for a long period of time. If you've had it, you know exactly what I mean! It is painfully sad, haha. So, I try to avoid that feeling at all costs!
For times like these, one of my favorite on-the-go snacks are my Creamy Coco Bites. Oh boy, are they good. Not only are they super healthy, but they something I actually look forward to consuming while out and about. They are creamy, soft and sweet…such little bundles of joy! I make them in bulk, put them in small tupperware containers, and keep them in the freezer until I am ready to take a few on-the-go.
These Creamy Paleo Coconut Bites are made with great healthy fats, which provide you with awesome energy and definitely keep you satisfied in between meals. One of the main ingredients used to prepare these are cashews. I have been in a cashew kick lately, so we go through these nuts fast! My trick here is to order these babies in bulk online, that way they get delivered directly to my door at exactly the time when I am about to run out. Boom! Easy peasy pumpkin squeezey.
So here you have it, a fun little treat that you can make ahead and take on-the-go to avoid hangry! If you're needing more on-the-go snack ideas, a great resource to check out is Nuts.com — they have some great healthy recipes you may want to recreate!

Creamy Coco Bites
These Creamy Coco Bites are made in 15 minutes and are wonderfully satisfying; hints of honey and vanilla, with bites of dark chocolate chips.
Ingredients
1½ cups raw cashews
¼ cup unsweetened shredded coconut
¼ cup dark chocolate chips
4 tbsp melted coconut oil
1 tbsp melted ghee
3 tbsp honey
1 ½ tbsp coconut flour
¼ tsp vanilla extract
¼ tsp sea salt
Instructions
Line a baking dish with parchment paper and set aside.
Add cashews to a food processor, and process for ~4 minutes or until butter consistency is reached. Add in coconut oil and ghee, and process for another 30 seconds. Add in honey, coconut flour, vanilla extract and sea salt, and process for 1-2 minutes. Mixture should have a buttery dough consistency.
Transfer dough to a bowl and refrigerate for 30 minutes.
Once cold, fold in shredded coconut and chocolate chips. Transfer mixture to the lined baking dish, pressing down evenly. Freeze for 30 minutes and cut into 12 squares.
Notes
Tools You'll Need:
- Food processor
- Mixing bowl (medium sized)
- One 9x9 baking dish
- Parchment paper
- Small sauce pan
- Spatula
- Measuring cups
- Measuring spoons
- Sharp knife

* Should last fresh in freezer for around a month
* Eat them quickly (or have a napkin nearby) as they melt in your fingers…coconut oil has a low melting temperature.
* Store in freezer.
Nutrition Information
Serving size:
1 square --
Calories:
177
Fat:
15 g.
Carbohydrates:
9 g.
Protein:
3 g.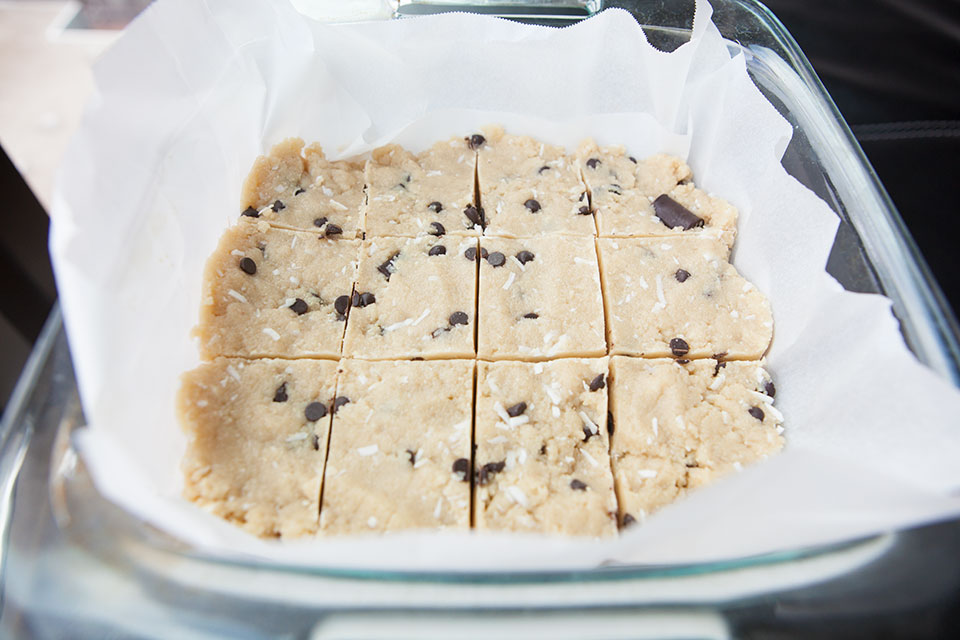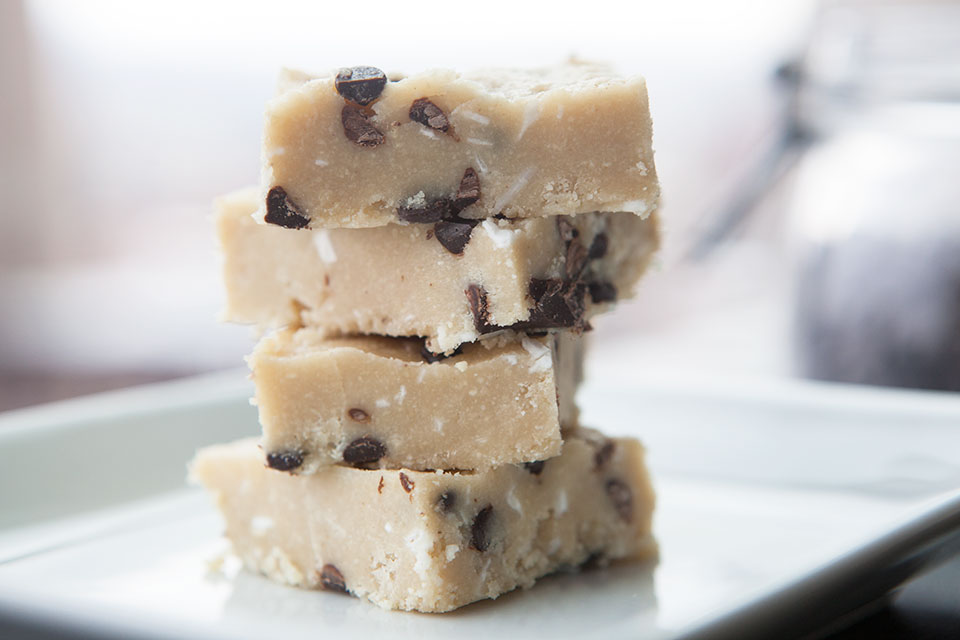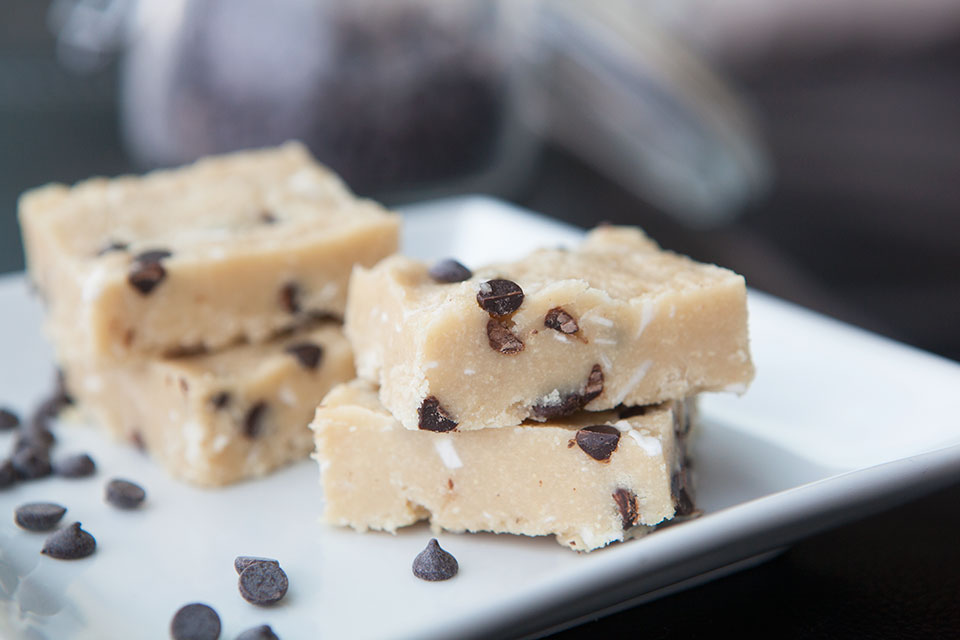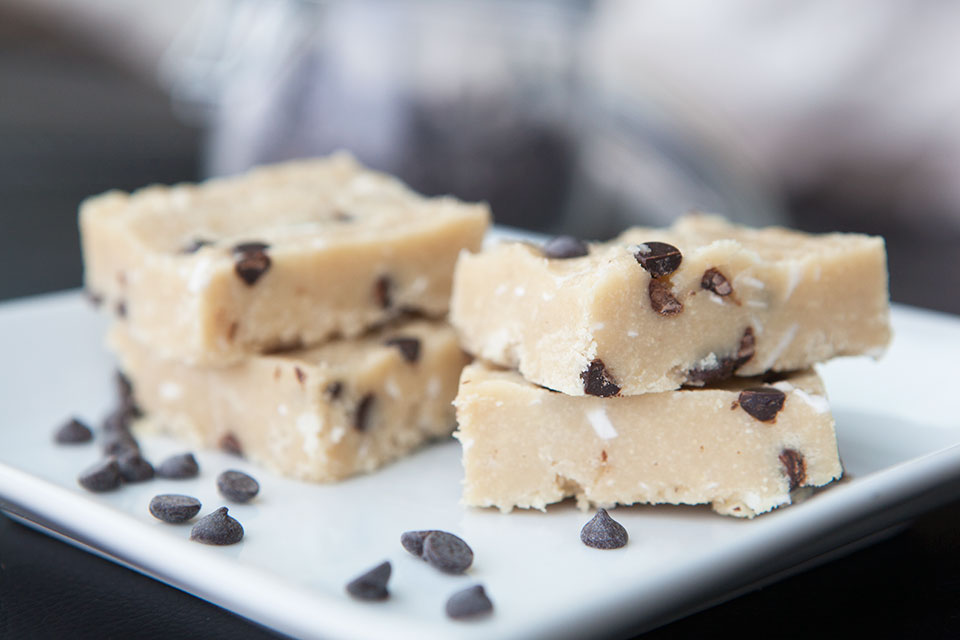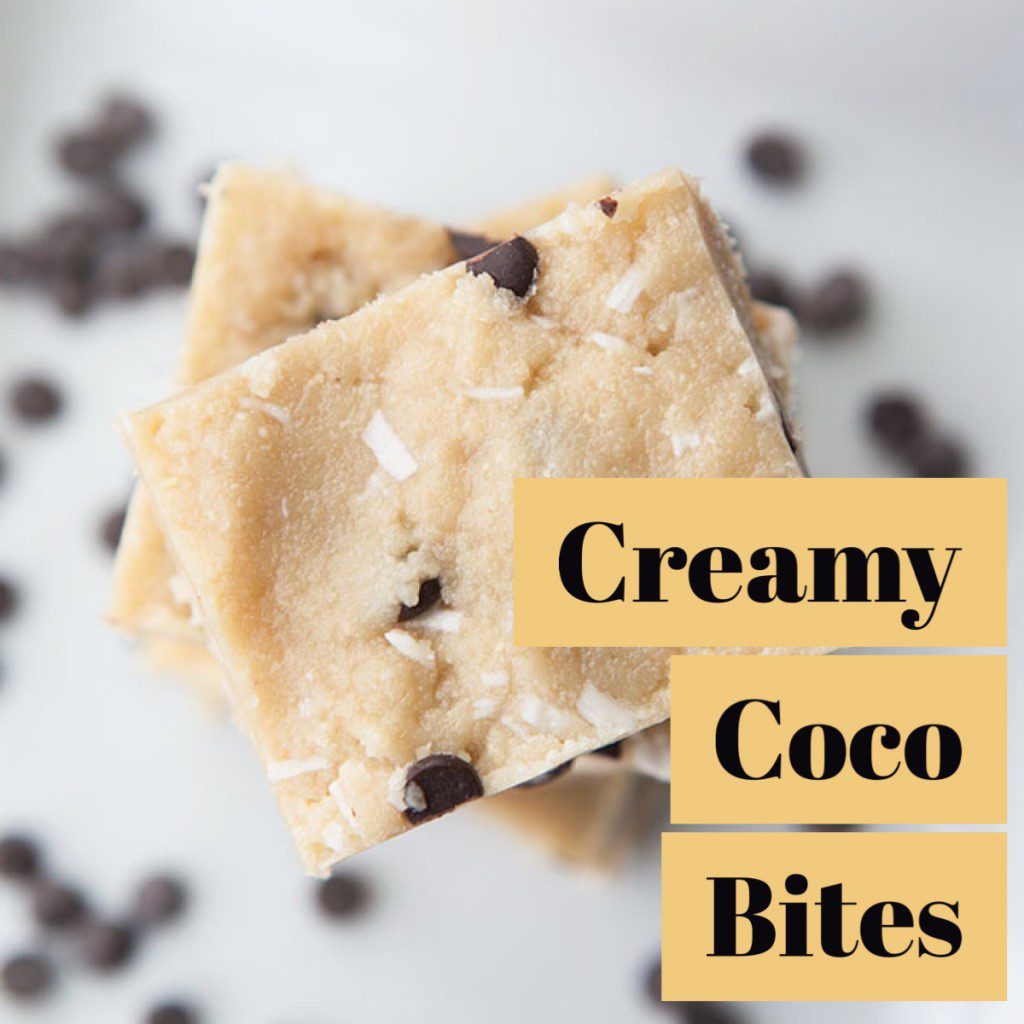 PIN ME!