Okay, you guys. I am SO STOKED for this blog post, as I think I just discovered my new favorite product and I've been dying to share it with you all!
If you follow me on Istagram, and whether you saw my latest post or watched my Insta Stories of the day, then you probably know what I am talking about. Today I got a nice little box full of healthful goodies: three amazing Vital Proteins products, which I have been wanting to try for months.
I have been reading a ton of blogs and watching a lot of review videos, where people swear by Vital Proteins products and all of the wonderful things they have done for their health and bodies: improved skin, nails, hair, bones and joints. And hello…I am ALL about health and beauty, so the more products that I can use to help me be my best self, the better!
The thing about Vital Proteins, is that not only have they had incredible success stories told by real people, but they are also 100% Paleo (yes, you read that right, whooooohooo!) and sourced from the best ingredients possible (grass-fed and/or raw organic ingredients). Amazing, right?
I love finding products like these, products that not only work and do what they say they will do, but that are also extremely "clean" and trustworthy. If I am putting something in my body, I better know what's in it and I better trust the company that produces it. Our bodies are like temples, so we should always care about what we put in them. Any ailment or sickness in my life has come, in one way or another, from a bad product/ingredient I ate or from not knowing that a specific ingredient affects me (being intolerant or allergic to it). We are what we eat. Period. This is partly why I am so obsessed with cooking and baking my own foods; I want to give my body the very best I can. Thus, I try to make the best product and ingredient choices I can.
These are the three products I got today in the mail from Vital Proteins:
From these, I've so far only tried the third one: Collagen Peptides. I've had them for less than 24 hours, so I can't overdo it. As I unboxed these products, I opened the Collagen Peptides bottle, added two scoops of it to the blender, threw in a few more of my favorite ingredients, and made myself an oh-so satisfying Dark Chocolate Smoothie. The urge was stronger than me; just couldn't help myself. Had to have it.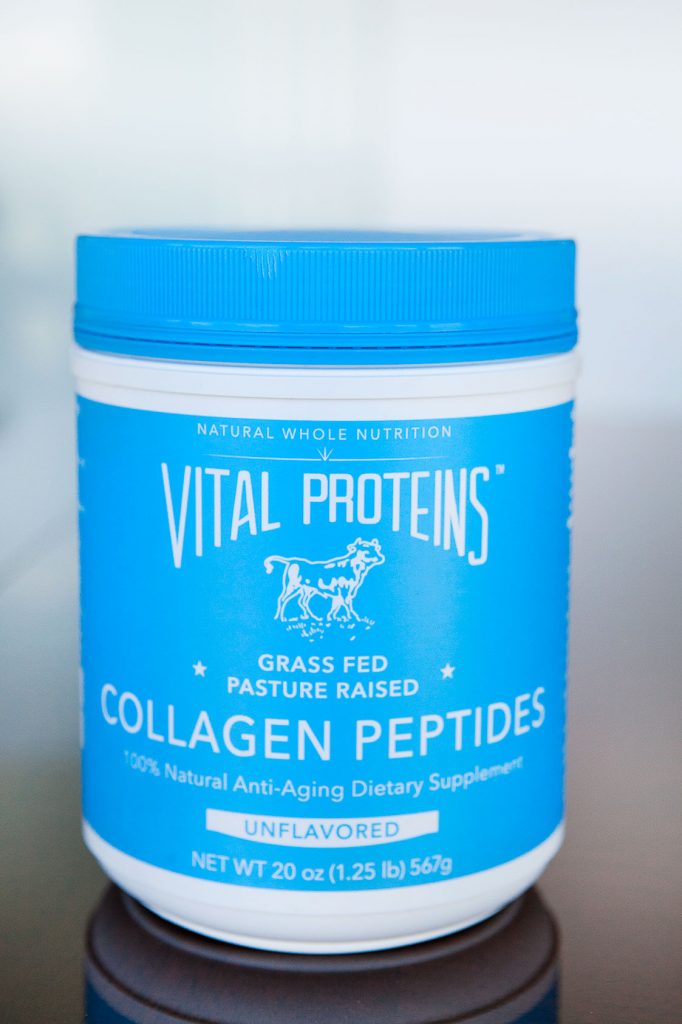 That smoothie recipe I made after unboxing my Vital Protein's shipment, is what I am sharing with you today! I can already picture ten more recipes with this ingredient, so be sure to stay tuned for more to come.
My goal is to use Collagen Peptides every day, without skipping, for the next month or so to test it out. I'll be looking for changes both on the inside (how I feel, etc.) and on the outside (my hair, skin, nails, etc.), as I want to know what collagen does for me. I'll be sure to report back to you guys and share my findings; got a feeling it will be a positive report though. Taking collagen makes sense!
Collagen peptides (pure collagen peptides) contain specific essential amino acids that are needed by our bodies to produce new collagen. Therefore, when we take a Collagen Peptides supplement, we are helping specific cells in our body produce more collagen. Another crazy fact is that collagen makes up 90% of our organic bone mass, so by encouraging the production of collagen with a supplement, we can help increase our bone density and allow for a healthier bone metabolism. Saweeet!!! Also, collagen brings moisture to our skin, which helps our skin with its elasticity, its vibrancy and its freshness. Ummm, yes please.
Most common Collagen Health Benefits
Promotes healthy digestion*
Contributes to a balanced diet*
Promotes healthier hair*
Supports bone and joint strength*
Promotes youthful appearance*
Enhances skin hydration*
Promotes stronger nails*
Incredible, right? Yeah, like a frigging magic potion. And I want it!
So what do you say, my lovelies? Do you want to try it together?
The Collagen Challenge
Let's do two scoops a day for thirty days and see which one of the above benefits we can see and feel first hand. Would love to do it with you guys, as it's always more fun to have accountability buddies! I will probably take my two scoops either first thing in the morning, mixed with water or with my coffee, or after I come home from the gym (mid-morning), in the form of a fun smoothie or juice.
Here's to health!!!! Besitos!

Dark Chocolate Smoothie with Collagen Peptides
This Dark Chocolate Smoothie with Collagen Peptides is the perfect mid afternoon snack. It's decadent, perfectly sweet and extremely nutritious!
Ingredients
2 scoops Vital Proteins Collagen Peptides
1 frozen banana (freeze banana in small chunks or slices, for ease of blending)
2 cups unsweetened carton coconut milk (or any other dairy free milk)
2 tbsp nut butter
2 tbsp raw cacao powder
1 tbsp honey
½ tsp vanilla extract
Instructions
Place all ingredients in high-speed blender, and blend on high until smooth.
Nutrition Information
Serving size:
20 ounces
Calories:
387
Fat:
19 g.
Carbohydrates:
38 g.
Sodium:
164 mg.
Fiber:
8 g.
Protein:
26 g.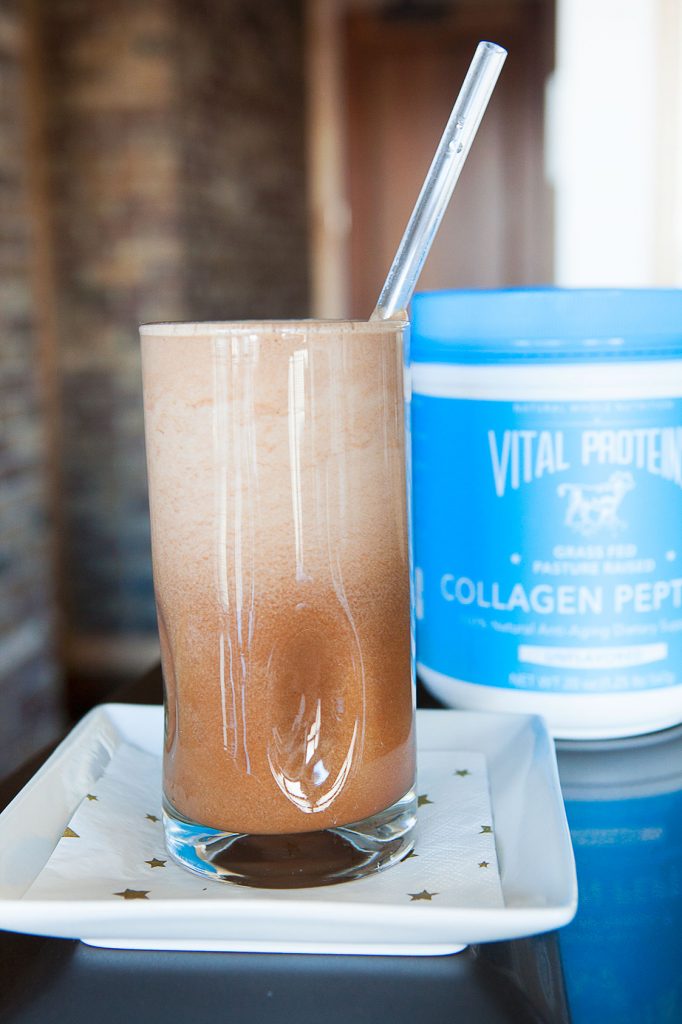 * These statements have not been evaluated by the Food and Drug Administration. This product is not intended to diagnose, treat, cure, or prevent any disease.