How many times have we been bummed out at not being able to fully participate in a Cheese and Wine party due to dietary restrictions? I know I have! Dairy does not sit well with us Paleo people (especially when consumed in higher quantities) — it can bloat us, make us feel uncomfortable, or even give us nausea. So when that Cheese and Wine party invitation comes in, we cringe, as we know we have two options: RSVP "no" and miss out on the fun, or RSVP "yes" and eat nothing but nuts and olives all night.
Well, today the game changes! I have found a way for us to fully participate on the Cheese and Wine experience. Yes you read that right. If you've missed the way cheese tastes and feels, the way you can pair it up with other fun finger foods and with wine…then, this post is for you!
There is this really cool store called Miyoko's Kitchen that makes Artisan Vegan Cultured Nut Products, aka non-dairy cheeses, out of all-organic ingredients such as nuts and coconut oil. They have an online store, where you can order these directly, or you can buy their at a few particular retail locations.
Anyway, let me tell you, their stuff is amazing! I have tried all of their Artisan Vegan Cultured Nut Products and I can honestly say that I can't tell the difference between them and regular cheese. Their texture, smell and taste…it's just like normal cheese. Incredible isn't it? This opens a whole new world of possibilities for us, you guys! Think of the amazing Wine and Cheese parties you can throw for your family and friends (ones where you actually get to eat the "cheese"), of the amazing "cheesy" and creamy recipes you can create, or of the finger-food snack possibilities you can treat yourself to at home! YUM. And guess what? This cheese alternative bring absolutely no discomfort, no bloating, and no nausea. Halleluiah!
And so, to honor this incredible find, I have decided to go all out and put together the Perfect Paleo Cheeseboard for you guys — a Paleo Cheese & Wine Party "How To", if you will! I am giving you tips and tricks on everything you'll need in order to make your Cheese & Wine party a success. You'll see that I have included all of the cheeses I served, the tools and accessories I used, the names of all the wines I served, and the types of fruits, nuts, olives and deli meats I paired my cheeses with. (I have added links to all of these products to make it easy for you to get them.) It is a complete guide, and I think you'll have tons of fun if you recreate it!
So go ahead, read up and let the fun begin. Feel free to send me any questions if you want more guidance or need any help!
Tools You'll Need:
Cheese boards:
Cheese and fruit knives:
Fruit stand:
Serving bowls and dishes:
Wine Glasses:
Riedel XL Cabernet Sauvignon Wine Glasses (these are actually good for the following red grapes: Bordeaux (red), Cabernet Franc, Cabernet Sauvignon, Fronsac, Graves rouge, Listrac, Margaux, Medoc, Merlot, Moulis, Pauillac, Pomerol, St. Emilion, St. Estephe, St. Julien)
Wine Accessories:
Ingredients You'll Need: 
Artisan Vegan Cultured Nut Products (our "cheese!"):
All of the below are free of cholesterol, lactose, egg, gluten and soy. They are also non-GMO. Wohooo!
All of the above are simply incredible, and that is no exaggeration. My guests and I tried them all, and we re-visited each and every single one of them again even after having our fair share. It was impossible to stay away. Every Artisan Vegan Cultured Nut Product has it's own signature taste, and so it is extremely fun to play with all of the different flavors by finding which fruit, nut, olive and deli meat complements them the most.
Some of my favorite ones were: the Double Cream Garlic Herb (creamy), the Mt. Vesuvius Black Ash (more-dense), the High Sierra Rustic Alpine (semi-hard), and the Fresh Loire Valley in a Fig Leaf (creamy). But I loved all of them, so it's not really fair to say I have favorites. For example, the Country Style Herbes the Provence is another excellent choice; this one slices hard but immediately melts in your mouth, and not only that, but it's covered by herbs and lavender on the outside (talk about an incredible presentation!) You've got so much to choose from!
I encourage you to look around their website and select the ones that speak to you the most for your cheeseboard. Or, you can always get all of them…your guests will have fun with all that variety, and if you have leftovers after your party, you can use them later on Paleo recipes (they have a long shelf life.)
When I got my Artisan Vegan Cultured Nut Products in the mail (just days before the Cheese and Wine Party), they arrived in a box that read "perishable". When I opened the box, I found that each product was very carefully packed; they were completely surrounded by blue gel coolants that kept them nice and cool while they traveled, and that gave me peace of mind. Miyoko's Kitchen did a fabulous job at getting it all delivered in perfect condition and on time. Soon after unpacking them, I placed them in my refrigerator. A big part of my Cheese and Wine party had been checked off the list! Holler.
Tip: Miyoko's Kitchen ships only on Monday, Tuesdays and Wednesdays via FedEx 2-day delivery, so be sure to plan accordingly.
Wines: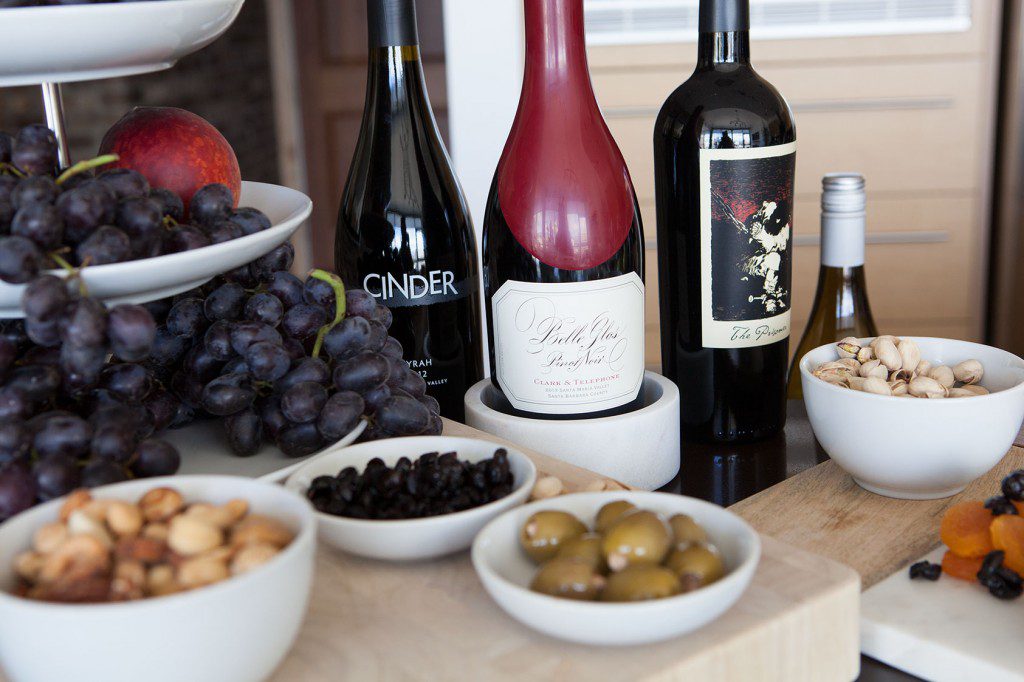 "This wine has opulent aromas of blackberry, black cherry, cinnamon, nutmeg and a hint of caramel. The palate comes alive with flavors of ripe raspberries, strawberry jam, a dense blackberry core, warm gingerbread, and a hint of toffee. It is perfectly balanced with refreshing acidity, plush weight on the mid-palate and a wonderfully supple texture. The expansive fruit flavors carry through to a long, pure and persistent finish."
"The wine features enticing aromas of bing cherry, espresso, and roasted fig. Persistent flavors of ripe raspberry, pomegranate and wild berry linger harmoniously for a smooth and luscious finish."
"This wine displays a balance between jammy, ripe fruit flavors and savory aromas of sausage, spice and coffee. The flavors are intense on the mid-palate and the finish is smooth and long. This wine is all mystery and curves, with an emphasis on aroma and silky texture."
The above are some of my personal recommendations as they are typically crowd pleasers and go well with bold cheese flavors – they also make for a nice ensemble of red wines, giving people lots to choose from. Feel free to serve your personal favorites or the ones that best fit your budget!
Olives: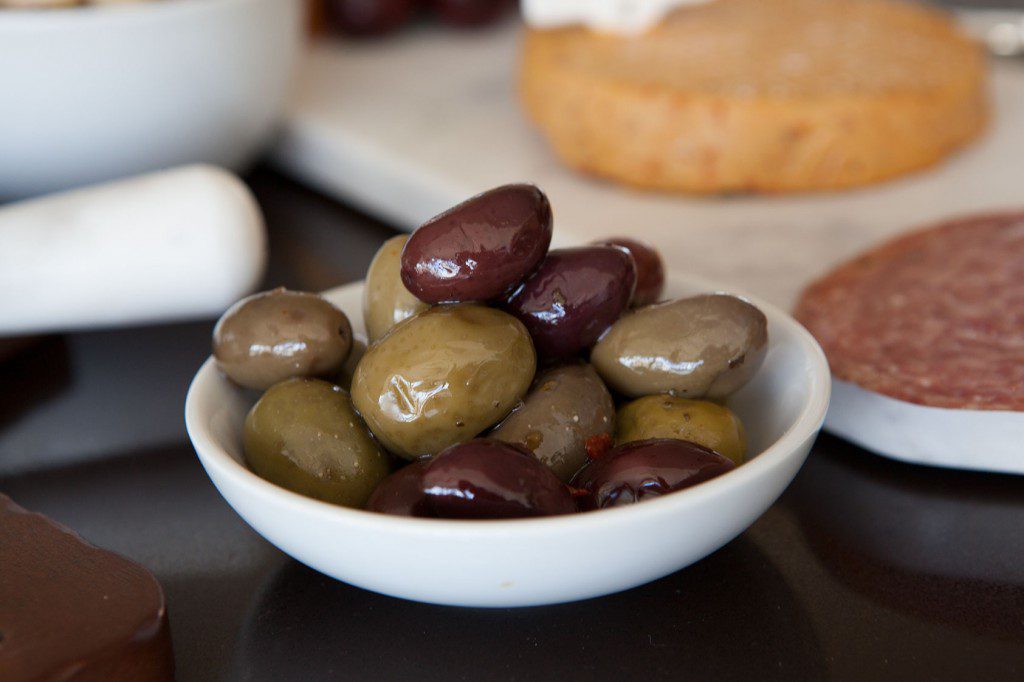 Almond Stuffed Olives (from Whole Foods' bulk section)
Garlic Stuffed Olives (from Whole Foods' bulk section)
Meza Olive Mix (from Whole Foods' bulk section)
The above is a nice mixture of colors and textures, and people respond well to a little olive variety. You can follow my recommendations, pick your favorite ones, or pick the ones you know your guests will love!
Dried Fruits and Nuts: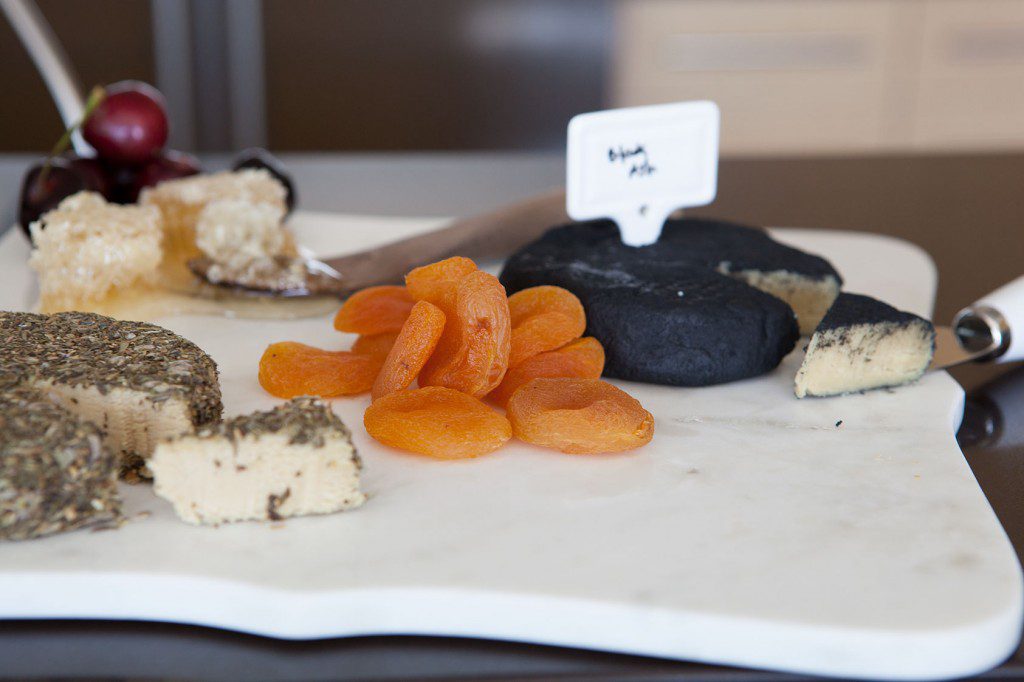 Dried apricots (from your local Co-Op)
Dried Cherries (from Whole Foods' bulk section)
Extra Fancy Mixed Nuts (from CostCo)
Honey (from your local Co-Op)
The above is a good combination of salty and sweet. I love the CostCo Extra Fancy nut mix, as it carries my favorite nuts all in one — plus, you get a lot of it and it's affordable; such a simple and easy buy. And I picked apricots and cherries because they bring lots of color to my cheeseboards, and are a yummy way to transition from one cheese flavor to the next.
Fresh Fruits: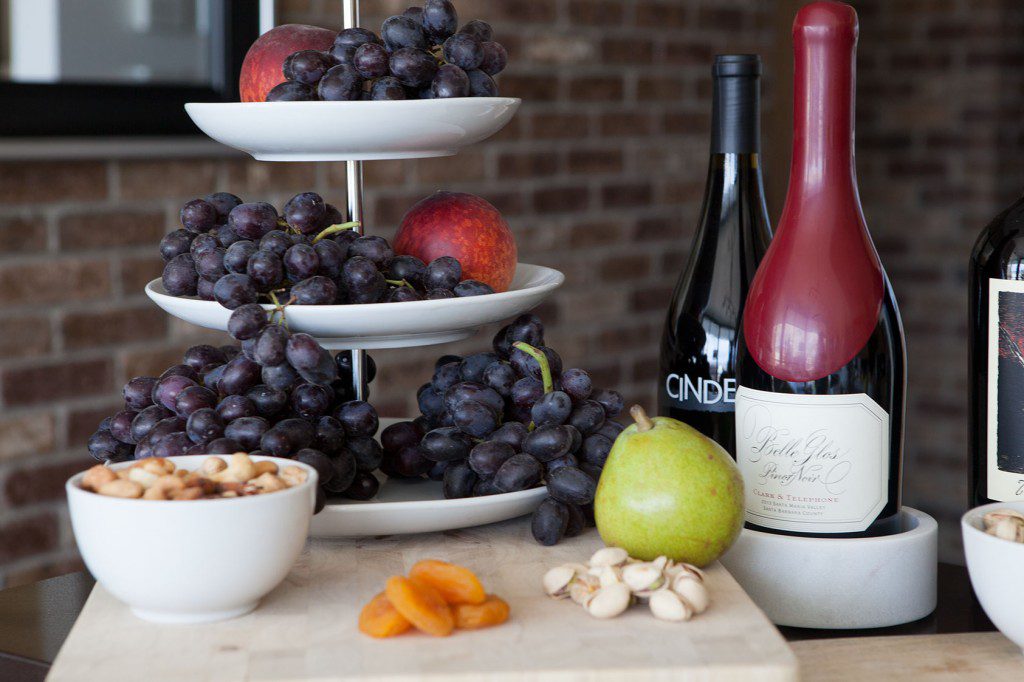 Green pears (from Whole Foods' produce section)
Peaches (from Whole Foods' produce section)
Purple Grapes (from CostCo)
Cherries (from Whole Foods' produce section)
The above fruits are staples at every Cheese & Wine party; they are a must. Not only do these fruits complement the flavors of all the Artisan Vegan Cultured Nut Products listed above extremely well, but they also bring playful textures to the mix. Feel free to add your favorite fresh fruits to the mix!
Deli Meats: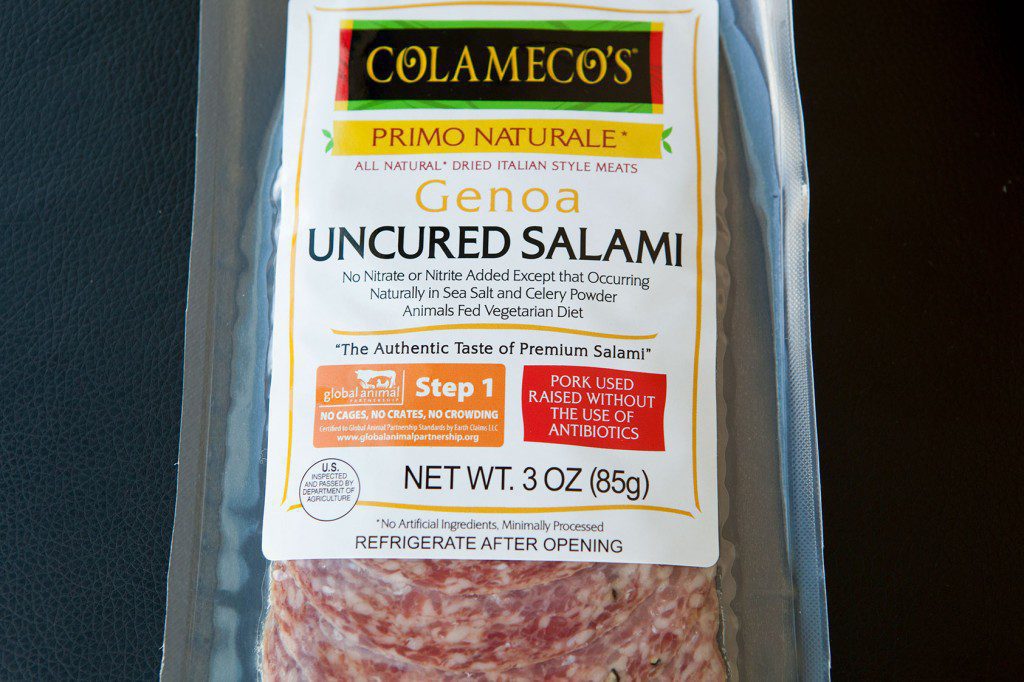 These two deli meats are my husband's favorite and that's why I decided to add them to my cheeseboards. My husband loves deli meats, so I gave him full control of this section. The nice thing about the two listed above is that they are pretty common deli meats, and people recognize them immediately, reducing any meat intimidation. Feel free to serve the ones you and your guests are more willing to eat and enjoy!
How to Set up Your Cheese Boards: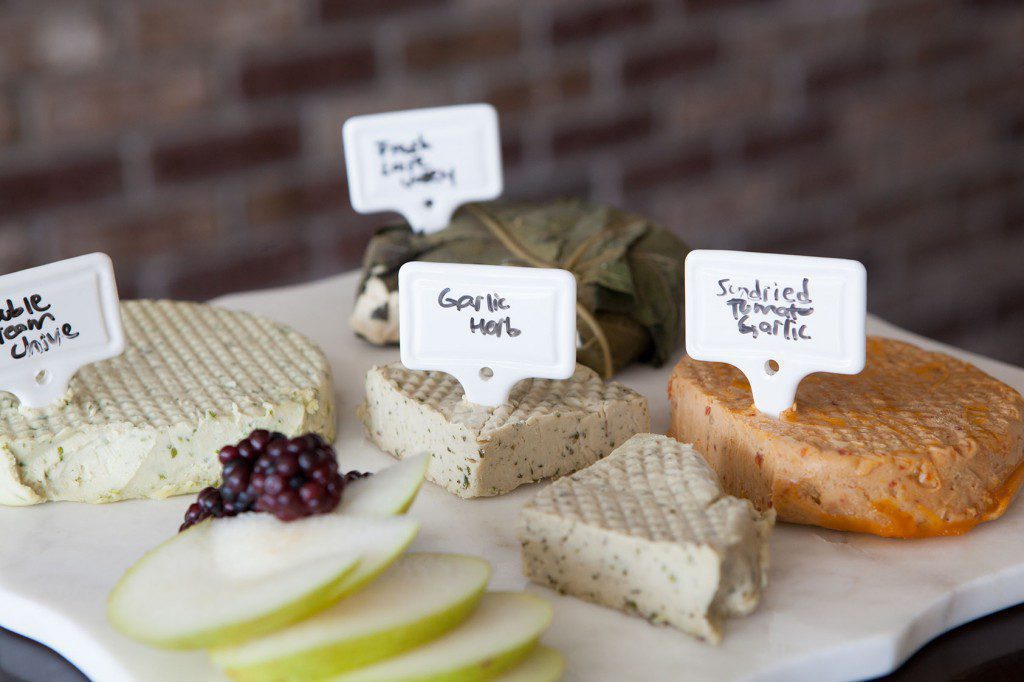 Select location of cheeseboard setting and make sure you clean it thoroughly. (This can be done the night before or the day-of in the morning.)
Take out your cheeseboards and arrange them nicely on the area you've selected. (This can be done the night before or the day-of in the morning.
Take out fruit stand, cheese knives, bowls and plates, and arrange them nicely right next to your cheeseboards. (This can be done the night before or the day-of in the morning.)
Bring out nuts and dried fruit, and arrange these nicely on your bowls and cheeseboards. Be sure to look at my photos for inspiration! (This can be done hours before the party, as items wont perish.)
Bring out fruits, deli meats, olives and Artisan Vegan Cultured Nut Products, and arrange them nicely on your cheeseboards. Be sure to look at my photos for inspiration! (This is to be done minutes before guests arrive, as these items are perishable.)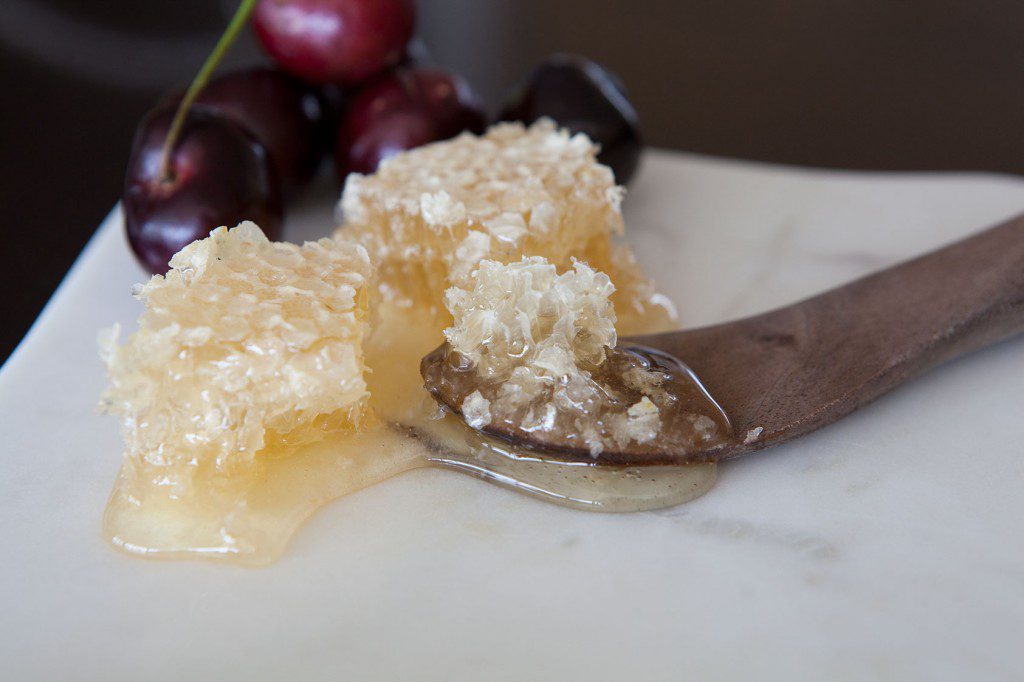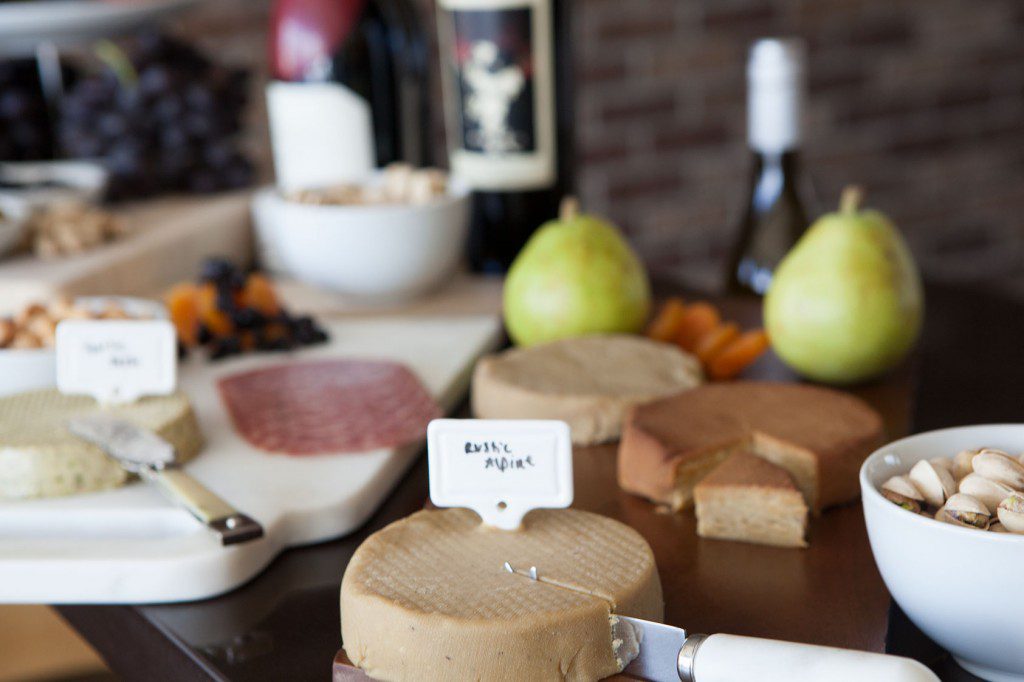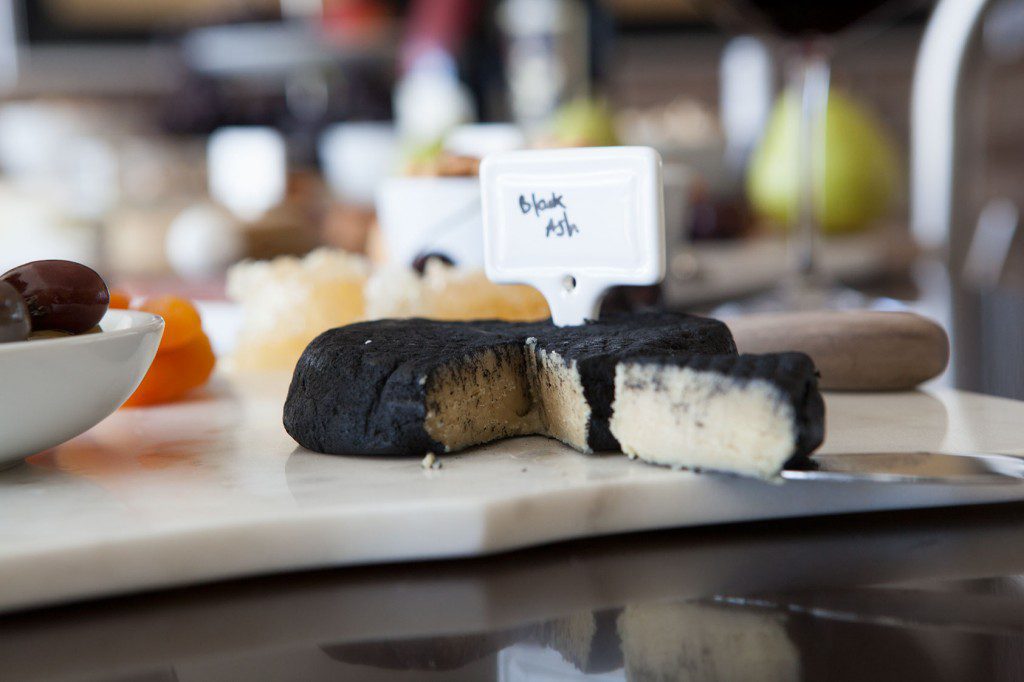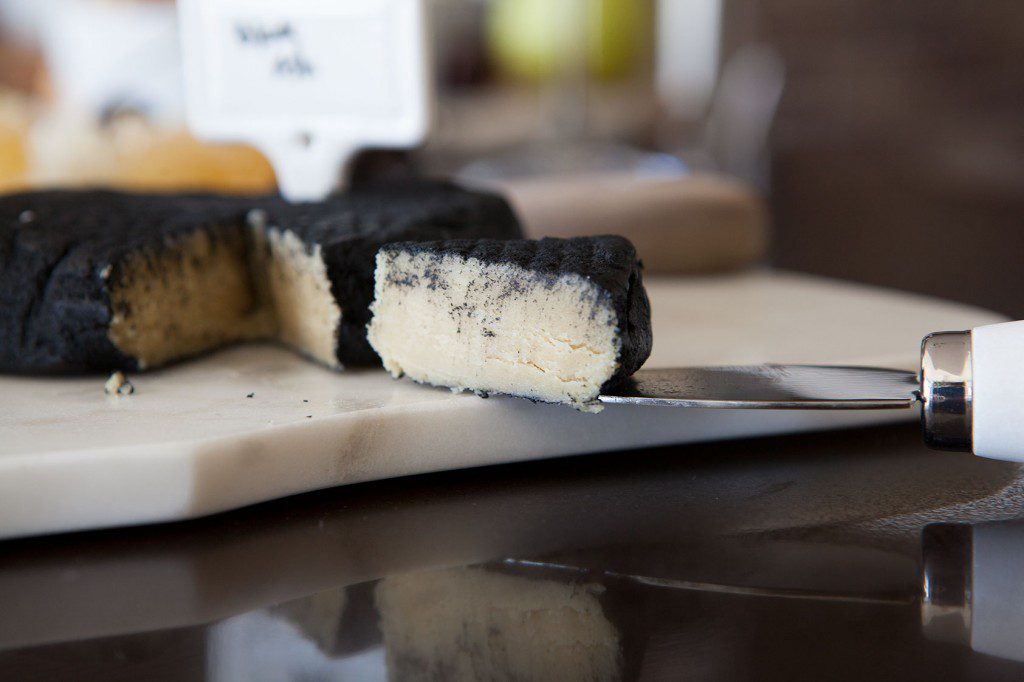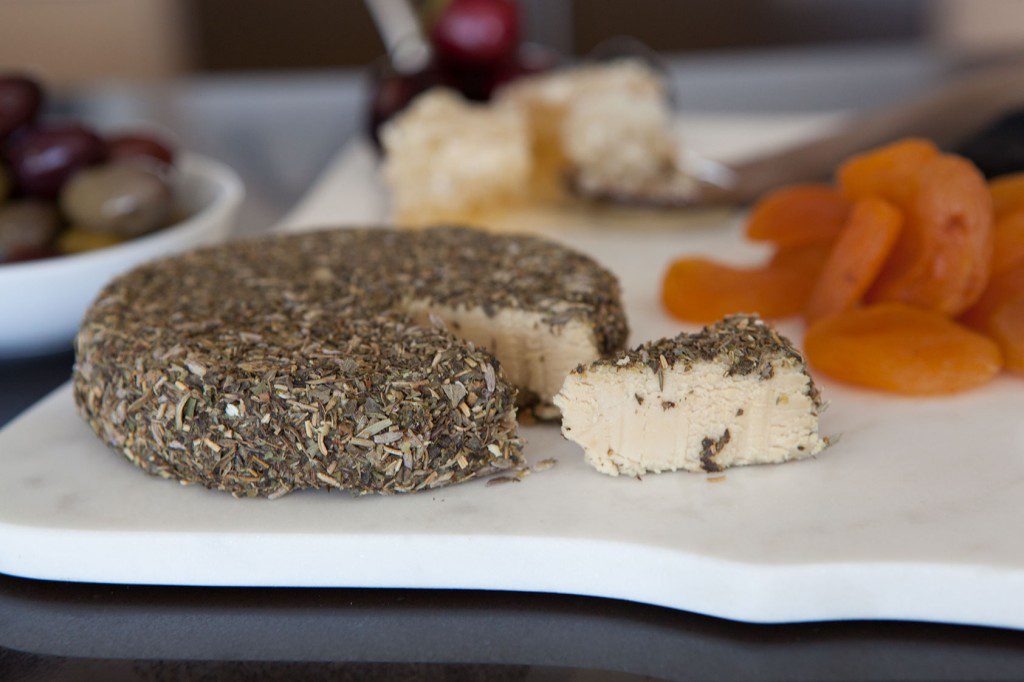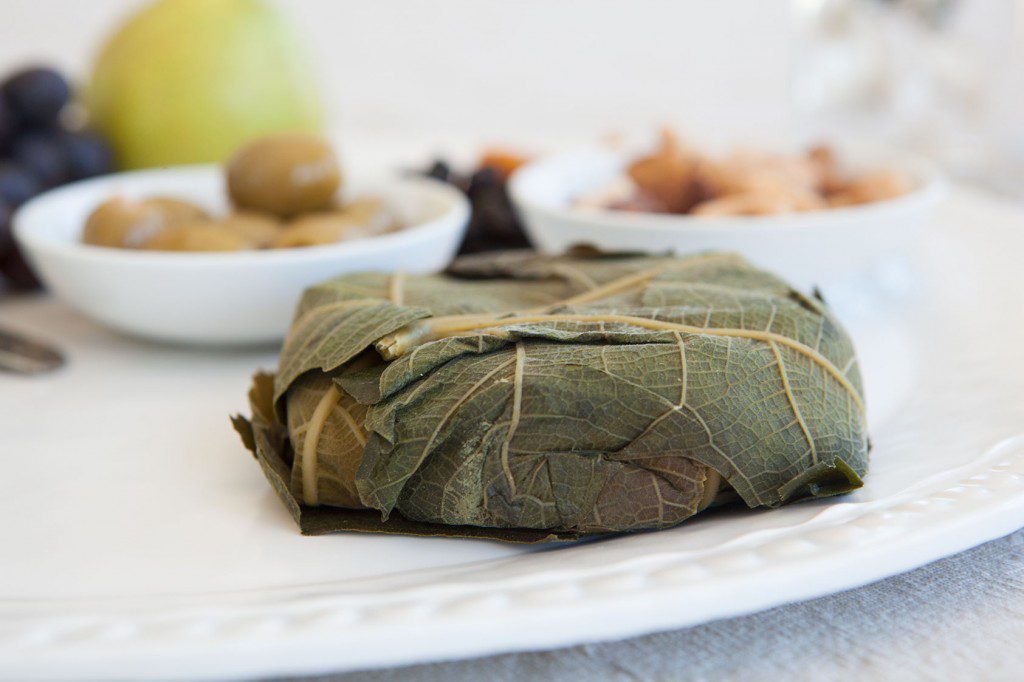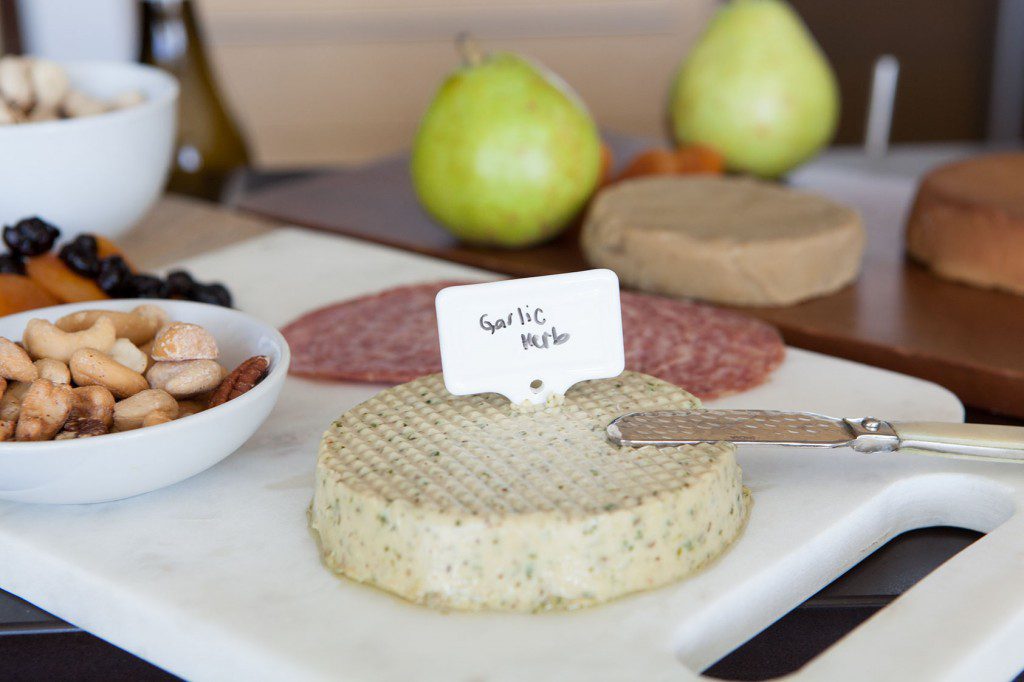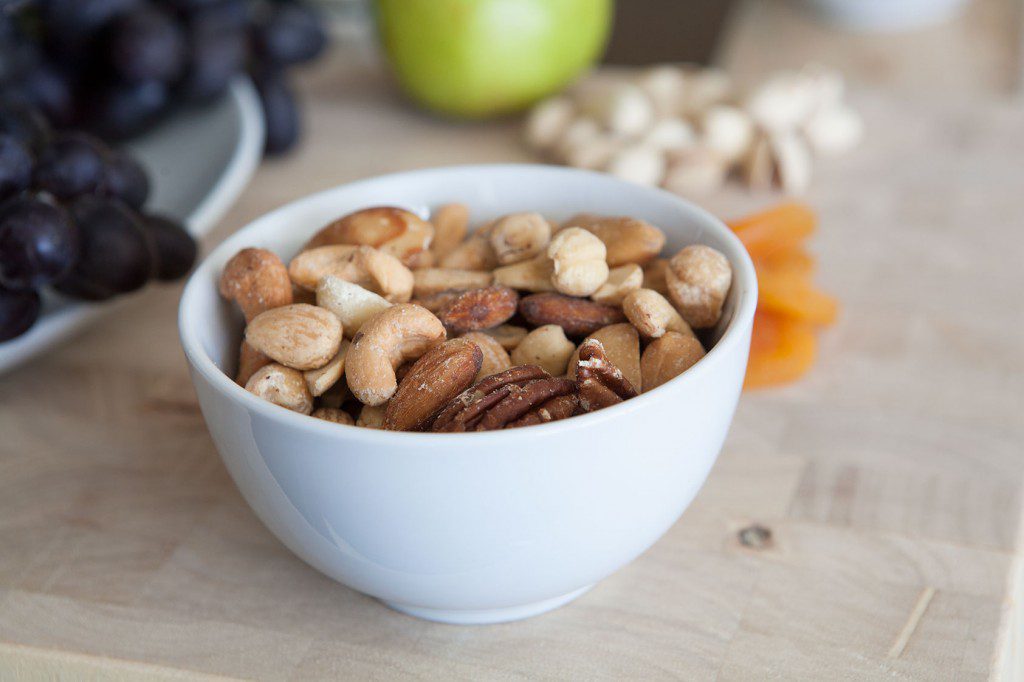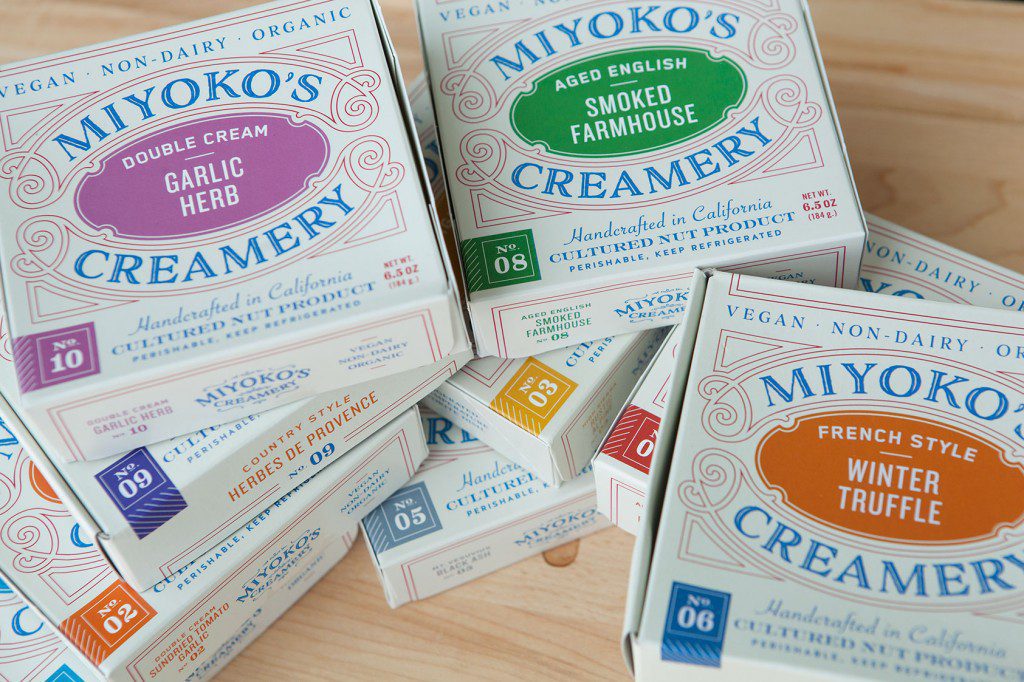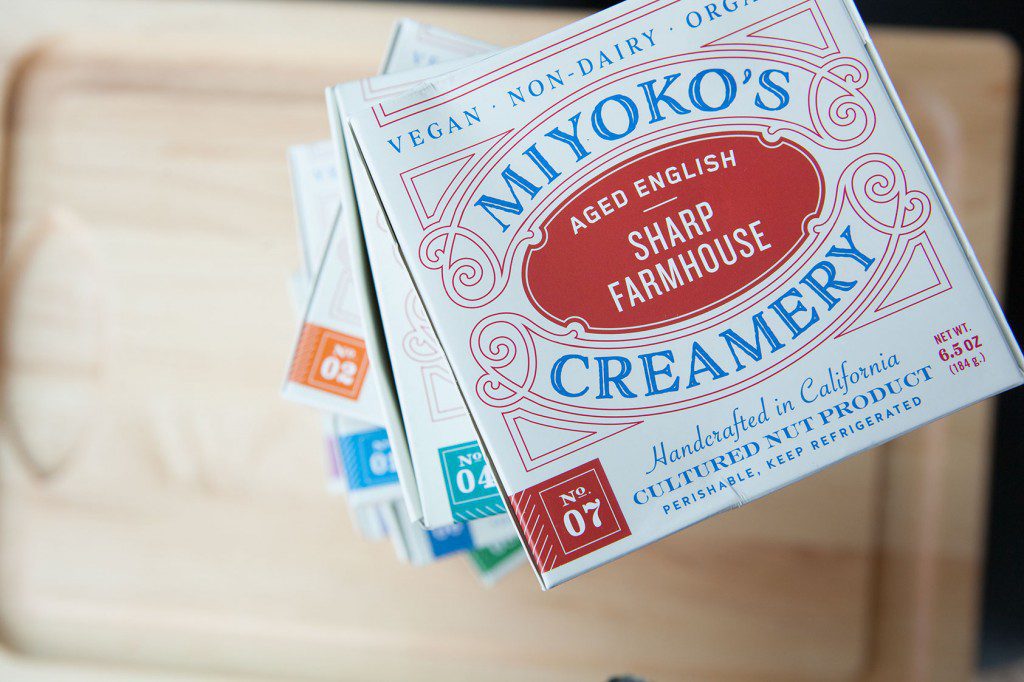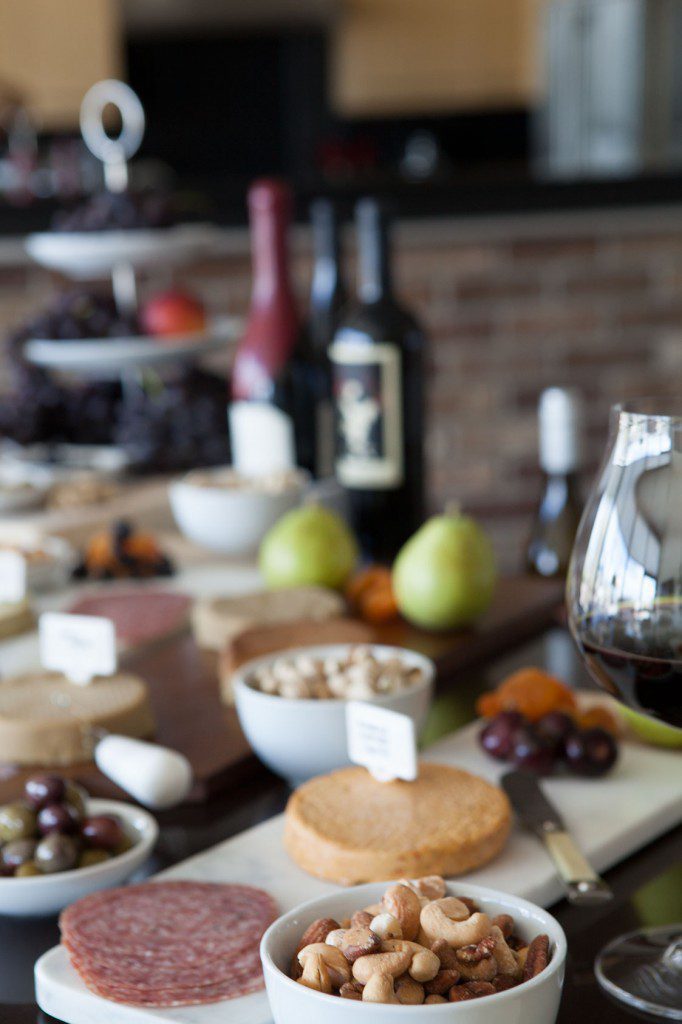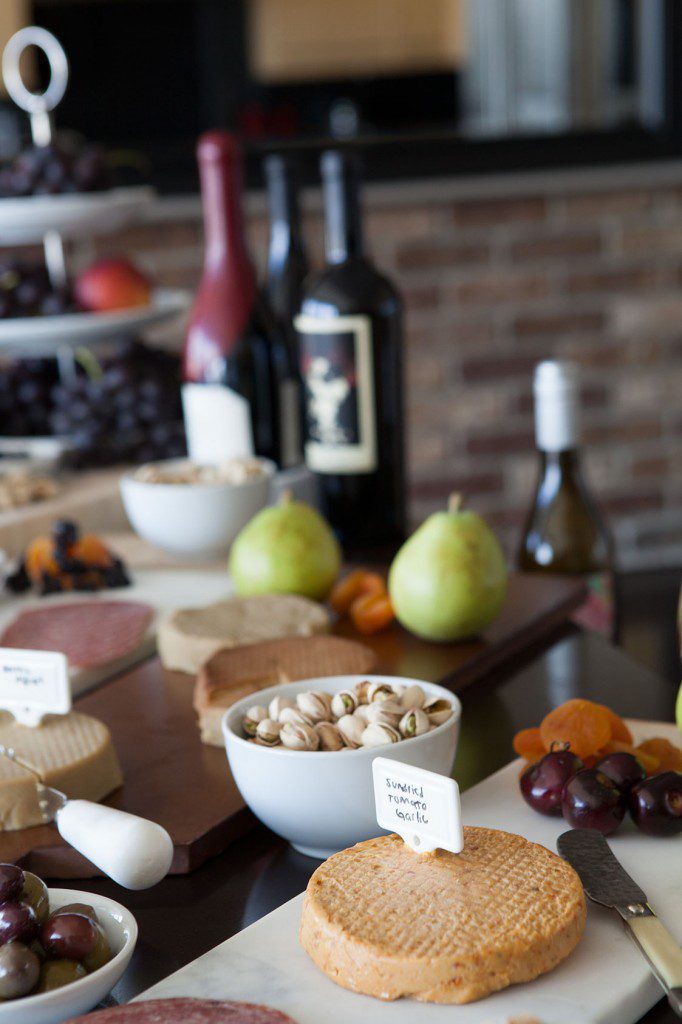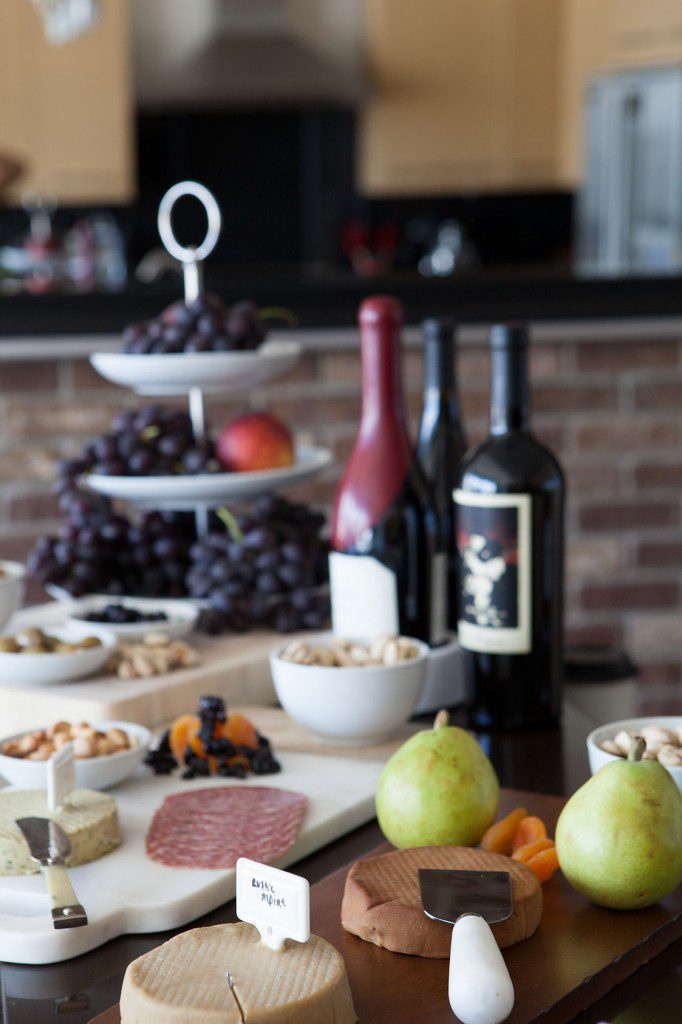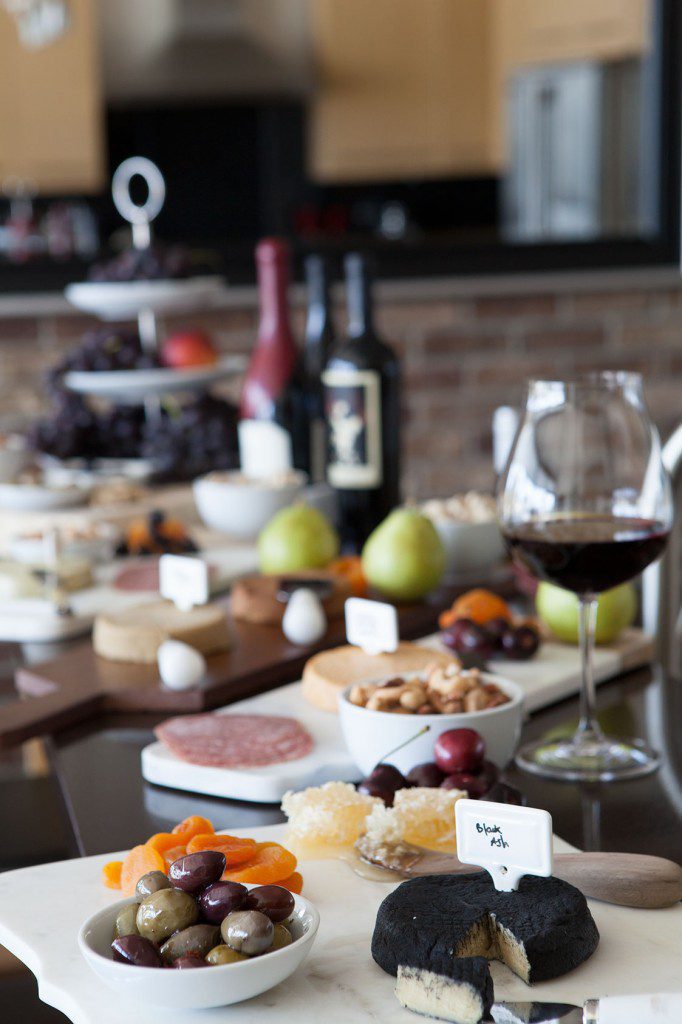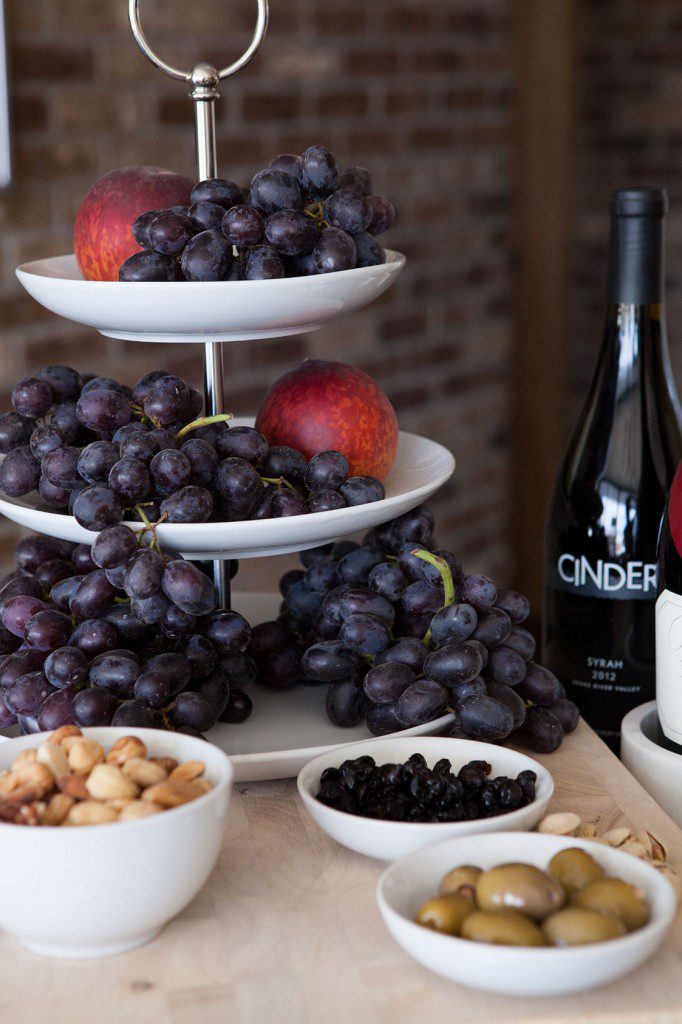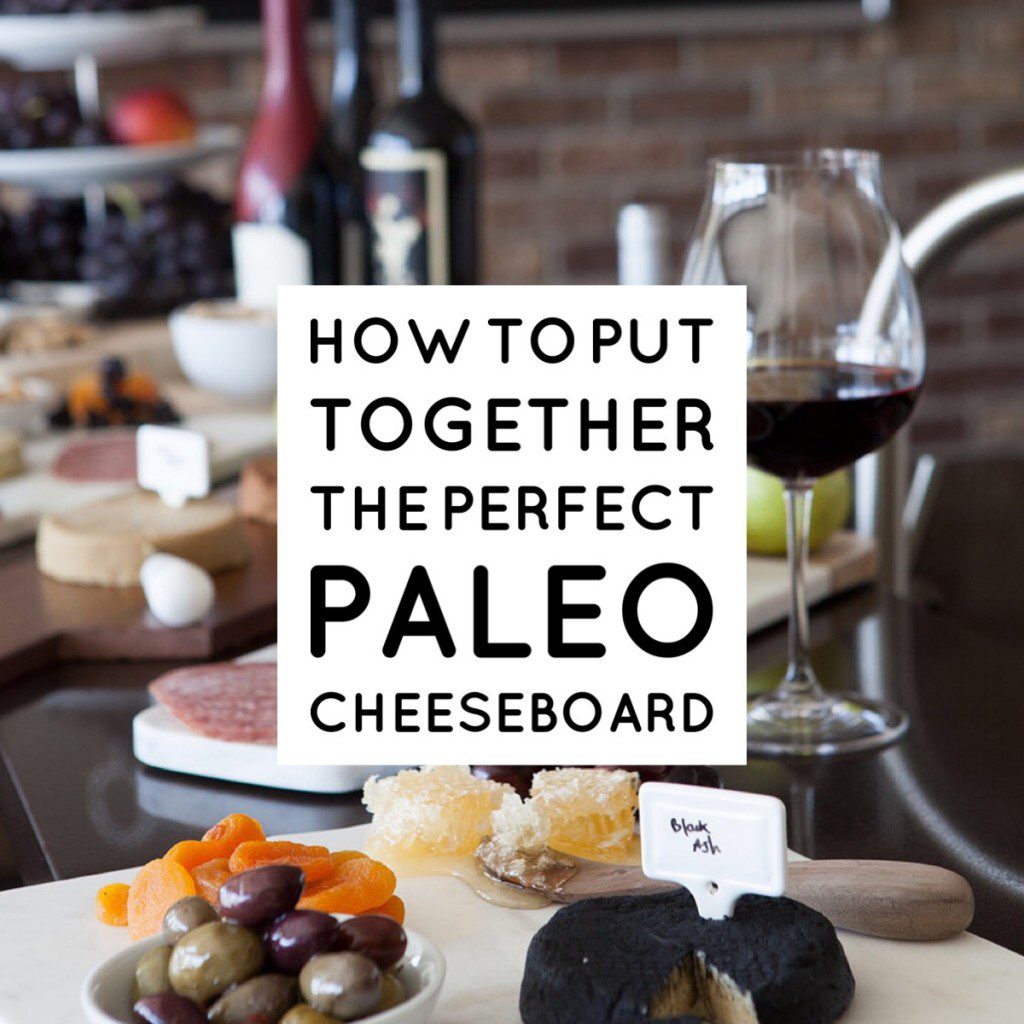 PIN ME!