I have another awesome recipe for you guys! Sweet, full-of-spice, crunchy granola. This recipe contains no grains, no dairy and no gluten. It is 100% Paleo approved! It's hands down the best granola I've ever had, and trust me when I say that I know my granola (before I was all Paleo, granola was my go-to snack).
So quick, gather your spices, nuts and all the yummy ingredients this recipe calls for, and get baking. The whole family will go crazy over this treat.
Enjoy this Maple Date Paleo Granola with coconut milk, almond milk, non-dairy yogurt, or all by itself.

Maple-Date Paleo Granola
Enjoy this delicious Maple Date Paleo Granola recipe with coconut milk and fruit. It's wonderful for breakfast or brunch. Gluten free and grain free!
Ingredients
1 cup pumpkin seeds
⅔ cups unsweetened shredded coconut
1 cup sliced almonds
1 cup chopped pecans
20 medjool dates, pitted and diced​
1 cup pure pumpkin puree
⅔ cups melted organic coconut oil
⅔ cups pure maple syrup
2 tsp vanilla extract
2 tbsp nutmeg
2 tbsp cinnamon
¼ tsp allspice
¼ tsp ground ginger
¼ tsp sea salt
Instructions
Preheat oven to 325 F. Line two baking sheets with parchment paper and set aside.
Combine pumpkin seeds, almonds, pecans, shredded coconut, nutmeg, cinnamon, allspice, ginger, sea salt in a large mixing bowl and set aside.
In a separate bowl mix pumpkin puree, coconut oil, maple syrup and vanilla extract. Pour over bowl with dry ingredients and combine. Divide mixture evenly between the two baking sheets evenly, and bake for 20 minutes.
Take baking sheets out of the oven, and use a spatula to move the granola around and bake for another 10-12 minutes. Let cool completely and store in a tight container for up to two weeks.
Notes
Tools You'll Need:
- 2 baking sheets
- Parchment paper
- Metal spatula
- 2 mixing bowls
- Measuring cups
- Measuring Spoons
Nutrition Information
Serving size:
1 serving --
Calories:
357
Fat:
20 g.
Carbohydrates:
45 g.
Protein:
3 g.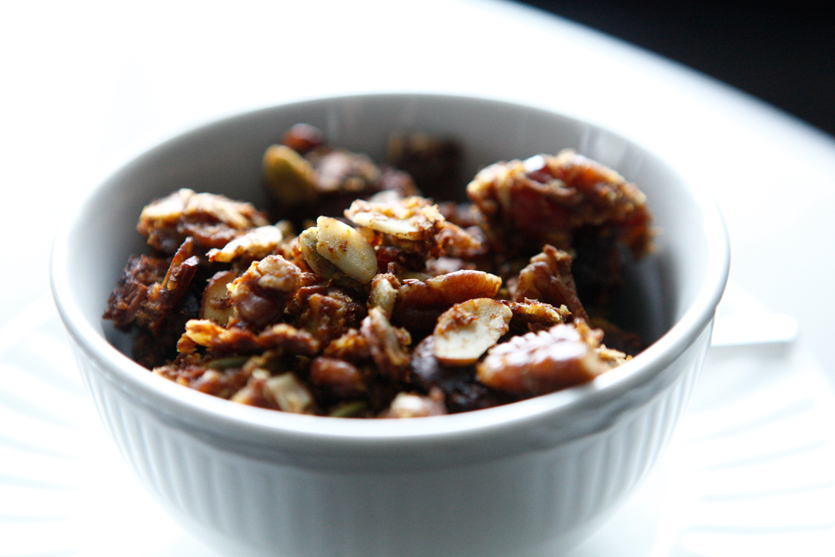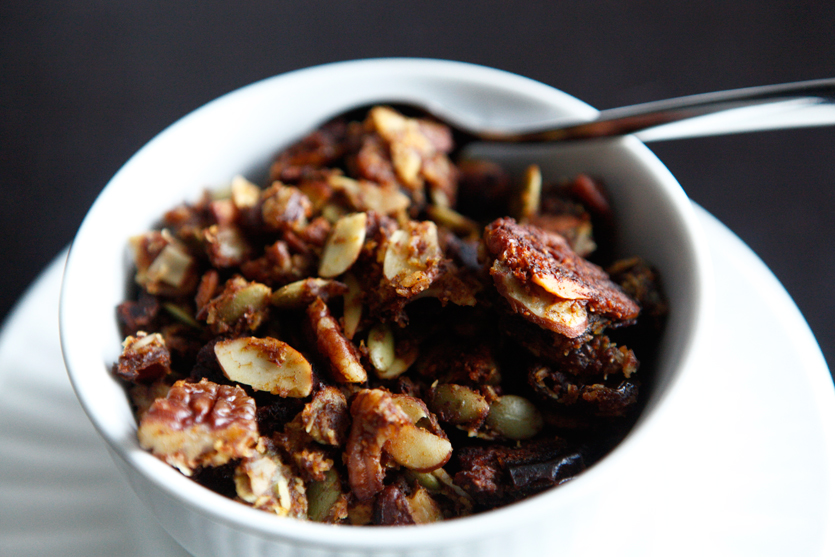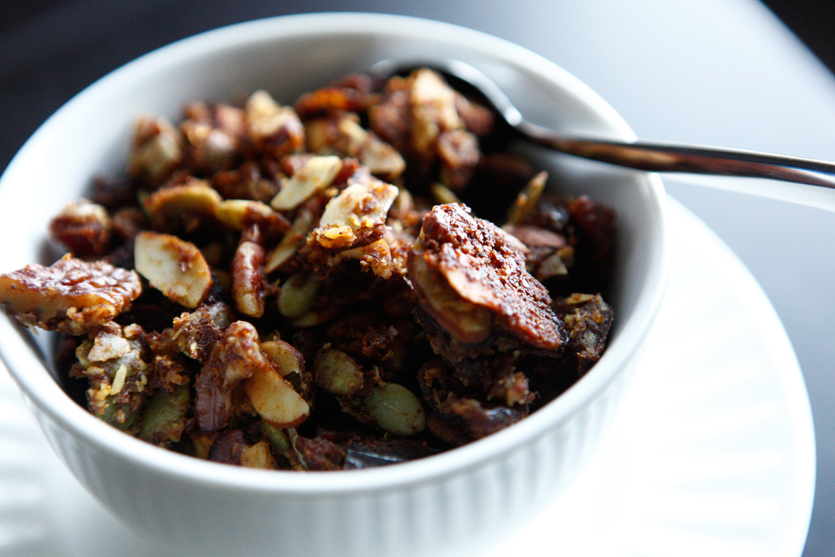 PIN ME!