Remember that last blog post where I shared my Paleo Whipped Buttercream recipe with you guys? Well, today I'm sharing the cute Paleo Vanilla Cupcakes I baked to lather that Paleo Whipped Buttercream recipe on. Ahhh, yes, SO GOOD. And aren't they just darling? I could stare at these Paleo Vanilla Cupcakes all day. Maybe not even eat them…just stare. (Yeah right, like I have that kind of self control. HA!)
These adorable Paleo Vanilla Cupcakes are super easy to bake, but wanna know what the best part of them is? They take less than an hour to create! And see, that's truly perfect, because when one is craving a treat, one doesn't have the kind of patience that can wait much longer than that. At least not me…and maybe you're kind of the same way? Especially if you're a millennial. Hey, I am one too, so no judgement! I personally know how it is to want things right here, right now, with as little effort as possible. Haha. Doesn't that sound about right? Funny individuals we are, aren't we?
My Paleo Vanilla Cupcakes will require a bit of effort, but not too much, nothing we can't handle, y'all! Especially when you have the right motivation…like say, bringing your tastebuds a gift. Because that's how these feel in your mouth, like a sweet reward.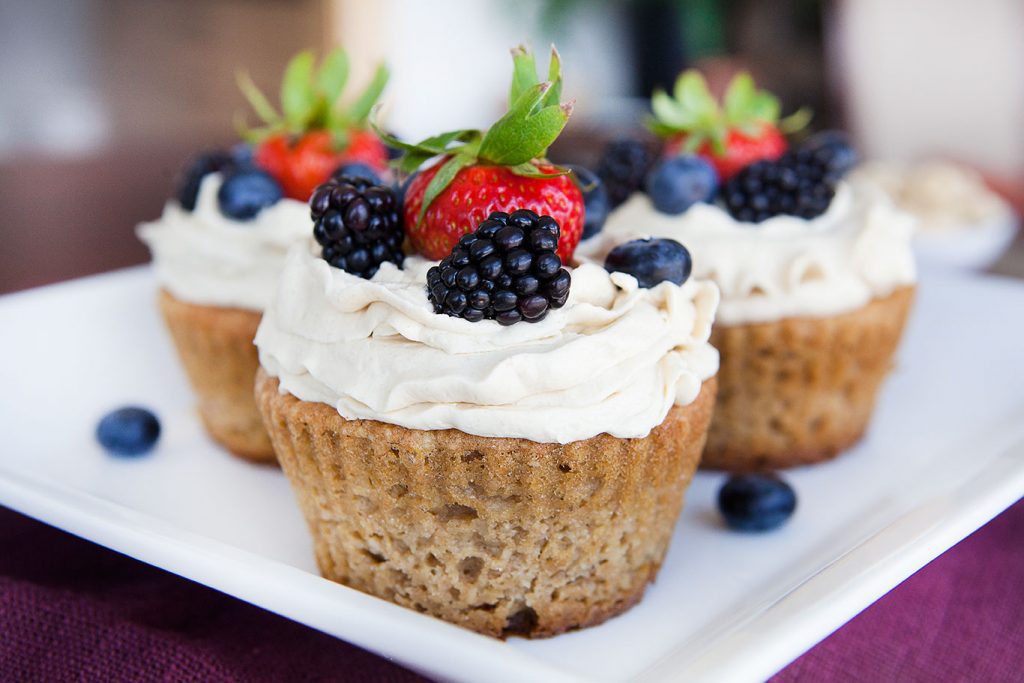 These would make for a wonderful party treat for when you're having a fun event at you're home or when you're responsible to bring goodies to one. But they would also make for a fun weekend recipe you can bake with people you love. If you have kids, they'd be great to make with them. However, if you don't have kids, this Paleo Vanilla Cupcakes recipe is super fun to make for your a night with your girl friends! Just add some bubbly and you'll have the perfect combo for a girl's night in!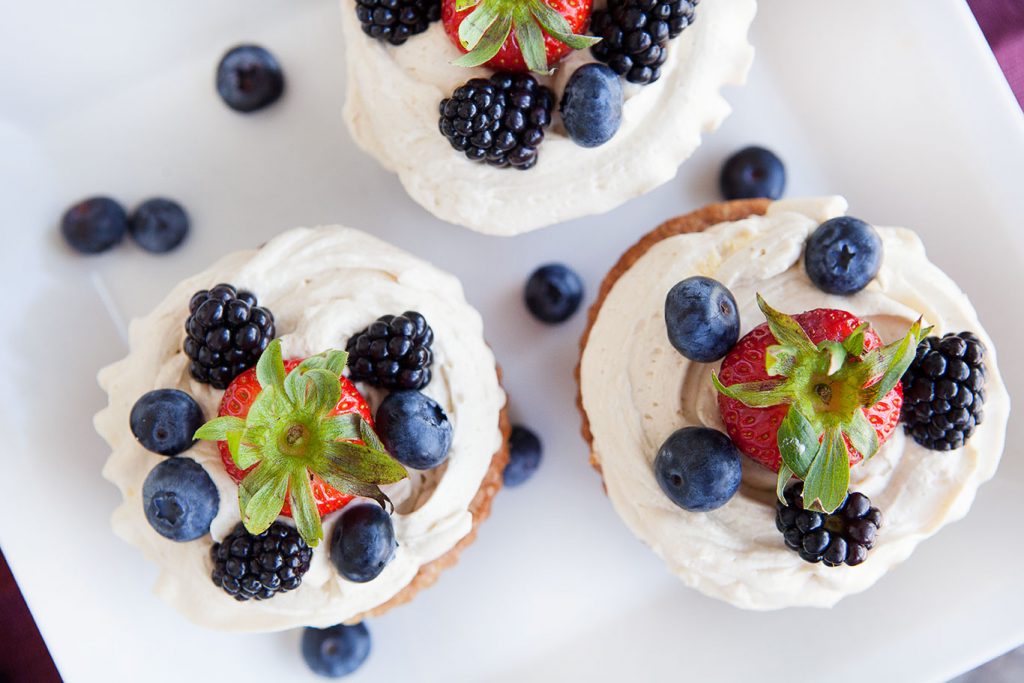 Speaking of bubbly, I am so excited for this weekend, because my husband and his business partner have a meeting this coming Monday in Arizona, and so we are heading to Scottsdale this Saturday (tomorrow!) to enjoy the weekend before they do business.
I especially love tagging along on my hubby's business trips, because it means that his business partner's fiancee will be around to hang out with me while the boys are busy. We both get to drink a little (see why the bubbly reminded me of this?), taste new flavors, see new places and chat away.
This will be my fourth time to Scottsdale, and just like the other times, it's a quick three-day trip. Yet, every time we go, we get to see new parts of it. Which is so great! This time it's going to be extra special, because there is talk of going to the Final Four National Semifinals. And I've never experienced that before! Sports, great fan energy and a few spirited beverages…yup, definitely up my alley! If we end up going to the game, I'll be sure to share Insta stories on my Instagram account (follow me if you haven't yet!), and other Scottsdale videos while I'm at it.
The weather forecast says that Scottsdale will be nothing but sunny. And so, OF COURSE I am stoked. Boise has been a little all over the place lately, and guys, I am not having it. Yesterday, for example, it freaking snowed! Out of nowhere! Seriously, Boise? It's Spring already, and tomorrow is April. APRIL. Why do you have to do this to us so late in the game, huh? I think I speak for all of us in Boise here when I say: you're like a hormonal teenager. We never know what we're gonna get with you. So Scottsdale sunshine, here we come, we know we can count on you!
If I weren't going out of town this weekend you know what I would do? Bake these cute Paleo Vanilla Cupcakes. Because who doesn't need a fresh, tasty and healthy Paleo treat to brighten up their weekend? Since it's Spring and strawberries are in season (and as far as I've noticed, they are going on mega sale at the grocery store), pick up a few of those at the grocery store and use them to decorate your cupcakes! Strawberries, cream, vanilla…a little bubbly. I think it sounds like a pretty sweet plan!
Hope you love these treats as much as my husband and I did. Have an awesome and fun filled weekend! XO

Paleo Vanilla Cupcakes
This delicious Paleo Vanilla Cupcakes recipe is easy to make and very healthy! The perfect gluten free and dairy free dessert for any kind of party!
Serves:
10 regular sized muffins
Instructions
Preheat oven to 350 F. Place 5 jumbo silicone muffin liners on a baking sheet and set aside. If you don't want to make jumbo muffins, line a regular sized muffin pan with 10 liners.
Mix cashew flour, coconut flour, baking powder, baking soda and sea salt in a large bowl, and set aside.
In a separate bowl, whisk eggs, honey, coconut oil and vanilla extract. Pour in bowl with dry ingredients and mix until no lumps remain.
Pour batter into muffin liners, dividing accordingly,. If baking jumbo muffins, bake for ~30 minutes. If baking regular size muffins, bake for ~25 minutes. Let cool completely.
Add Whipped Buttercream to a piping bag, pipe the frosting on the muffins to decorate and add berries on top.
Notes
Note 1: Muffins last fresh in refrigerator for about 1 week.
Note 2: You may be left with some extra Paleo Whipped Buttercream, if so, lucky you! Save it for later and add it to other yummy Paleo treats (or to black coffee, if so inclined)!
Nutrition Information
Serving size:
1 regular sized muffin --
Calories:
347
Fat:
25 g.
Carbohydrates:
27 g.
Sodium:
194 g.
Fiber:
2 g.
Protein:
6 g.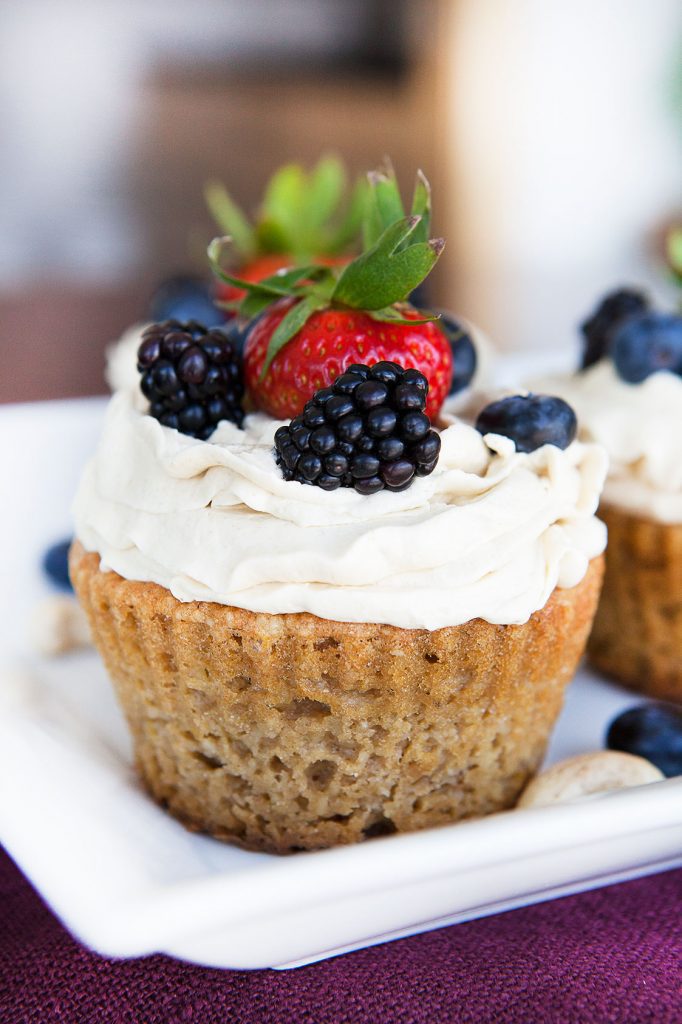 PIN ME!

Other Paleo muffin recipes you'll love: