I've been craving granola like crazy lately. Wanting it for breakfast, in the afternoon as a snack, and even for dessert after dinner. I'm telling you, I've been needing granola bad.
The issue is, Paleo granola is not easy to come by. So in my intense times of cravings, I can't simply go buy some at the nearest grocery store. I gotta make it!
Sometimes, my cravings are so hard, that I'm pretty sure I'd do right about anything for a generous bowl of it to magically appear right in front of me. A hearty bowl of granola, while being all cozied up in a blanket at home, is extremely comforting to me. Especially when the weather is cold outside. Just like it is now, for example. (Boo! I totally miss my sunshine and hot summer days. I'm literally getting paler by the minute, and…me no like dat. Not one bit.)
I think I recently went five days straight of craving granola and not being able to have it, because I didn't have any already made at home. And you know what? On the sixth day, I got in my car, went ingredient shopping, turned my oven on to three hundred degrees Fahrenheit and got busy mixing my favorite nuts and seeds. I was salivating the entire time.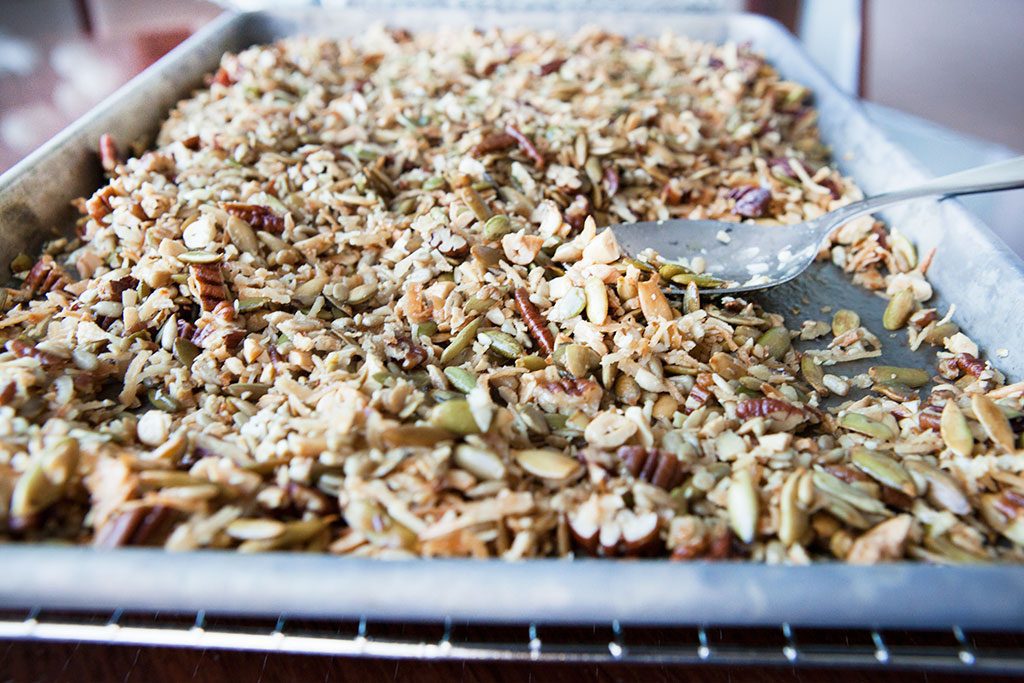 One of the toughest parts of making granola, in my opinion, is choosing which nuts and seeds to use for the batch. There are so many delicious ingredient options out there, that choosing a few is no easy feat. For this batch, I chose nuts that are non-inflammatory to my system, like cashews and pecans (unfortunately, almonds and walnuts are very rough on my tummy), and some high protein seeds, like pumpkin seeds and sunflower seeds. YUMMMO!
If for some reason you're intimidated to make your own granola at home, don't be! You can simply follow this recipe and the process will be easy peasy, as all the ingredients are already chosen for you. I also have this Maple Date Paleo Granola recipe and this Hippie Paleo Granola recipe that you may want to try as well! And since its fall and winter time is a-comin', I'll probably be posting more Paleo granola recipes soon to comfort all of us, so stay tuned!
When you make this (you totally should, you'll love it!), make sure you take the baking pan out of the oven every 10 minutes or so in order to mix the ingredients up a bit to keep them from burning. Your granola will turn out beautifully if you do. This is the key!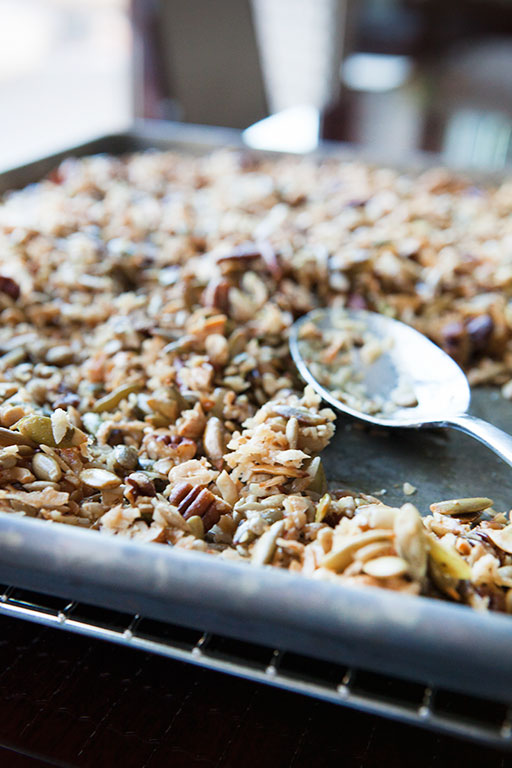 This Energy Boosting Paleo Granola is:
Crunchy
Perfectly balanced
High in protein
Energizing
Filling
Healthy
Satisfying
Comforting
Gluten-free
And best of all…100% Paleo approved!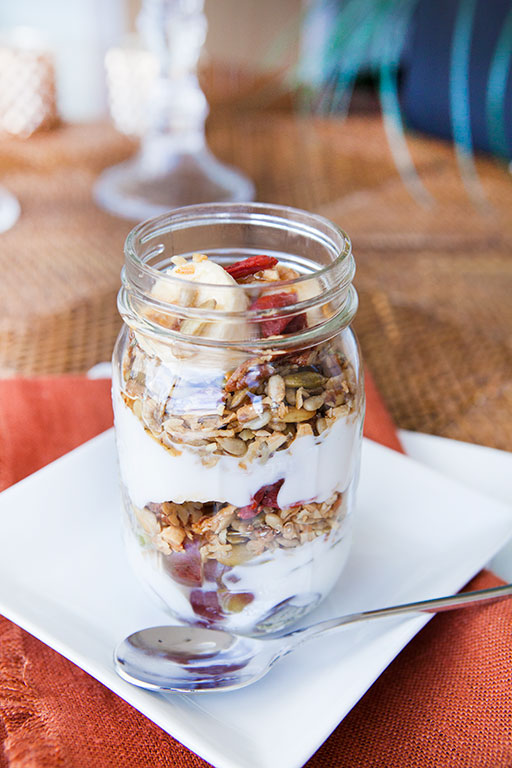 I love having about a quarter cup of this Energy Boosting Paleo Granola on top of sliced bananas, berries, cashew milk yogurt and a small handful of dried fruit. Pair it up with a nice hot cup of tea or coffee, and you'll be comforted out of your mind. Best way to cure the blues, guaranteed.
Also, it's such a cute little treat to give your loved ones! I mean, aren't these mason jars just darling? Best way to serve granola, hands down.
Hope you enjoy this healthy treat as much as I do! XO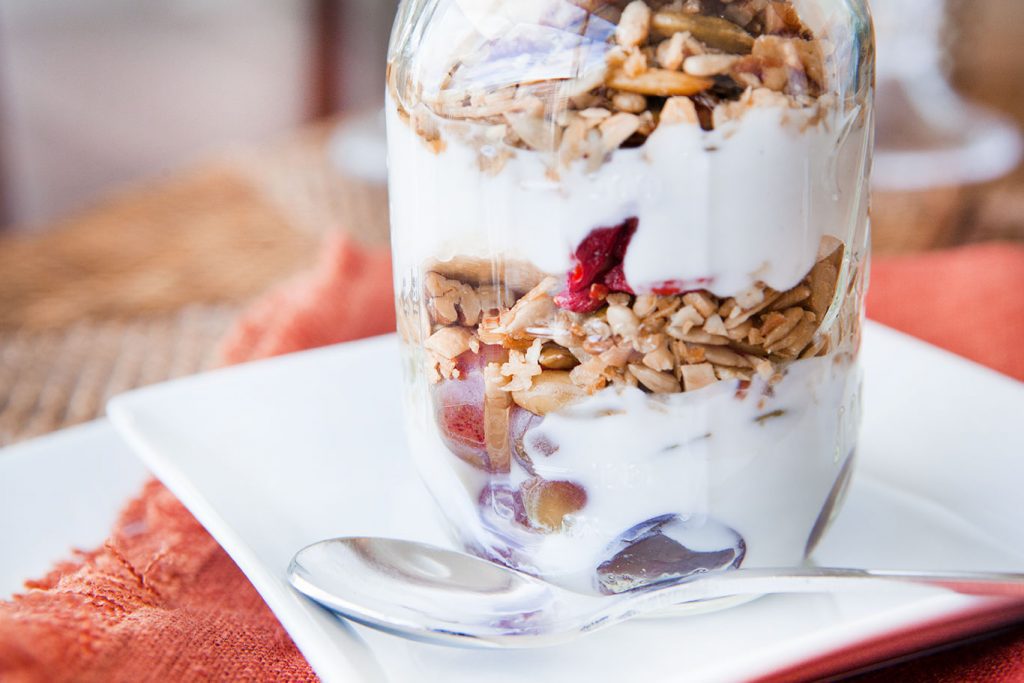 Energy Boosting Paleo Granola
This Energy Boosting Paleo Granola recipe makes for a delicious Paleo snack that is also vegan and gluten free. Enjoy it with dairy free yogurt and fruit!
Ingredients
1 cup raw cashews, finely chopped
2 cups pumpkin seeds
1 cup sunflower seeds
1 ½ cup pecans, chopped
2 cups unsweetened coconut flakes
1 tsp of sea salt
½ cup maple syrup
6 tbsp grape seed oil
Instructions
Preheat over to 300 F.
Mix dry ingredients in a bowl. Set aside.
Mix wet ingredients in a separate bowl, pour over dry ingredients and mix to combine.
Spread mixture on a large baking sheet, and bake for about 45 minutes total; carefully stir mixture every 10 minutes to prevent burning. Let cool completely and fold in desired dried fruit. Store in a tight lid container for up to 3 weeks.
Notes
Tools You'll Need:
- Baking sheet
- Spatula
- Cutting board
- Knife
- Mixing bowls
- Measuring cups
- Measuring spoons
Nutrition Information
Serving size:
1 serving --
Calories:
288
Fat:
23 g.
Carbohydrates:
10 g.
Protein:
5 g.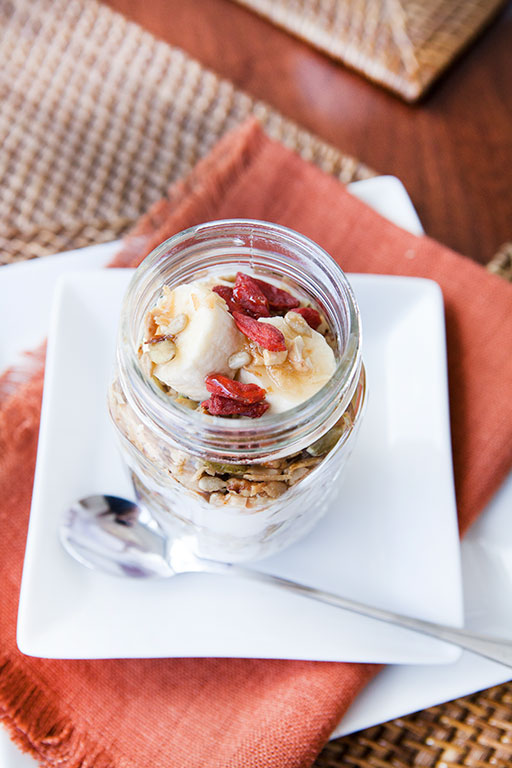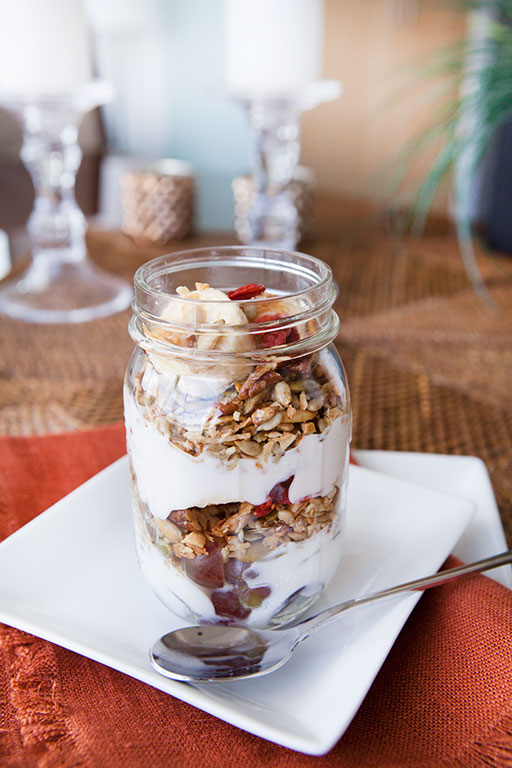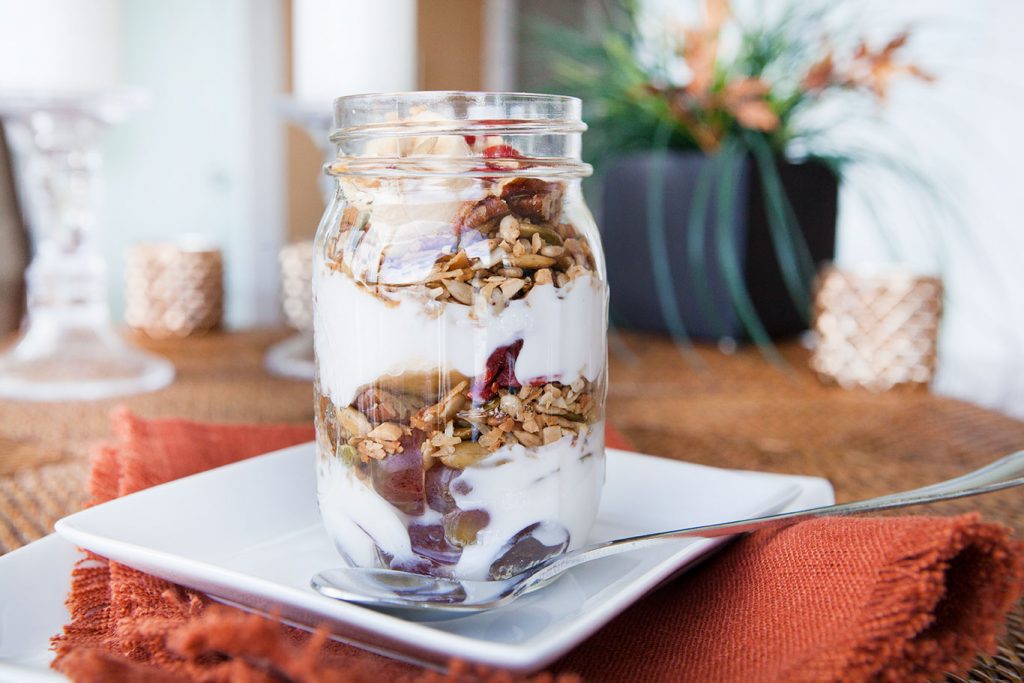 PIN ME!