My hubby recently had a blood test done and his results came back showing higher than normal creatinine levels…again. His last few blood tests have shown higher creatinine levels, so things have not gotten better. Such a bummer, especially since he's been actively following doctor's orders in order to get those levels in check.
The doctor had recommended that he stop taking supplements to see if those were the cause…but, nope, that didn't do it, so now we can rule out supplements as being the root cause of his abnormal results. Now, his doctor has recommended that he lower his protein consumption, as high animal protein consumption has proven to be linked to an increase in creatinine levels. So, per doctor's orders, my hubby has significantly decreased his protein consumption. So much so, in fact, that he has gone temporarily…wait for it…VEGAN.
Preston (my hubs) is a fitness junkie and has always been one. He played football in high school, pole vaulted competitively for University of Washington (go Huskies!), and has worked-out religiously ever since he can remember. I mean, he worked at Bodybuilding.com for six years, for goodness sakes, so the man knows his fitness and eats to build muscle. Protein is what helps build muscle, so you can only guess what his meals used to look like: protein, protein, protein.
It has been weird for him to go away from what he has been used to for so long, but he is doing it nevertheless. I am so proud of him because he is taking this challenge like a true champion. Just the other day, after I asked him how he was feeling about his diet and all, he replied: "You know what? I actually don't mind this whole Vegan thing." Champion, I am telling you.
So, here I am, a PALEO food blogger, cooking a ton of Vegan meals for my husband. How ironic, huh? It has been an interesting journey to use only plant-based ingredients when making dinner, and to make things fun, I have bought a ton of Vegan cookbooks and visited a ton of Vegan blogs (thank you my beautiful bloggers)! Thank goodness for all the great resources we have available.
I am, of course, still eating animal protein, but I try to make us both tasty Vegan side dishes and meals that Preston can enjoy and get a full belly from. I am trying my best for this to be a good experience for him, because I know it can't be easy…and also, I want him to stick to it so he can get those levels to where they need to be. I have prepared tons of colorful salads, veggie burgers, tofu-based dishes, and even RAW-vegan treats, but his favorite so far has been a dish called Vegan Chick'n Sonoma Salad.
He is obsessed with it and can devour an entire plate in seconds. I mean, he seriously loves it. I think it's because it's sweet, savory and creamy? I use Beyond Meat's Beyond Chicken Strips to sub for the chicken, and these seem to do the trick for him…he does not necessarily miss having real chicken in the salad.
I am not a huge fan of fake chicken, obvs, but I do enjoy a nice Sonoma Salad; every time I prepare the vegan version for Preston, I make a real chicken version for me. And today, I am sharing the real chicken version with you guys! I think you'll really, really like it.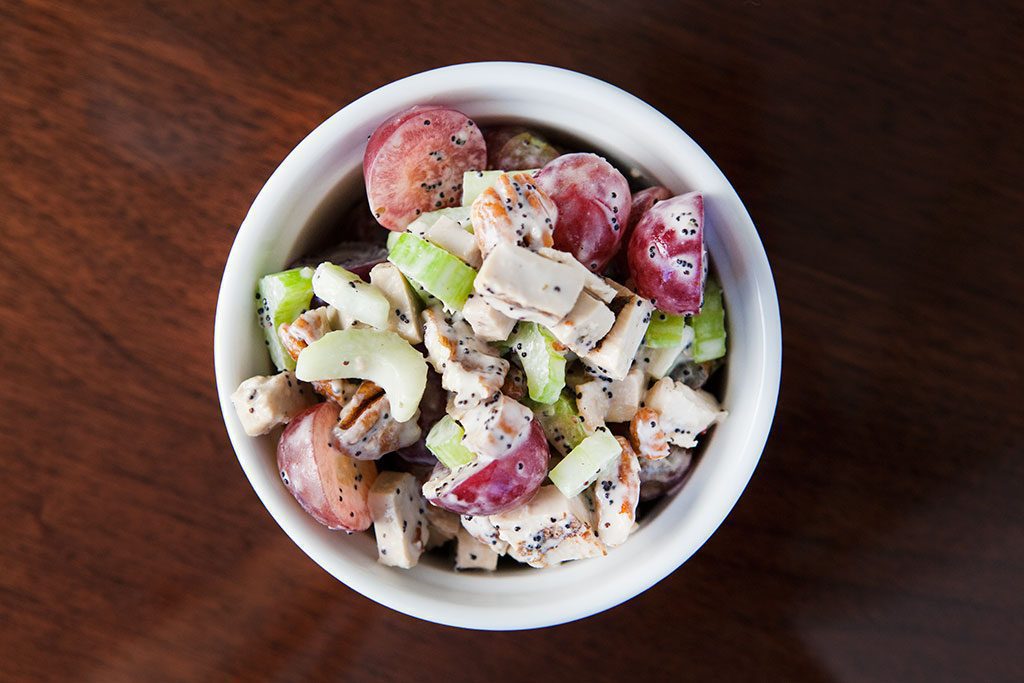 This Sonoma Chicken Salad is:
Creamy
Sweet and savory
Crunchy
Nutritious
Super easy to make!
I used my homemade Paleo Mayo for it, as this recipe calls for mayo. You can make my Paleo Mayo in large quantities if you're planning on making this recipe for a large group of people, or if you're wanting to use it for other recipes. Having a good Paleo-approved condiment readily available in your fridge never hurts, and it actually keeps fresh in a tight lid container for about two weeks.
I have been making this Sonoma Chicken Salad recipe on repeat and we have not grown tired of it yet. You know we are eating it at least a few times a week. If you make this, it'll be like we are sharing a meal together from afar! Totes cute.
Hope you and your family love this recipe as much as my husband does!

Sonoma Chicken Salad
This Sonoma Chicken Salad recipe is incredibly delicious, and it is 100% Paleo and 100% gluten-free. A great lunch or snack option!
Ingredients
2 cups halved red seedless grapes
2 cups chopped celery
½ cup mayo
2 tbsp poppy seeds
3 tbsp apple cider vinegar
1 tsp sea salt
½ tsp black pepper
3 cups cubed chicken breasts
½ ​cup roasted unsalted pecans, chopped
Instructions
Add all ingredients to a bowl and toss to combine.
Chill for 2+ hours to allow the flavors to set. Serve right away or save for later use.
Notes
Tools You'll Need:
- Cutting board
- Sharp knife
- Measuring cups
- Measuring spoons
- Mixing bowl
- Spatula
Nutrition Information
Serving size:
1 serving --
Calories:
310
Fat:
24 g.
Carbohydrates:
11 g.
Protein:
13 g.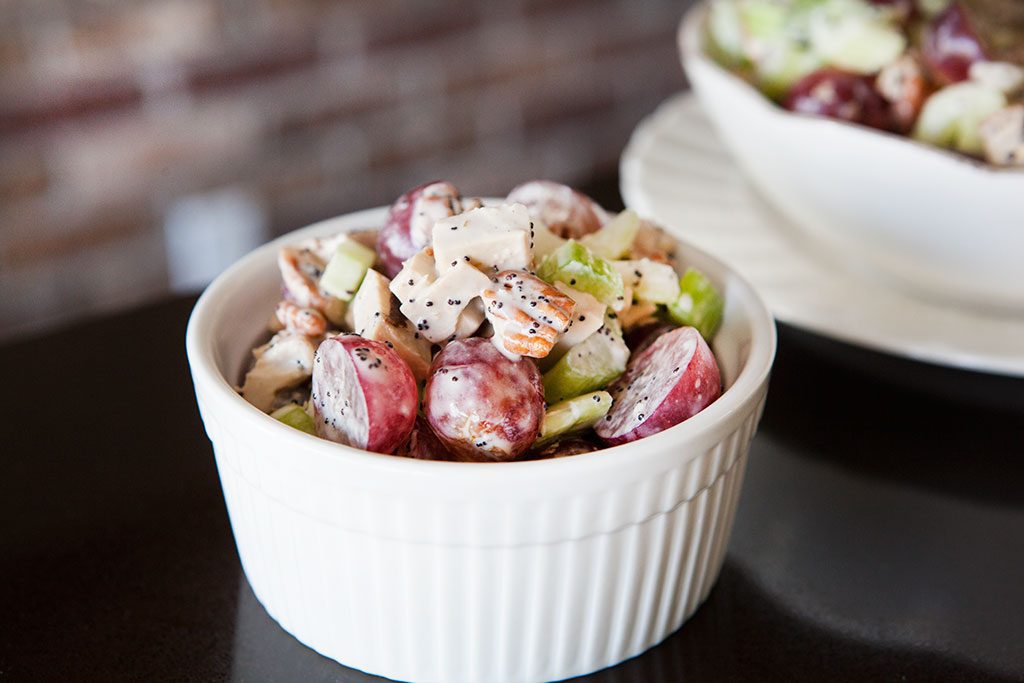 PIN ME!