Hello Blackberry Crumble Pumpkin Bars! You have arrived to my life at a PERFECT time.
Because, let me tell you what. Today is the first day of Fall, and I am ready for some of this season's most comforting treats. Pumpkin, you may come into my life in allllll of the ways. ?
And since today is Friday and the weekend is right around the corner, you better believe that these cuties will be very present in my life during the next couple of days.
I mean, look how pretty they are. That purple? Oh my gahhh!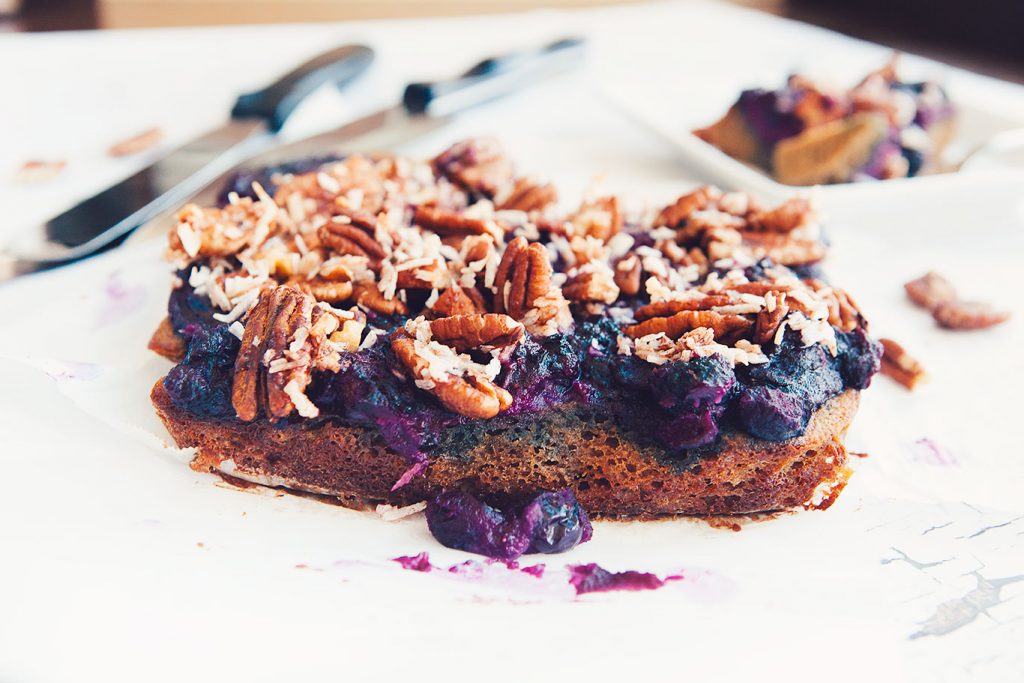 But hold up, let me just describe these pumpkin bars a bit more to you guys so you can understand my obsession.
The bottom layer has a cake-y texture, think baked protein bars, but with a pumpkin pie taste to them. The layer is nice and moist, just what a good cake layer should be like.
The middle layer, the blackberry & blueberry layer, is fruity and rich. It adds a ton of moisture and a good balance to the bars. It's tarty nature balances the sweetness of the bottom layer, and these two are basically a match made in heaven.
The last layer, the top nutty layer, is made out of a combination of pecans, coconut, honey and spices. They add a wonderful crunch to every bite, as the pecans and coconut got slightly toasted from their time in the oven.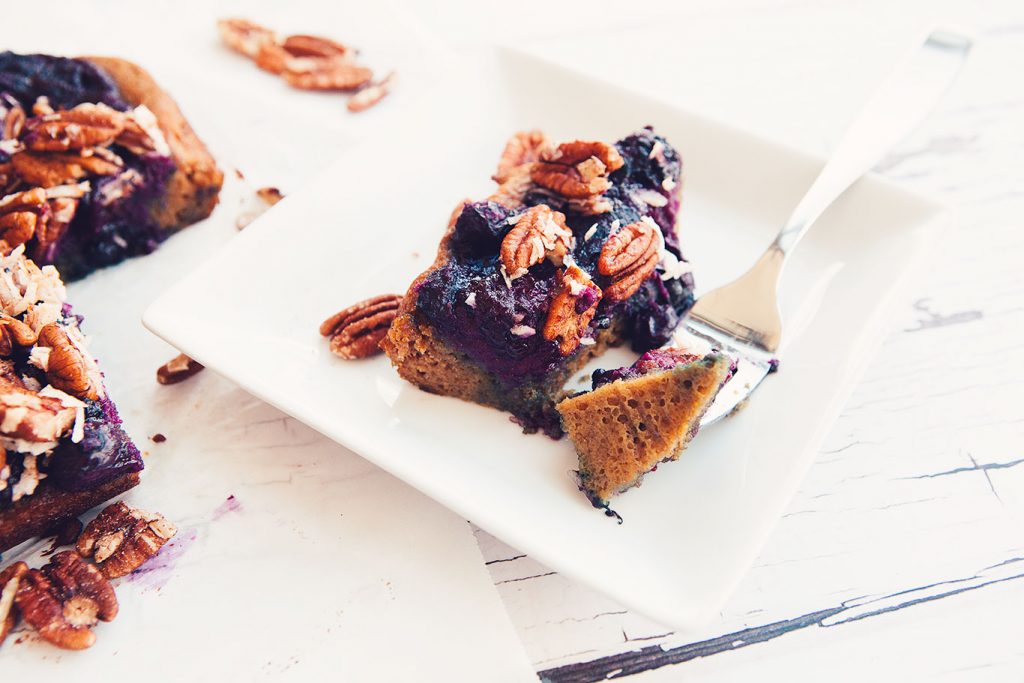 See? Now you get why these bars are my everything right now. Notes of cinnamon, sweet pumpkin, berries, maple, toasty nuts? Yes please!
I may just hoard these all for myself, and only give a single fork-full to my husband. But maybe a better option (a more generous one) is to make another full batch of these yummies, right? So that we both get a healthy share of it, because sharing is caring.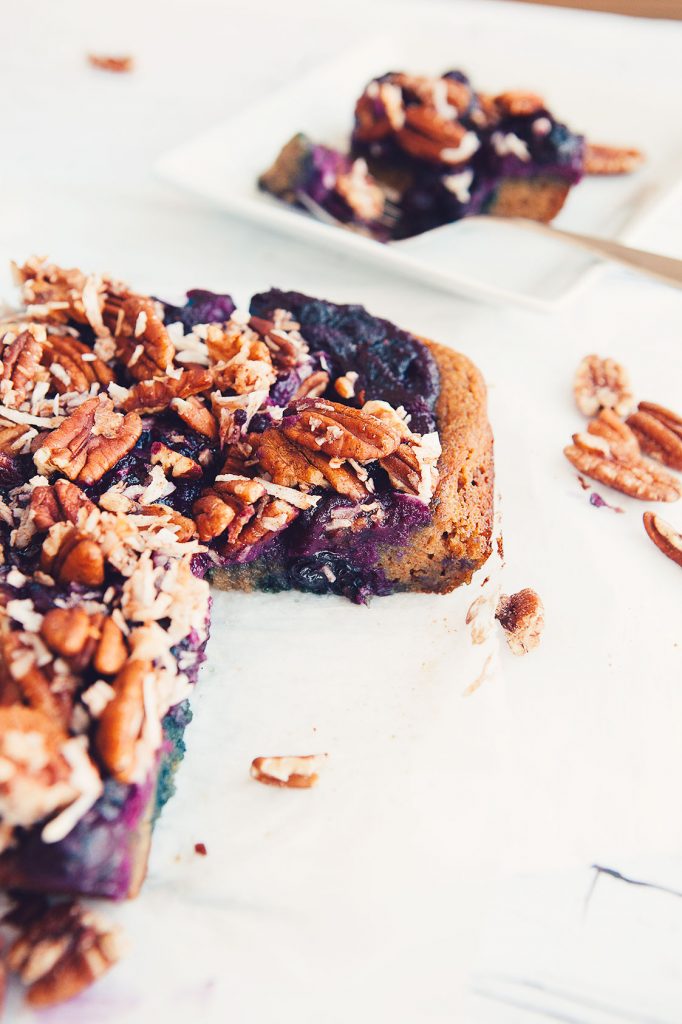 These Blackberry Crumble Pumpkin Bars are naturally gluten free thanks to the coconut flour, and processed-sugar free thanks to the oh-so glorious maple syrup and honey.
The pumpkin, the berries and the coconut give us an array of vitamins and minerals, which will feed our bodies and keep us strong. Gotta love a delicious treat, full of color, flavor and nutrients!
They are also made with collagen peptides, so our bars contain protein too. Collagen is amazing for our joints, ligaments, bones, hair, hair, skin, nails…and for our gut health, digestion and sleep. It's no joke my all time favorite supplement and I try to take it every day.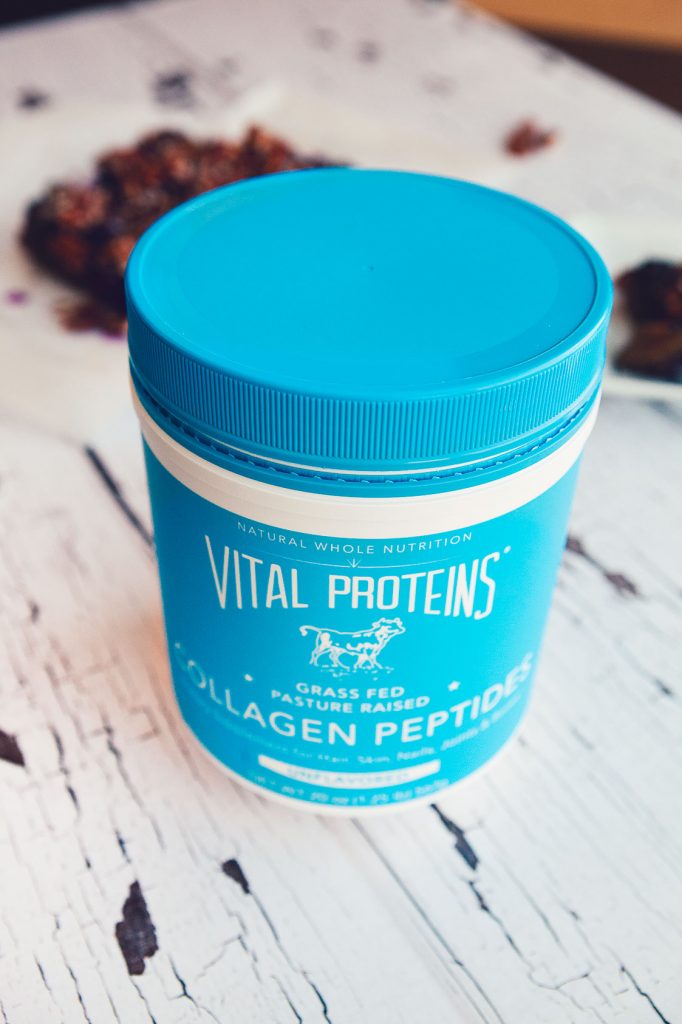 If you haven't tried collagen yet, I recommend you do. It's a super easy way to stay youthful and healthy. Two scoops a day (either in your coffee, smoothie, tea, salad dressings or treats) and you're set!
These Blackberry Crumble Pumpkin Bars are:
Fruity
Nutty
Comforting
Satisfying
Nutritious
Gluten free
Dairy free
Paleo
This treat is a true keeper. So, so super easy to make. Prep it in like fifteen minutes and bake it all in like forty five. Only an hour and you get a batch of Paleo goodness to last you and your family a whole weekend.
Watch the video to see how simple these Fall bars are to prepare! 
Blackberry Crumble Pumpkin Bars
These Blackberry Crumble Pumpkin Bars are the perfect way to welcome Fall! Made with healthy ingredients that are gluten free, dairy free & paleo approved!
Ingredients
For the pumpkin layer:
⅓ cup pumpkin puree
⅓ cup maple syrup
¼ cup melted coconut oil
3 eggs
1 tsp vanilla extract
¼ cup coconut flour
2 scoops unflavored collagen peptides
1 ½ tsp pumpkin pie spice
½ tsp baking soda
½ tsp baking powder
¼ tsp salt
For blackberry sauce:
2 cups mixed berries (blackberries and blueberries)
4 tbsp honey
2 tbsp coconut butter
Juice of ½ lemon
Zest of ½ lemon
2 tbsp coconut flour
For the crumble:
½ cup pecans
¼ cup unsweetened shredded coconut
1 tbsp honey
¼ tsp cinnamon
¼ tsp salt
Instructions
Preheat oven to 350 F. Grease an 8"x8" baking dish with coconut oil, line with parchment paper, and set aside.
Mix pumpkin layer wet ingredients in a mixing bowl (pumpkin puree, maple syrup, coconut oil, eggs, and vanilla extract).
In a separate bowl, mix pumpkin layer dry ingredients (coconut flour, collagen peptides, cinnamon, nutmeg, ground cloves, powdered ginger, baking soda, baking powder, and salt). Pour dry ingredients into wet ingredients and mix until no lumps remain. Transfer into lined baking dish, spread evenly and bake for 30 minutes.
Add mixed berries, honey, coconut butter, lemon juice, and lemon zest to a small saucepan and place it over medium heat, stirring constantly. Once berries start to break down, remove pan from heat and mix in coconut flour. Set aside to cool.
In a small bowl, add crumble mix (pecans, shredded coconut, honey, cinnamon and salt) in and mix until combined. Set aside.
Once pumpkin layer is done baking, pour mixed berries on top, add crumble mix on top of that and bake for 15 minutes. Let cool completely, lift parchment paper to remove from pan and cut into squares.
Notes
Tools You'll Need:
- 8x8 baking dish
- Saucepan
- Spatula
- Mixing bowls
- Whisker
- Measuring cups
- Measuring spoons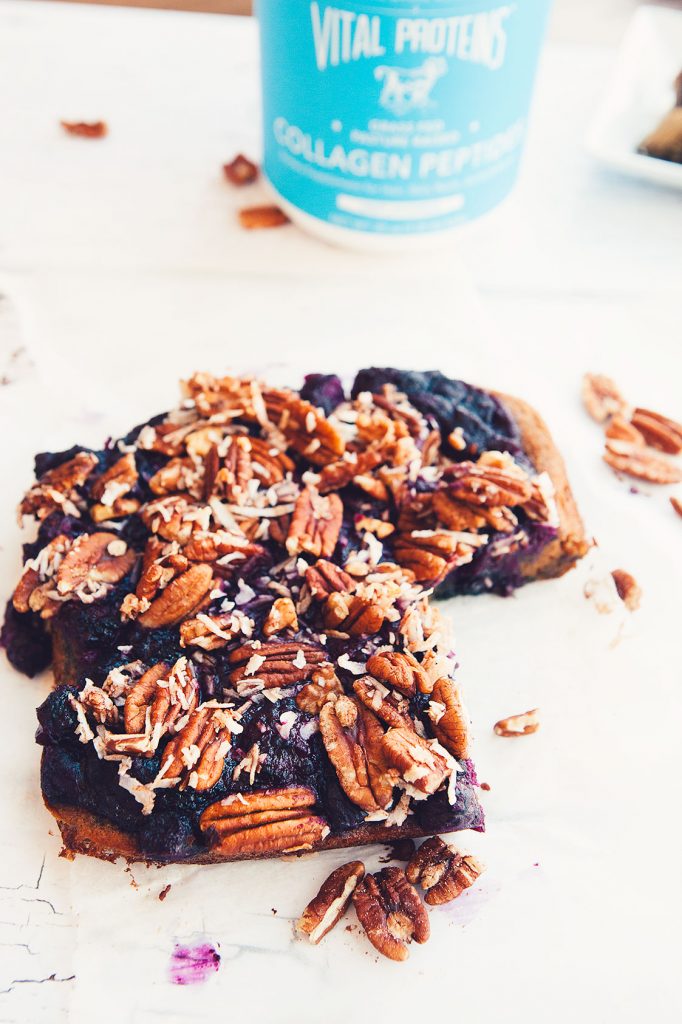 PIN ME!