Lately, my breakfast game has been in need of a bit of help. I've been needing something easy, nutritious, delicious and new to eat. Lucky for me, I found just the thing!
Introducing: PUMPKIN BLUEBERRY CHIA SEED PUDDINGS!
I know it is not Fall yet, but the new season is just around the corner, so we all know that all things pumpkin and spice and all things nice will be here before we know it!
Now, before we get into the recipe, let me say just a few things about some of the ingredients in these Fall inspired chia seed puddings I have for you today:
Chia seeds. Chia seeds are healthy, nutritious and energizing; they are packed with omega-3 fatty acids, protein, fiber, antioxidants and calcium. Your body will benefit immensely from consuming these cute little puddings…and so will your taste buds!
Pumpkin puree. I know, I know, it's not pumpkin season quite yet (at least not for another 7 days, but who's counting?), but Fall will be here before we know it and pumpkin will become the new staple at home. Adding pumpkin puree to our treats not only adds a delicious Fall twist to our recipes, but it actually benefits our heart! The fiber, potassium and Vitamin C found in pumpkin support a healthy heart, as they have been found to help decrease high-blood pressure.
Collagen peptides. This tasteless and easy-to-dissolve powder is an incredible supplement that provides our body with a healthy boost of vitamins; these vitamins support healthy hair, skin, nails, bones, joints and digestion. Also, collagen peptides are packed with protein, so adding a scoop or two to our foods can help us reach our protein goal of the day!
Here's what the collagen peptides I buy look like: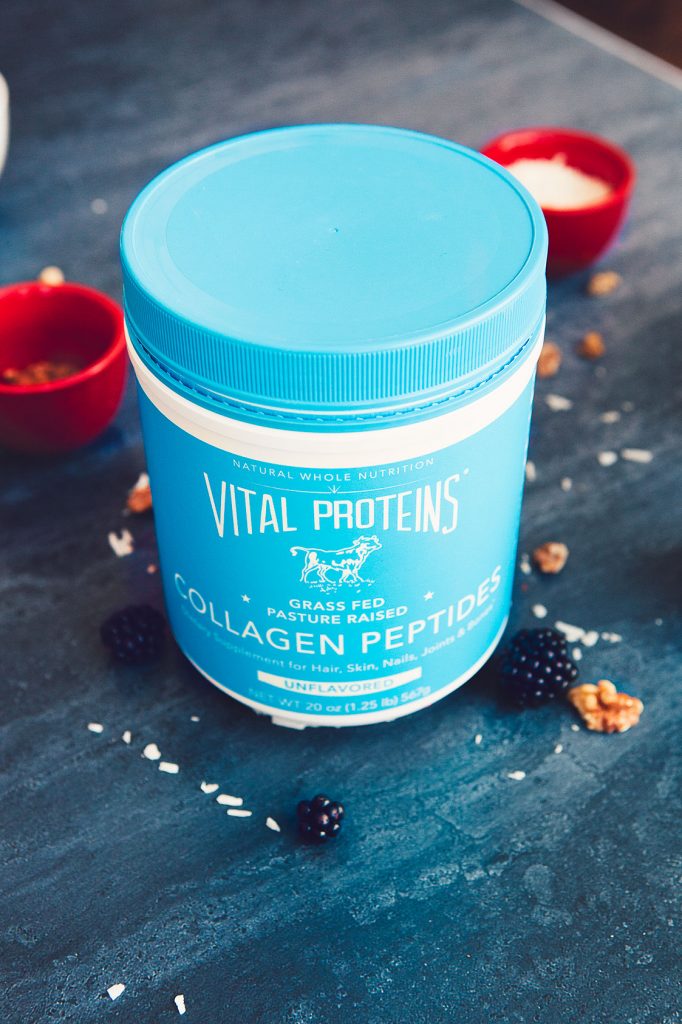 The bottle is sahhh cute. That bright blue color really pops and makes things extra fun, wouldn't you agree? Yup, yup, yup, I think so too.
We've actually signed up for a reoccurring 2-bottle auto-shipment delivery every month with them because 1.) we go through it like crazy (adding two scoops to our everyday morning smoothies + other Paleo recipes I make), and 2.) we get to save 10% by signing up for their auto-shipments. It's a no brainer: we never run out of collagen peptides AND we get a discount!
Apart from the added protein, I've found that collagen peptides has helped me with all of the following as well:
glowing skin
youthful appearance
tendon & bone strength
joint and cartilage health
better athletic performance
improved digestion
gut health
better sleep
Gotta love it when you find quality supplements, that are nutritious and versatile enough to add to your recipes!
WATCH HOW TO MAKE MY PUMPKIN BLUEBERRY CHIA SEED PUDDINGS (60 SEC):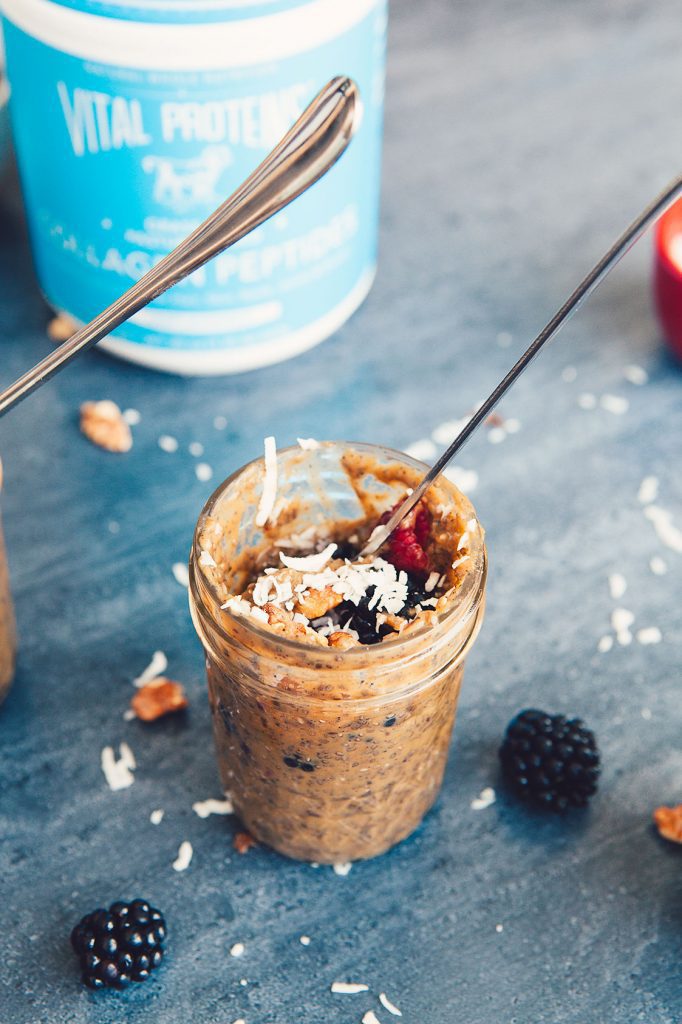 See how easy it is to make them?
To our handy dandy high-speed blender, we simply add full-fat canned coconut milk, unsweetened carton coconut milk, pumpkin puree, blueberries, sunflower seed butter, collagen peptides (Vital Proteins, because it is my absolute favorite…and have you seen the new Dark Chocolate & Blackberry flavored one? Enter heart emoji here!), honey, cinnamon, nutmeg and allspice. I'm all about the spices when the weather gets cooler!
Then we transfer the mixture to four mason jars containing two-scoops of chia seeds each. We close the mason jars with a lid, shake them vigorously and refrigerate them overnight. Easy peasy, lemon PUMPKIN squeezey!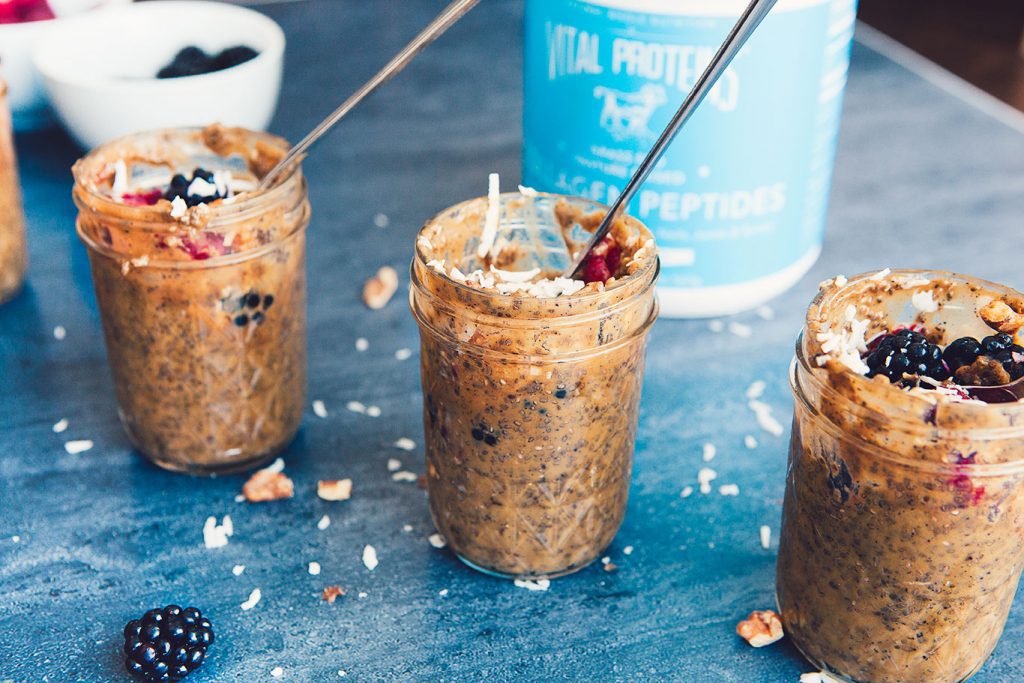 The orangey color of the puddings might be a bit Halloween-ey, but hey? It's kind of a pretty soft orange that reminds me of a those cute caramel-colored coffeeshop-crafted coffee drinks that we get hooked on during Fall!
And, unlike the crafted coffee drinks, we can thank the realness and creaminess of them the REAL ingredients that go into the blender. It's next level good.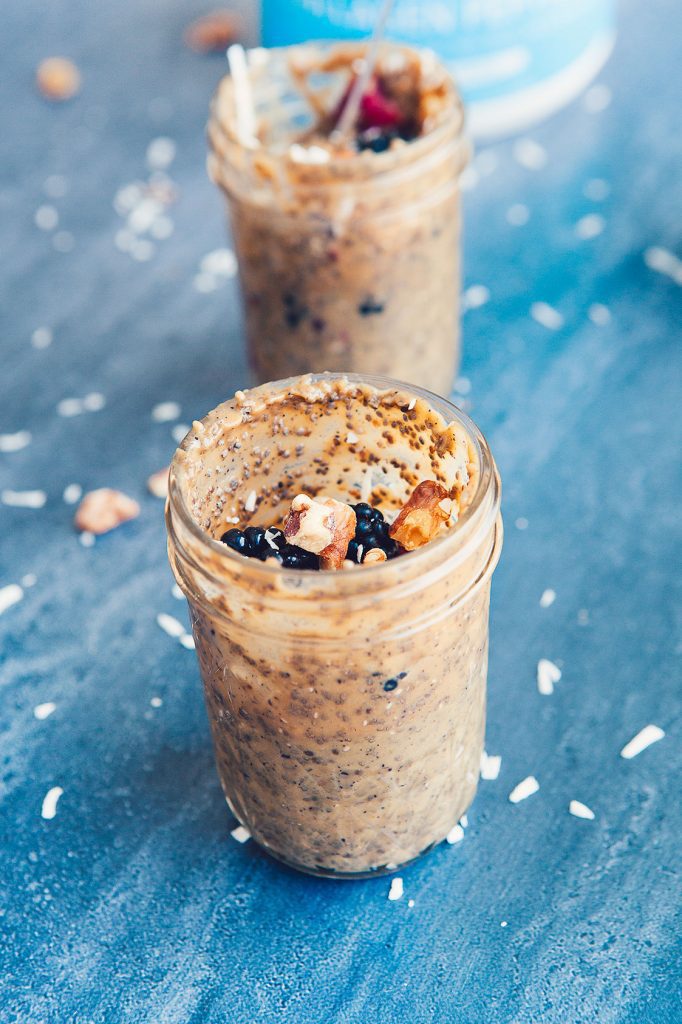 Does anyone else here adores adding toppings to their food? Like, do you get a huge surge of joyous feels when you sprinkle, crumble and drizzle on top?
If like me, this is you, then this is your perfect opportunity to go wild! Think of your Pumpkin Blueberry Chia Seed Puddings as a white piece of paper, to which you can add all sorts of color and texture.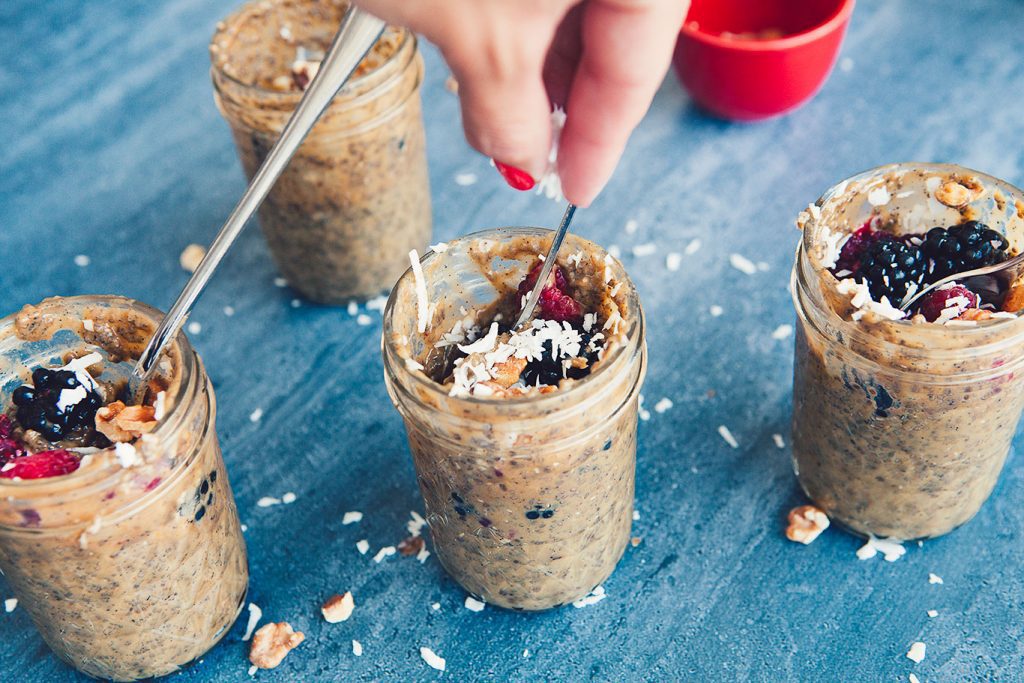 I love to add a combination of berries (especially when in season, which it's currently the case, and they are extra delicious, juicy and affordable right now), banana slices, some chopped nuts, seeds and a bit of shredded coconut to give it that extra pop.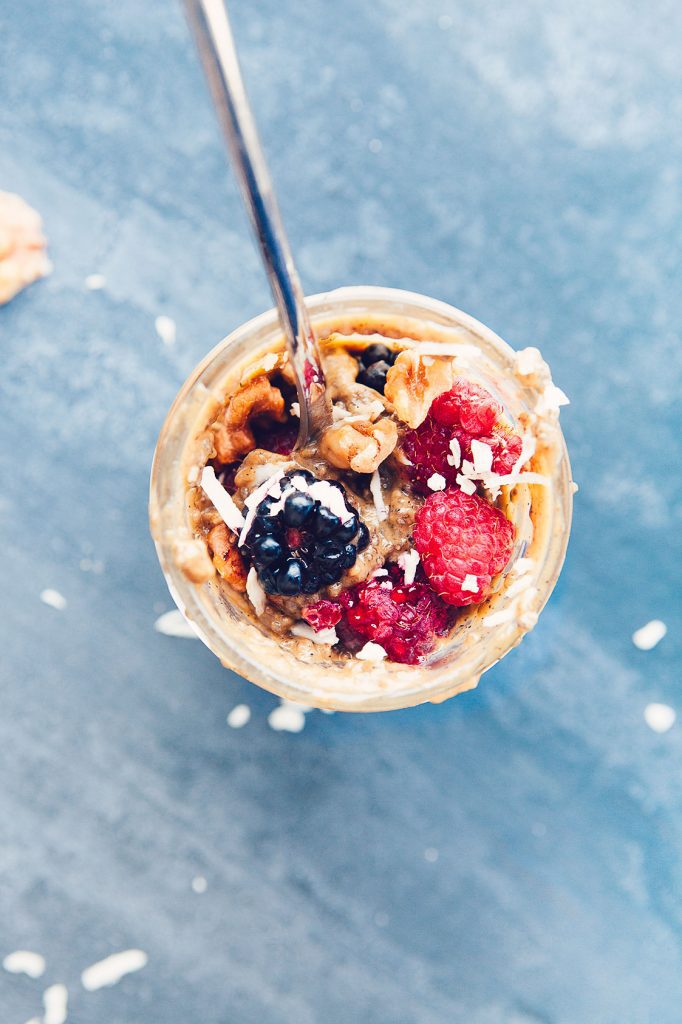 These Pumpkin Blueberry Chia Seed Puddings are not only meant for breakfast, know that you can bring these with you to work, have them in the afternoon instead of a muffin treat, enjoy them for dessert after dinner, and/or even serve them during your Sunday brunch!
No date/time choice is better than the next, these puddings are versatile and ready to rock any situation!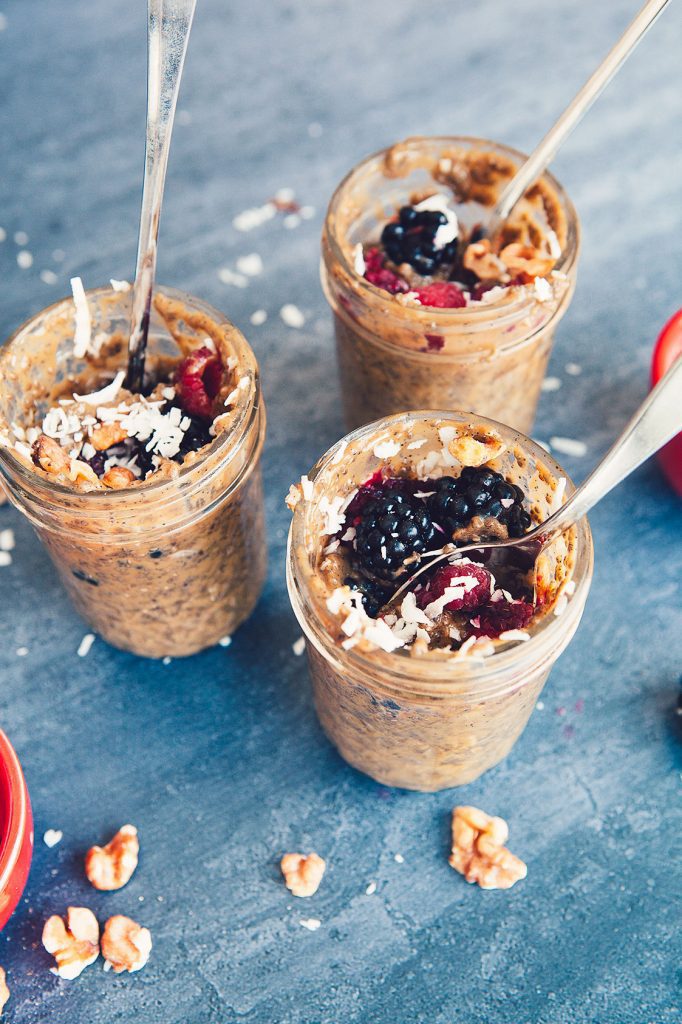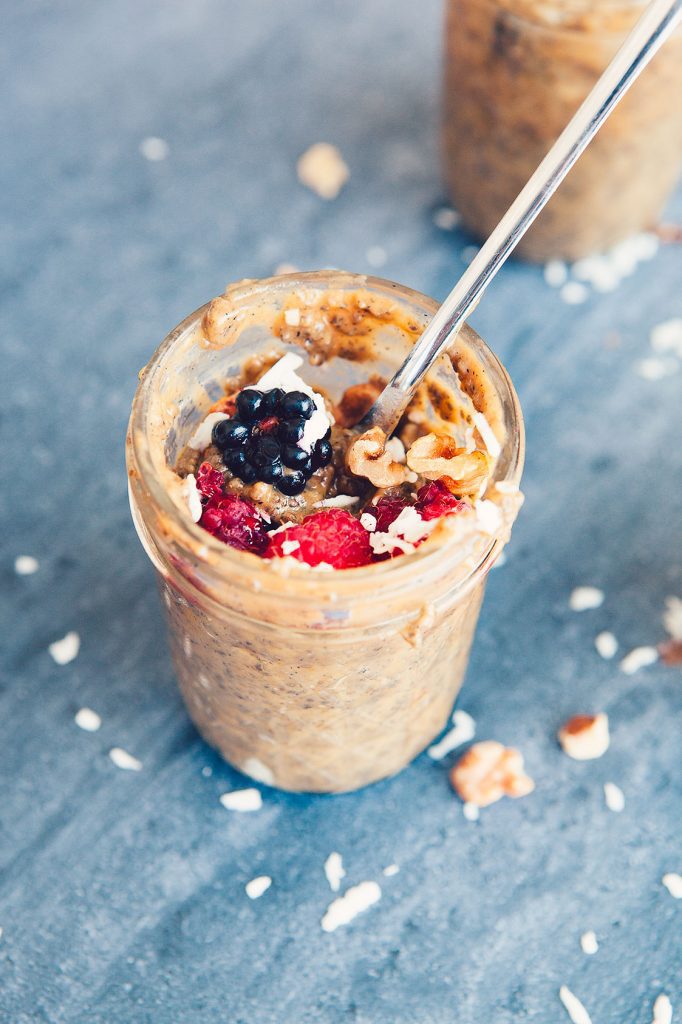 Pumpkin Blueberry Chia Seed Puddings
These Pumpkin Blueberry Chia Seed Puddings are naturally gluten free and dairy free, and make for a convenient and delicious breakfast on-the-go or snack!
Serves:
4 8-oz. chia puddings
Ingredients
½ cup full fat canned coconut milk
½ cup carton unsweetened coconut milk
½ cup pumpkin puree
½ cup frozen blueberries
1 tbsp sunflower seed butter
4 scoops Vital Proteins Collagen Peptides
1 tbsp honey
¼ tsp cinnamon
¼ tsp nutmeg
⅛ tsp allspice
8 tbsp chia seeds
Instructions
Add all ingredients to a blender, except chia seeds, and blend on high until smooth.
Divide mixture evenly into 4 mason jars, and mix in 2 tbsp of chia seeds into each. Seal jars and shake each one well before refrigerating them overnight. Shake every 10 minutes for the first 30 minutes so chia seeds don't sink to the bottom.
When ready to eat, transfer the chia seed pudding to a cereal bowl and layer with toppings of choice.
Notes
Tools You'll Need:
- 4 8-oz mason jars (with lid)
- High-speed blender
- Measuring cups
- Measuring spoons
Nutrition Information
Serving size:
8 oz. chia pudding
Calories:
175
Fat:
9 g.
Carbohydrates:
15 g.
Protein:
10 g.
PIN ME!

Thank you Vital Proteins for sponsoring this post!