Homemade Sourdough Croutons is where it's at.
Now, I'll start by saying these are NOT PALEO, nor gluten-free, so if you are currently following the Paleo Diet to the "T" or cannot consume products with gluten, this recipe is not for you.
I do fine with sourdough products. They are pretty much the only kind of gluten my stomach can handle, so I welcome it and consume it here and there. If this sounds like you, too, then my friend, you'll want to hold on tight to this little recipe gem.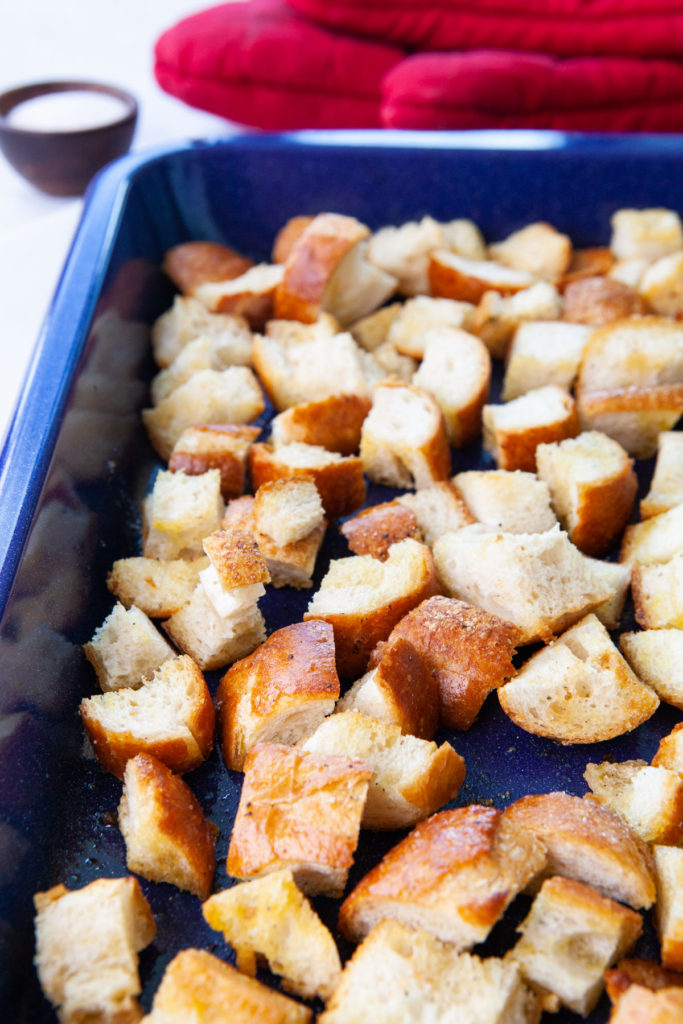 It's easy to make these homemade sourdough croutons. You need 5 little ingredients, an oven, a baking sheet and 20 minutes. That is literally it. 100% fool proof.
And if you're anything like me, you love easy. And welcome it every time.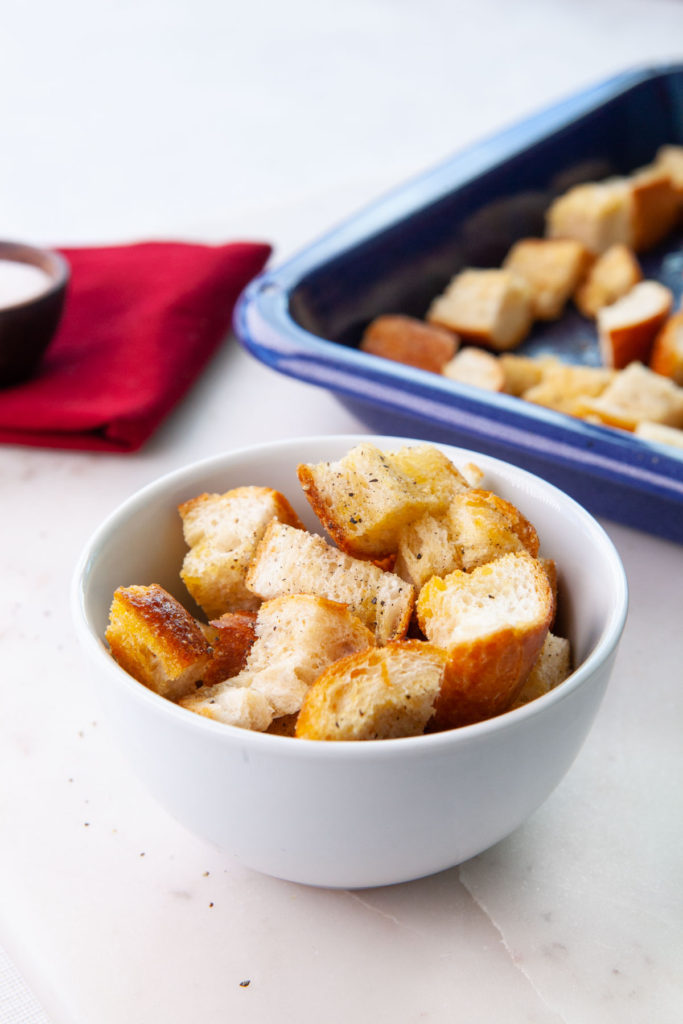 In fact, you refuse all the things that aren't easy. Like making your own sourdough starter to bake your own sourdough breads and pizza crusts at home. And then letting said sourdough starter sit for days until it's ready, and finally being able to place it in the fridge until you're ready to use it (because life), and then somewhere along the line realizing said sourdough starter (which is shoved wayyyy back in the fridge) is actually rotting in the container where it's at. Yes, my friends, this is what comes from trying to attempt the non-easy. And it's legit what happened to me a few weeks ago.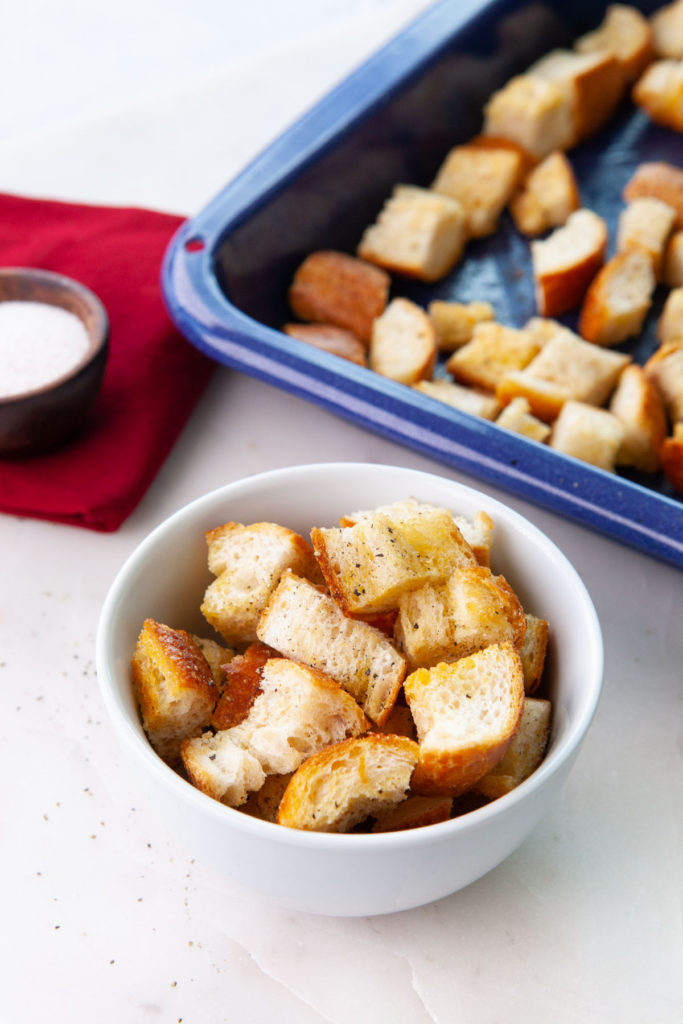 So, I'm just sticking to what I know works. And that is: letting the baking masters at the store make the magical sourdough baguette and then me buying from them to go home and use it to make my own croutons to feel like the best homemaker in the entire world.
Yes sir. I am down like a clown for that. Easy and fool proof.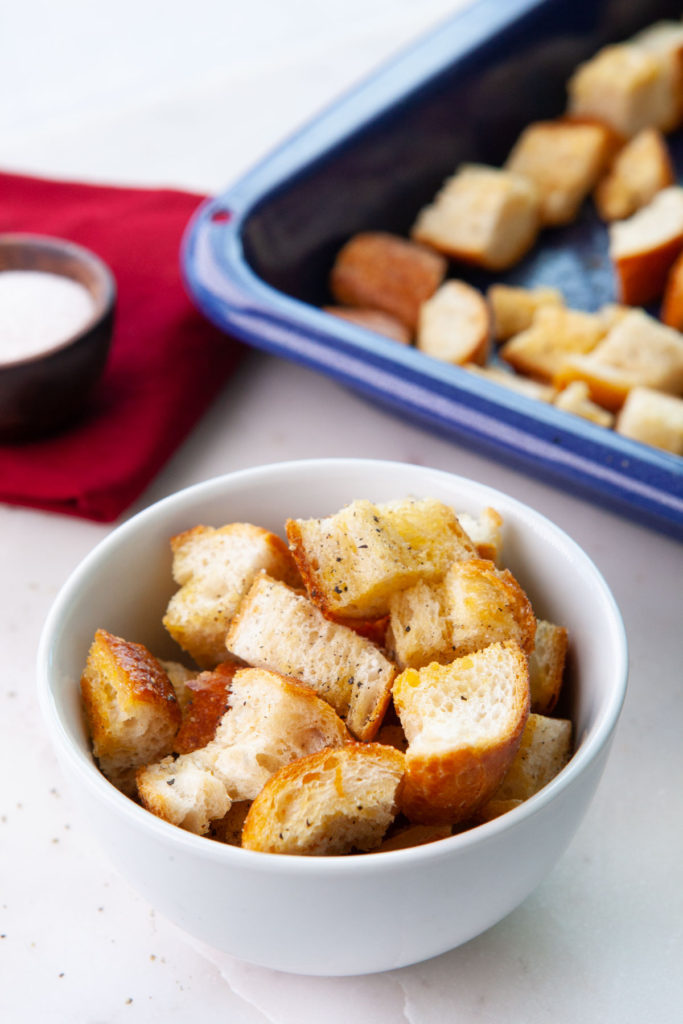 I think what makes these great, is how perfectly golden crispy they get. And their flavor. Oh, their flavor. That garlic powder and pepper really do wonders. It's like you're legit eating croutons from an Italian restaurant, where the chef is actually Italian and know's exactly what he's doing.
If you're a crouton lover, and find yourself on the fence of making these, go ahead and take that leap. I recommend it. Once they are done baking, take them out of the oven and eat one to test them out, I can almost guarantee you won't be able to stop at just one. You'll go in for the kill. Unless you have Olympic level self-control. Which I do not, so you can probably picture what went down in my kitchen.
Let's just say that these barely made it to the photo, and to any salad thereafter. My husband barely got to try them. But then I baked more of them, and then he was allowed his fair share. He loves them.
These Homemade Sourdough Croutons are:
Golden and crispy
Flavorful
Perfect for any salad
Easy to prepare
DELICIOUS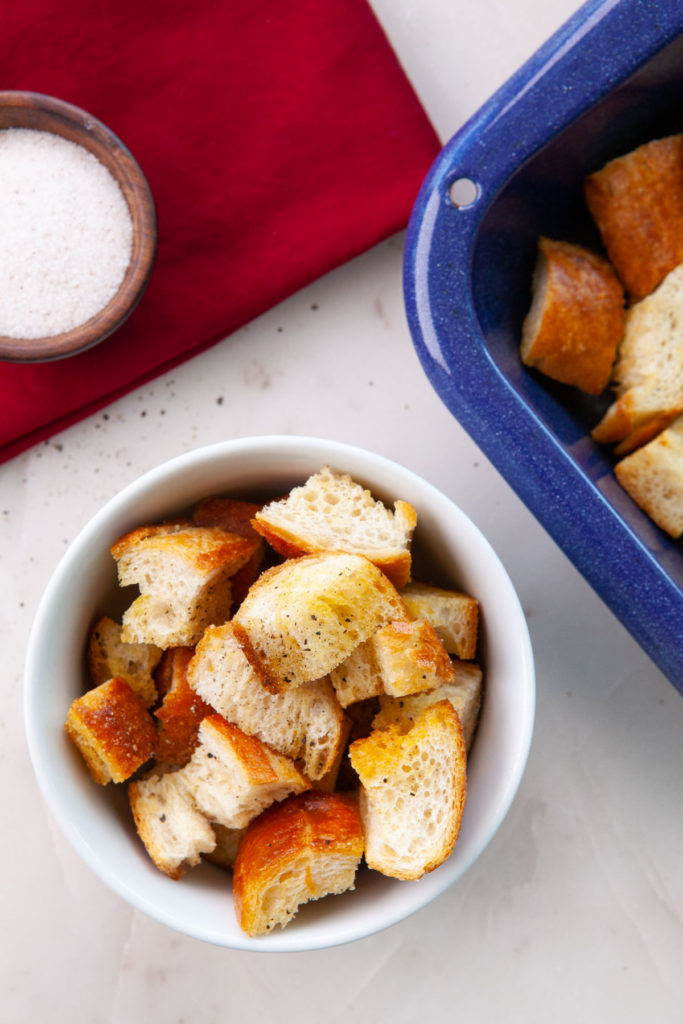 Homemade Sourdough Croutons
Delicious and perfectly crispy homemade croutons, that are easy to make and ready in 20 minutes. Perfect addition to any type of salad and/or creamy soups.
Ingredients
4 cups day-old sourdough baguette, cubed
4 cups day-old sourdough baguette, cubed
4 tbsp extra virgin olive oil
4 tbsp extra virgin olive oil
½ tsp garlic powder
½ tsp garlic powder
½ tsp salt
½ tsp salt
½ tsp freshly cracked black pepper
Instructions
Preheat oven to 400 F. Add bread to large baking sheet and coat with oil. Add in spices and toss to coat evenly. Spread bread cubes out and bake for 20 minutes, or until croutons are golden and crispy.
Let cool completely and enjoy!
Store in a tight lid container for freshness. Last about 3 weeks.
PIN ME!