Today's blog post will teach you how to roast hazelnuts at home. Neat, right? It is an easy and quick process, and the results are oh-so delicious. I've been wanting to share this tutorial with you guys for a while now, because these roasted hazelnuts turn out perfectly crunchy and fragrant, and you need these in your life ASAP.
Roasting hazelnuts yourself is a super easy way to save money. You only need to buy raw hazelnuts, instead of paying extra for the roasted hazelnuts sold in pretty packages, and simply roast them yourself at home.
Your hazelnuts will be extra delicious after roasting them, and you can enjoy them by themselves or use them in all sorts of fun Paleo recipes. You can also use them as a topping for your favorite paleo smoothie bowls, healthy bowls or salad bowls. Roasted hazelnuts can take any dish to that next level status, so having some in your pantry can come in real handy.
If you don't have any raw hazelnuts at home, I say a quick shopping trip to the grocery store is in order! Trust me, you'll want to make these babies. Especially because I am about to share a new recipe with you guys very soon, which is absolutely amazing, and it calls for roasted hazelnuts.
I recommend you buy your raw hazelnuts from the bulking section of your nearest grocery store, as they are way cheaper this way. Any WinCo, Whole Foods or Fred Meyer should have a bulk section where you can find raw hazelnuts. If you happen to have a Natural Grocers in your city or town, you might give that store a try first, as it's a great place to buy nuts and seeds in bulk; they have awesome prices and their stuff is super fresh. See this chart for Natural Grocer locations.
I used a pizza pan to roast my hazelnuts in the oven, as that was the only baking sheet I had clean at the moment. However, any style and shape of baking sheet should work. As long as the hazelnuts are not on top of each other, you should be good to go!
One of the reasons I love hazelnuts is that they make the most delicious of chocolate spreads. One that I think most of us have been obsessed with at some point in our lives. Yup, you guess it: Nutella! I have a super delicious paleo Nutella recipe that I know you'll love; the best part is that my version doesn't have dairy, so it wont hurt your belly. If you've been missing Nutella in your life, definitely give my recipe a go.
Another reason I love hazelnuts is that this superfood packs a potent nutritional punch. And I am all about food that not only tastes good, but that is also good for my body. Hazelnuts have compounds that boost brain function, battle heart diseases, combat diabetes and can help us lose weight. It's kind of a win-win situation, wouldn't you say? Enjoy a snack and heal your body. Boom. My kind of food!
Stay tuned for my next Paleo recipe…and make these roasted hazelnuts today! That way you can have them ready to go for when my newest Paleo deliciousness comes out! You won't want to miss out on that one.

How To: Roast Hazelnuts
A step by step guide that teaches you how to roast hazelnuts at home. Easy & delicious, these nuts can be enjoyed by themselves or in recipes!
Instructions
Preheat oven to 375 F.
Place hazelnuts on a pizza pan (or on a regular baking sheet) and bake for 10 minutes.
Let cool (on pizza pan) overnight. De-skin the hazelnuts one at a time and dispose of the skin. This process takes about 15-20 minutes (be patient). Use a fresh kitchen towel to help remove the skin quicker; just rub the hazelnuts with the towel, as this friction can help speed up the peeling process. Enjoy roasted hazelnuts by themselves or use them to make other Paleo recipes.
Notes
Tools You'll Need:
- Pizza pan or baking sheet
- Mixing bowl
- Fresh kitchen towel

* Store roasted hazelnuts in a tight lid container for freshness.
Nutrition Information
Serving size:
1 tablespoon --
Calories:
53
Fat:
5.1 g.
Carbohydrates:
1.4 g.
Sodium:
0 mg.
Fiber:
0.8 g.
Protein:
1.25 g.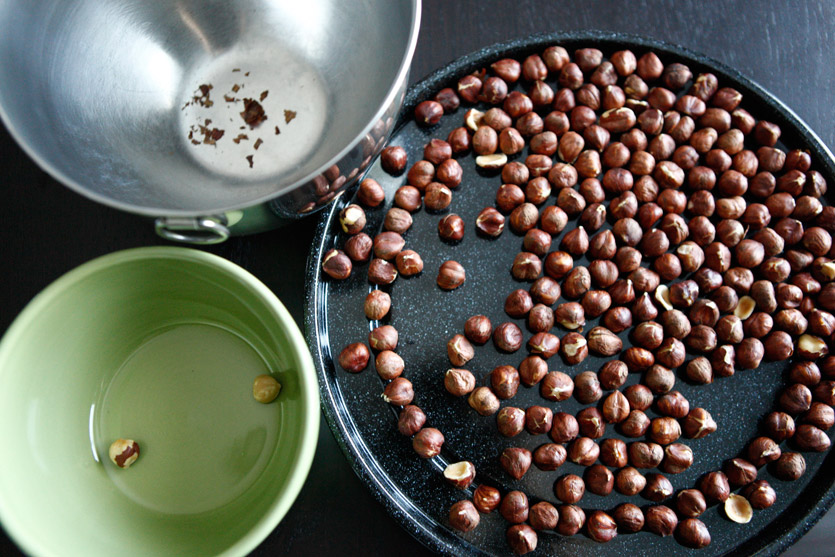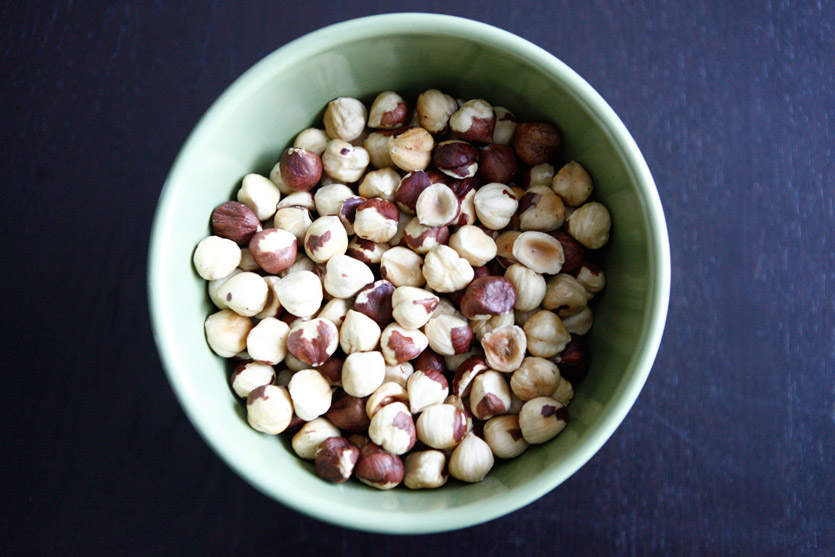 PIN ME!