If you've ever struggled to make a light dressing that's not overly acidic or oily, that packs a flavorful punch and that is well balanced, well, look no more!
Today I'll show you how to make a perfectly balanced dressing; one that's not only delicious and clean, but also sugar free and 100% Paleo approved.
No matter what time of year or what time of day you make it, I swear it turns out to be fabulous every. 👏single. 👏 time. 👏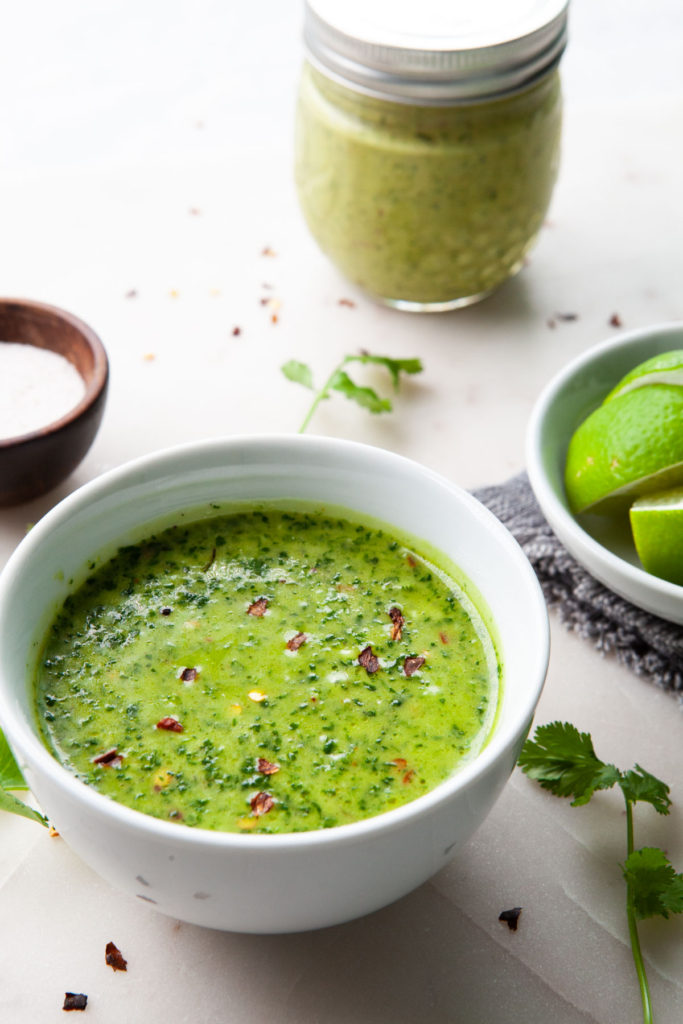 This dressing calls for five ingredients and it can be made in five minutes. Literally. Also, there's a good chance it may last about five seconds. Okay, okay it'll probably last a bit longer than that, but it's so good that you'll find yourself being VERY generous when adding it to your veggies or meals.
So, what do you say? Do you have five minutes? That's all the time you need to spare to create this magical sauce that will zhoozh up any cold or hot salad. And by any, I mean any. It goes on everything and with everything. You can probably dip pizza crust or French fires in it and be equally in love.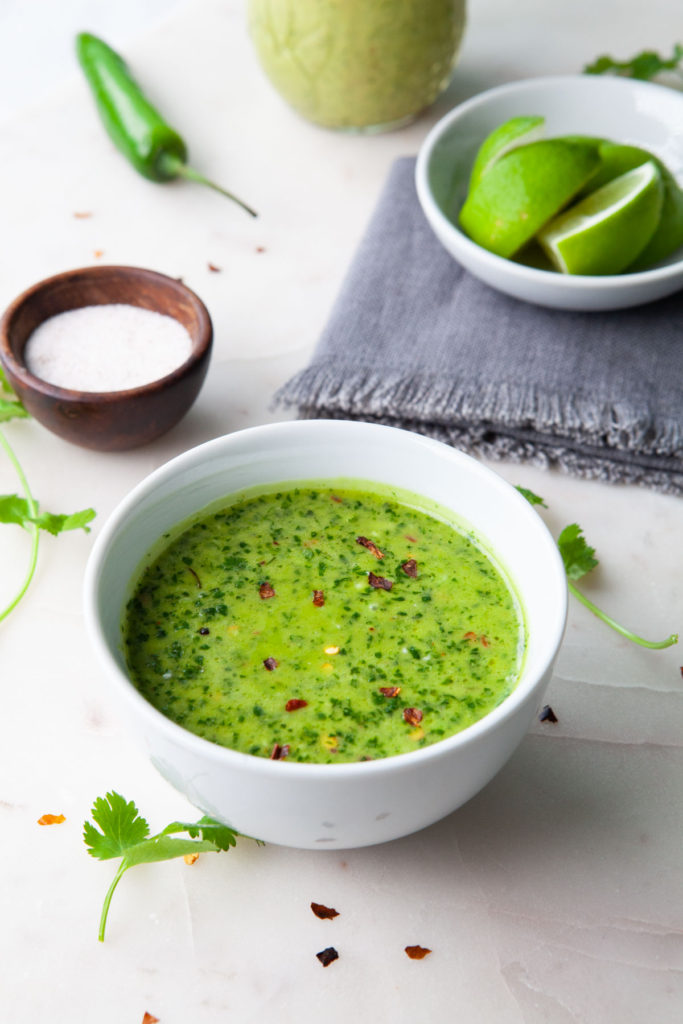 This paleo cilantro dressing is my food dream come true, because it's made up of all the things I love: good quality extra virgin olive oil (ahhh takes me to Europe), fresh cilantro (think authentic Mexican flavors here), garlic (I mean, is there anything better?), red pepper flakes (I add these little suckers on all the things) and salt/pepper (essentials of life). And then, this dressing also goes on everything; think greens, roasted veggies, grilled proteins, sandwiches, seriously anything.
It's a one-stop shop for an easy dinner. And trust me when I say that it comes in extremely handy when you find yourself in a situation where you've got about a minute until people in your home will lose their shiz if they don't get a meal in quick.
This drizzley green goodness will be your best friend any night of the week.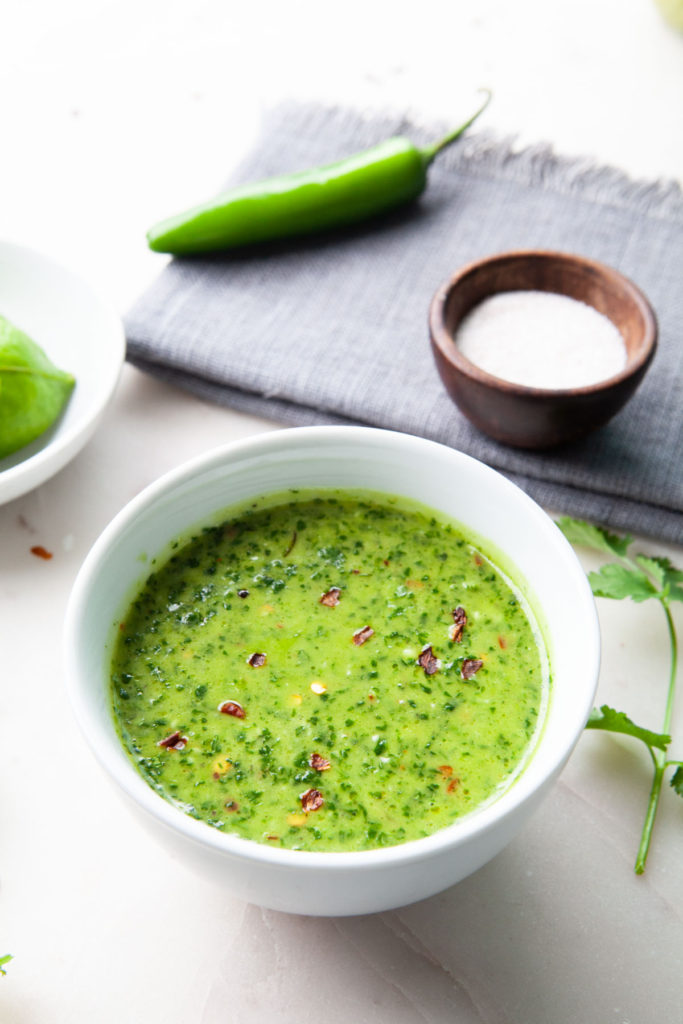 Just make it. Especially if you're a cilantro gal/guy.
Ps: this Paleo Cilantro Dressing on this Paleo Mexican Chicken Salad is pure magic. I am 100,000% obsessed with it. You oughta give it a try!
Paleo Cilantro Dressing
An easy, step-by-step tutorial on how to make delicious Paleo Cilantro Vinaigrette. Perfect for warm and cold salads, roasted veggies, and more! Recipe is gluten-free, dairy-free & sugar-free.
Ingredients
2 cups packed fresh cilantro
½ cup extra virgin olive oil
¼ cup filtered water
2 tbsp white vinegar
1 garlic clove
1 tsp salt
½ tsp red pepper flakes
¼ tsp freshly cracked black pepper
Instructions
Add all ingredients in a food processor, or in a high-speed blender, and process until smooth. Season to taste.
Enjoy on salads, grilled proteins, roasted veggies, baked potatoes, cauliflower crusted pizzas – on anything. It's so good!