Now that the days are nice and HOT I love, love, love being out and about (it was 98 degrees Fahrenheit in Boise yesterday…what!?). I especially like taking short trips to Whole Foods and Trader Joe's, which are only about two minutes away from my home, to get me some fresh ingredients to prepare dinner.
I've been going to the grocery store super often lately (almost every day or every other day) because I like picking up colorful, ripe and great-looking produce that can inspire my night's dinner. There is something about having fresh ingredients everyday that gets me extra excited about spending time in the kitchen…a girl's gotta do what a girl's gotta do to keep motivated. Amiright?
There is another amazing benefit of getting produce that is in season…and that is that you can save some serious cash; when there is a surplus of a particular ingredient, the prices will obviously go down for us at the store. So for example, buying an avocado in Spring (now) is way cheaper than buying the same avocado in winter…and, I guarantee it'll taste a lot better in Spring too.
I try to buy seasonal all year, but I tend to go to the grocery store a lot more frequently in the warmer months (winter can sometimes make me behave like a hermit). On my most recent visit I got some perfectly shaped, ripe, juicy and colorful nectarines. Even their smell is amazing. I got them to make my delicious Paleo Cool Nectarine Smoothie from my Paleo Smoothies cookbook, and I cannot to wait to drink some this morning.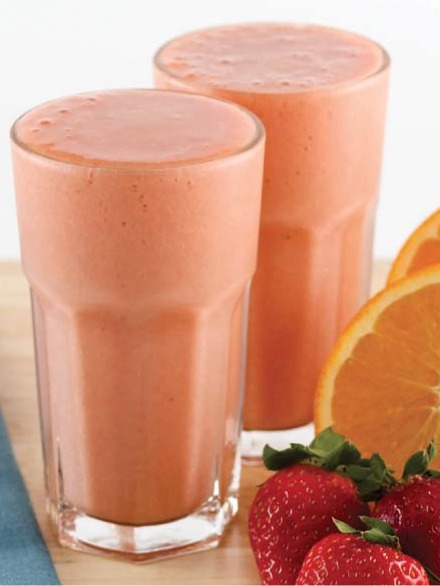 This smoothie happens to be one of my favorite breakfast drinks; it's refreshing, delicious and it gives me a great boost of energy to start my day off right.
If you go to the store today, or sometime this week, be sure to pick up some nectarines and make this delicious drink. I think you'll really like it.

Paleo Cool Nectarine Smoothie Recipe
Ingredients
1 cup frozen nectarine slices
1 cup frozen strawberries
1 cup orange juice, preferably freshly squeezed
1 teaspoon coconut cream concentrate
1 teaspoon raw honey
Instructions
Place all ingredients in blender and blend on high until smooth.
Notes
Tools You'll Need:
- High speed blender
- Measuring cups
- Measuring spoons
Nutrition Information
Serving size:
8 ounces --
Calories:
107.5 kcal
Fat:
105 g.
Carbohydrates:
23.5 g.
Protein:
3 g.