If you're like my husband, you don't usually get super excited about eating a greens salad. So, as his wife, I have to "hide" his greens in his meals, to make sure he is still getting those great nutrients and vitamins to stay healthy and strong. A perfect way to do this is via a smoothie.
I can add as many cups of greens as I want and dress them up with delicious fruits and natural sweeteners, such as honey or maple syrup. He'll drink these babies up like it's his job, as he can't really feel the greens through the smoothie's taste. It truly works out great; everyone's happy this way!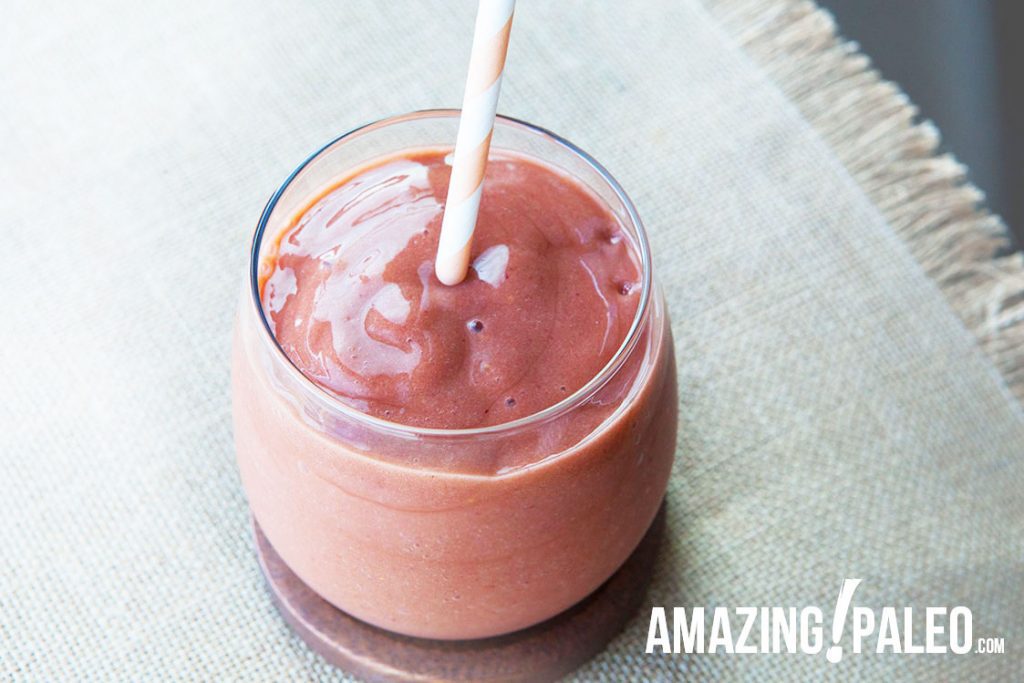 If you have kids, or a husband that doesn't really do greens, then you should definitely give this Creamy Mango Smoothie a try. It will feed your family and keep their bodies strong, while allowing them to indulge in a delicious treat that will keep them happy for hours.
Also, did I mention my 1st COOKBOOK is in the works? It is all about Paleo Smoothies, and there is an entire section dedicated to green smoothies! I'll keep you posted on its launch date, so you can check it out. The cookbook will be bomb! I am so excited!
Until then, try this yummy Paleo Creamy Mango Smoothie and get your health on!

Paleo Creamy Mango Smoothie
This easy to make Paleo Creamy Mango Smoothie recipe is all-natural, gluten free, dairy free and vegan! It is incredibly delicious and refreshing!
Ingredients
1 cup frozen mangoes
1 banana, sliced and frozen
1 cup frozen raspberries
2 cups baby spinach
2 tbsp raw honey
2 cups filtered water
Instructions
Place all ingredients in a high speed blender and blend on high until smooth.
Notes
Tools You'll Need:
- Blender
- Tall glass
- Favorite straw
Nutrition Information
Serving size:
16 oz. --
Calories:
216
Fat:
1 g.
Carbohydrates:
55 g.
Protein:
3 g.