This Vegan Pasta with Chickpea & Tomato Sauce is not Paleo, but you can certainly modify it to be. More on how to do this below (right above the actual recipe)!
And now, on to talking about how AMAZING this pasta is.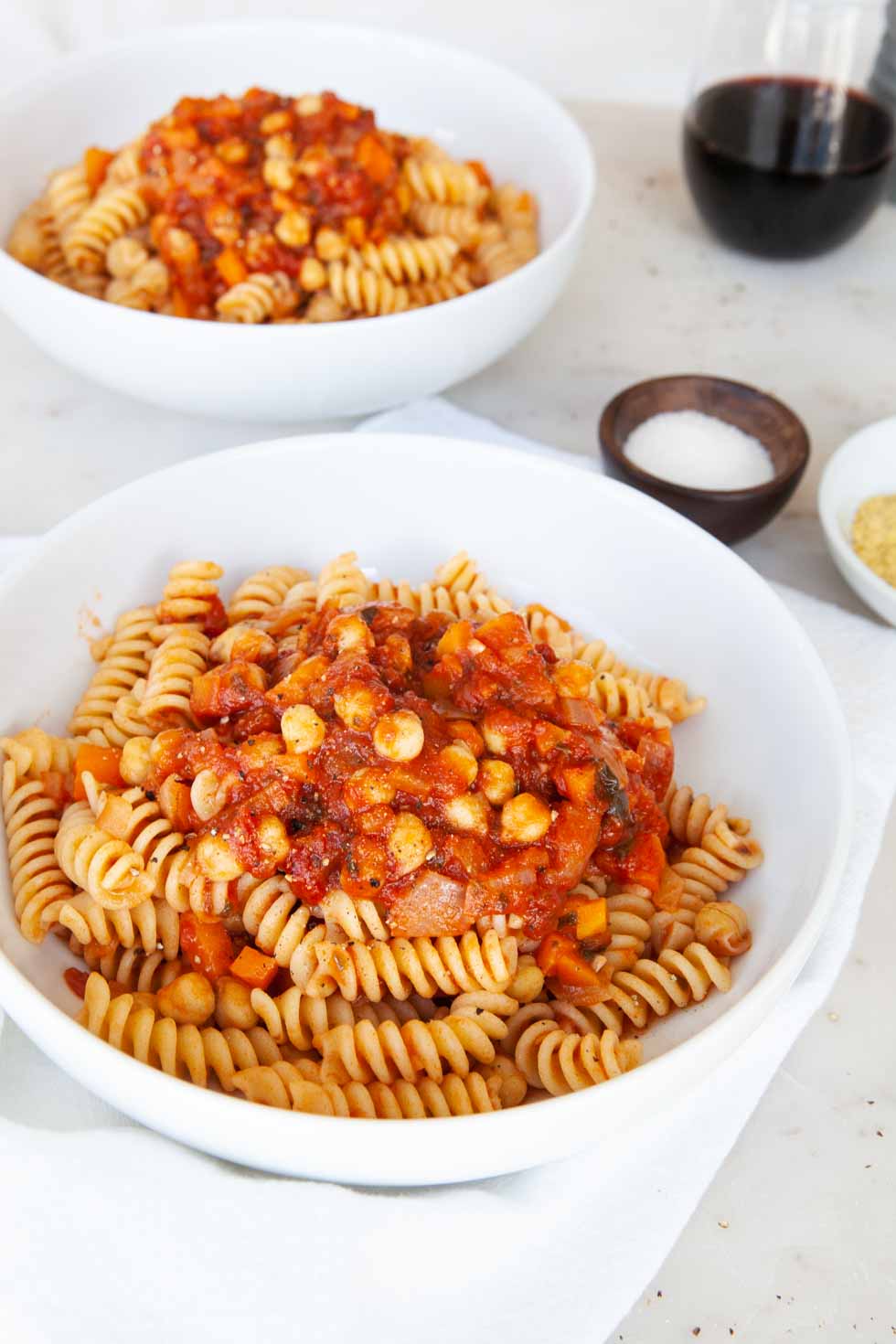 This dish was inspired by some of my favorite pantry staples of the moment: chickpeas and basil tomato sauce. I don't normally stock up on these, but given the current COVID19 situation, I have a few jars of each in my home.
I also have a few fresh vegetables that store well for longer periods of time, such as onions, carrots and garlic. And, of course, these made the cut for the dish. So, I guess they were an inspiration for this recipe in their own way.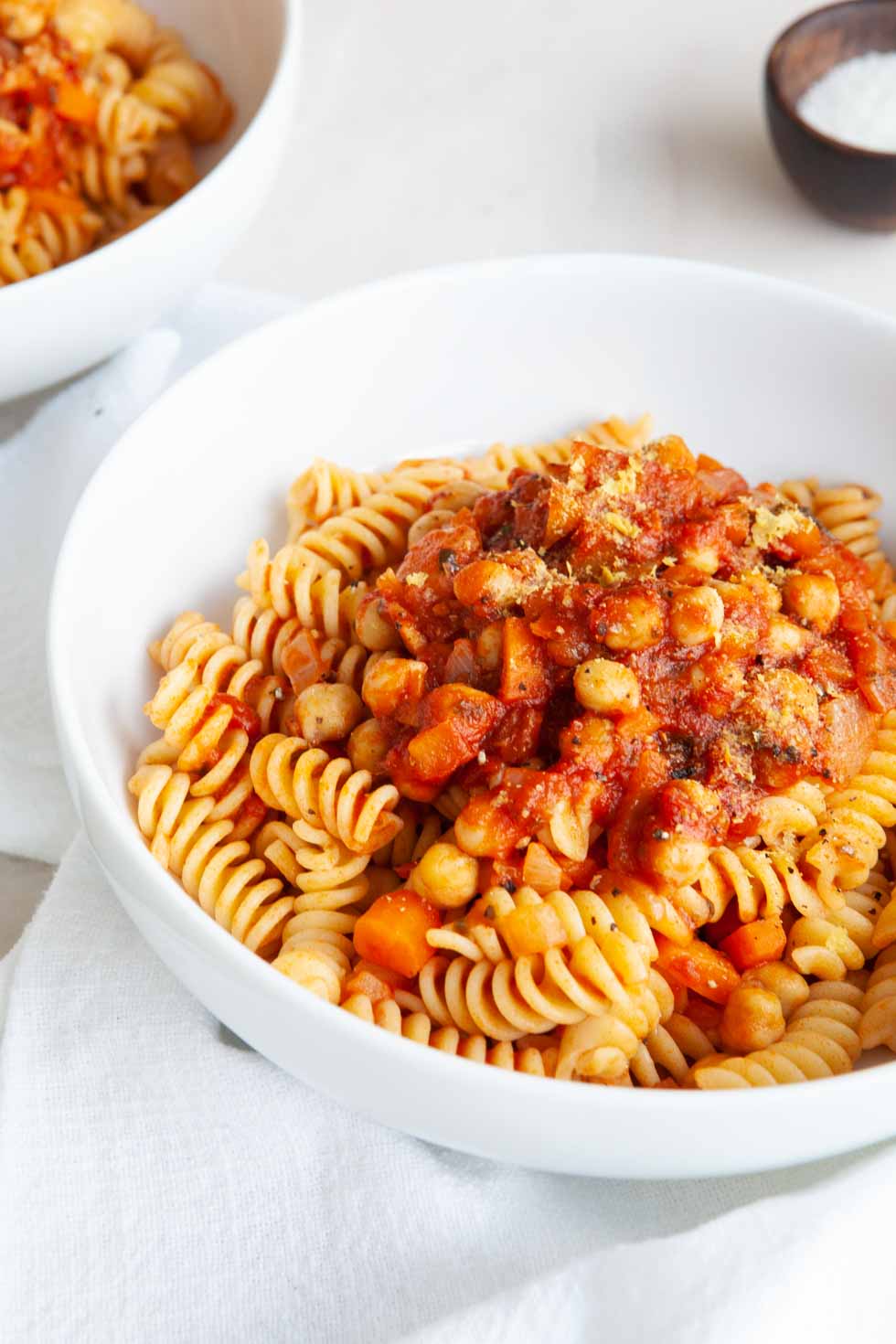 And, let's be real, what Italian dish is not made better by having onions and garlic?
The answer is NONE. All dishes are made better by them! So trust me on this, use that onion and garlic you've been saving on this delicious meal you're about to make at home!
Any can or jar of chickpeas/garbanzo beans will do, just make sure you rinse them thoroughly before adding them to the skillet.
Now, I highly recommend RAO's Tomato Basil Sauce, it is my pasta sauce of choice. However, if you don't currently have this particular brand on hand, or don't have access to it, no worries. Any tomato sauce will work just fine!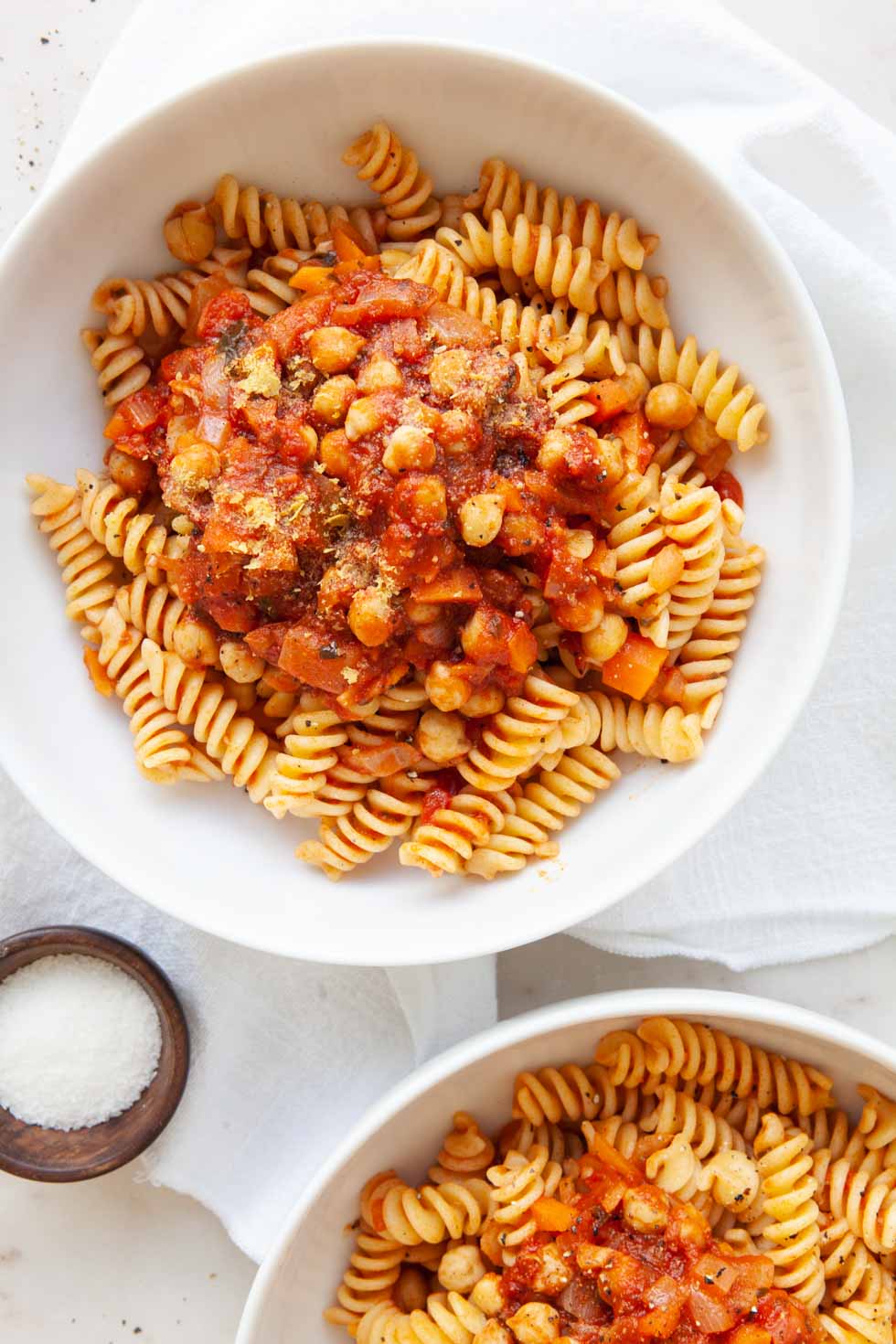 The jared tomato sauce is used as a finishing agent here, because the true base for my sauce Is really the combination of sautéed onions, carrots, garlic and chickpeas. You cook those four ingredients first with olive oil, and then douse the tomato sauce from the jar all over them, allowing all the ingredients to simmer for a bit. This will cook the chickpeas further and bring all the flavors together nicely.
The sauce is magical.
While the sauce cooks, you can prepare your pasta. Whether it be actual fusilli pasta, zoodles or your preferred kind of pasta, get that going, so that both the sauce and the pasta can be ready at the same time. Dinner will take you 30 minutes or less to make; it's such a win!
Finish it off with a healthy dose of nutritional yeast and freshly cracked black pepper, and you've got yourself an Italian-inspired meal to remember.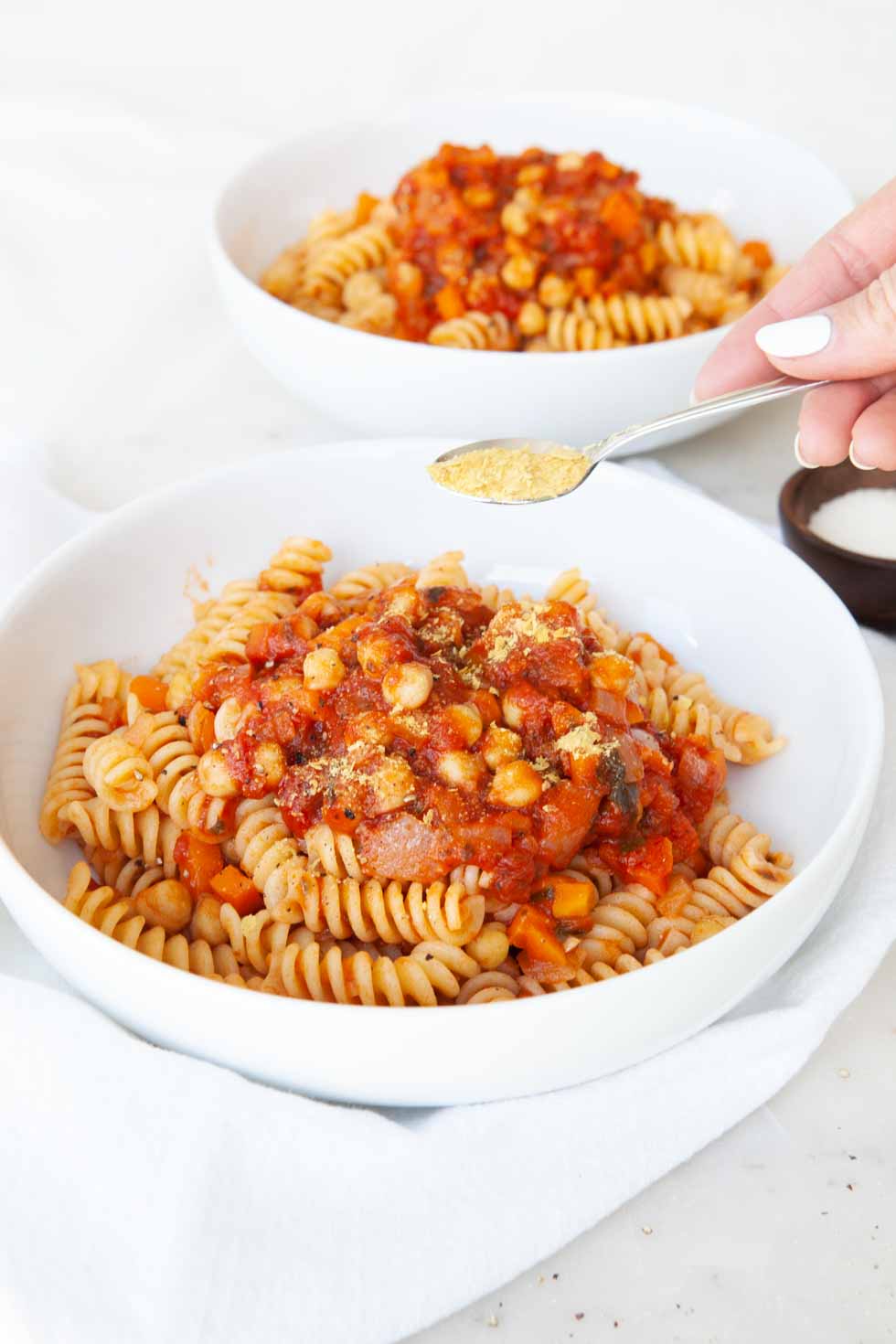 I hope you love this pasta! It's:
Simple
Light
FULL of flavor
Quick
Healthy
& Delicious
This would make the perfect meal when you're craving something quick, healthy, and filling, making it ideal for weeknight meals. And because it's so flavorful and nutritious, vegans and meat-eaters alike will love it.
If you try this recipe, let me know! Leave a comment, rate it, and don't forget to tag a picture #amazingpaleo on Instagram! I'd love to see what you come up with.
Bon appetite!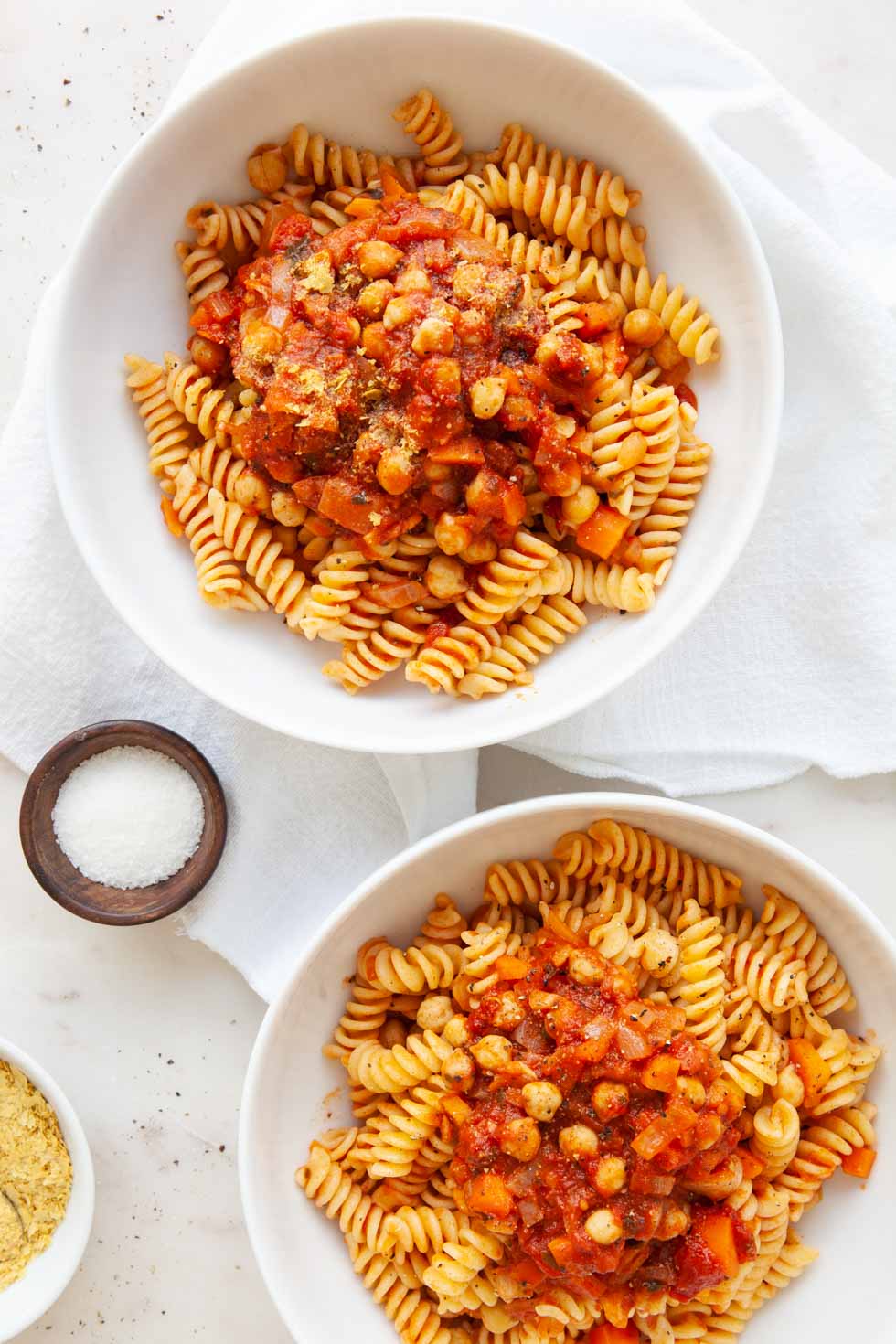 To make this recipe Paleo, you simply:
Vegan Pasta with Chickpea & Tomato Sauce
This Vegan Pasta with Chickpea & Tomato Sauce recipe is ready in 30 minutes and requires minimal ingredients. A simple, yet delicious recipe, that will satisfy even the pickiest of eaters.
Instructions
Set cast iron skillet over medium-high heat; once hot, add 2-3 tbsp olive oil. Add in carrots and onions, cook until soft and fragrant, stirring frequently to avoid burning. Add in garlic and salt, and cook until fragrant. Add in chickpeas and cook for another 2-3 minutes, stirring frequently. Add in tomato sauce, reduce heat to medium-low, stir and cook for another 5 minutes. Set aside.
Cook pasta al-dente, per packaging directions. Before draining, make sure you save about 2-3 cups of the water. Drain pasta and place pasta back into pot. Slowly add in a bit of your starchy water (water you saved prior to draining) and stir, so that pasta does not become dry nor sticky. Add in half ⅔ of the sauce and combine…add in starchy water as needed to make it nice and juicy.
Serve pasta, and top with remaining sauce. Sprinkle nutritional yeast generously on top and add freshly cracked pepper. Enjoy!
Notes
Refrigerate in tight lid container; stays fresh for about 4 days.
I enjoy eating it cold vs reheating it.
PIN ME!