Hello gorgeous! Has a salad ever looked this pretty? I don't think so. This Winter Kale Salad with Raspberry Vinaigrette is the prettiest of them all. It gets the crown and sash.
Those bright red berries and that vibrant green kale…sheesh.
It also makes for the perfect holiday side dish, if you ask me. Hmmm, Christmas dinner menu, you just got yourself a new addition; make space for the mighty Winter Kale Salad with Raspberry Vinaigrette!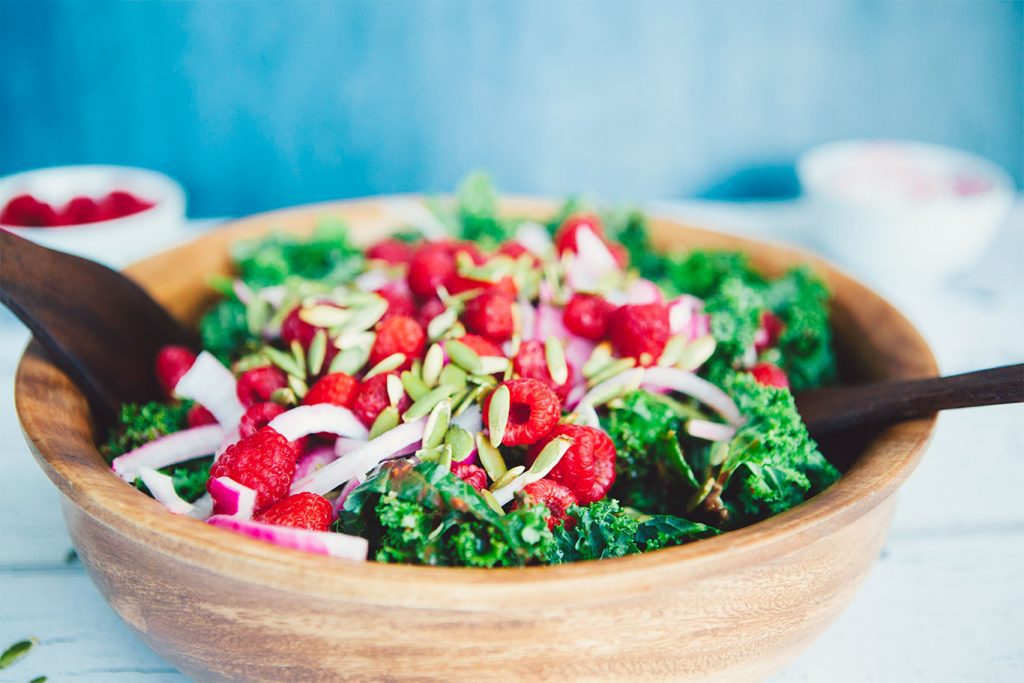 I don't know about you, but I am a sucker for kale. Any type of kale, because there are quite a few kales out there.
The one I used for this salad is called Curly Kale, which is one of my go-to's, but some of my other favorites are Lacinto Kale (Dino Kale) and Red Russian Kale.

All the different kinds of kale are easily substitutable in any cold salad recipe, in my opinion, so feel free to switch them up here and there so that you get a chance to try them all.
Of course, for this particular salad recipe, if you want it to be holiday-esque (red and green colored for Christmas), then stick to the Curly Kale. Curly Kale has the brightest green color of the bunch.

I have a fun video for this Winter Kale Salad with Raspberry Vinaigrette recipe to show you just how easy it is to prepare this side dish!
Keep scrolling down and you'll find it below.
You'll see that it literally takes about 10-15 minutes to prepare it, and that it doesn't take much effort on your part to make a healthy and very satisfying side dish that will feed your loved ones right.

It is important to make healthy dishes for your family during this time of year (the colder months), so that everyone keeps strong and healthy when the flu season starts to hit everyone and their mother.
Eating lots of leafy greens and vegetables is a great way to stay healthy. Vegetables provide wonderful vitamins and minerals that will help keep our immune systems in tip-top shape. Isn't it amazing how if we eat the right stuff, we can live a better life?
It's incredible how your quality of life goes up just by eating the right stuff. A huge blessing, actually. Want to feel better? Easy, just eat good food!
And what qualifies as "good food"? Raw veggies, fruits, nuts, seeds, healthy fats and good quality animal products (lean cuts, eggs, etc.). Simple stuff.
But a lot of times, we don't go for the simple stuff. Whether it's because it's a bit more expensive to buy quality food, or because when eating out other things sound more delicious (like grilled cheese and lasagna)…we sometimes find ourselves deviating from the path to health. And we pay for it later.
I find that when I eat unhealthy I have stomach aches, get bloated, sleep poorly, feel lethargic and even see eczema on the back of my arms. Not fun.
BUT when I eat healthy, not only are all the bad symptoms I mentioned above not present, I also feel invigorated and like I can conquer the world. I basically become Wonder Woman.
Now THAT'S a good feeling. Wouldn't you say?

So lets all stick to the "good foods" and those healthy habits that we know will make us feel on top of the world. Why not right? Our health and energy is in our hands. So lets own it!
Hope you guys all love this salad as much as my husband and I do. We've now made it over six times in the last two months and shared it at plenty of dinner parties for our friends and family to try. It's always a hit, without fail.
This Winter Kale Salad with Raspberry Vinaigrette salad is:
Crunchy
Well balanced
Sweet and savory
Healthy
Easy to make
Versatile
Gluten free
Dairy free
All Paleo
DELICIOUS
WATCH my Winter Kale Salad with Raspberry Vinaigrette video:
Winter Kale Salad with Raspberry Vinaigrette
This Winter Kale Salad with Raspberry Vinaigrette recipe is easy to make, healthy and totally delicious. A crowd pleaser that truly goes with any dish!
Ingredients
For the Pickled Onions:
½ red onion, thinly sliced
½ cup white vinegar
½ cup filtered water
¼ tsp sea salt
For the Raspberry Vinaigrette:
¾ cups balsamic vinegar
½ cup extra virgin olive oil
1 cup fresh raspberries
1 tbsp maple syrup
¼ tsp sea salt
¼ tsp black pepper
For the Kale Salad:
4 cups kale, sliced
½ cup roasted pumpkin seeds
1½ cup fresh raspberries
Instructions
For the Pickled Onions:
In a small bowl, combine vinegar, water and sea salt. Add in sliced onion, cover and place in refrigerator for about one hour to pickle.
Once hour passes, drain water and set onions aside until use.
For the Raspberry Vinaigrette:
Place a saucepan over medium heat and add in the balsamic vinegar. Once the vinegar reaches a low boil, reduce temperature to medium low and cook until vinegar is reduced by half.
Set aside to let cool completely.
Place all raspberry vinaigrette ingredients in blender, including the balsamic reduction you just made, and blend on high until smooth.
Putting the salad together:
Place kale in salad bowl and add in desired amount of vinaigrette; toss to coat. Add raspberries, pickled onions and roasted pumpkin seeds to your salad, and serve right away. Enjoy!
PIN ME!