Think cozy, comforting and satisfying. That is exactly what you'll feel with this on hand.
I don't know about you, but when the weather cools down and summer is long gone, I feel the need to surround myself with all things Fall. Cozy sweaters, hot soups, chunky scarves, fireplaces, thicker jeans, tall boots, good books…and comfort food. <– That last one especially. Is this you too?
Side note: it's sort of a blessing and a curse that some of us (I mean me) have been given a good appetite. You know? Gosh dang it. Especially because food is a total comfort thing and it keeps us happy when the weather is poopy. A lot of the times, I can't keep myself from getting that second (or third) serving, and the "let me just try a bit" turns into "give me the whole treat now" kind of thing.
Well, it's richer and bolder things I crave in the colder months. Like dense soups, bolder wines and heartier salads. But one of my biggest weaknesses is chocolate. Yup, the darker the better.
I must be Ecuadorian, ey? (wink wink) We have the best cacao at home. BEST. If you've never had some, order some now, go ahead. Just Google "Ecuadorian chocolate" and shop it. I'm telling you: game changer.
So anyway, chocolate is never missing in our home come October. I have a whole drawer dedicated to it during Fall and Winter, and if this drawer ever runs out of it, I start breaking into a sweat. Like, "honey, put your shoes on, we're going out"!
So to avoid this running-out situation, I try to keep an eye on my drawer and restock it whenever low. Right now I have some delicious orange flavored dark chocolate bars and some dairy-free chocolate chips to keep me going, but I should probably add a few more options soon.
Now, biting into a bar of chocolate or crunching on mini chocolate chips feels super satisfying and perfectly amazing. BUT, a lot of times, I wanna drink my chocolate. Nah mean?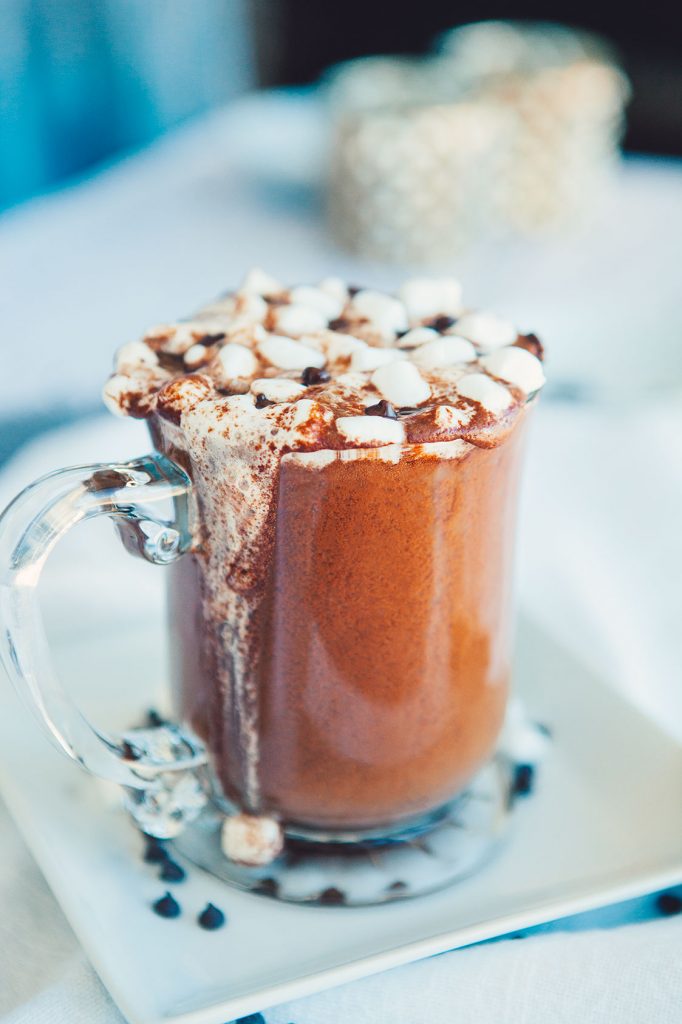 I wanna sip on that rich deliciousness slowly by the fire, with a chunky blanket on top while reading a book.
Yes, sister, that is the Fall life right there. The key to cold-day happiness. The secret.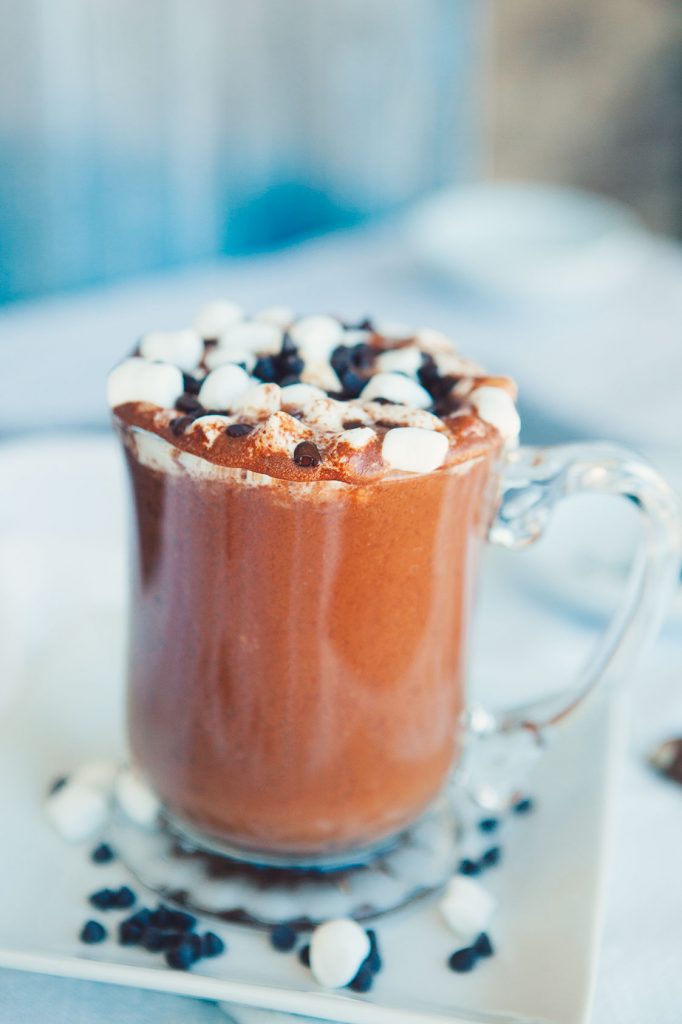 And for when this drinking-chocolate craving comes, we better have essential ingredients on hand to use right away. You never really know when you'll need these ingredients to save yourself from the coldness doom.
Am I being too dramatic with the cold weather stuff?
Nah, I'm just Ecuadorian. A tropical bird living on the wrong side of the world. It's the right side of the world when it's summer…but other than that, wrong side.
Cold and I don't get along. Just ask my husband. Last winter, he even got me one of those happy lamps that simulate sunshine to put 2 feet away from my face while I work. Ha! No joke. Love that man, a practical problem solver.
But yes, keep that pantry stocked up on all things comforting: dark chocolate, vanilla extract, chocolate chips, nuts (to make on-demand nut milks and butter), coconut products (canned milk, shredded coconut, coconut butter), honey, maple syrup, etc., etc.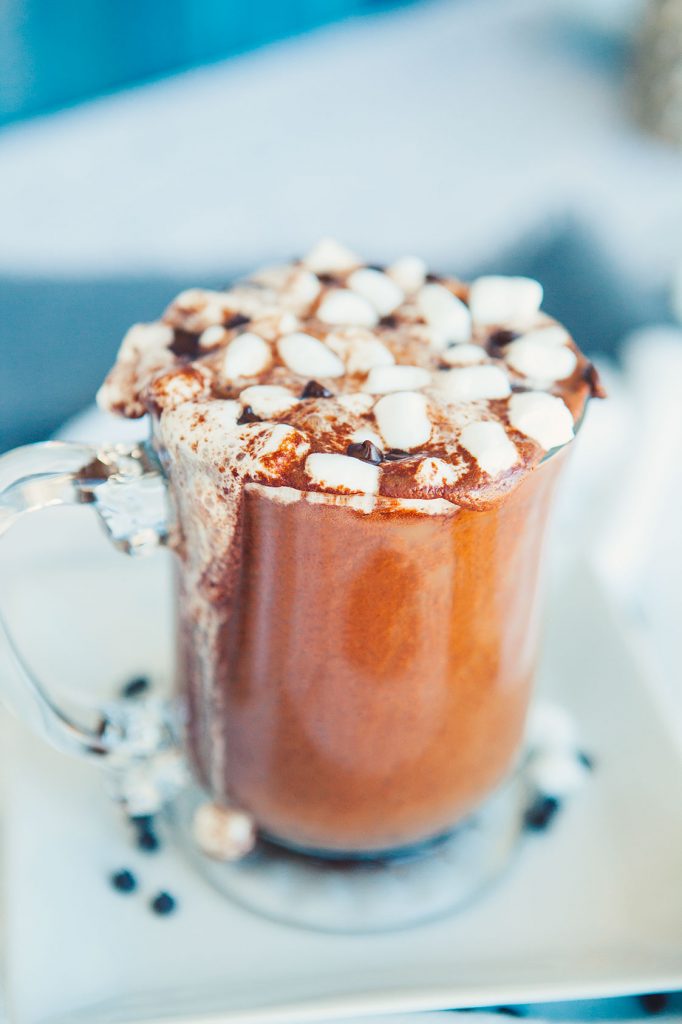 This Paleo Ginger Mocha recipe that I am sharing with you today, which I've been loving lately, only calls for 7 ingredients. Of which one is sea salt. So see? Super basic pantry stuff.
You probably have the rest on hand right now. Go check!
You'll need:
Cashews (to make homemade cashew milk)
Coffee (espresso)
Honey
Cacao powder
Ginger (ground)
Vanilla extract
Sea salt
Optional: vegan mini marshmallows & dairy-free mini chocolate chips
You have these? Heck yea!
You need to buy these? Run to the store!
Either way, you're making this drinky drink. It is SO GOOD. Tag me on Instagram or Facebook if you end up making it at home this season!

Paleo Ginger Mocha
This easy to make Paleo Ginger Mocha recipe is dairy free & processed sugar free. The perfect drink to cozy us up when the days are cold outside!
Instructions
Heat the milk in a medium saucepan. Once it comes to a simmer, reduce heat slightly and whisk in honey, ginger, cacao powder and sea salt.
Once mixture reaches your desired temperature, remove from heat and add espresso shots and vanilla extract. Whisk again.
Divide mocha into two cups and add desired toppings.
PIN ME!