Want to achieve your health and fitness goals? Make sure you stay educated on your road to success. The more you tell people about your fitness journey, the more they will try to tell you the best way to do something and what you "should" do.
There's nothing wrong with some good feedback, but just make sure that you dive into the details yourself to get the best results possible. You deserve it!
Understanding these 17 fitness myths will help you avoid pitfalls and stay motivated.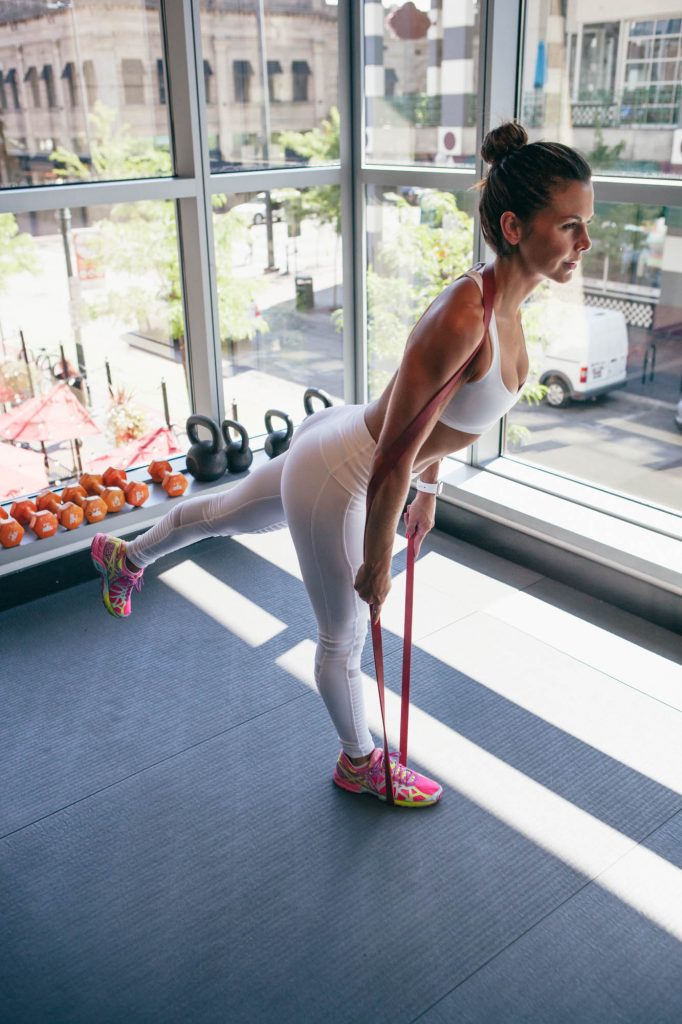 ---
MYTH: YOU SHOULDN'T WORK OUT ON AN EMPTY STOMACH
REALITY: According to a new study, your body actually burns more fat when you hit the gym before you eat breakfast. I like to have a protein shake before the gym to give me energy. Remember not to skimp on water. Aside from the protein shake I have a full 32 ounces of water.
Refuel with the best post-workout paleo meals.
---
MYTH: YOU CAN TARGET YOUR FAT BURN AREAS
REALITY: It's true that exercising can reduce the amount of body fat you have overall, but your body decides where that fat comes from. There is a recent study in the Journal of Strength & Conditioning where 11 people completed a 12-week exercise program to train a single leg. Although the participants training only one side of their body, they lost the same amount of body fat per leg. Not only that but there was a larger portion of fat that was lost above the waist.
---
 MYTH: IF IT DOESN'T HURT, IT'S NOT WORKING
REALITY: A little discomfort is okay, but if you feel a sharp pain anywhere, stop what you're doing and consult a doc, says exercise physiologist Dayna Davidson.
Find out where you SHOULD feel the burn.
---
MYTH: ALWAYS STRETCH MUSCLES BEFORE YOU EXERCISE
REALITY: Stretching loosens your tendons, and makes muscles feel weaker and less steady, according to a new study. So a pre-workout stretch might actually mess with your workout.
Instead of stretching, try THIS warm up.
---
MYTH: I'LL GET BULKY IF I LIFT TOO HEAVY
REALITY: Actually, it can slim you down. Women who lift a challenging weight for eight reps burn nearly twice as many calories as women who do 15 reps with lighter dumbbells, according to a study published in Medicine & Science in Sports & Exercise.
New to the weight room? Begin with this weight-room cheat sheet.
---
MYTH: FREE WEIGHTS AREN'T AS GOOD AS EXERCISE MACHINES
REALITY: Many exercise machines are actually designed for men, which can make it tough for women to nail proper form when you use them. And because machines isolate specific muscles, you actually burn fewer calories on a machine than you do when you exercise freestyle.
Avoid these machines the next time you hit the gym, and try these effective body weight exercises instead.
---
MYTH: RUNNING ON A TREADMILL HAS THE SAME EFFECT AS RUNNING OUTSIDE
REALITY: Because running against wind or on uneven terrain engages more of your muscles, it requires more energy and ends up burning about 10 percent more calories than running the same distance on a treadmill.
Try this treadmill workout to torch calories when you can't get outdoors.
---
MYTH: WORKING OUT EVERY DAY WILL BREAK YOUR BODY DOWN
REALITY: Rest should be part of your workout, not an alternative to your workout, says Barbara Bushman, Ph.D., a professor of kinesiology at Missouri State University.
Learn 5 ways to make rest part of your workout.
---
MYTH: I'M SICK, I SHOULDN'T WORK OUT
REALITY: As long as you don't have a fever and your symptoms are above the neck (think: stuffy nose or sore throat, not chest congestion or indigestion), you can totally hit the gym. Just listen to your body—or ask your doc if you're unsure.
Getting sick? Try a workout that boosts your immunity.
---
MYTH: SWEATING MEANS YOU'RE OUT OF SHAPE
REALITY: "It sounds counterintuitive, but the fitter you are, the sooner your body begins to sweat, so a person who's in extremely good shape will produce more sweat than somebody who isn't," says Beth Stover, M.S., C.S.C.S., a senior scientist at the Gatorade Sports Science Institute in Barrington, Illinois. "With each workout, you become a more and more efficient sweating machine."
Debunk even more myths about sweating, here.
---
MYTH: CRUNCHES ARE THE BEST WAY TO GET A TIGHT CORE AND ABS
REALITY: To really cinch your waistline, you're better off doing multi-muscle exercises that target every region of your core. (Crunches don't count.) Also, they say "abs are made in the kitchen", so keep that in mind; a clean diet can get you far with your core goals!
Try these 10 exercise moves better than crunches.
---
MYTH: WORKING OUT MAKES YOU RAVENOUSLY HUNGRY
REALITY: High-intensity exercise may actually decrease food cravings, according to new research published in the International Journal of Obesity.
Curb your appetite with this super-tough workout.
---
MYTH: RUNNING IS ALWAYS BETTER THAN WALKING
REALITY: Since walking and running target the same muscle groups—just at different intensities—they come with similar health results when you compare overall energy burn, according to the author of a recent study. (That said, it takes about twice the amount of time to expend the same amount of energy walking as you would running. So running still wins if you're strapped for time.)
Find out how to walk your butt off.
---
MYTH: A PROTEIN BAR IS THE SAME AS A HEALTHY MEAL
REALITY: Nope. Protein bars are highly processed, unless you make them yourself. Highly processed food requires fewer calories to digest, so that benefit is diminished. I love protein bars, but I eat them as treats.
---
MYTH: CARBS ARE FOUND ONLY IN BREAD AND NOODLES
REALITY: Wrong. You also find carbs in grains, starches, fruit, vegetables, dairy, nuts, and seeds.
---
MYTH: IF YOU WANT TO COMPETE, YOUR DIET MUST CONSIST ONLY OF CHICKEN AND BROCCOLI
REALITY: This is an old school bodybuilding mentality that came about due to lack of knowledge about nutrients and what they do for you. If you eat only 2-3 sources of food, you'll end up nutrient deficient. Plus, who wants to eat chicken and broccoli all day?
---
MYTH: FRUIT IS A HEALTHY SNACK THAT CAN'T MAKE YOU FAT
REALITY: Humans eat food because it gives us nutrients and fuel, but any kind of food, no matter how healthy, can make you gain weight. Fruit has a lot of easily accessible carbs. When you provide your body with easily accessible carbs, you're basically telling it to stop burning body fat for fuel.
---
Hope the above help shed some light on some of the common myths out there in the fitness world. Be sure to dive deep into each of these topics, so that you can build yourself a good knowledge base to aid you in your health journey. Listen to your body, and don't be afraid to try new things to see what works best for YOU!
---
PIN ME!

SaveSave