Let me introduce you to one of my hubby and I's favorites: the perfectly balanced, perfectly sweet, perfectly sized, perfectly DELICIOUS Coconut Cardamom Bliss Balls. ?
These little guys have the power to give you comfort, brighten up your day, satiate your cravings…and (best part) nourish you!
What a treat!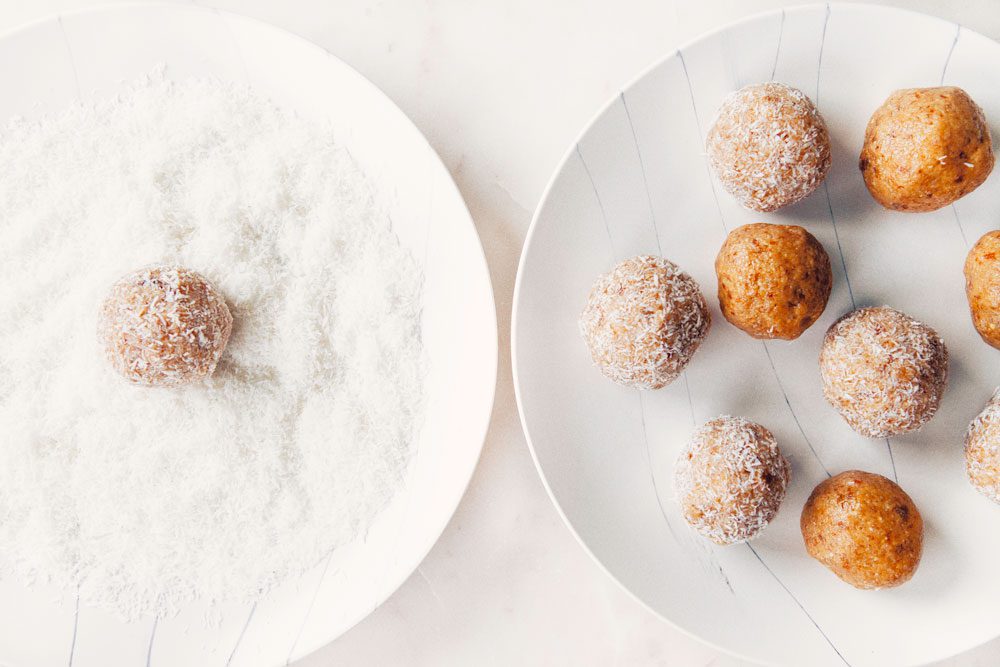 And, aren't they lovely? They are total eye candy. ? You could almost make these for a party just to place as decoration. They look like little ornaments fallen from heaven. Like little coconut angels that are there to smile at you and make any space prettier.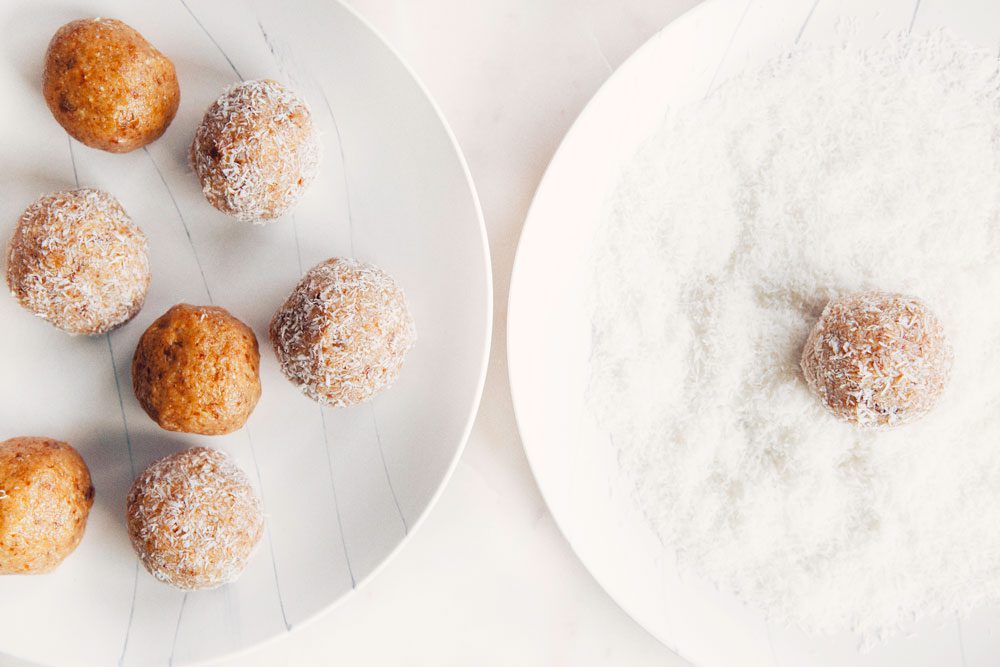 I bet that by now you can tell I am obsessed with these. And it's true. I am. Both my husband and I are. These did not last long too long in our home.
We literally had one of these for dessert every day for a week. They were the perfect size and gave us the perfect amount of sweetness to satiate our post-meal cravings. My hubs loved pairing his coconut cardamom bliss balls up with a dark cup of joe; he was living his best life with those two together haha. I enjoyed these bliss balls with a cup of herbal tea or with sparkling water, because give me coffee after 3pm and I bounce off the walls!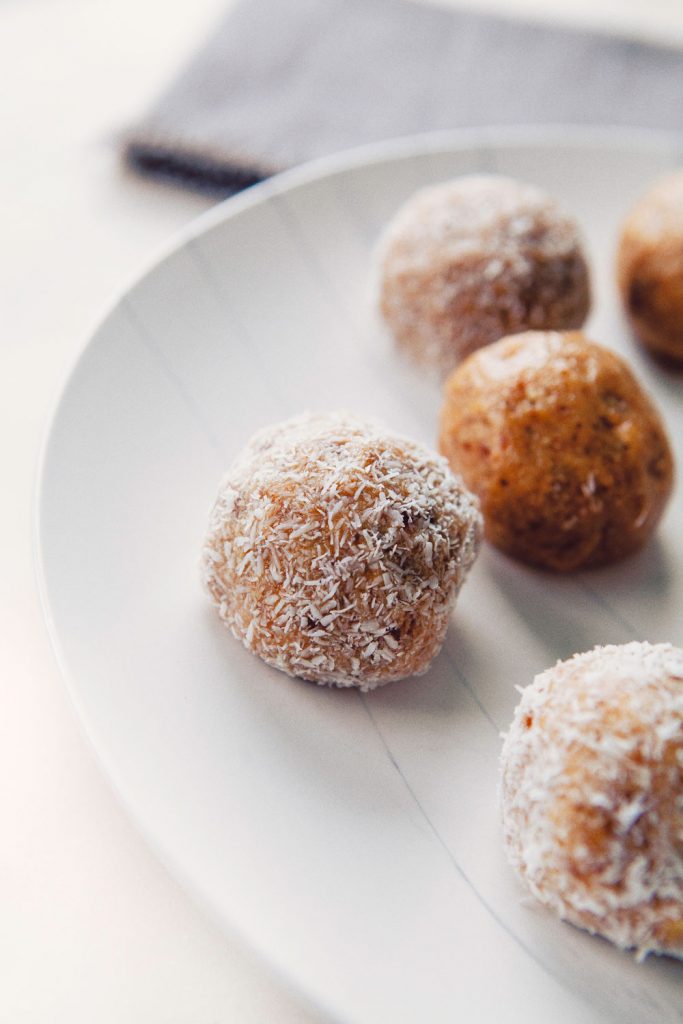 Another plus sign? They are super easy and fun to make.
You don't need a lot of tools nor a lot of time to make them. Which is ideal for when you feel the urge to treat yourself, and treat yourself quick. Because when that urge comes, you gotta make magic happen quick if you know what I'm saying. It's either get yourself a treat QUICK, or beast-mode comes out. (Beast mode = hanger.)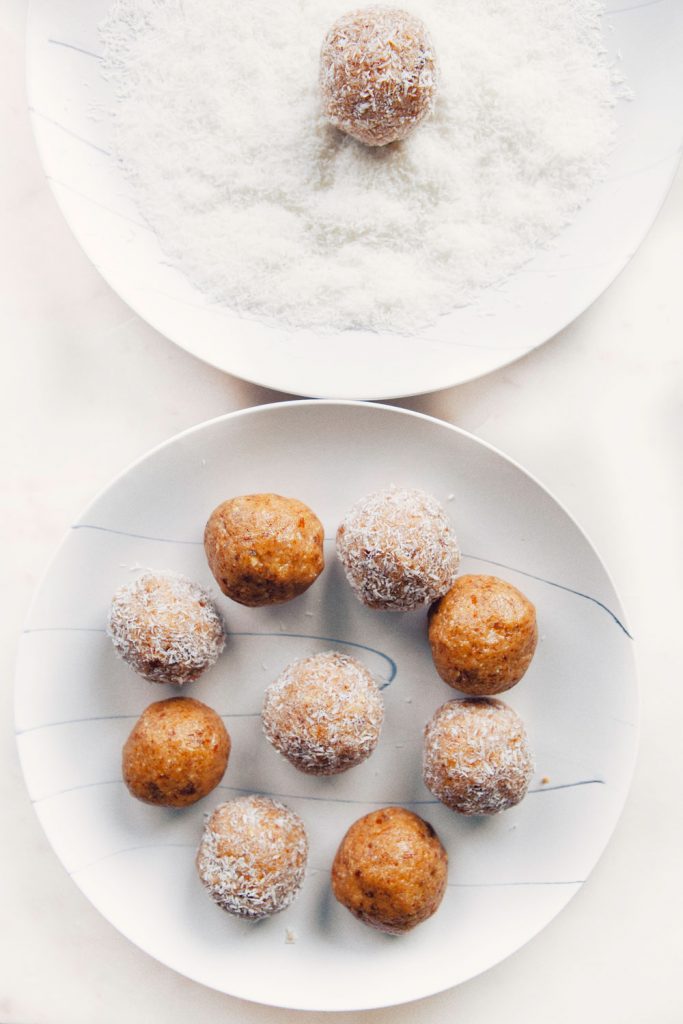 To prepare them, just pop all of the ingredients in your food processor and process away until all ingredients have combined and broken down into what will look like a cookie dough mixture. I was actually *this* close to calling this recipe Coconut Cardamom Cookie Dough because of how close the mix resembles cookie dough.
If you're into cookie dough (and healthy treats!), you know these are right up your alley.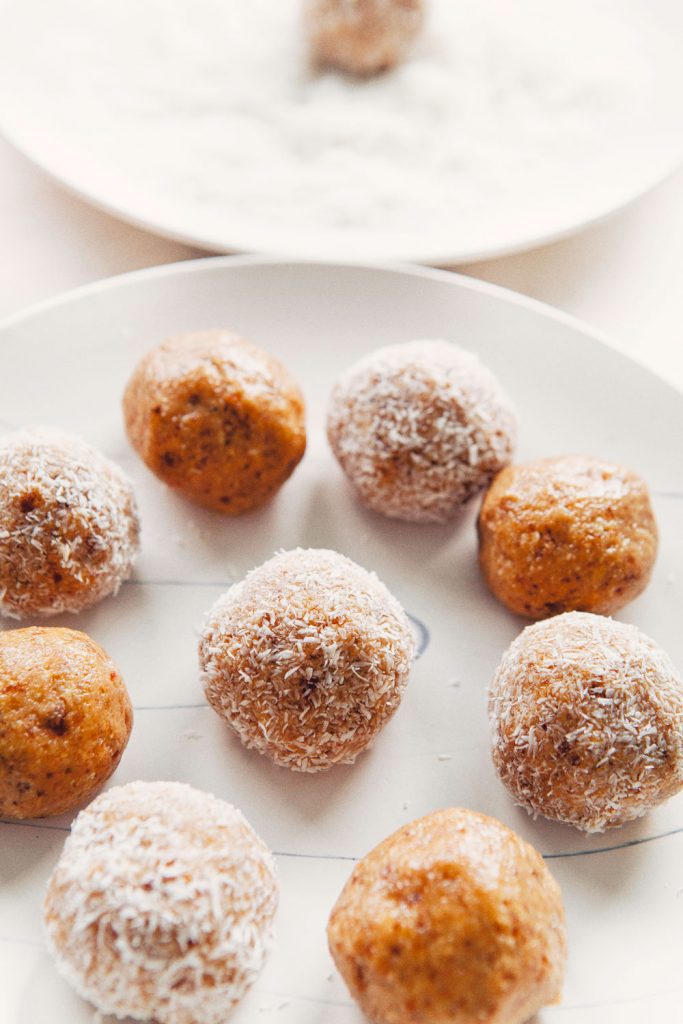 Then, once the mixture is done processing, form little balls using your hands. You can press shredded coconut on some of your bliss balls (or on all of them)  to add texture and extra flavor. If you're not a huge fan of coconut, just skip this step.
TIP: make your balls different sizes so you can eat them accordingly to your hunger levels.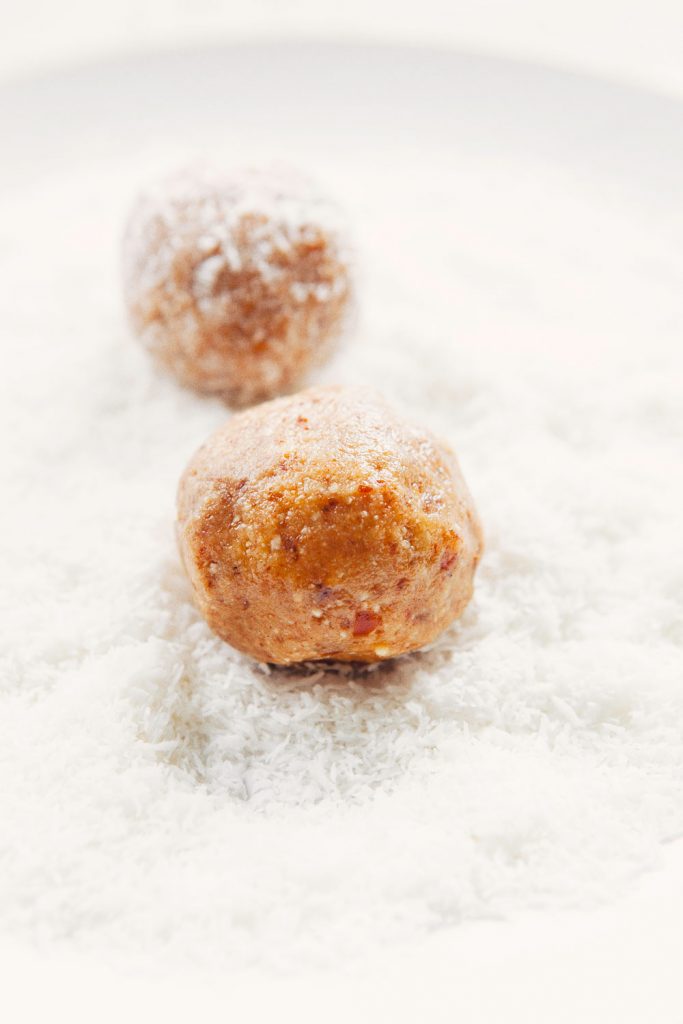 Then, place your balls on a plate and refrigerate them until you're ready to eat them.
You can also store these in the freezer if you want to keep them fresh for longer periods of time. Both refrigerator and freezer work just fine for storage.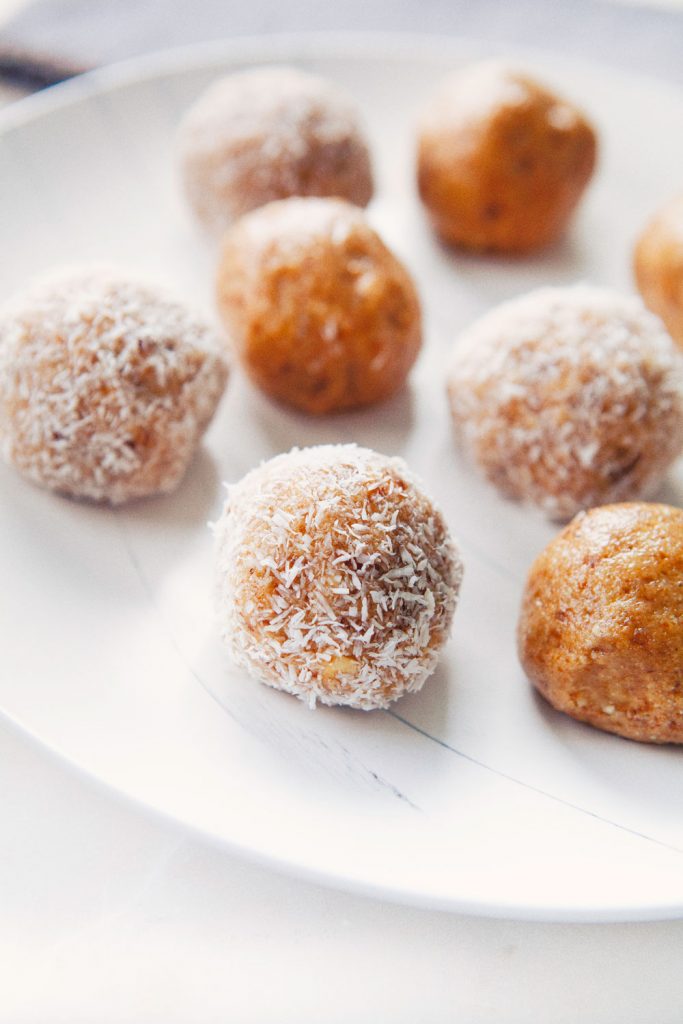 These Coconut Cardamom Bliss Balls are:
Flavorful
Texture-full
Easy to make
Healthy
Energizing
Comforting
Paleo
Gluten-free
Dairy-free
Vegan
DELICIOUS!
If you make these at home, be sure to take a picture of your bliss balls and share it with us via Facebook or Instagram. We'd absolutely love it if you did!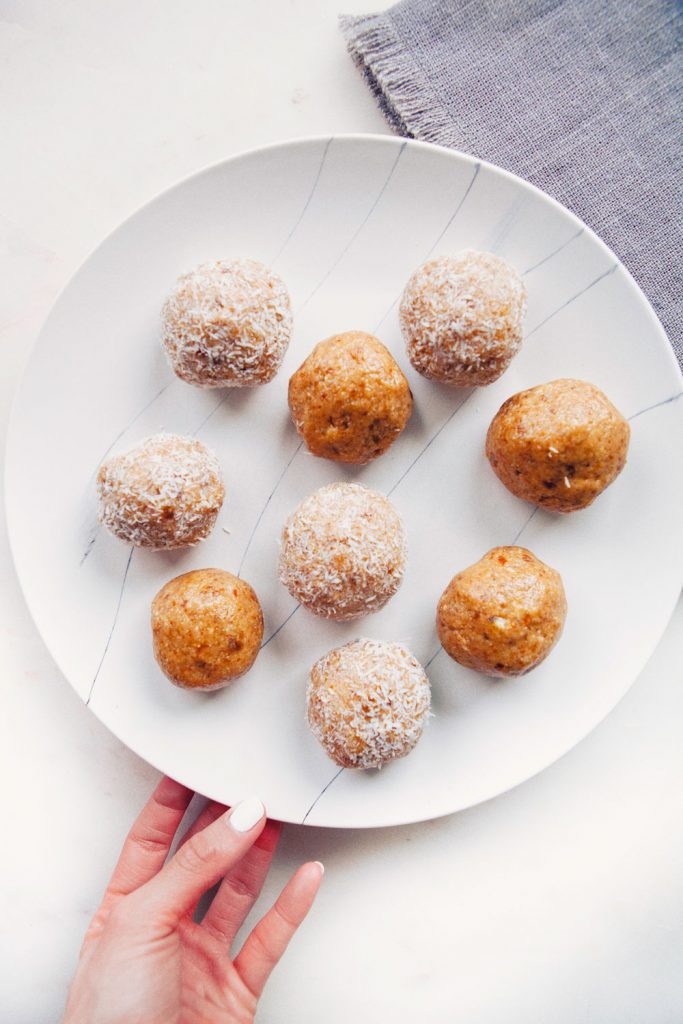 WATCH Coconut Cardamom Bliss Balls Video:

Coconut Cardamom Bliss Balls
These delicious Coconut Cardamom Bliss Balls are made in less than 10 minutes and with Paleo approved ingredients. Healthy, satisfying and super fun to eat, they are the perfect on-the-go snack!
Instructions
Process all ingredients in a food processor until a sticky dough consistency is reached.
Grab a golf size amount of dough and roll into a ball; repeat until dough is gone. Press shredded coconut on balls to add texture and flavor. Refrigerate or freeze.
Notes
Tools You'll Need:
- Food processor
- Measuring cups
- Measuring spoons
PIN ME!