I have been following a muscle building training program for the last month or so, and apart from heavy lifting, a big part of what will determine my success is my diet.
What we eat and the timing of when we eat is huge for these type of things; our muscles need constant fuel to grow and recover, and they are able to absorb those nutrients better at certain times of the day more than others (depending on your fitness activities and schedule). For example, giving your body protein right after weight training is ideal, because that's when your muscles are most depleted and there's optimal absorption.
I have been trying to stay on top of my diet by buying good ingredients, meal prepping (cooking in bulk and ahead of time) and consuming my meals at proper times. I am eating veggies, animal protein (chicken, beef, turkey, eggs) and lots of delicious sweet potatoes and starchy root vegetables.
Occasionally, however, I'll get a little craving for something sweet. So what I have been doing in those situations, is cutting bananas into slices and mixing them with honey and whatever type of nut or seed butter I am feeling like having at the moment (lately, I have been leaning towards cashew butter or sunflower seed butter). Unfortunately, one can only crave bananas so much…and also, where is the protein in that? Nut butters have a little protein, but that doesn't really do it for me when I am trying to build muscle in such a short amount of time (my program lasts three months).
So what is my solution to my need of having a sweet protein-packed snack? I bake myself some deliciously satisfying protein goodies!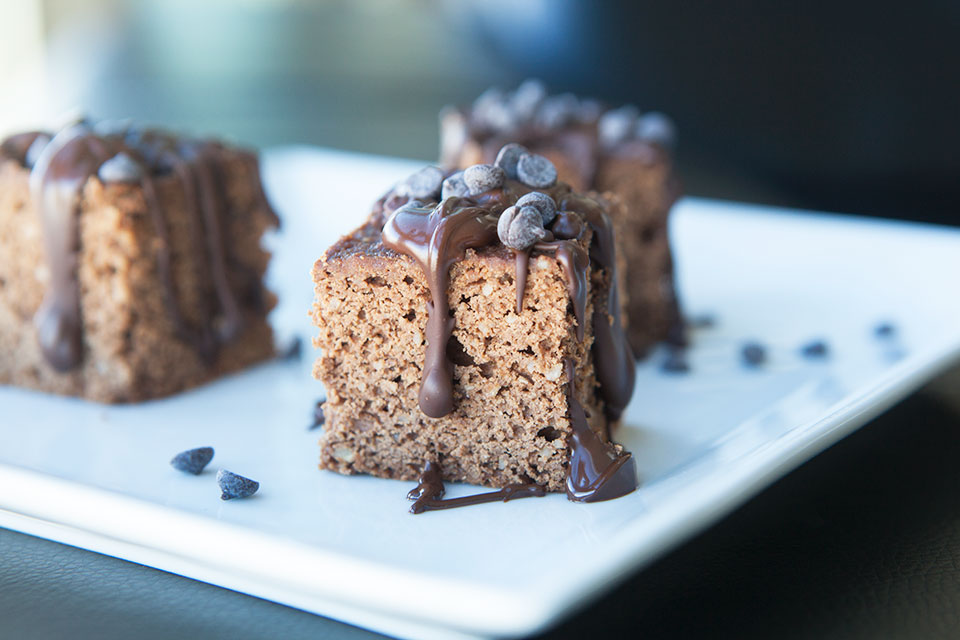 I came up with this decadent and oh-so-satisfying Paleo Protein Brownies recipe a few days ago. It is made with only the BEST protein powder in the market: Alter Whey. This protein powder is made from fresh, raw, grass-fed US milk; it's free of hormones, antibiotics and GMOs; and it's made without heat or chemicals. It's EVERYHTING I've been wanting from a protein powder.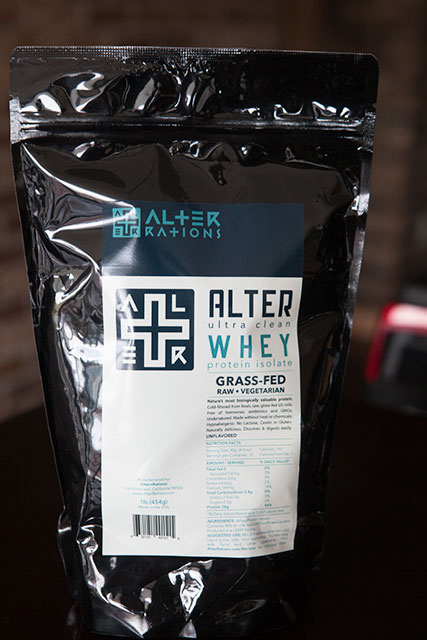 My past experience with other protein powders has been a lousy one. Some have tasted crappy, some have gotten clumpy and haven't mixed well, some have made my baking recipes come out dry, and most (if not all) have made me feel awful: bloated, nauseous, and uncomfortable.
I have been having Alter Whey EVERY day (sometimes twice a day) for over a week now, and those symptoms I mentioned above? None have occurred. It's a supplement miracle.
I can finally drink creamy protein shakes right after my weight training sessions (what I do is I take 4 tablespoons of Alter Whey with me in an empty shaker bottle, and just add room temperature water immediately after being done with weight training, and drink it to replenish my muscles), have delicious smoothies with protein in them, and bake amazing little recipes that will satisfy my cravings and nourish my body.
I seriously love this stuff. (And no, they are not paying me to say this. I am a true fan!)
If you're anything like me and you have food sensitivities, yet still want to drink the occasional protein shake or eat the occasional protein baked goodie, you'll definitely want to give Alter Whey a try.
The Paleo Protein Brownies I made with this protein are bomb. My husband and I have been enjoying them in the afternoon with a nice cup of coffee. They are 100% Paleo-approved!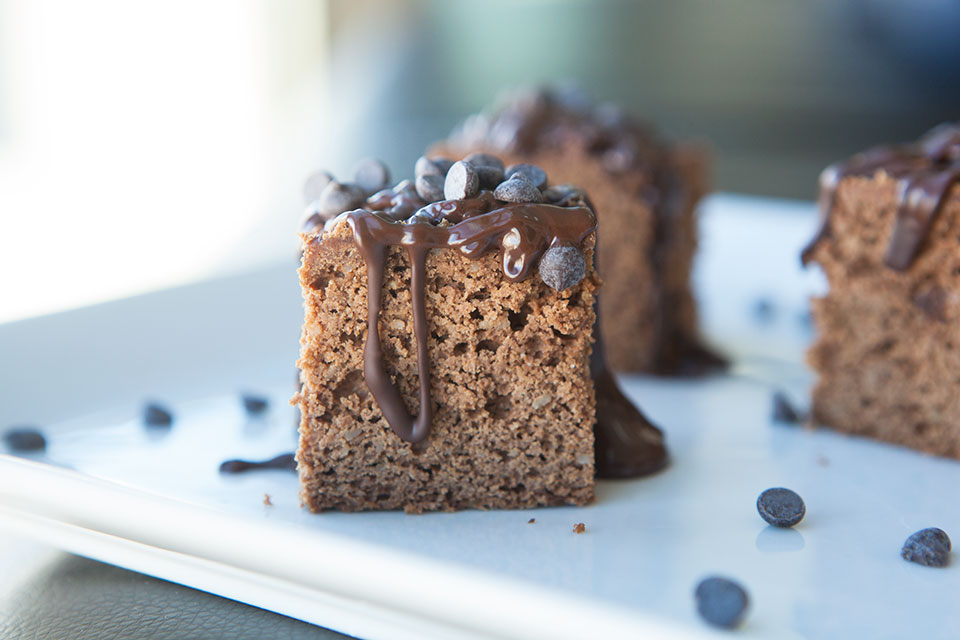 Paleo Protein Brownies
Ingredients
For the Brownies:
½ cup cashew meal
½ cup coconut flour
⅓ cup unsweetened cacao powder
1 teaspoon baking powder
⅓ cup coconut oil, melted
½ cup sweet potatoes, cooked, peeled and mashed
3 large eggs
¼ cup maple syrup
¼ cup unsweetened coconut milk (from carton)
For the Chocolate Topping:
Instructions
For the Brownies:
Prep ingredients ahead of time.
Preheat oven to 325 degrees Fahrenheit.
Line baking dish with parchment paper, spray a little coconut spray, and set aside.
Place all ingredients (except chocolate chips) in food processor and process until smooth. Transfer batter to mixing bowl and incorporate chocolate chips.
Pour batter into baking dish and spread evenly. Bake for 35 minutes.
Allow it to cool completely, and slice into 9 squares
For the Chocolate Topping:
Melt chocolate chips and drizzle on top of brownies. Serve immediately.
Notes
Tools You'll Need:
- 8x8 baking dish
- Food processor
- Mixing bowl
- Measuring cups
- Measuring spoons
- Parchment paper
Nutrition Information
Serving size:
1 brownie --
Calories:
260
Fat:
15 g.
Carbohydrates:
22 g.
Protein:
13 g.