How about dem Pumpkin Pie Paleo Soft Bars doe? Don't these look just brutally delicious? We loved how soft and flavorful they turned out. Most of all, we loved their rich pumpkin flavor. Because who doesn't love pumpkin this time of year? Let's be real, we all do!
Being from Ecuador, Thanksgiving was not a holiday I grew up with.
I went to an American school in Ecuador from K-12, and so I remember celebrating certain American holidays in school. We did little holiday-related crafts and had fun holiday assemblies and presentations. Most of all, I remember celebrating Halloween, because we we had these huge assemblies where we would all go to dressed up and "model" our costumes. THE BEST. I dressed up as the yellow power ranger (I really wanted to be the pink one, but my grandma brought me back the yellow one from her travels), a witch, a princess, a princess, a princess, hahaha. Really loved being a princess!
For some reason, I don't really remember even one Thanksgiving celebration at school. Isn't that weird? I sure hope that it's only my memory that's failing me right now, and not that our American school didn't include Thanksgiving on their teaching agenda. If anything, I feel like I should be remembering Thanksgiving more than Halloween. Since I think Thanksgiving is a way more special holiday.
I have lived in the US for a little over eleven years, so by now I've celebrated Thanksgiving eleven times (this year will be my twelfth one, yay!). And I absolutely love Thanksgiving. It's my favorite holiday after Christmas. I love the spirit around it, the fact that families get together and gather around the dinner table for hours, I like the slower pace, and I especially love the giving of thanks.
Since my very first Thanksgiving, on my first year of college, I wasn't too fond of Pumpkin Pie. It had to due with it's texture and the fact that when I took my first bite, I was expecting something completely different. I love sweets, and I thought that my pumpkin pie bite was not nearly sweet enough. And Oh Em Gee, what in the world was that texture? It felt like I was eating some sort of weak pudding. Haha!
Oh man, all the new foods I tried that year. I also remember trying my very first corn dog (in those days, I had no gluten or dairy sensitivities) and my very first bite of cottage cheese. I had to spit both out of my mouth. Nope, I was not into them AT ALL. Thinking of these things makes me giggle. I was not a fan of these foreign foods and could not understand what the fuss was all about.
On my first Thanksgiving with Preston, when we first started dating, I knew that if I married this man I would NEED to learn how to bake a mean pumpkin pie. The man ate it with such passion after dinner…even after eating all that food. I was mesmerized. Of course I skipped it, and he could not fathom it! One man. One woman. Totally different cultures and backgrounds, brought together by love.
Even after five years of marriage, there are so many things that make us polar opposites still, but that is where the beauty of it all lies. I love my hubby and would not change a thing about him.
So, needless to say, I've learned how to bake Pumpkin Pies and make other things with a Pumpkin Pie flavor. Like these Pumpkin Pie Paleo Soft Bars, for example.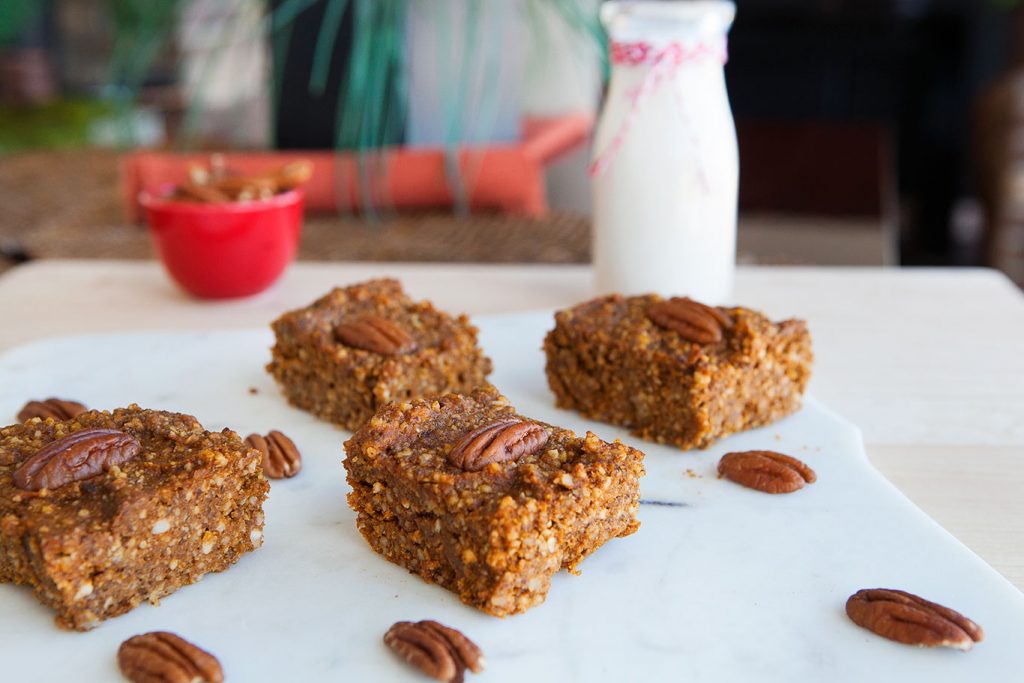 They are not pie, they don't have the texture of a pie, but they sure taste like Pumpkin Pie! And see, I can toooootally go for one of these Pumpkin Pie Paleo Soft Bars…even as an afternoon snack.
No need to twist my arm here. In fact, I think I've eaten most of these Pumpkin Pie Paleo Soft Bars by myself. My Pumpkin Pie Paleo Soft Bars recipe yielded nine bars. And now, there are only two left. Preston has eaten two, so that means I've devoured FIVE. Yup, all in less than a week. No shame here.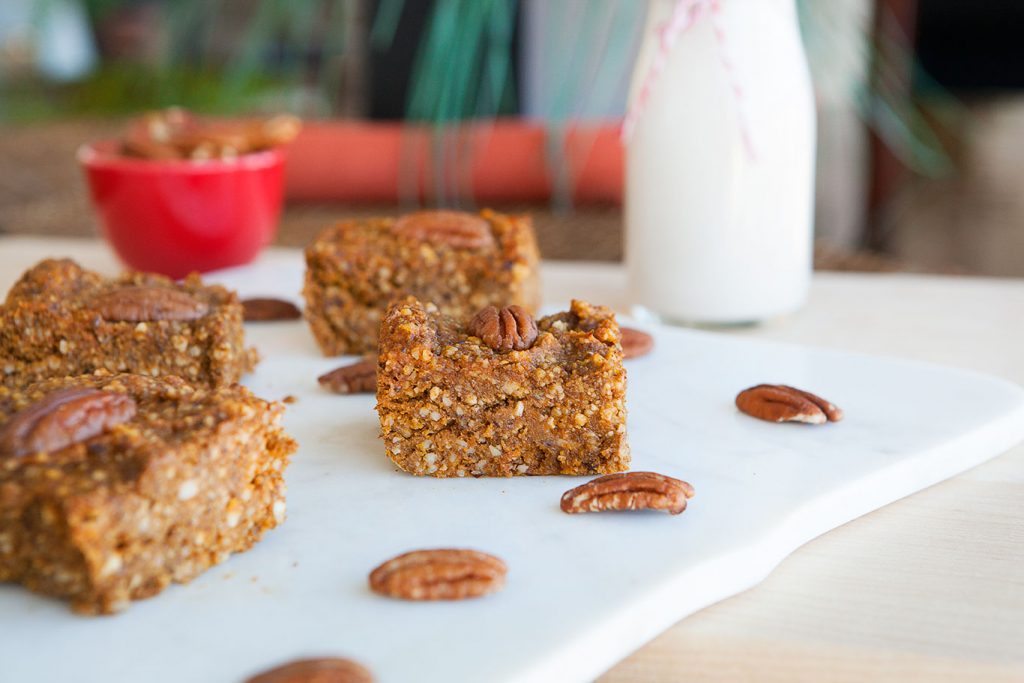 If you love Pumpkin Pie and want to enjoy it with a twist, I recommend you try this Pumpkin Pie Paleo Soft Bars recipe out.
Pumpkin Pie Paleo Soft Bars are:
Paleo
Gluten free
Dairy free
Vegetarian
Soft
Sweet
Comforting
Satisfying
Hope you love your Pumpkin Pie Paleo Soft Bars just as much as my husband and I did ours! XO

Pumpkin Pie Paleo Soft Bars
These Pumpkin Pie Paleo Soft Bars taste just like Thanksgiving's favorite dessert. They're soft, moist & full of flavor. A wonderful healthy dessert!
Ingredients
15 oz can pumpkin puree
2 eggs
6 medjool dates, pitted
1 cup cashew meal (process raw cashews finely in a food processor if cashew meal is not available)
½ cup walnuts
2 tbsp flaxseed meal
1 tsp coconut flour
¼ tsp allspice
1 ½ tsp pumpkin pie spice
½ tsp baking soda
¼ tsp sea salt
Pecans, to decorate
Coconut oil, for greasing
Instructions
Preheat oven to 350 F. Grease pan with coconut oil and set aside.
Add walnuts to a food processor and pulse until finely ground. Transfer to mixing bowl, and mix in cashew meal, flax seed meal, coconut flour, pumpkin pie spice, allspice, baking soda and sea salt. Set aside.
Add dates to the food processor and process until dates take the consistency of a thick paste. Add in pumpkin puree and eggs, and process until well combined. Pour over bowl with dry ingredients, and fold to combine.
Pour batter into greased baking dish, top with pecans and bake for 30 minutes. Let cool, slice and enjoy right away.
Notes
Tools You'll Need:
- 9x9 inch baking dish
- Food processor
- Mixing bowl
- Spatula
- Measuring cups
- Measuring spoons
Nutrition Information
Serving size:
1 bar --
Calories:
226
Fat:
15 g.
Carbohydrates:
17 g.
Protein:
7 g.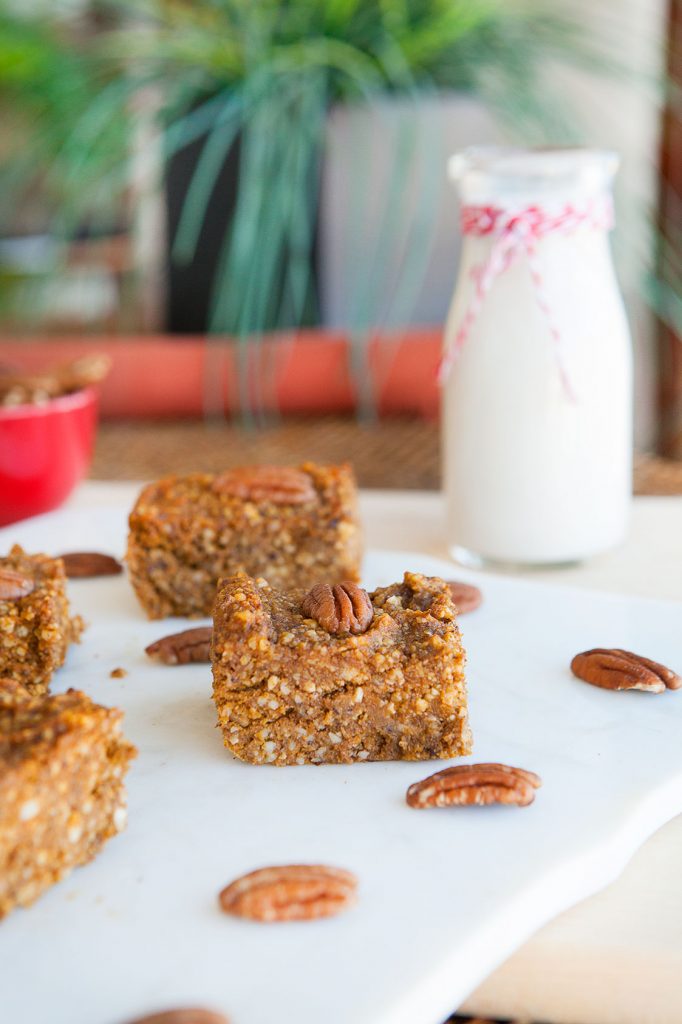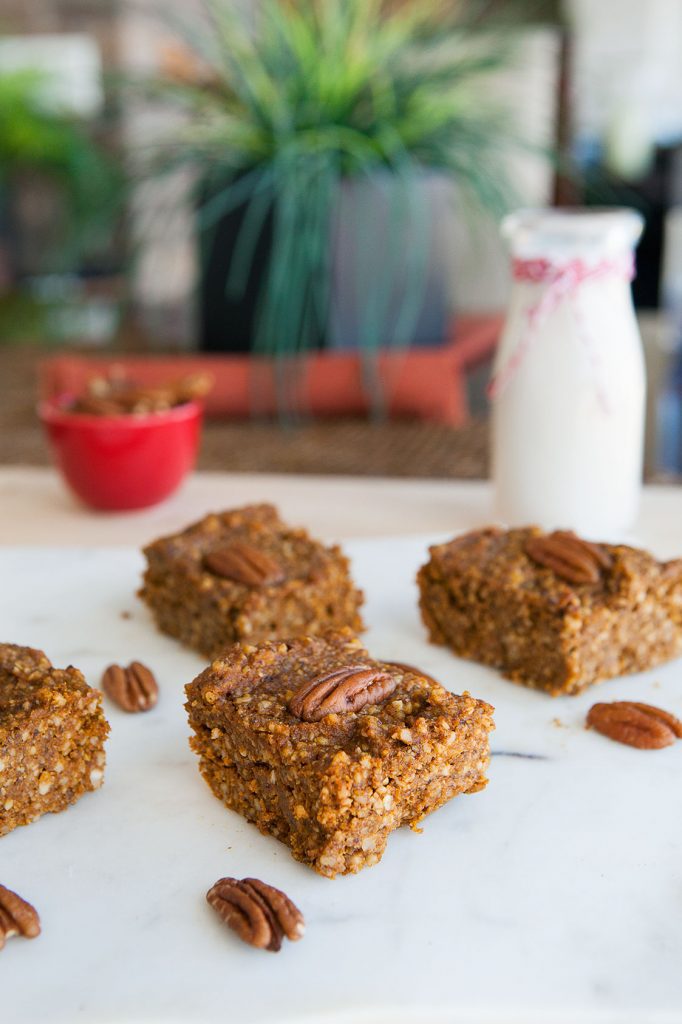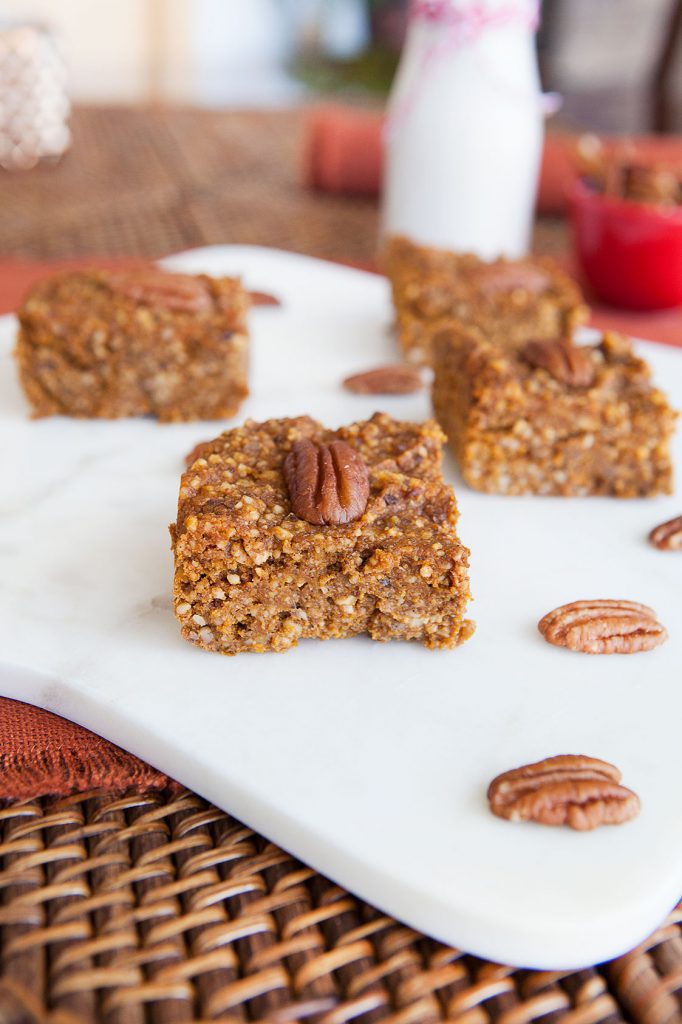 PIN ME!

Other delicious Paleo pumpkin recipes you'll love: