Paleo Cornbread? But corn is not allowed on the Paleo Diet, so how does that work? Well, ma friends, that's why I absolutely love baking substitutes and why I think there is a ton of power in learning how to be tricky in the kitchen (wink wink)! Let me introduce you to my No-Corn Paleo Cornbread recipe, a Corn Bread recipe without the corn. HECK YEAH!
After becoming Paleo, due to major food sensitivities, I was forced to get creative and learn how to trick my taste buds into thinking they were getting the foods that I loved and missed.
Since I couldn't have bread anymore, I had to quickly learn how to make grain-free and dairy-free bread. Because I couldn't have ice cream anymore, I had to quickly learn how to make a non-dairy substitute that would satiate my cravings. And because I couldn't have granola anymore, I had to learn how to make oat-free granola that was just as crunchy and hearty.
Out of necessity, you learn. You are pretty much forced to learn. And that can be a really good thing, because that necessity makes you go places you wouldn't necessarily go before. And going there, allows you to learn new things; perhaps even develop completely new skills.
Out of necessity, is exactly how this Paleo Cornbread came to be.
On my last post, which teaches you how to make my No-Bean Spicy Chicken Paleo Chili recipe, I talked about our (hubby's and mine) love for chili and how we eat it often in the fall months. For a few years now, we've enjoyed chili by itself, maybe alongside a nice salad. However, that entire time we felt like a little something was missing. Something starchy. Cornbread!
I wanted to surprise Preston one of these evenings by preparing a complete chili dinner. One that involved some kind of cornbread as a side. So, I pulled up my sleeves and went in my pantry. First, I stared at the at the ingredients that I had readily available, and then, I starting pulling out a few. I grabbed ingredients that I knew worked well for Paleo breads, and ingredients that I knew would create that sweet corn taste I was going for.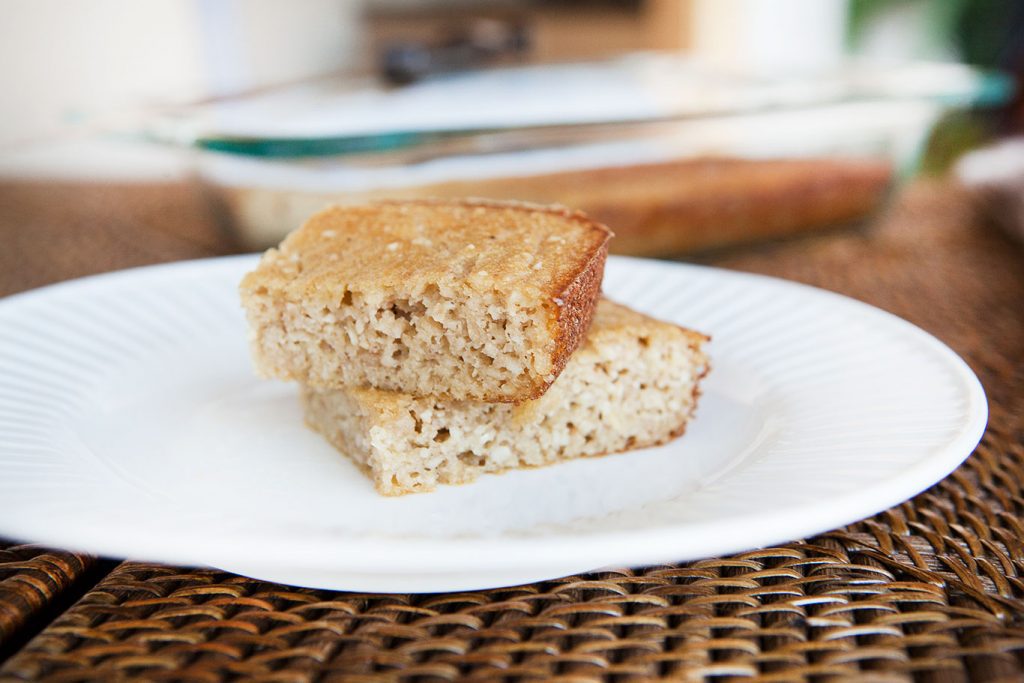 To create the bread piece of my No-Corn Paleo Cornbread, I grabbed a nut meal, baking soda and powder, eggs and some sea salt. For the sweet and buttery taste of my No-Corn Paleo Cornbread, I grabbed honey, ghee and coconut butter. I was curious as to what kind of concoction all of those combined would create. So I baked.
And oh boy, did I hit a home run. My No-Corn Paleo Cornbread not only tasted very similar to cornbread, but it sort of looked like it! I was so happy. When Preston came home after work, I had fresh homemade crockpot chili ready to be enjoyed, and warm Paleo Cornbread all sliced and ready to go. We sat down at the dinner table and went to town. We were in chili heaven!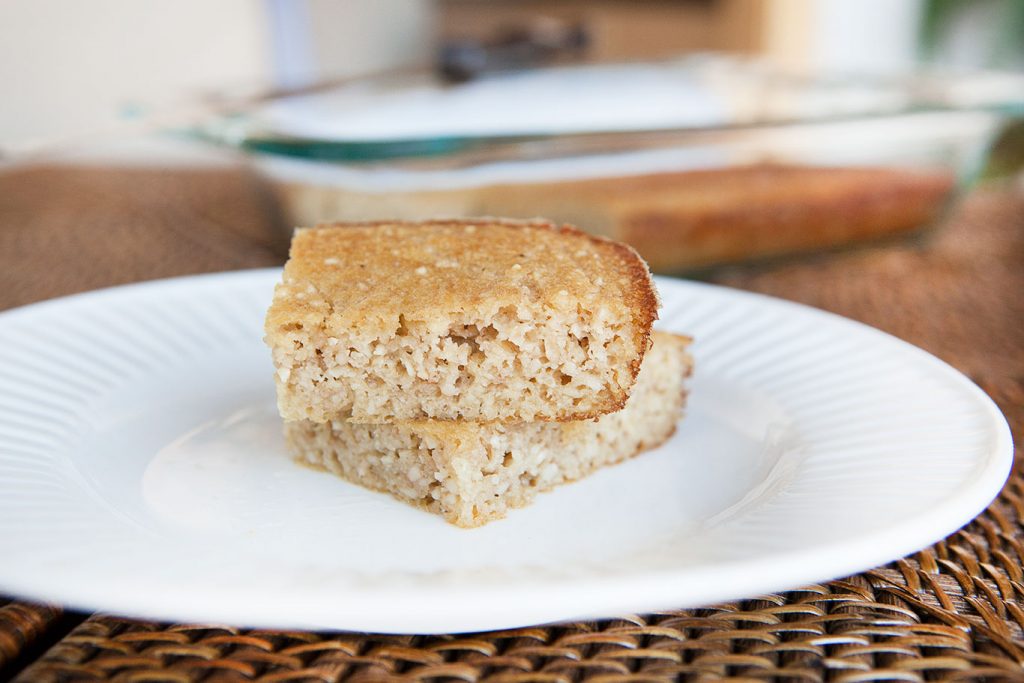 So if you've been missing cornbread for a while, I highly encourage you to give my No-Corn Paleo Cornbread a go. Obviously, it wont be the real thing, but it's pretty darn close!
XO

No-Corn Paleo Cornbread
This easy to make No-Corn Paleo Cornbread recipe tastes just like the real thing. It is flavorful, moist, fluffy, & best of all, it isn't made with grains!
Ingredients
1 ¼ cups cashew meal
1 tsp baking soda
½ tsp baking powder
¼ tsp sea salt
4 eggs
¼ cup melted ghee
2 tbsp melted coconut oil
½ tsp vanilla extract
2 tbsp honey
Instructions
Preheat oven to 325 degrees Fahrenheit. Grease a 9"x11" baking dish and set aside.
In a large bowl, mix cashew meal, baking soda, baking powder and sea salt. Set aside.
In a separate bowl, whisk eggs, ghee, coconut oil, vanilla extract and honey. Pour over dry ingredients, and mix until no limps remain. Pour mixture into the baking dish, and bake for 25 minutes.
Let cool, slice and enjoy right away.
Notes
Tools You'll Need:
− 9" x 11" baking dish
− Mixing bowls
− Spatula
− Measuring cups
− Measuring spoons
Nutrition Information
Serving size:
1 square --
Calories:
200
Fat:
16 g.
Carbohydrates:
10 g.
Sodium:
197 mg.
Fiber:
1 g.
Protein:
6 g.
PIN ME!

Other delicious Paleo bread recipes you'll love: