Who here is a sucker for dessert? THIS girl is. How obsessed am I? Mmmm, a lot. I spent all of my time last week baking. Pretty much baked Monday through Thursday, making about five to six different kinds of desserts, which most are gone by now. Whatever was left, I had to freeze in order to keep for later; Preston, myself and our neighbors could not polish them all, unfortunately. So. Much. Cake. And so much Paleo Whipped Buttercream! YUUUUUUM!
When I prepare desserts, I am usually so busy making them, that I don't taste the batter nor lick the whisk attachment as I bake. But, as soon as photo-taking-time rolls around, and I find myself inches away from the treat with my camera, oh boy…you bet I get all up in there (as soon as I shoot my last photo). It's impossible for me to get so close, smell the deliciousness, and then store the treat away. Seriously though, who could?! I have to eat it. Willpower down the drain. Since I photograph all of my recipe creations, you now know that I pretty much stuffed my face last week.
My Paleo Whipped Buttercream recipe, which I am sharing with you today, was added on top of some cute Vanilla Cupcakes I also created last week (recipe coming soon!). Vanilla Cupcakes and Paleo Whipped Buttercream make for an amazing combo. The flavors go together so well!
Also, whoever breathes knows that berries and cream is a match made in heaven. Add if you add vanilla flavors on top of that, just "wow". A winner. I think you guys are really gonna love those cupcakes covered by this Paleo Whipped Buttercream, so stay tuned for that recipe!
Anyway, my Paleo Whipped Buttercream recipe is dreamy on any kind of baked good. It goes on nice and soft when you're decorating your cake/cupcake, and it stays put and even hardens a tad when you place your creation in the refrigerator till it's time to eat.
Since I had a bit of Paleo Whipped Buttercream leftovers after decorating my Vanilla Cupcakes, I added a dollop of it to my black coffee. It was noms; felt like a rich whipped cream of sorts. Normally I have my coffee just black, or with unsweetened carton coconut milk, but since I had some Paleo Whipped Buttercream left in my fridge, I thought what the heck. No one wastes Paleo leftovers in my household. No siree!
Also, my Paleo Whipped Buttercream recipe can be made into different flavors too! For example, here are a few ideas:
Seems like you can make an endless amount of flavors, so get creative with it and customize your Paleo Whipped Buttercream! Hope you love it. XO

Paleo Whipped Buttercream
This easy and delicious Paleo Whipped Buttercream recipe can be made in 5 minutes; a perfect topping for cupcakes and cakes. Dairy free and gluten free!
Instructions
Refrigerate full fat canned coconut milk overnight. When ready to prepare the Whipped Buttercream, grab the can from the refrigerator, flip it upside down, open the can and drain the coconut liquid found on top. This will leave the coconut cream needed for the recipe.
Add all Whipped Buttercream ingredients to a standing mixer's bowl. Start by beating ingredients on low, so that the flour doesn't go everywhere, and slowly increase speed to high. Beat on high for about 3 minutes, or until smooth.
Use the Whipped Buttercream to decorate desserts.
Nutrition Information
Serving size:
2 tablespoons --
Calories:
137
Fat:
11 g.
Carbohydrates:
10 g.
Sodium:
2 mg.
Fiber:
0 g.
Protein:
0 g.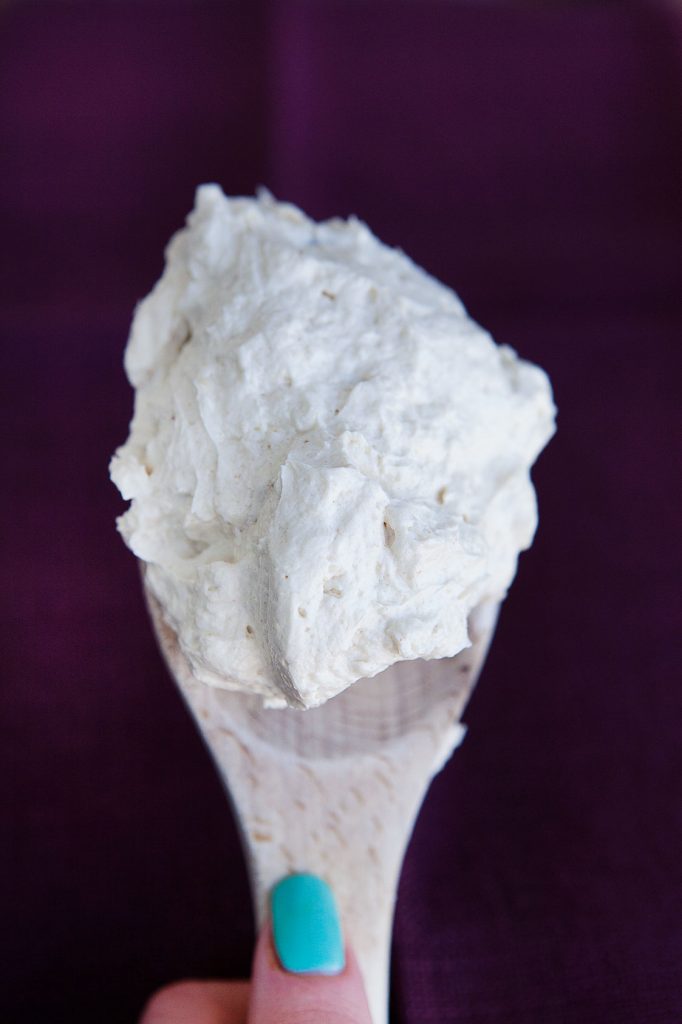 PIN ME!

Other Paleo dessert frostings you'll love: