Meet my Paleo Meringue! A dairy free, gluten free and processed sugar free dessert topping that will rock your world and won't make you feel eeky. This Paleo Meringue is all we want a good treat to be!
Here's a little of my backstory with meringue:
Growing up in Ecuador, I was around a lot of desserts that were topped with fluffy and airy meringue. Wether they were made by my mom for one of her get togethers, or served at an event or function, or available at coffee shops while we were out having afternoon tea…meringue was present, classily topping very delicious and decadent desserts. My favorite desserts with meringue were Tres Leches and Pie de Limon (lemon pie); such classics, we the ladies loved them.
Whenever I go back to visit my family and friends in Ecuador, I always ask my mom to make Preston and I her famous Pie de Limon. As I've shared before, my mom kills it at the dessert game. And her Pie de Limon is no exception to her slaughtering, haha.
Since my mom and I cannot control our dessert indulgence a lot of the times, she tries to make her Pie de Limon strategically. She'll plan her dessert making at a time when other guests will be visiting at her house. Times when it won't be JUST us hanging out in the house, while knowing there is pie left in the refrigerator. This is VERY wise, my friends. Because otherwise, it's pretty much my mom and I who finish the entire pie in a matter of days. That is no bueno. Too much of a good thing is not always good (wink wink)…especially for my mom's and my waistline.
The meringue recipe that my mom uses to top her Pie de Limon is the fluffiest, softest, prettiest thing I ever did see; her recipe is simple, easy, but unfortunately, not all Paleo as it has white sugar. Therefore, us Paleo people can't really have it, can we? I mean we could, but it would not do us much good.
Guess what though? Great news for you today! I have modified her meringue recipe a bit in order to make it Paleo compliant! So here it is for ya; the perfect meringue: Paleo Meringue!
My Paleo Meringue recipe is simple to make and it has no processed sugars; instead, we use three simple ingredients that are healthy and Paleo approved. These are:
Egg whites
Maple Syrup
Lemon juice
Super easy, right? You probably have all of these ingredients at home already, so you could be making Paleo Meringue right now! Don't you love simple kitchen creations? They are the best. The bestest.
This Paleo Meringue is:
Dairy free
Fluffy
Soft
Light
Sweet
Versatile
Also, I have an amazing Tres Leches Dessert you could make where you could use this Paleo Meringue on. Look at the beauty, isn't she a beaut?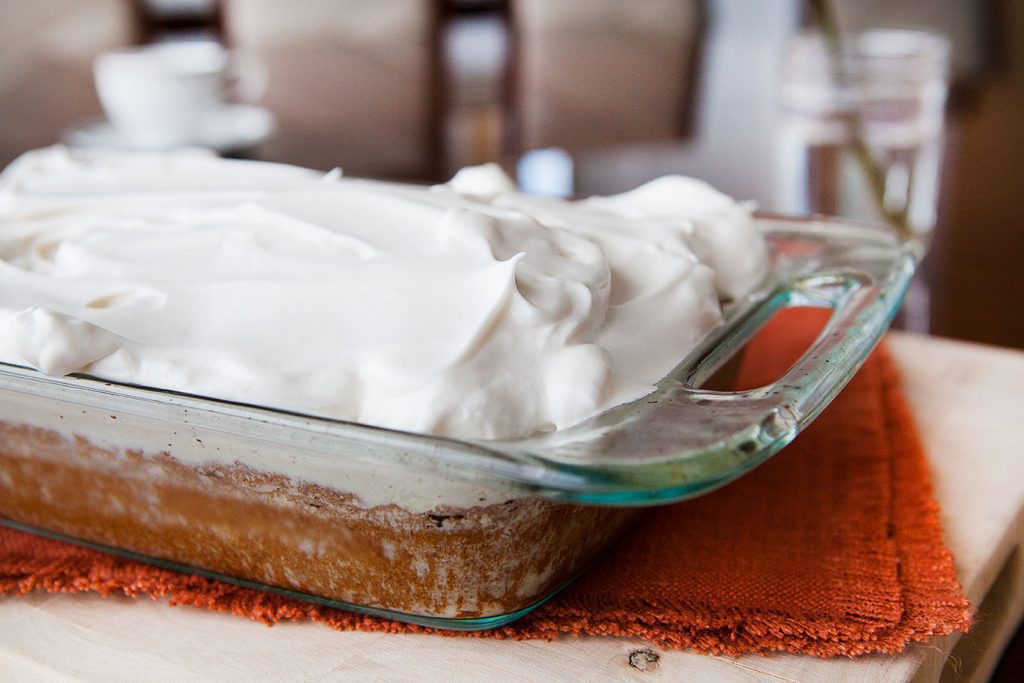 You should not miss out on this one. It is FA-BU-LOUS. Like magic.
I plan on re-creating my mom's Pie de Limon in a gluten-free + dairy-free way soon, so definitely keep an eye out for it as this Paleo Meringue recipe would be great on it. I don't promise the Pie de Limon to be 100% Paleo, as it might have gluten-free baking ingredients in it, but it will definitely be gluten-free and dairy-free. Won't hurt your tummy.
In addition, I think you could add this Paleo Meringue on pretty much any baked good or on any waffle or pancake you'd like. Even in coffee. For reals. If it suits your fancy, guuuurl, you bedda be adding a big dollop of it on it. We all deserve to treat ourselves once in a while. Or once a day. Isn't that right, ladies? I think so!
Hope you guys enjoy this Paleo Meringue as much as we did at home. Oh, and be generous with it's application, just as I was on that Tres Leches Dessert picture above. YUMMMMMO!
XO

Paleo Meringue
This easy to make Paleo Meringue recipe is fluffy, airy and voluminous. The perfect frosting to use on paleo desserts, or for those who eat dairy-free.
Instructions
Combine all ingredients in a large heat proof bowl. Place bowl over medium sized saucepan with about 2" of simmering water; make sure the bottom of the heat proof bowl does not touch the simmer water to avoid eggs cooking. Heat mixture until it reaches a temperate of 160 F, use a food thermometer to keep track.
Remove from heat and pour mixture into a standing mixer with a whisk attachment. Beat on low, and increase to high in the course of 30 seconds. Continue to beat on high for 10 minutes. Refrigerate until ready to use.
PIN ME!

Other Paleo dessert frostings you'll love: