These Paleo Chocolate Covered Cookies though. Magic!
They are extra perfect for this time of year: when Christmas cookie exchange parties happen, when hot chocolate and tea need a companion by the fireplace, and when Santa visits at night. The recipe is coming to you just in the nick of time.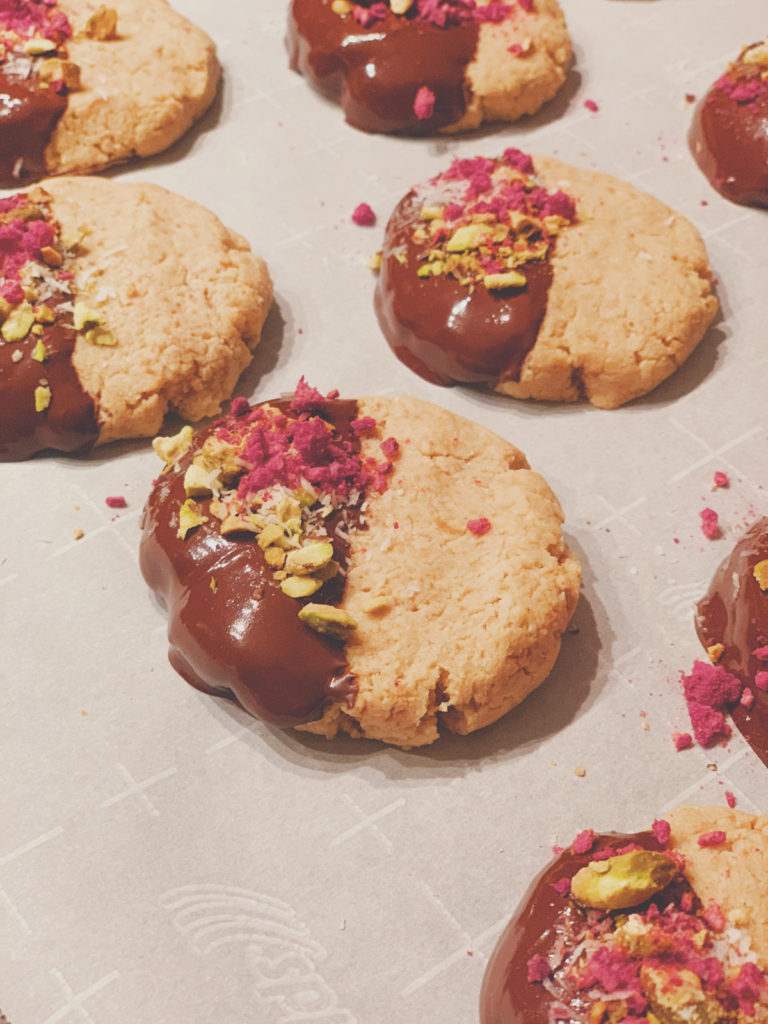 We can buy cookies anywhere, at any store, and find all sorts of varieties. But healthy and good-for-us cookies are real hard to come by.
Even in places like LA, where there are health conscious cafes at every corner. Cookies are still made with refined sugar and or some kind of sprinkle/frosting that is probably not too great for us. Okay, maybe in LA we can find some good ones, but for those of us who don't live there, it's tough to find good goodies.
What's the solution? We make our own!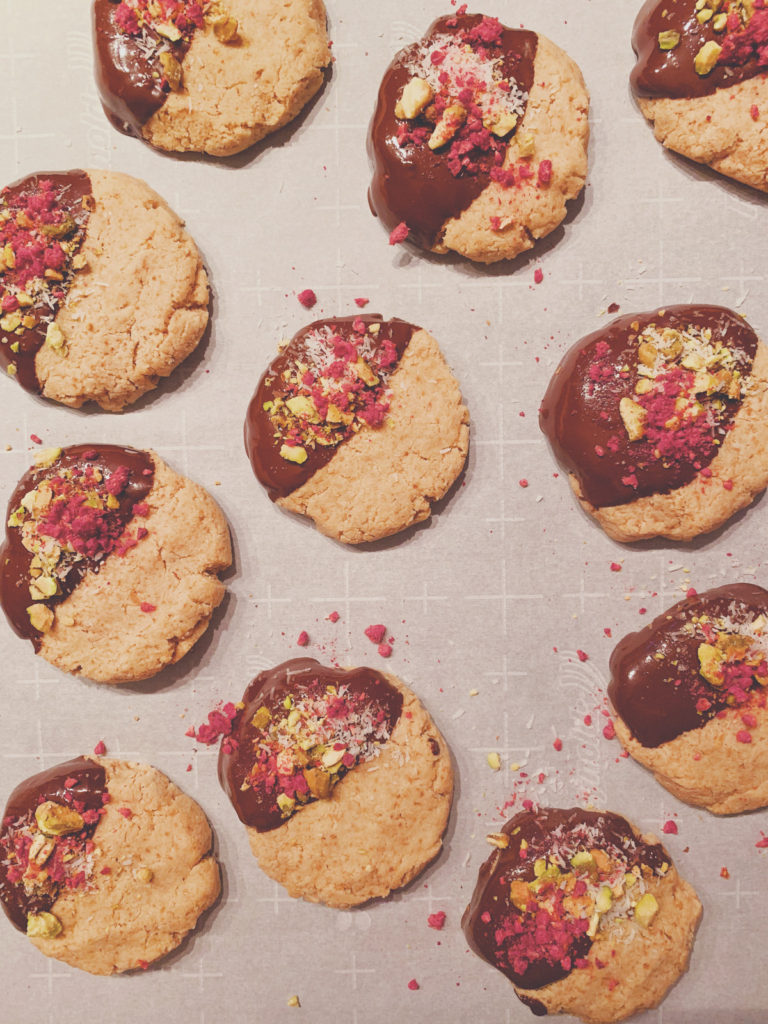 Now, if you're not a baker, or aren't too familiar with the kitchen, do not despair. These cookies are easy to make and will not give you a hard time at all.
You'll need simple ingredients, an oven, a baking sheet, parchment paper and a willing heart. ❤️ 
These Paleo Chocolate Covered Cookies are:
Paleo
Vegan
Grain free
Gluten free
Dairy free
Healthy
Nutritious
Gorgeous
DELICIOUS!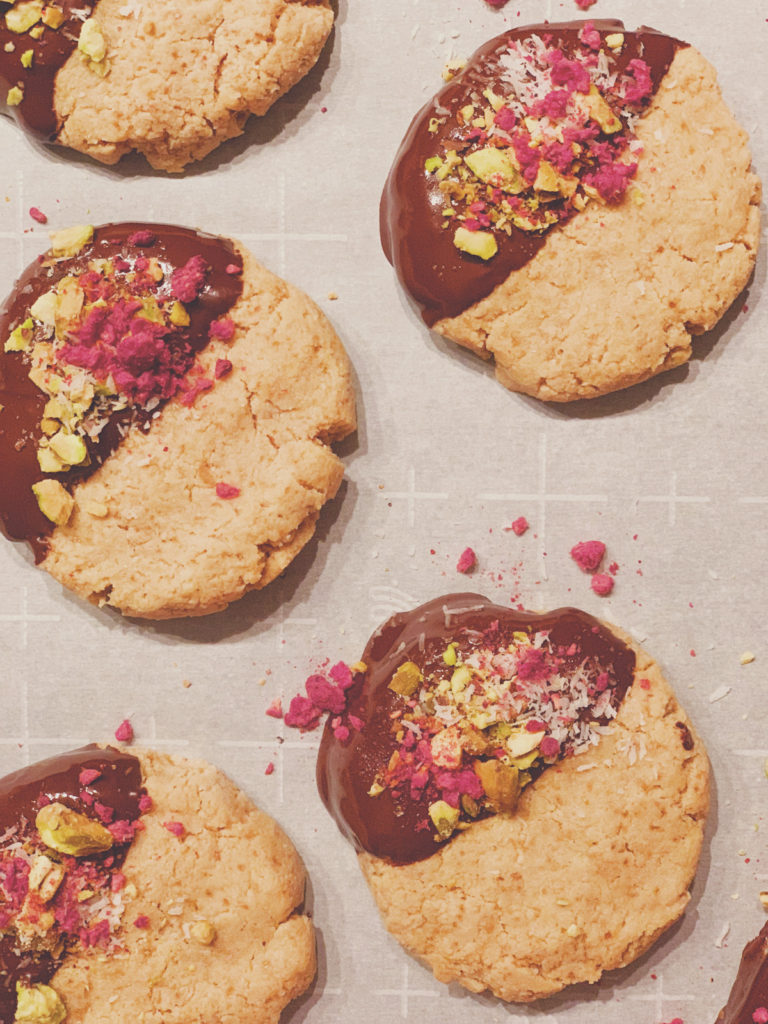 If you bake them, please take a photo and tag me on Facebook or Instagram.
I would adore to see your little creations!

Paleo Chocolate Covered Cookies
These Paleo Chocolate Covered Cookies are refined sugar free, dairy free, grain free, gluten free and vegan! Perfect for anyone at any time of day!
Ingredients
4 cups fine nut flour (cashew or almond)
6-8 tbsp coconut sugar
2 tsp baking powder
Pinch of pink salt
Pinch of cinnamon
¼ - ½ dairy free milk
½ cup coconut oil, melted
2 tsp vanilla extract
2 flax seed "eggs" (whisk 2 tbsp ground flax seed w 5 tbsp water, let sit until thick)
Instructions
Preheat oven to 350 F, and line baking sheet with parchment paper.
Mix dry ingredients until well combined. Add in melted oil, vanilla extract and flax seed eggs; mix until incorporated. Slowly add in non-dairy milk, you want dough to reach a sticky consistency — use as little as a ¼ cup or as much as a ½ cup for this.
Use dough to form about 15 cookies, placing them on parchment paper as you go. Bake for 15 minutes.
Melt dark chocolate chips. Dip cooled off cookies in chocolate, place on parchment paper, and sprinkle with crushed pistachios, crushed freeze-dried berries (I get them at Trader Joes) and unsweetened shredded coconut.
Notes
Tools You'll Need:
- Mixing bowl
- Spatula
- Whisk
- Baking sheet
- Parchment paper