This guide will give you the Barcelona travel inside scoop for Barcelona in the Winter!
In the last year, I have been to Barcelona on both occasions; in December to spend Christmas and New Year, and in Summer to use it as a hub to travel around Spain. Both experiences were great and unique.
I personally liked my winter visit a bit more, because Barcelona gets super hot and humid in the summer and has more tourists then too.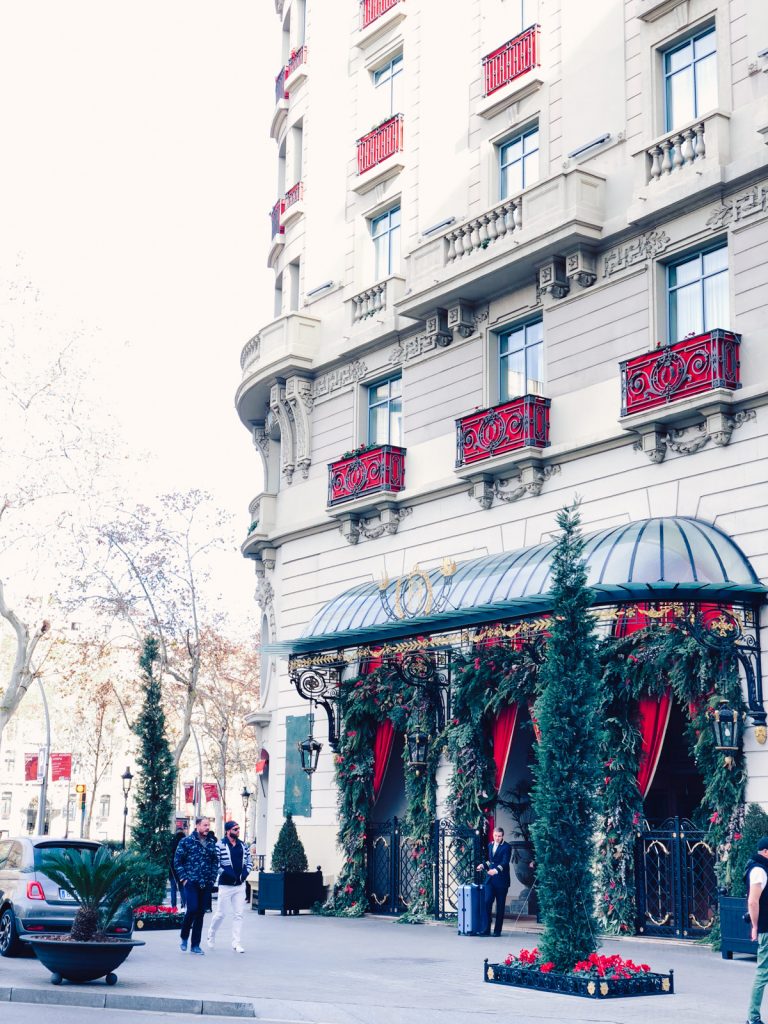 Plus, people that live in Barcelona are less friendly toward tourists during the summer months, as they don't love the insane influx of people to their city. In fact, they dislike it so much, that the residents who can get away…do.
Barcelona in the Winter is very manageable: not hot, less crowded, more friendly towards tourists and less expensive overall.
Now, don't let my personal opinion detract you from choosing one time of the year over the other. Do your research, read up as much as you can, line up your schedules and availability and pick the time that works best for YOU.
---
BARCELONA IN THE WINTER
Our family met in Barcelona for the 2017 holidays, as my brother currently lives in Barcelona, and we all thought it'd be a fun spot to meet (my husband and I live in the USA and the rest of my family lives in Ecuador). Most of us had never been there before, so we were very excited to explore and experience new things together as a family.
The only thing we were 100% set on was: spending time with family, flying to Paris for 3 nights, and NYE dinner at Els 4 Gats (more about this sight/restaurant below). So based on these things we knew we wanted to do, here is what our high-level itinerary looked like:
Day 1-5: Barcelona (4 nights)
Day 5-8: Paris (3 nights)
Day 8-12: Barcelona (4 nights)
The cool thing was that my brother was living in barcelona at the moment, and since he'd been there for a while, he knew to show us all the great places we couldn't miss!
HELPFUL TIPS:
Both my husband and I read the Rick Steves's Spain travel book prior to going to Barcelona. We got some great history and insight as to Barcelona's culture and important sights. We read the entire Barcelona section in depth, highlighting the places we wanted to visit the most.
We also followed various travel bloggers who currently live in Barcelona, or have recently traveled to Barcelona, for some good insight and info. You can either go to their blogs to read about their travels, or follow them on social media (Instagram, etc) to check out the cool spots they've seen. This will typically give you some good ideas of fun places to see and cool things to do, that you wouldn't normally find in travel books.
Below you'll find the details of where we stayed, what we saw and where we ate during our Barcelona winter stay.
---
HOTEL
We chose a cute boutique hotel called Europark. It's a 3.5-star hotel that feels like a 4-star due to its amenities, comfort, decor and the wonderful treatment you get.
We chose Europark for these reasons: close to my brother's apartment and the sights we wanted to see, seemed comfortable, rate included breakfast, reviews were fabulous and the hotel seemed well appointed.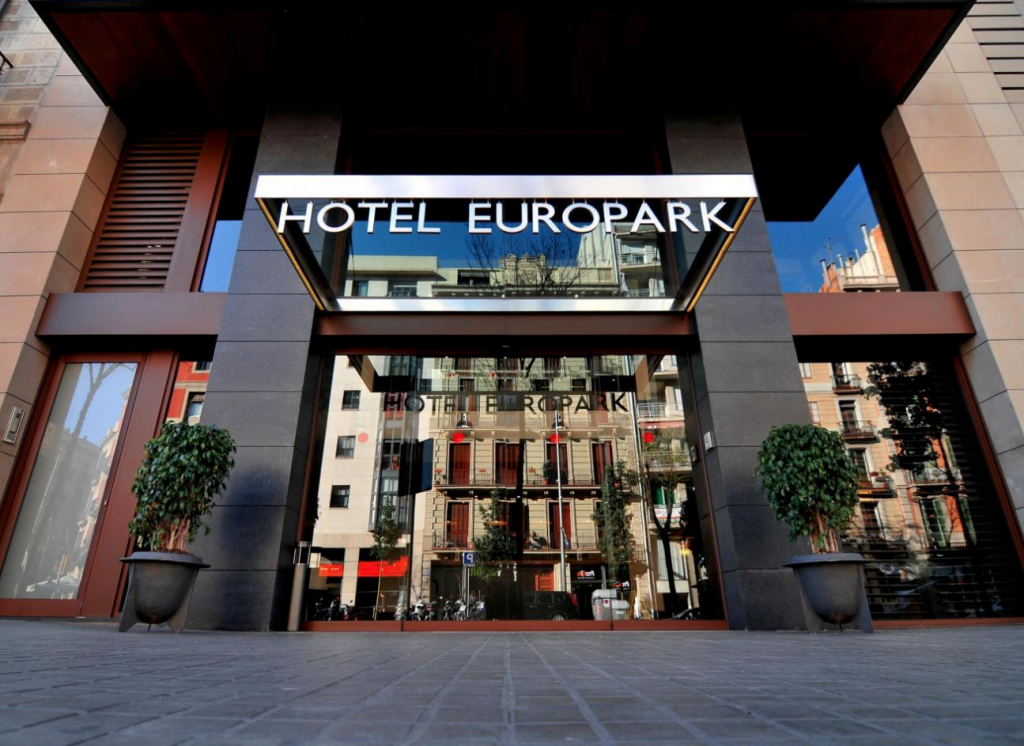 When we arrived at the hotel, and looked around and felt the vibe, we were so happy to be there and glad we decided to book our stay with them!
It was very close to a few markets (grocery store & an actual market, about 2 minute walk), close to our favorite gym in the city (Áccura Bruc, about a 3 minute walk), easy walk to various Barcelona landmarks, close to restaurants, super friendly and kind staff, very spacious rooms and bathrooms, DELICIOUS breakfast buffet, felt really safe and was overall very comfortable.
Also, it didn't hurt that the hotel's decor was chic and cute: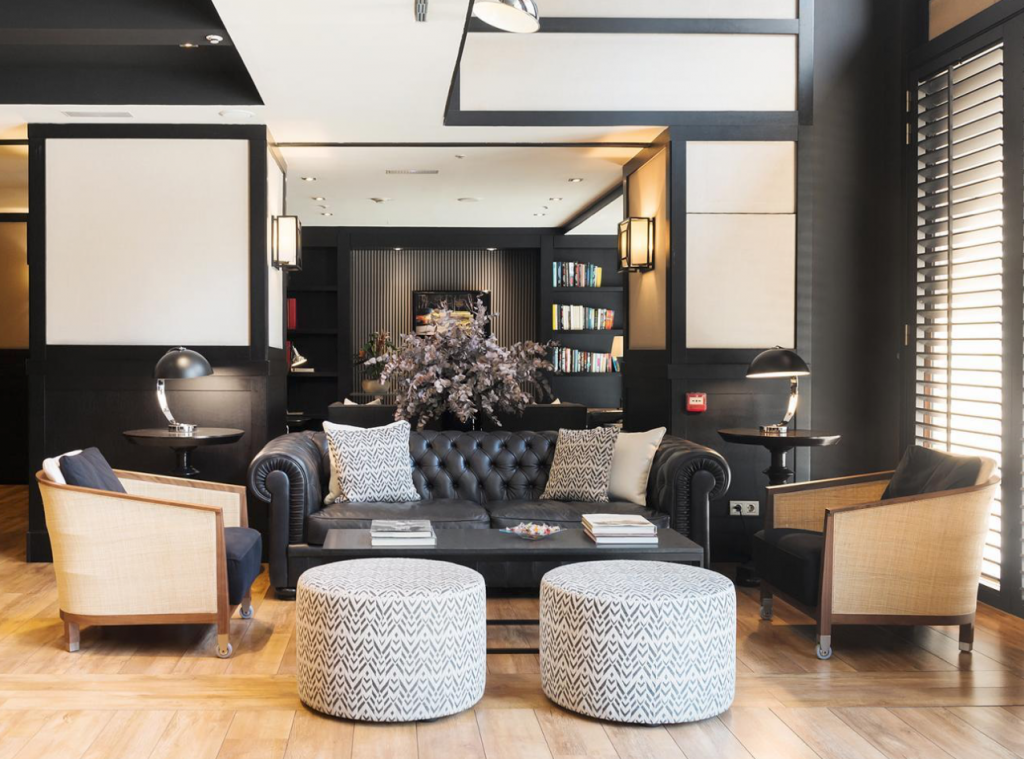 It felt so nice and comfortable and safe, that when I went alone to visit my brother in the Summer, this is the hotel I ended up staying with as well.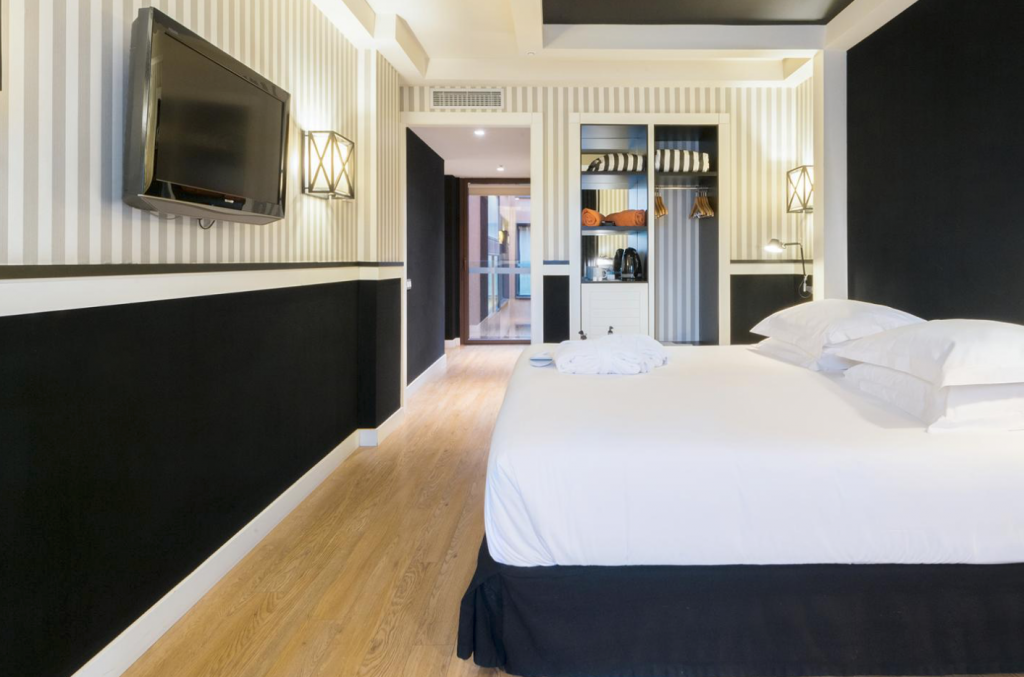 The rooms were very spacey and they had great little amenities that made our stay uber comfortable: coffee maker, safe, bath robes, hair dried, nice toiletries. The hotel houses a business center, a small gym, and a pool with a little rooftop area to get some sun and order food/drinks.
It has a wonderful restaurant on the second floor with a delicious breakfast, and some great lunch and dinner options. We grabbed a yummy glass of cava there right before heading out to dinner on NYE; the space was soothing, quiet, welcoming and elegant.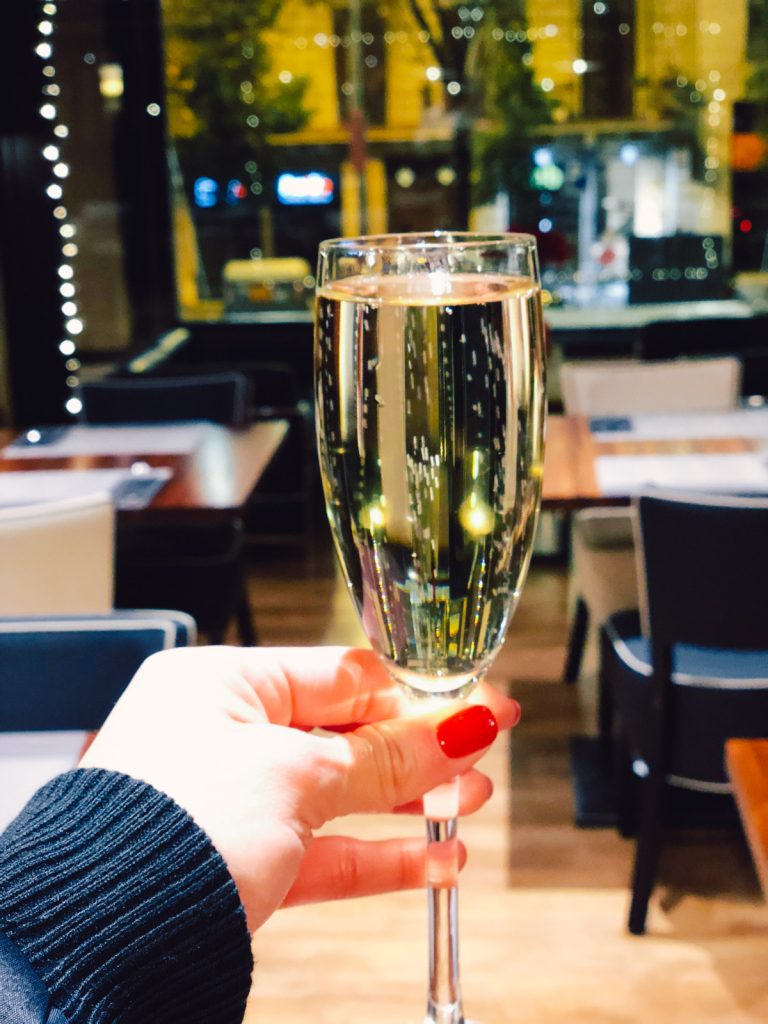 Also, there's a good laundromat right across the street from the hotel, which is super convenient if you're traveling light and need to get a few things laundered, and a convenient store where you can grab waters, snacks and whatever else you may need. I visited both of these quite frequently!
This hotel is a great value for your money and it makes for a really nice stay in the city.
---
SIGHTS
This is where it gets good; Barcelona is all about the sights.
This city has been one of my favorite architectural cities I've been to so far, and Gaudí had plenty to do with it's wonder (that man was talented, sheesh!). Some of the sights I mention below, were designed and built by him. You can't miss these when you go!
Listed below are sights my family and I went to during our winter Barcelona stay. Because we went during the colder months, many sights were either closed or had shorter visiting hours, so we were a bit constraint there. However, there are perks to traveling when cold, and that is less crowds, more peaceful and less sweating when walking around the city.
We toured through many other sights during our summer vacation, and those sights will all be listed on another blog post I will write soon!
Here's what we saw in winter: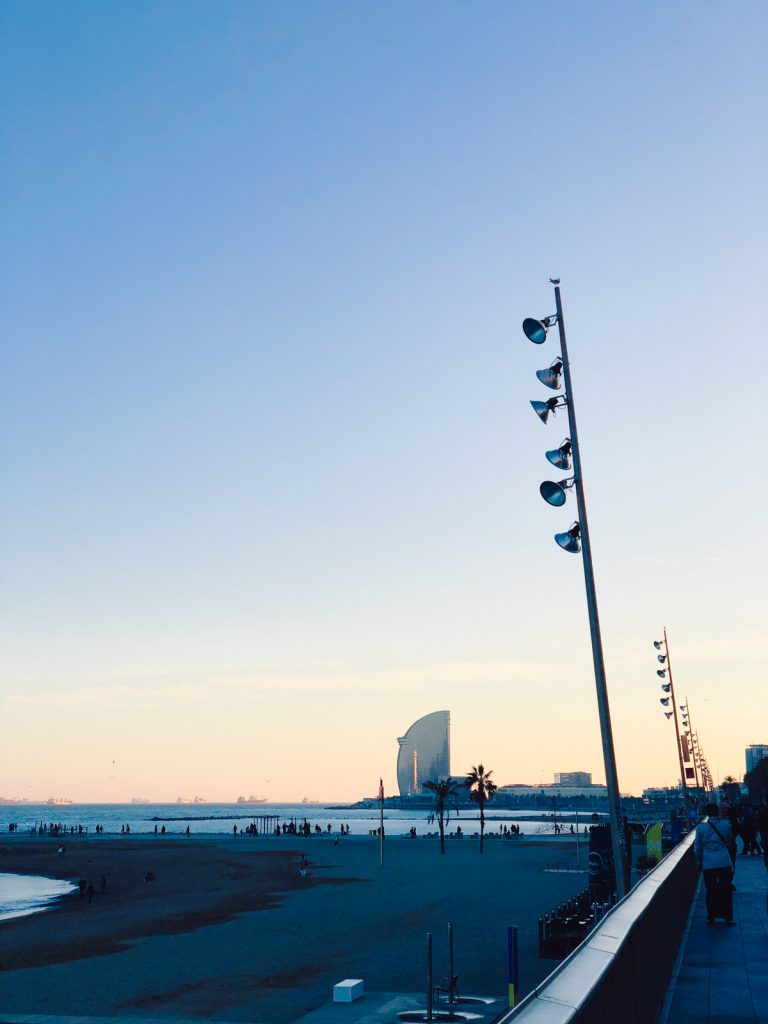 Here is where you explore Barcelona by the sea! People of Barcelona love to come here to eat fish, seafood dishes (like Paella) and "tapas".
Located in the fishing district, this is one of Barcelona's oldest and best-loved beaches.
It's said that this beach inspired Miguel de Cervantes as the setting for the fight between Don Quixote and the Knight of the White Moon.
2. Gothic Quarter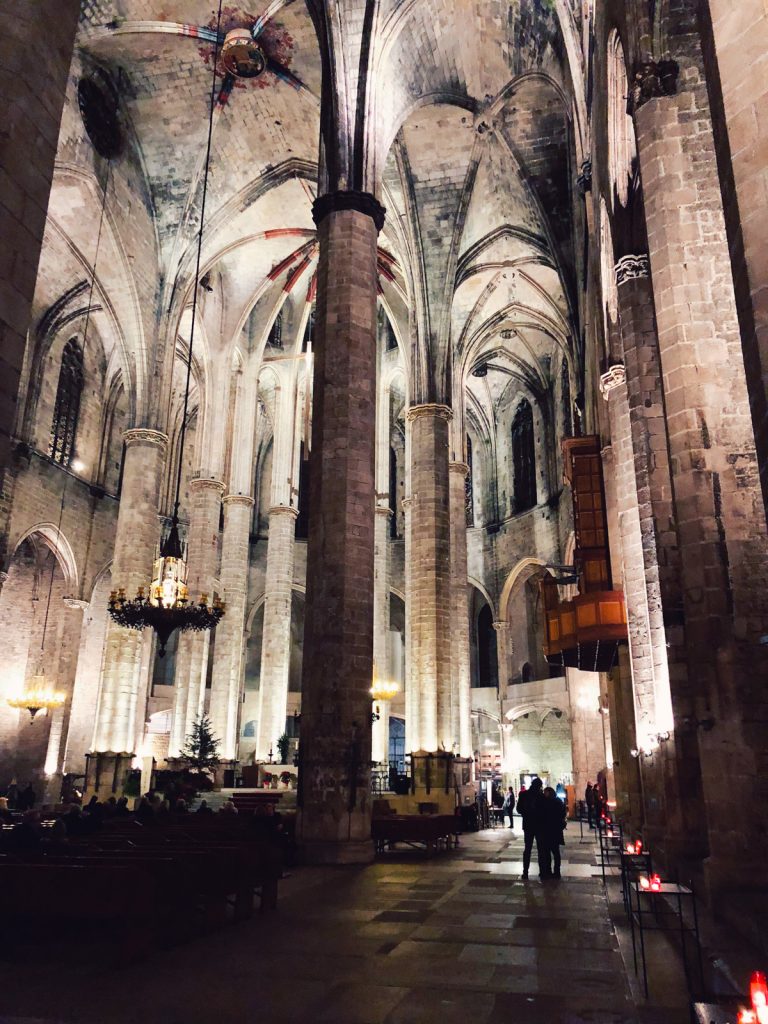 This is the centre of the old city of Barcelona, stretching from La Rambla to Via Laietana, and from the Mediterranean seafront to the Ronda de Sant Pere. This neighborhood contains the oldest parts of the city of Barcelona, including the remains of the city's Roman wall and various medieval landmarks. The Gothic Qaurter has a labyrinthine street plan, with lots of narrow streets opening up to squares. The majority of the quarter is closed to traffic, excluding service cars and taxis.
3. Santa Maria Del Mar Church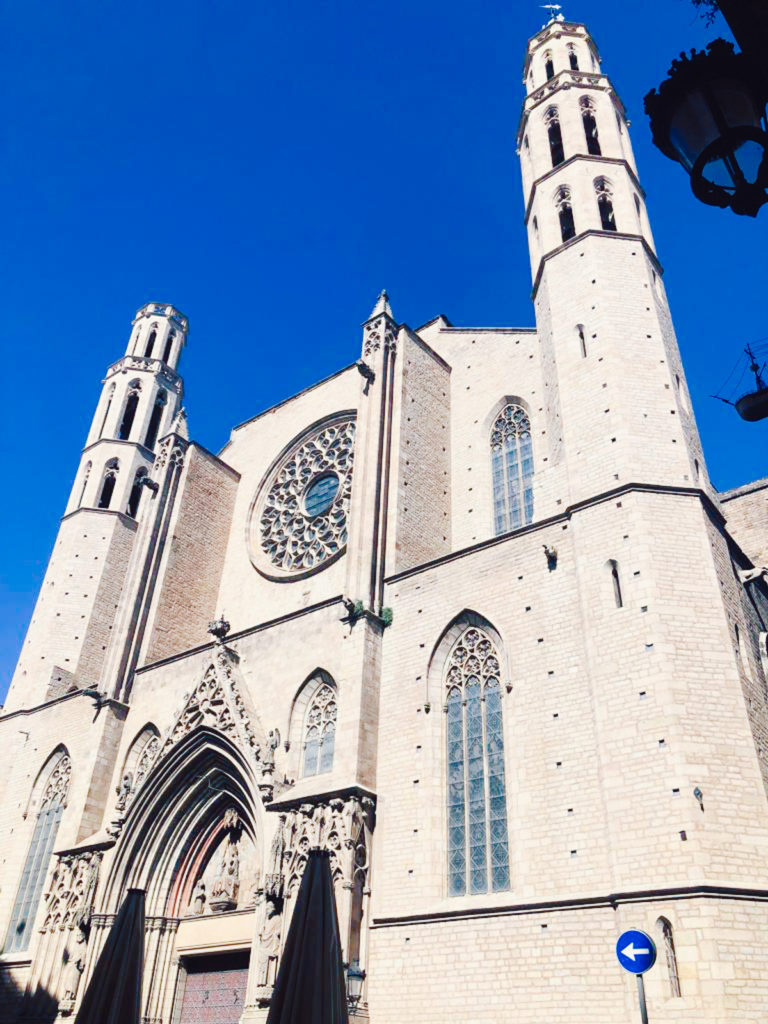 This church. Wow. First of all, please read the book (or listen in Audible) called Cathedral of the Sea. It is a thrilling historical novel about the construction of this church. It will make you adore this church and respect it a lot more. Plus, it will give you a great deal of background and history about the church, but also about Barcelona.
The church is grand, with a typical Catalan Gothic style, and with a "purity and unity of style that is unusual in large medieval buildings".
4. Els Quatre Gats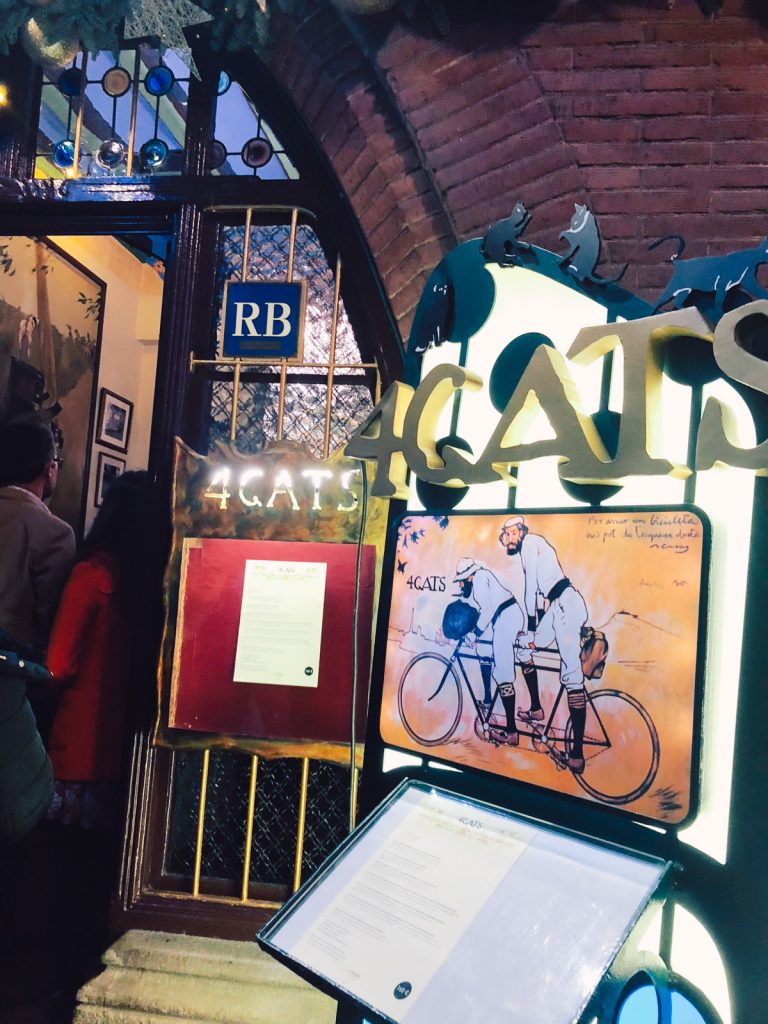 Even though it is technically a restaurant, I classify this place as a sight. The reason it was so special was because this was the place where famous artists, throughout the modernist period, gathered and socialized. Figures such as Pablo Picasso and Ramon Casa I Carbó frequented Els Quatre Gats, and actually, it was Pablo Picasso himself who designed the menu cover.
Going there was one of our favorite memories of the trip. It came so well recommended by my brother, that we actually made our entire New Years Eve plans around it. We dined and rung in the new year there.
I highly recommend you visit. If anything go check out the menu cover!
5. Portal de l'Àngel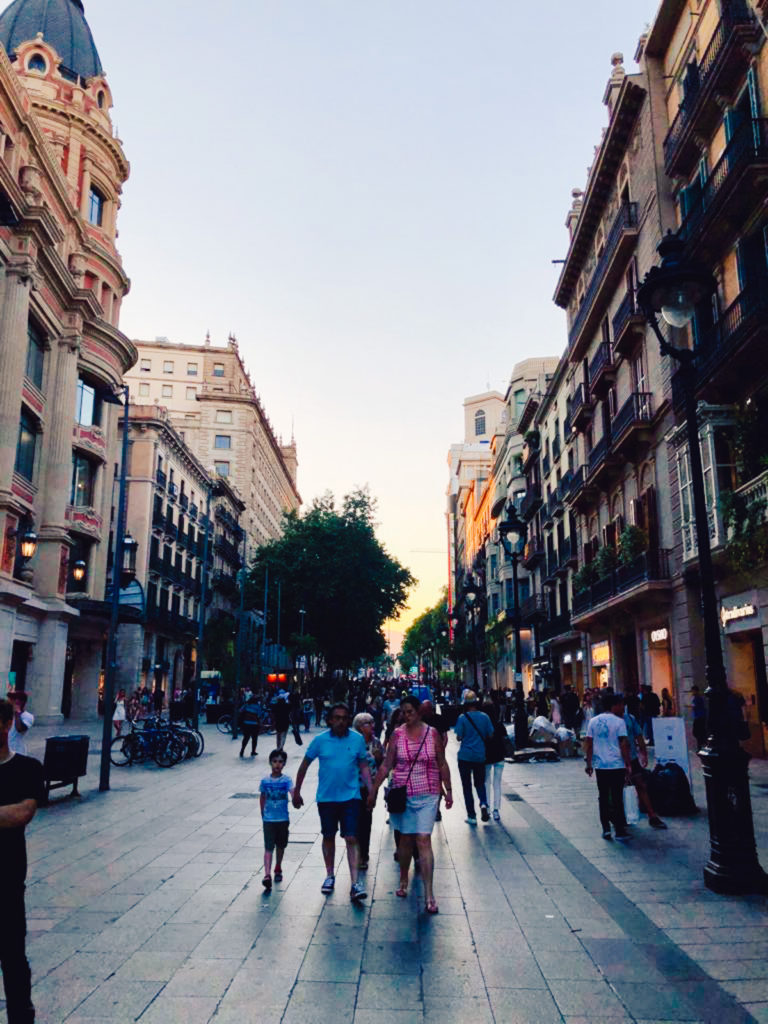 A pedestrian street in the Ciutat Vella district, right next to Plaça Catalunya and a part of  the large shopping area that goes from Avinguda Diagonal to the Gothic Quarter. It's one of Barcelona's most visited streets and therefore crowded with tourists and locals year round.
There you can find El Corte Inglés (you have to go in and check it out!), which is a really great department store, as well as other fun stores like Massimo Dutti (my husband's favorite).
6. Sagrada Familia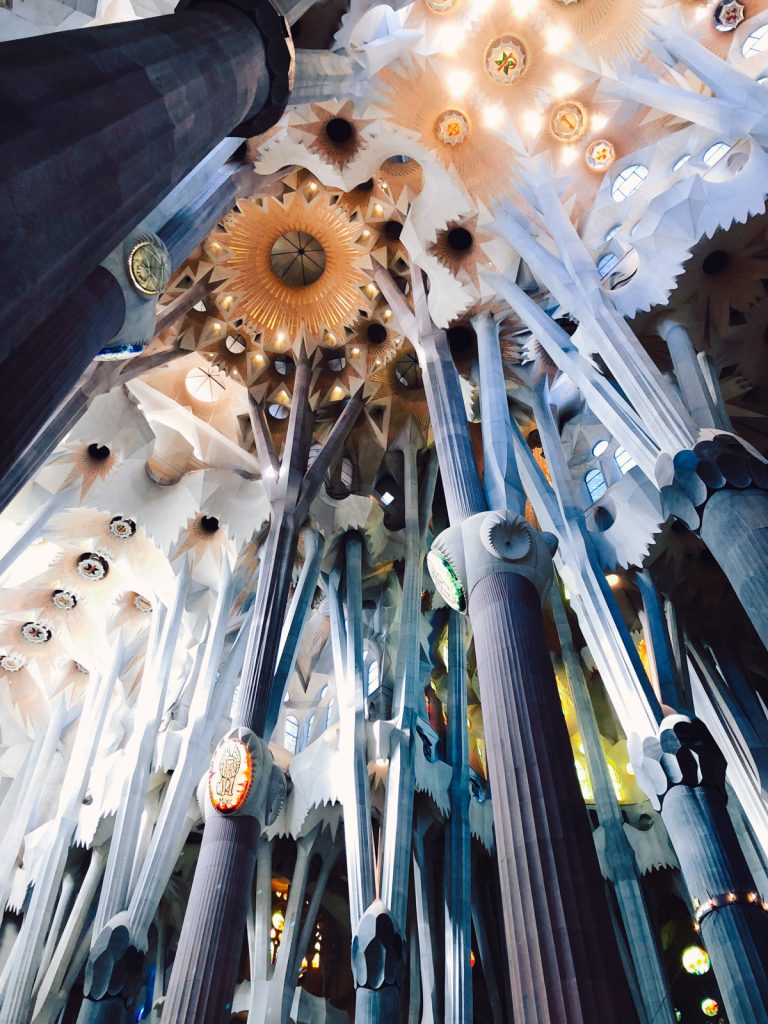 This gorgeous church is probably one of the most iconic sights of all Barcelona. And for good reason. It is grand and extremely unique, both inside and out. One of Gaudí's most famous masterpieces, this church will have you in awe for days after visiting it. Make sure you buy tickets online ahead of time, just in case.
7. Casa Milà – La Pedrera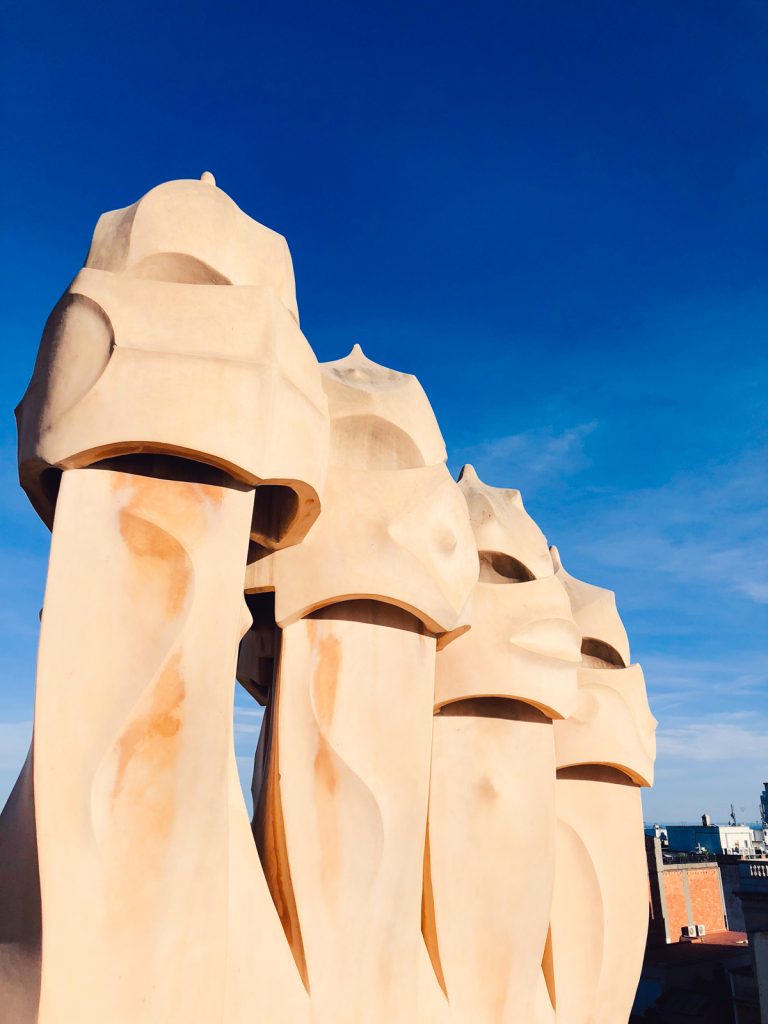 This is another Gaudí masterpiece. It is called Casa Milà because the Milà family commissioned the building of this home for their family.
They occupied the first floor and rented the rest of the building. Now, the main floors are rented to businesses, there are a few offices on sight, some people actually live there, and some spaces are open as cultural centers and for visitors who want to admire the architecture.
My favorite part was the rooftop, which is filled by ventilation towers and chimneys, as you can see in the picture above.
Tickets are 22 euros. Buy them ahead of time here.
8. Casa Batlló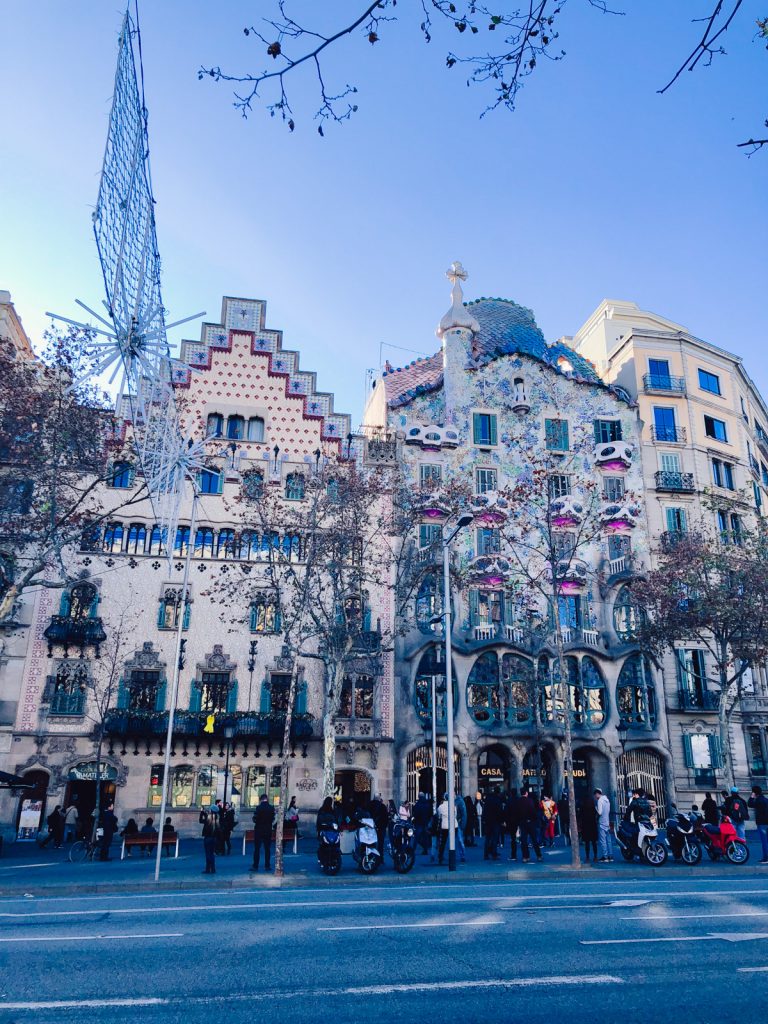 This is such a picturesque building found in Paseo de Gracia, which façade and interior was reformed completely by Gaudí in his modernist style ways. We didn't go in, but definitely admired it's outside, taking it's beautiful design in.
I definitely recommend stopping by to admire this gorgeous and unique architectural design. Especially because Casa Batlló is one of five picturesque buildings that are lined up in a row, and you get to see a gorgeous line up all in one stop. The other buildings you'll find there are:
Casa Amatller (by the architect Josep Puig i Cadafalch)
Casa Lleó Morera (by Lluís Domènech i Montaner)
Casa Mulleras (Enric Sagnier)
Casa Josefina Bonet (Marcel-li Coquillat)
9. Park Güell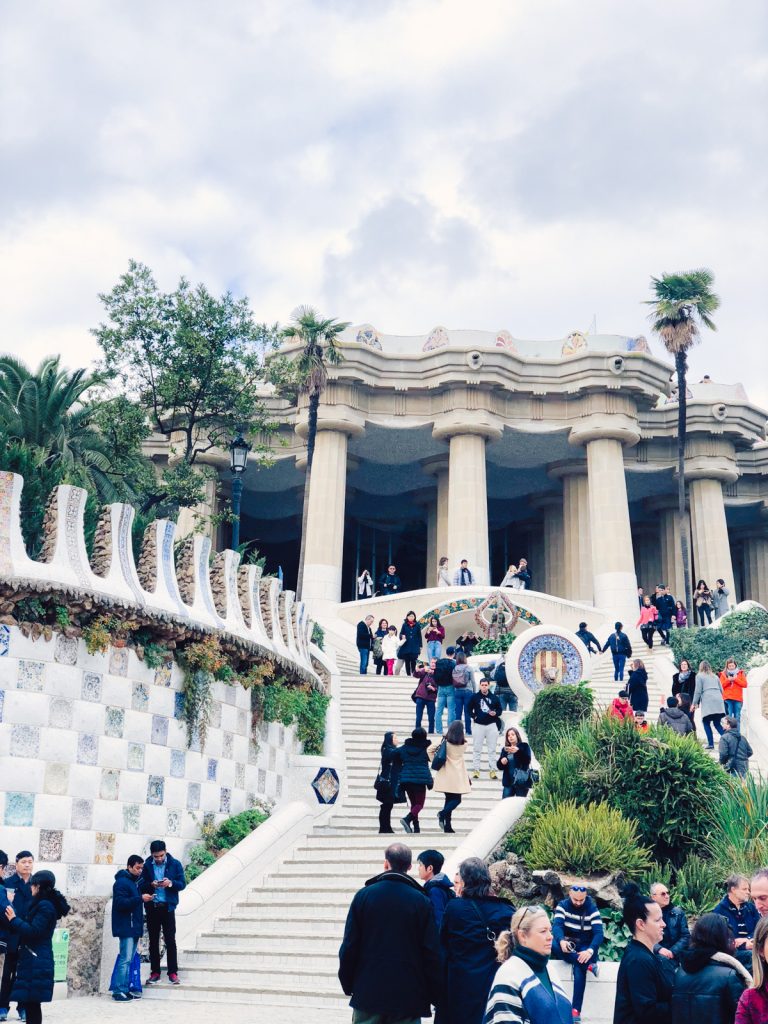 THIS PARK! Holy moly. Park Güell is a must for all who visit Barcelona.
It was an assignment given to Gaudí by Eusebi Güell in the 1900's; it was meant to be a place for well-off families to live. Gaudí was to design not only homes, but also open spaces and community spaces for people to gather.
You can see Gaudí touch everywhere you go in the park. It is such a welcoming and interesting place.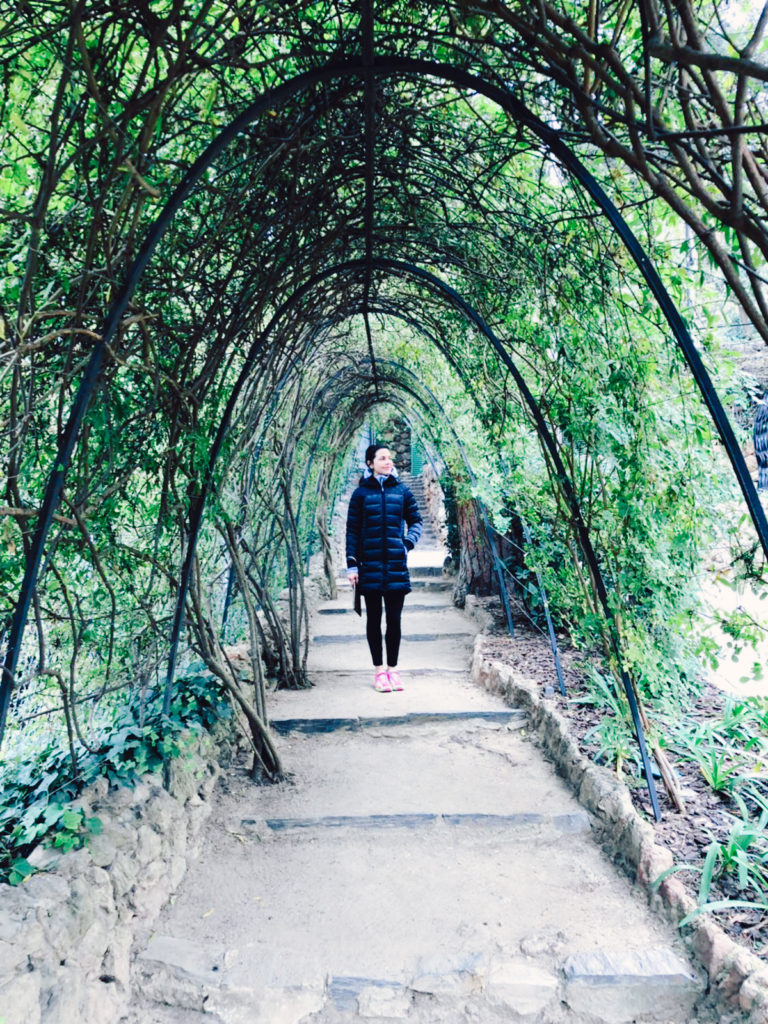 You'll find lots of tourists there, but also artists playing their instruments and selling their crafts. Plan your visit in advance, and purchase tickets online.
10. La Rambla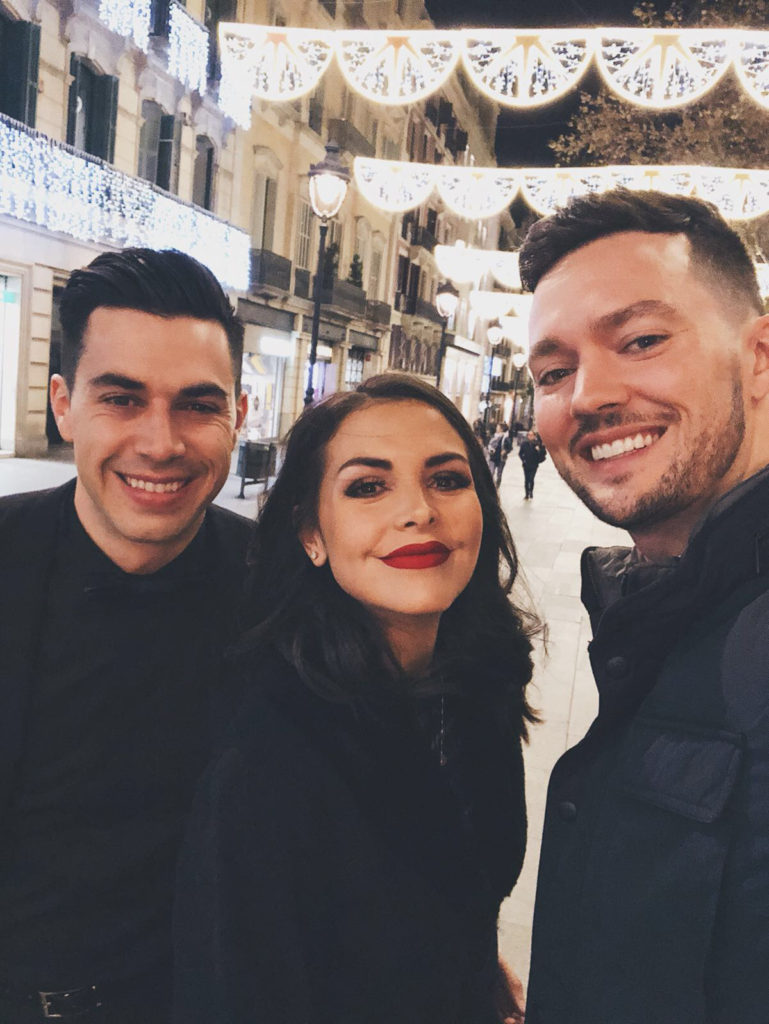 This is such a fun place. Its a pedestrian street lined with outdoor markets and shops. If you're in the shopping mood, definitely hit this place up. You'll find a bit of everything, and it's fun people watching. Also, if you shop till you drop, you can always find refuge in a small restaurant or cafe, ordering yummy drinks and tapas.
It can get very busy there depending the time of day and time of year, so if you're not too much into crowds, definitely keep that in mind. Also, watch for pick pockets during the summer months!
11. Passeig de Gràcia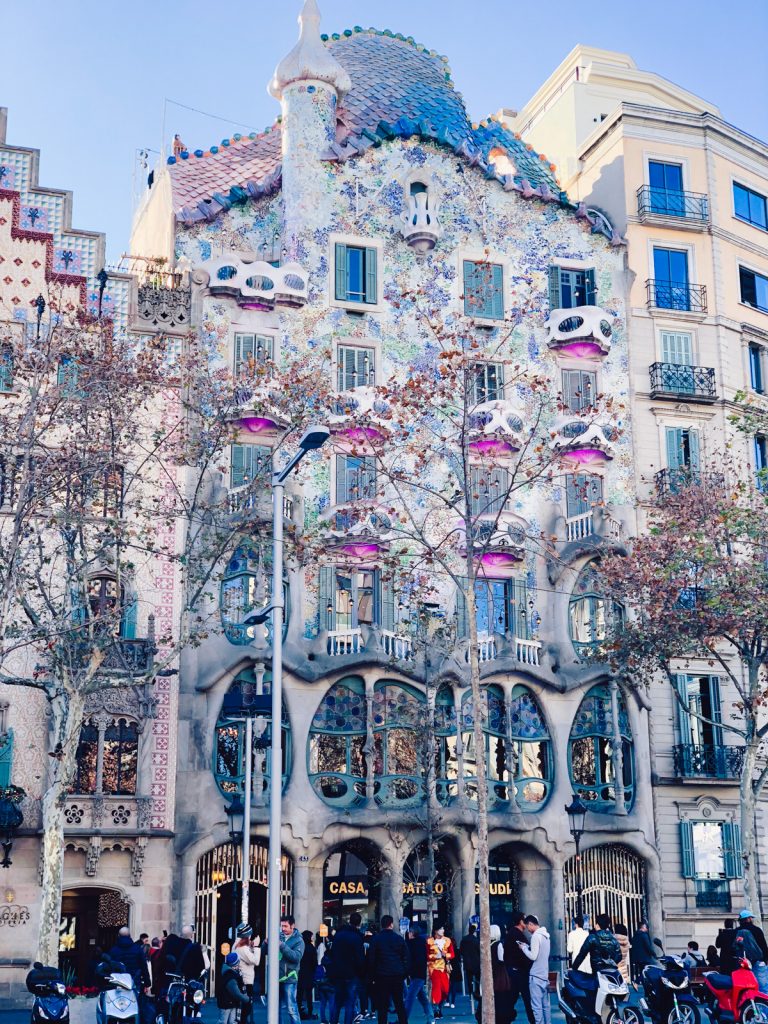 This quaint area is located in the central part of Eixample, going from Plaça Catalunya to Career Gran de Gràcia. It is one of the major avenues in Barcelona with great shopping and business areas, and with amazing architecture all around.
We strolled through it many a time, going into restaurants, bars, shops and even those classic architectural pieces Barcelona is so known for (a must see!):
Casa Amatller
Casa Batlló
Casa Lleó Morera
Casa Fuster
Casa Milà
Hotel Majestic
Its a gem in the city. They have a lot of tapas options there, and live music here and there. Such a lively place to explore and to treat yourself.
---
RESTAURANTS
Barcelona has amazing seafood. And amazing comfort food. And wine. And beer. I mean, I could keep going and going. This city is truly a foodie's dream.
Not only do they have a LARGE restaurant selection at very affordable prices (especially when compared with the rest of Europe), but they also have the freshest, most delicious seafood. They are right by the sea, after all.
The thing I love about travel, is that you get to experience new flavors, cooking styles and the local's lifestyle through dining. And the lifestyle, in particular, is something that struck me the most when in Barcelona.
The locals eat a normal breakfast, but everything else is very different than what we are used to in America. People in Barcelona usually take a mid morning break, especially during the work week, where co-workers and friends meet up to enjoy coffee and a pastry for about AN HOUR AND A HALF. Then, they have lunch at around 3pm or so (and sometimes this consists of an array of tapas and wine or beer), and then they eat dinner no earlier than 8pm. Wild, right? Definitely not what I am used to, but it is cool to learn how people live on that side of the world.
With that being said, we did as locals do. We went on coffee and pastry breaks, ate all the tapas in the world and enjoyed late dinners by the sea. It was delightful.
Below is a list of the places we enjoyed the most during our winter stay:
1. Europark (breakfast, snacks)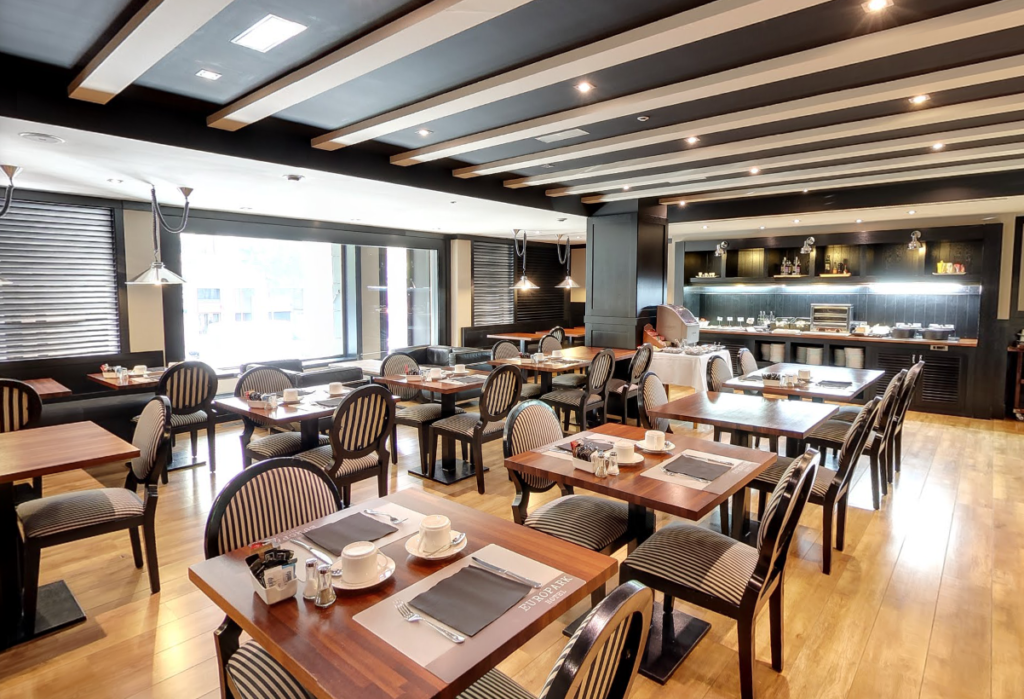 This is where we had breakfast the majority of the time. At our lovely hotel. They had a delicious and complete breakfast buffet every morning from 7am – 11am, and in our book, nothing is more convenient that being able to enjoy one's first meal at the same place you're staying at. Wake up, workout, shower, eat. Easy peasy. We LOVE this. Especially because European breakfast buffets at hotels are quite impressive and complete.
Our hotel offered eggs any style, Spanish tortilla, bacon, various kinds of breads, cheese, tomato, delicious olive oil and balsamic vinaigrettes, fresh fruits, fresh coffee and tea, fresh juices, and even cava…I mean, anything you could possibly want or need. And all really yummy. The breakfast was not included in our stay during our winter stay, but I want to say it was less than 15 euros per person.
2. Alsur Café (breakfast, coffee)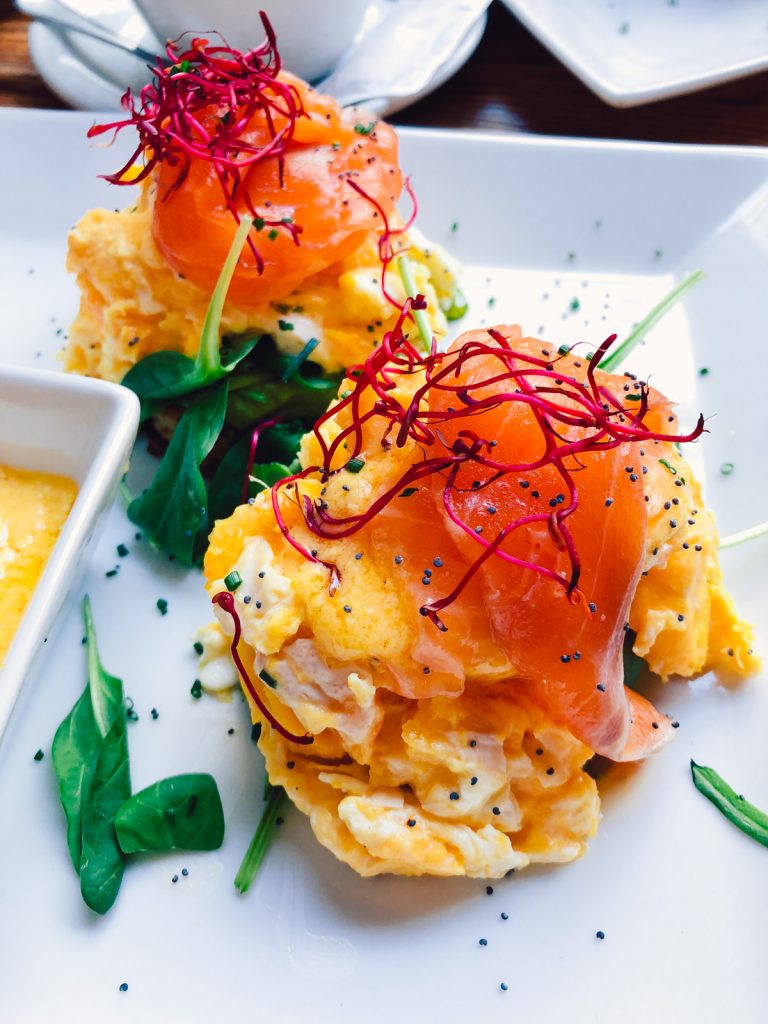 Um, yeah. How good do those eggs look!? My husband and I liked this place so much, that we came for brunch twice during our winter vacation. It's a quaint little space, with yummy coffee and really good food. I think they have a few of these restaurants over the city, so you can conveniently go to the one closest to you.
It's sort of American classics with an Australian brekkie twist. I dug it a lot. Nice breakfast/brunch place.
3. Els Quatre Gats (lunch, dinner)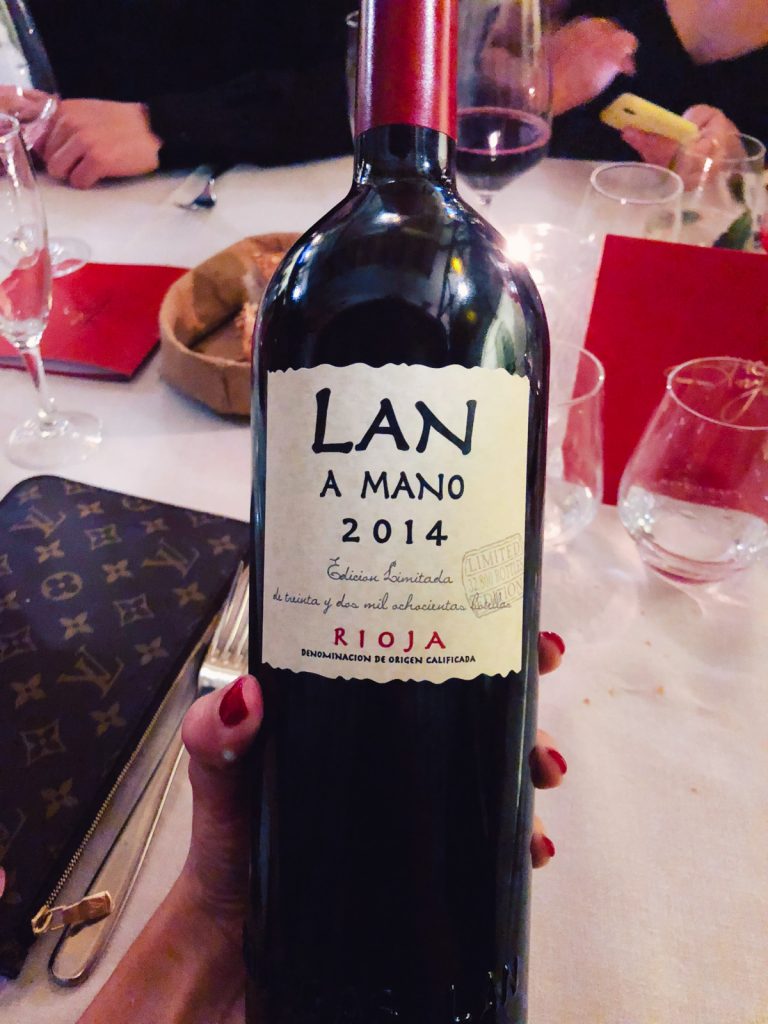 I mentioned this place above under my "sights" section, because it passes both as a sight (cool history!) and as a restaurant (it is one!). We dined here for NYE and it was simply perfect. My brother called one month in advance to make reservations, since it was NYE that we wanted to dine there and we had a larger party.
And we were accommodated beautifully.
The restaurant was decked out for the holidays, they had live music, the service was extremely attentive and all drinks and food were included with our set menu fee. The wine they served was super (pictured above). We loved it there.
It's actually my brother's favorite restaurant to go for lunch; their daily menu changes often, which is fun, and it is always delicious, filling and well priced. Your lunch price includes a spirited beverage, an appetizer, an entree, dessert and coffee/tea.
In general, I would definitely recommend dining here. A must.
4. Gats (lunch, dinner)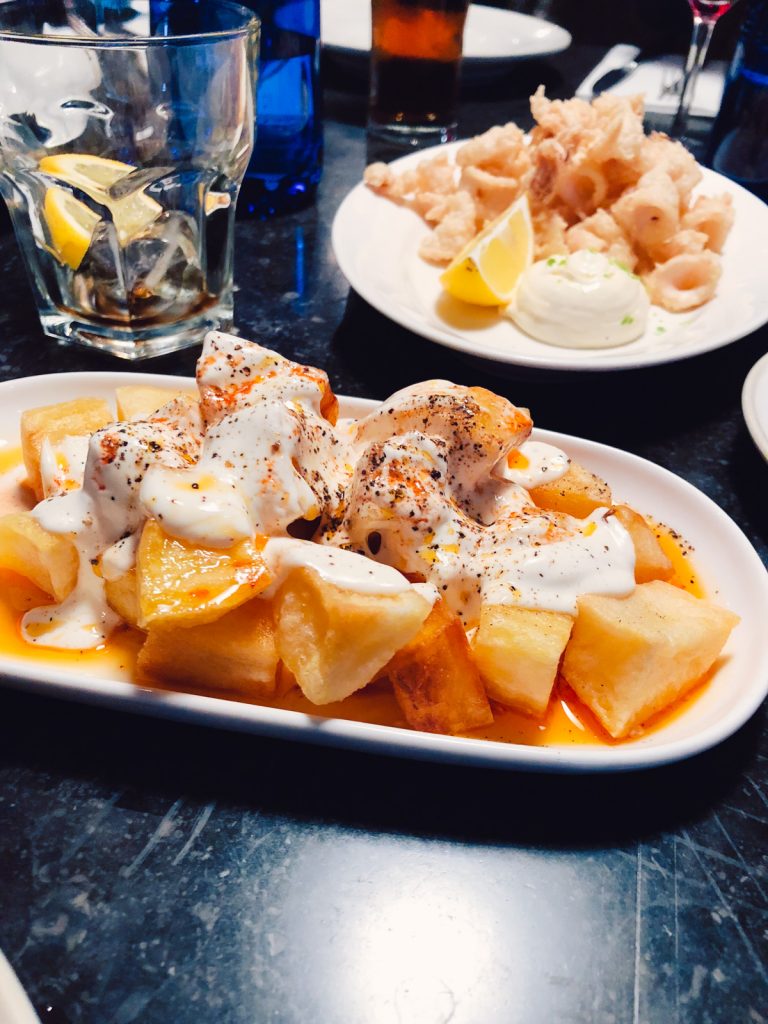 This was the very first restaurant I tried in Barcelona! As soon as we landed in the city, my family picked us up (my brother lives there, and the rest of the family had arrived a day earlier), dropped our bags off at the hotel, strolled around for a bit and ended at this delicious place. My brother had been here before and knew he had to take us there for a late lunch.
We went a little crazy with our order. We had bottles of wine, a cheese board, pimientos de patron, patatas bravas, gambas al ajillo, calamares a la andaluza con salsa de lima, arroz de mar & solomillo a la brasa con mojo picón y papas arrugás.
It was our first restaurant, so can't judge us for wanting to try it all. I was over the moon.
Also, the place is really cozy and uniquely decorated (with kind of a cool modern twist). I know you'd all love it.
5. La Flauta II (dinner)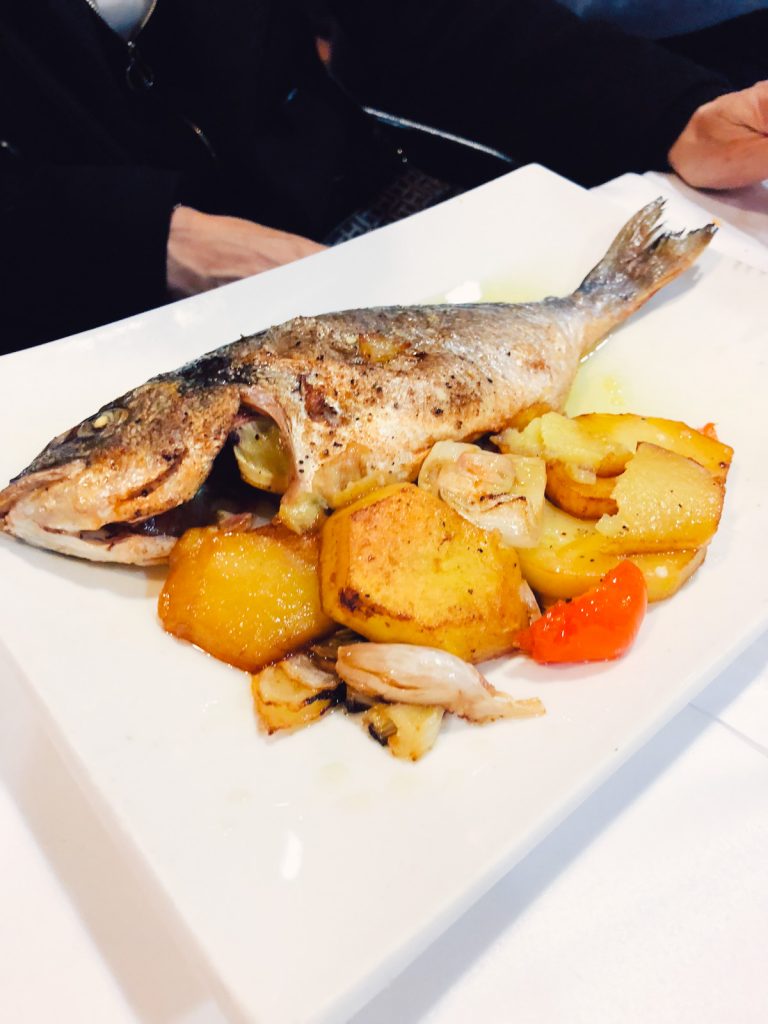 This is a restaurant that offers a mix of typical Spanish cuisine, mediterranean food and tapas. It's cozy, authentic and decently priced. It's also quite large, so if you have a big party, chances are they will be able to accommodate you after a short wait.
We loved it here and came twice during our winter stay, and once later on in summer. During the winter, it felt warm and welcoming, and the staff was attentive and polite.
Also, per the restaurant's name, they have delicious hot and cold "flautas". These are delicious thin baguette-style sandwiches filled with all sorts of yummy combination of ingredients.Some of our favorites here were: huevos cabreados (angry eggs, omg the best!), Spanish omelette, fired hot green peppers, pa amp tomàquet (bread with tomato), paella, grilled cod with roasted potatoes. YUM!
6. Can Fisher (dinner)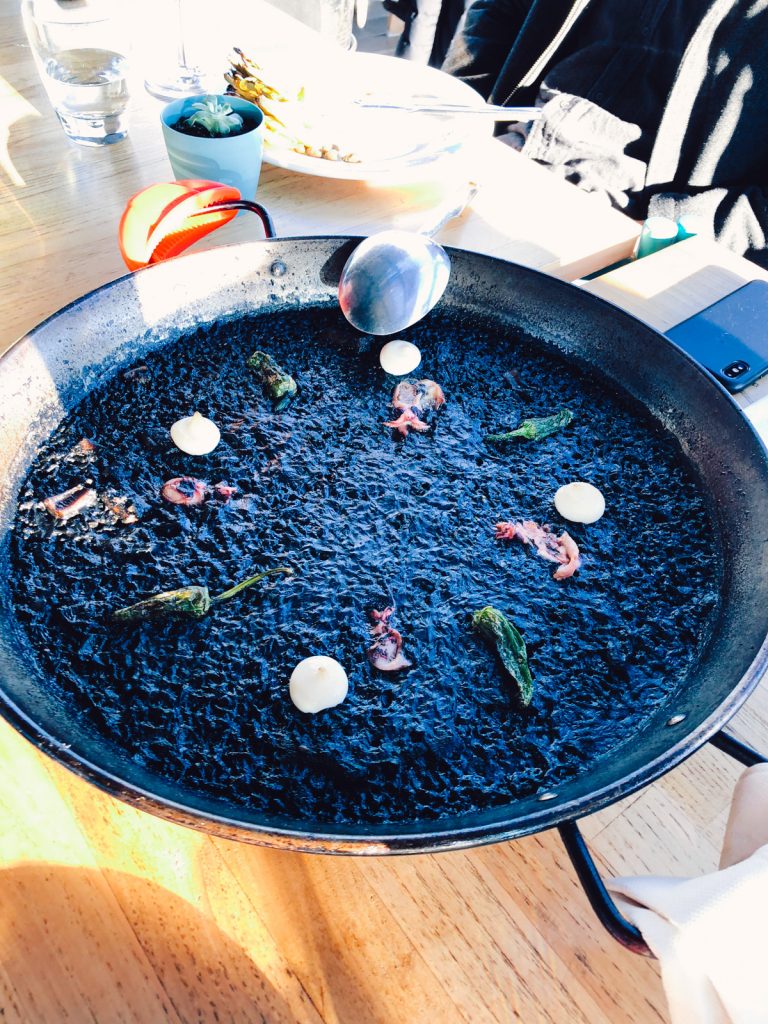 All. Time. Favorite. It is right by the sea, has the most amazing view, the most amazing chill environment, delicious wine, delicious appetizers, incredible black rice and traditional paellas, and the BEST grilled fish in sea salt in all of Barcelona. A memorable place to dine.
We were strolling on the boardwalk by the sea one afternoon, we walked what felt like 3 miles, as my brother sort of slowly guided us to an area that had a more quiet scene.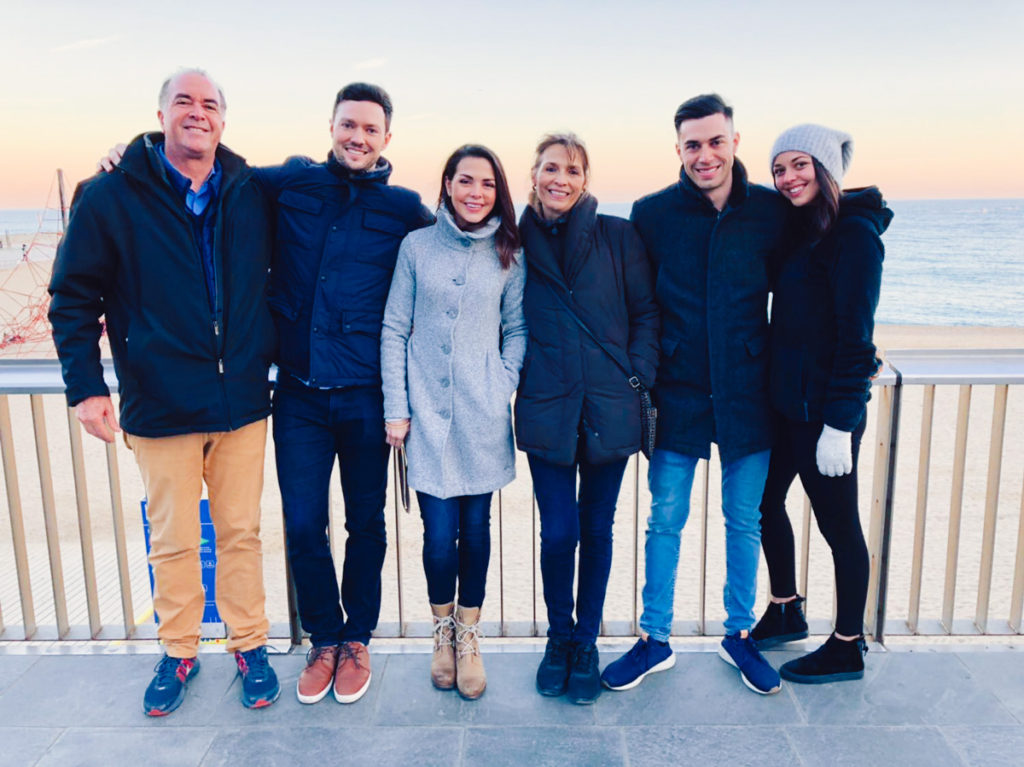 A bit more away from where families and tourists were walking. This area had a few restaurants with cute covered patios that faced the sea. We sat down at one of them, Can Fisher, and enjoyed a wonderful afternoon by the sea, where our senses were wow'ed in every possible way. Go there!
We got: beet salad, grilled artichokes, gambas, black rice paella, grilled sea salt white fish, allll the wine.
7. Flax and Kale (healthy: breakfast, lunch, snack, dessert, dinner)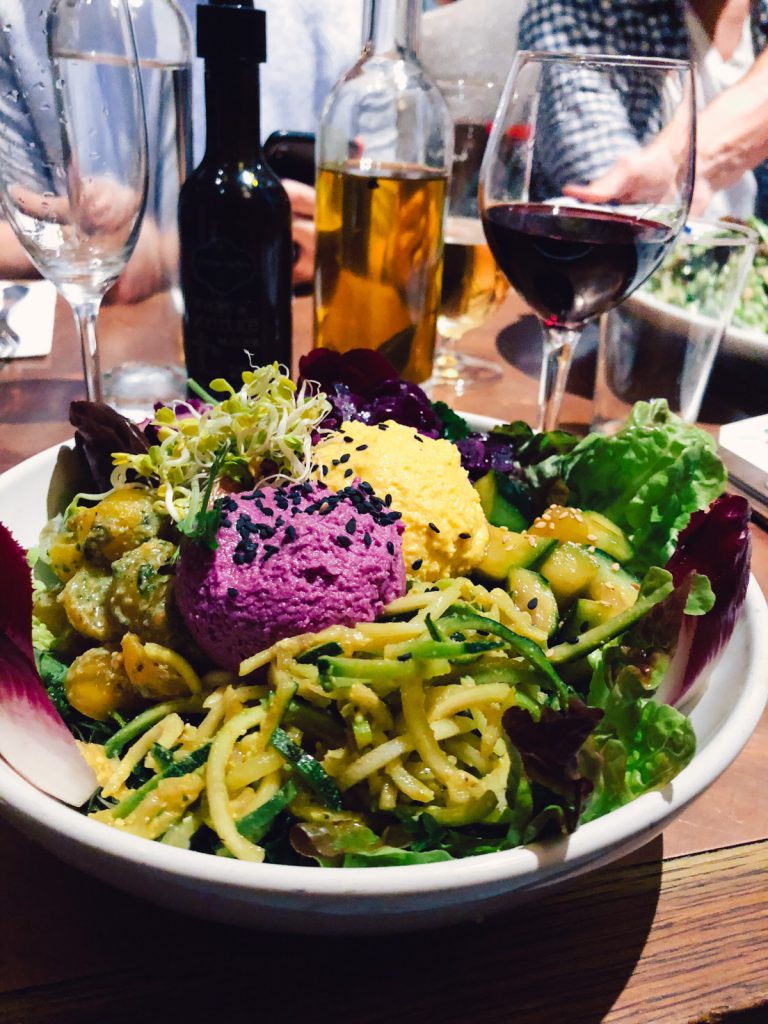 I was recommended this place by a friend from Ecuador, who used to live in Barcelona for a few years. She knows I am a Paleo blogger and love all things healthy, and so she pointed me in this direction. She knew I'd love it. And we did. It was a very neat experience in Barcelona. A nice break from all the tapas and the Spanish food.
First, their space is really welcoming and bright, and secondly, their food is a health-nut's paradise. Everything is made from scratch, they have amazing juices and smoothies, their menu features things like kale and radishes and homemade spreads, and it's definitely dietary restriction friendly.
We went for dinner and had their paleo bread, spicy kale chips, and incredible salads.
8. Cheriff Restaurant (dinner)
We went to this place by my cousin's suggestion. She also lives in Barcelona with her husband and her two little baby boys. It was the day after Christmas, and we wanted to get together to celebrate the holidays and to be together as a family. She said she had never tried the place before, but had heard great things about it, and it was the place where she was able to get us reservations in such short notice for a large party during the holiday season.
It was cozy, traditional in the sense of decoration and service, and DELICIOUS. First off, the wine was great, and then secondly, the seafood paella was phenomenal. It wasn't my all time favorite one (as Can Fisher's is), but it was definitely high up there from all the ones we tried.
A nice little place with a cute atmosphere. Totally recommend it if you're looking for something casual and cozy.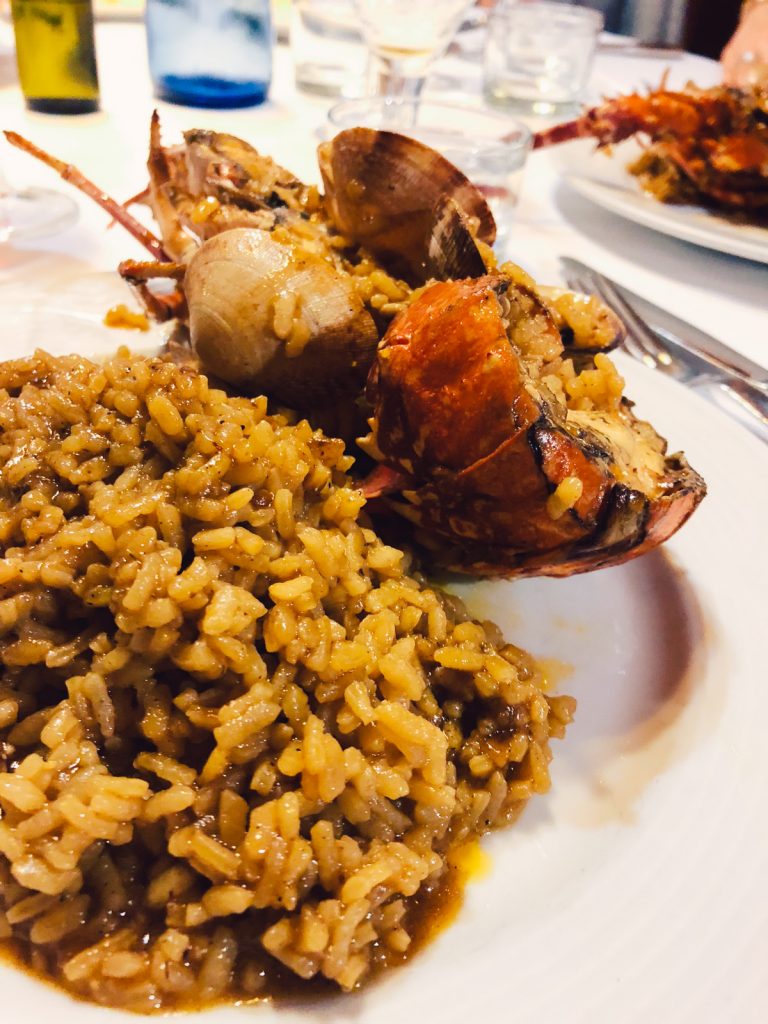 9. Boca Chica (bar)
We went to this bar a night or two before NYE with my husband and my siblings to grab a drink. It was classy, elegant, modern, fun and it had amazing drinks and music. A cool place to go with friends after dinner to unwind and get your grove on.
You'll find really creative and yummy drinks in gorgeous presentations. You won't regret checking this spot out! A bit pricey, but worth it.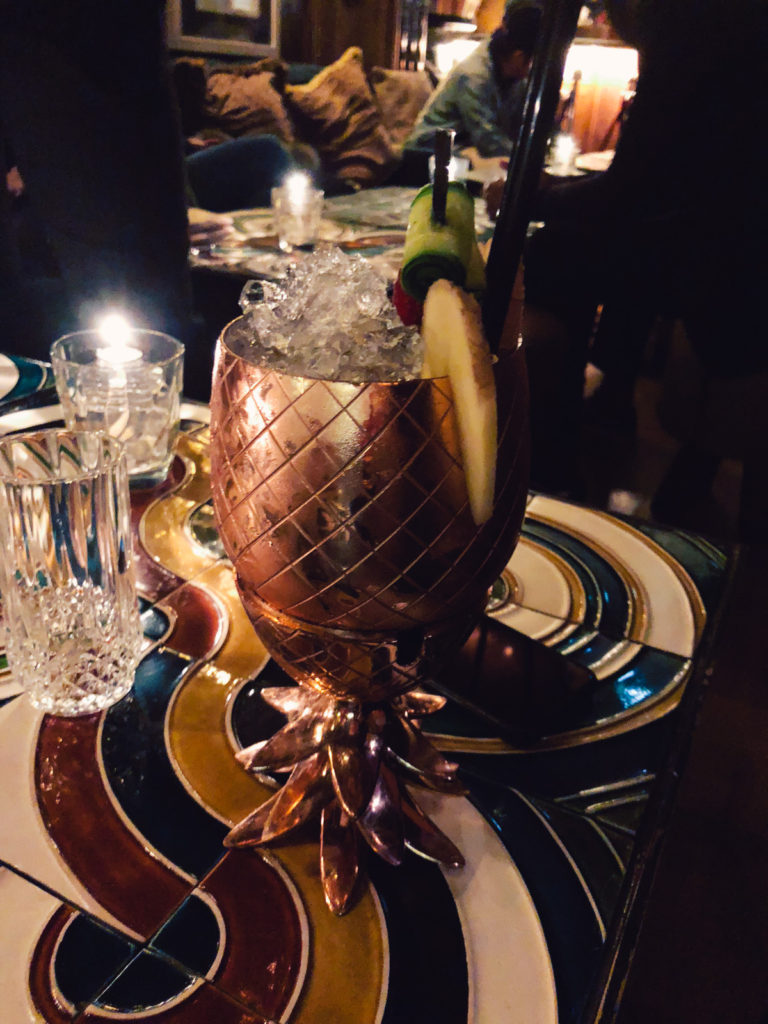 ---
And that concludes this guide! Thanks for reading and following along.
Hope you find it helpful and useful for your future travel plans. Barcelona is a great city and everyone should experience it at least once.
Here is my Barcelona in the Summer Travel Guide; it has different sights than this winter guide, as the weather was warmer and it made it certain places more accessible. It's a comprehensive guide you won't want to miss!
PIN ME!