Arrowroot and Almond Flour Paleo Waffles: my newest and latest breakfast obsession.
These fluffy and light little bundles of joy were enjoyed by us on Christmas Day for breakfast, right after unwrapping presents and enjoying our morning cup of Joe. When we stay in town for the holidays, which is very unusual since we typically meet with my family either in Ecuador or abroad somewhere, we tend to have this breakfast tradition.
We'll wake up, make coffee, gift each other little present surprises (stockings included) and make a delicious all-Paleo breakfast to keep us energized for the rest of the day. After this, we'll chill out for a bit, and then get on with some kind of side-dish making to bring to my mother-in-law's for Christmas Day lunch/dinner.
And see, for the most part, we have made Paleo waffles for Christmas Day's breakfast.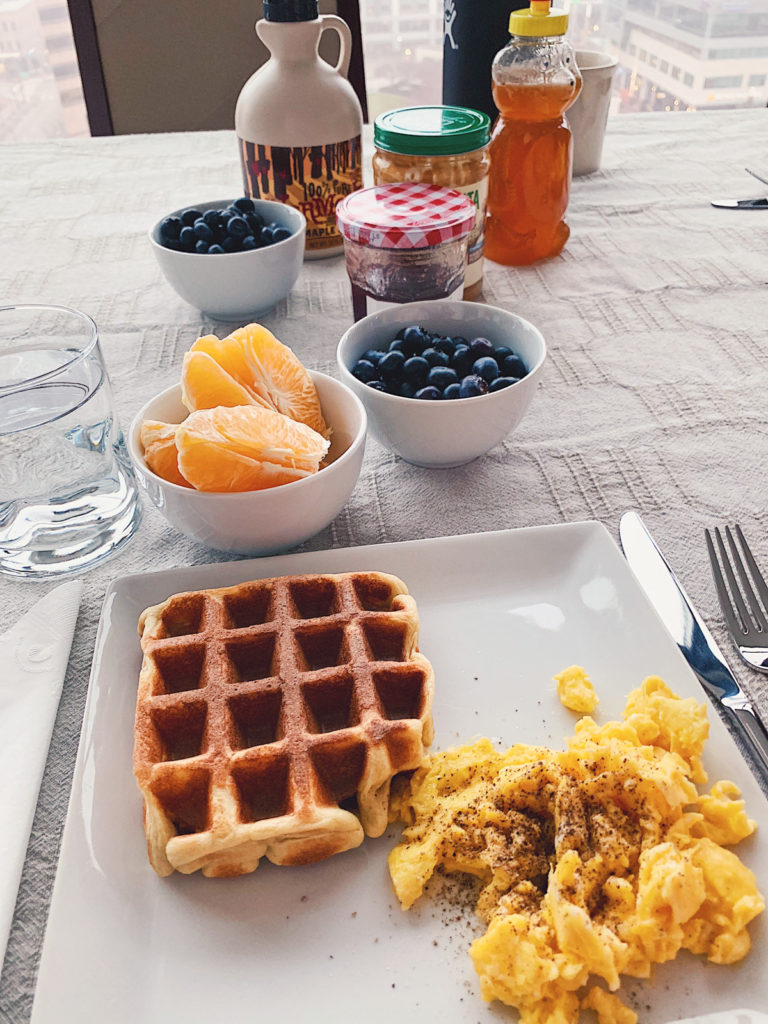 Don't ask me why, but it has seemed right every single time. Perhaps it's the comfort they bring, or how un-messy they are to prepare, or how delicious they are when paired with eggs and fruit and coffee…there's just *something* about Paleo Waffles.
You've tried some before, right? Please tell me you've tried some type of Paleo approved waffles before. Because if you haven't, you gotta!
I mean….look at these: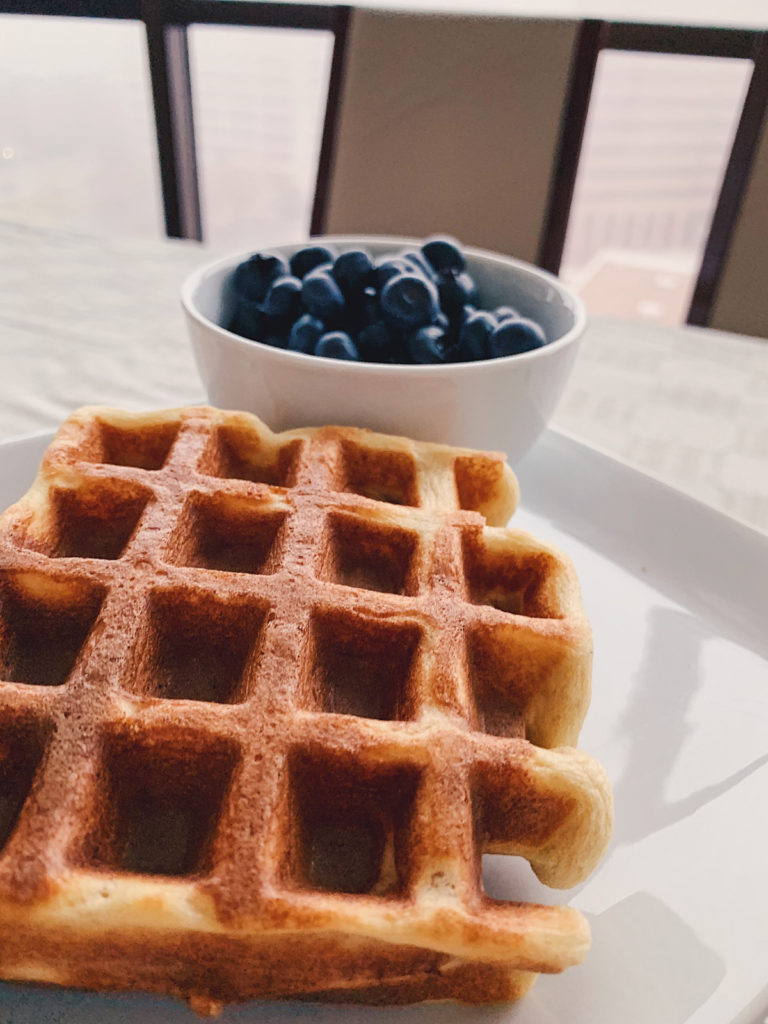 They are healthy and flavorful and fluffy and comforting and all things nutritious. I am not kidding when I say they are probably one of my favorite treats to make our family for breakfast, brunch or brinner.
In this case, the arrowroot powder has been added to make these Paleo waffles a bit less dense, because if I had only used almond flour, the waffles would've turned out a lot more dense and higher calorie. Which is not a bad thing, but if you're looking for lighter and fluffier, this combo is what you want.
Also, the slight hint of the vanilla extract, the maple syrup and the apple sauce add a nice little hint of sweetness that doesn't overwhelm the waffle and allows for them to be "dressed up" in various ways: with your fruits of choice, sweeteners of choice, etc.
You got the powaaaa!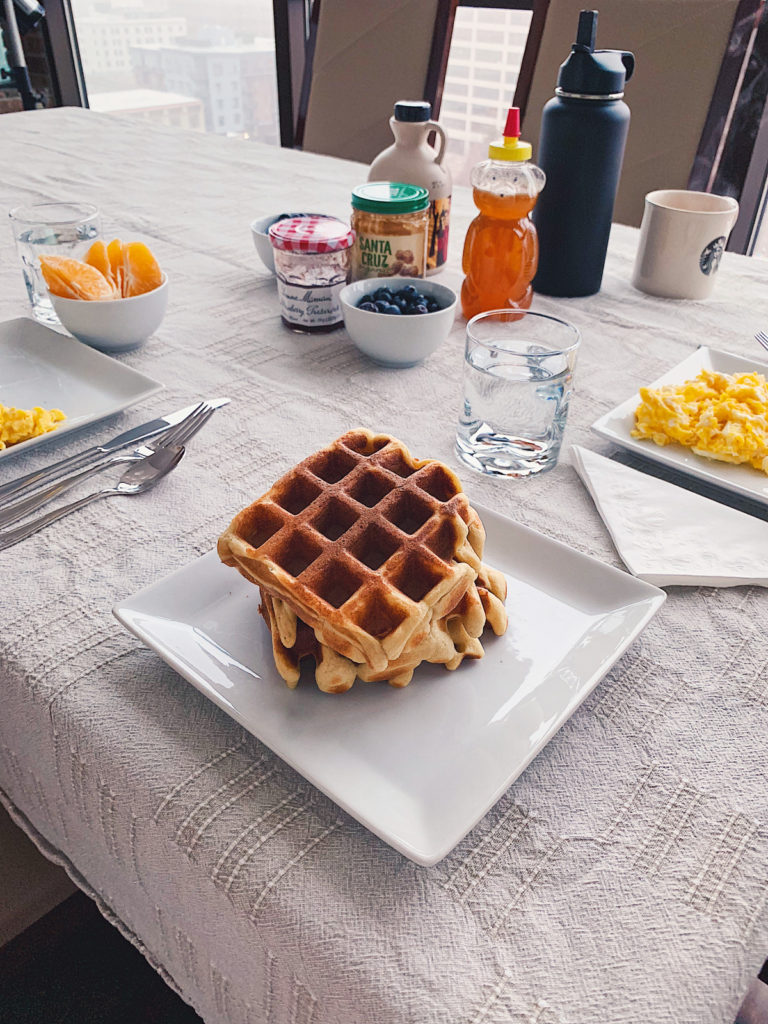 We enjoyed ours with a side of scrambled eggs, oranges, and topped them off with a nice splash of maple syrup (my honey did honey hehe), nut butter and blueberries.
If you make these waffles, please take a photo and show me your creation by tagging me on Instagram or Facebook. I'd absolutely love to see what you guys make from my site!

Arrowroot and Almond Flour Paleo Waffles
Fluffy and easy to make Paleo waffles, using arrowroot powder and almond flour. Naturally gluten-free and processed sugar-free. Perfect for breakfast, brunch or brinner!
Ingredients
½ cup fine almond flour
½ cup arrowroot powder
1 tsp baking powder
⅛ tsp salt
2 eggs
¼ cup unsweetened apple sauce
1 tbsp maple syrup
½ vanilla extract
Instructions
In a large bowl, mix almond flour, arrowroot powder, baking powder and salt. Set aside.
In a separate bowl, whisk eggs, apple sauce, maple syrup and vanilla extract. Pour over dry ingredients and mix until no lumps remain.
Cook per waffle maker instructions. Batter should yield 4 waffles, so divide accordingly.
Serve right away with desired toppings, or refrigerate for up to 4 days.
PIN ME!