THIS RECIPE IS SPONSORED BY SWANSON.
---
Vanilla Almond Protein Granola: putting stars in my snack loving eyes since 2018.
This dream is golden, crunchy, sweet, vanilla-ey, coconut-ey…like the best almond granola-meets-nutritious-meets-comforting-meets-delicious of your life. It's not soggy or full of sugar, as many cereal-type foods can be. And there is no gluten in it. Or grains in it. Or dairy in it. Or anything that wouldn't let Paleo and Vegans alike enjoy it.
It's inclusive to all. 🤗
This amazing snackaroo feels like a big cozy hug that gives comfort to your life. And doesn't that sound lovely? Like, could I have that in my life every day, please?
And maybe I can.
Because let's be honest, snacking is a thing we all do (before lunch, after lunch, instead of lunch (?) and even after dinner), and what better to have a go-to snack that is both *this* delicious and nutritious?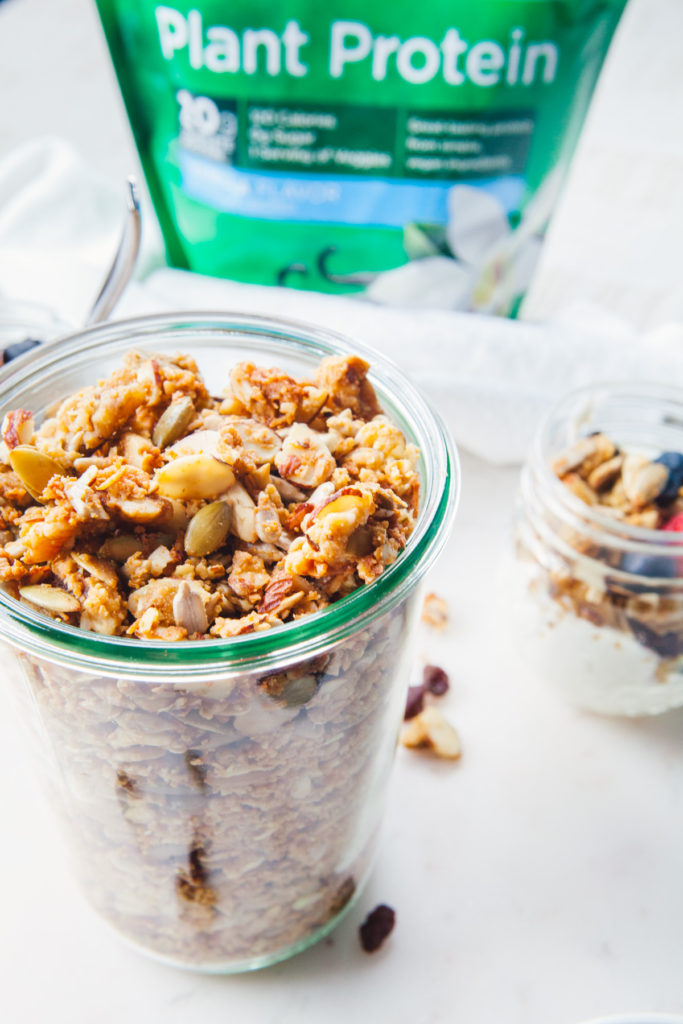 Did you hear the "protein" part of the recipe name? And are you wondering about that? How does granola go about having protein? What kind of protein?
Let me tell you: plant protein powder.
That's right. And to be more specific: Swanson Real Food Plant Protein – Vanilla.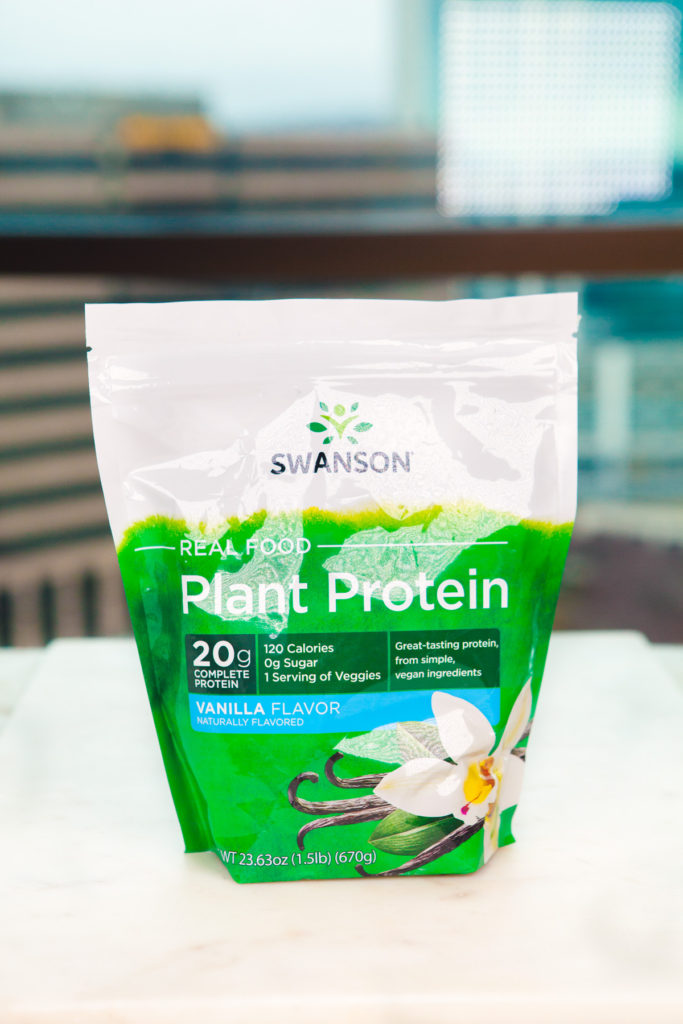 The vanilla protein powder doesn't only add good (plant-based!) protein into our golden clusters here, but it also brings everything together in a big and happy way.
We've enjoyed this plant protein in smoothies and by itself mixed with water after our workouts, but I have found it to be especially great for baking. It adds a subtle sweetness and a nice vanilla punch without overpowering the recipe or changing its consistency.
What we love the most about Swanson Vanilla Plant Protein is that it's made with whole food ingredients; no added sugars, artificial sweeteners, flavors, colors or preservatives here. It's the real deal. It's also dairy-free, lactose-free, vegan and offers 20 grams of protein per scoop! But want to know the most impressive part? It offers a FULL serving of veggies and a complete amino acid profile, carrying the 9 essential amino acids we need to live our healthiest and strongest lives. Pretty great, huh?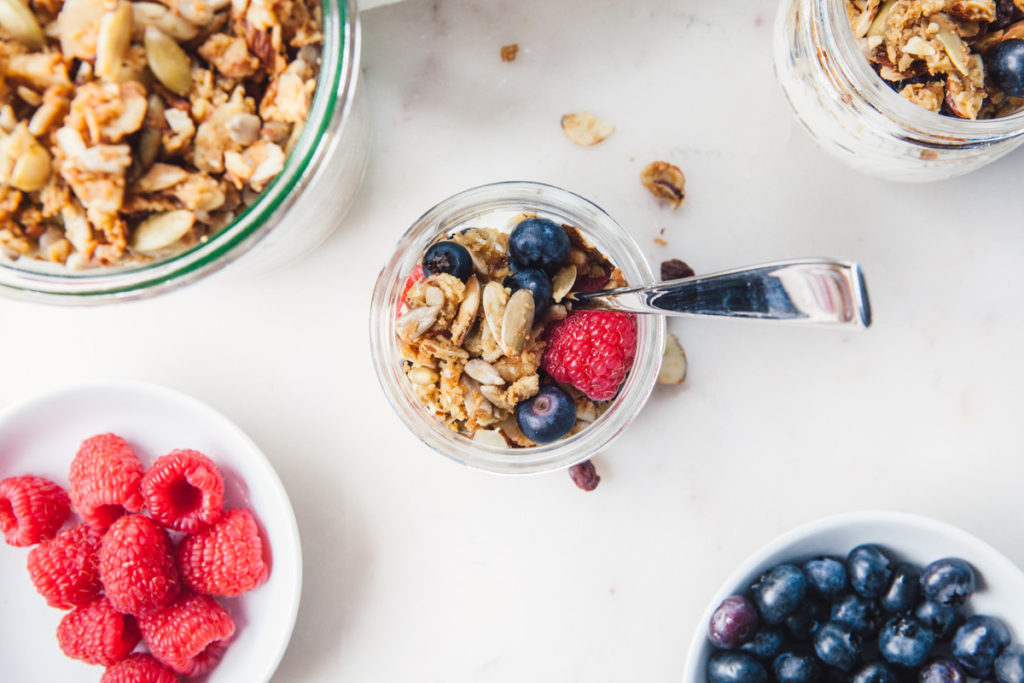 My husband and I are huge advocates of protein; it not only helps you build muscles and keep your bones strong, but it also helps satiate your cravings, maintains weight, supports healthy hair, skin and nails, and aids with recovery.
And I may be a little biased because of my fitness goals (which are to build muscle while remaining lean), but having a little added protein when it comes to my baked snacks is a huge plus. If it can taste good, be satisfying, be filling AND be nourishing…heck, I'll go back for seconds.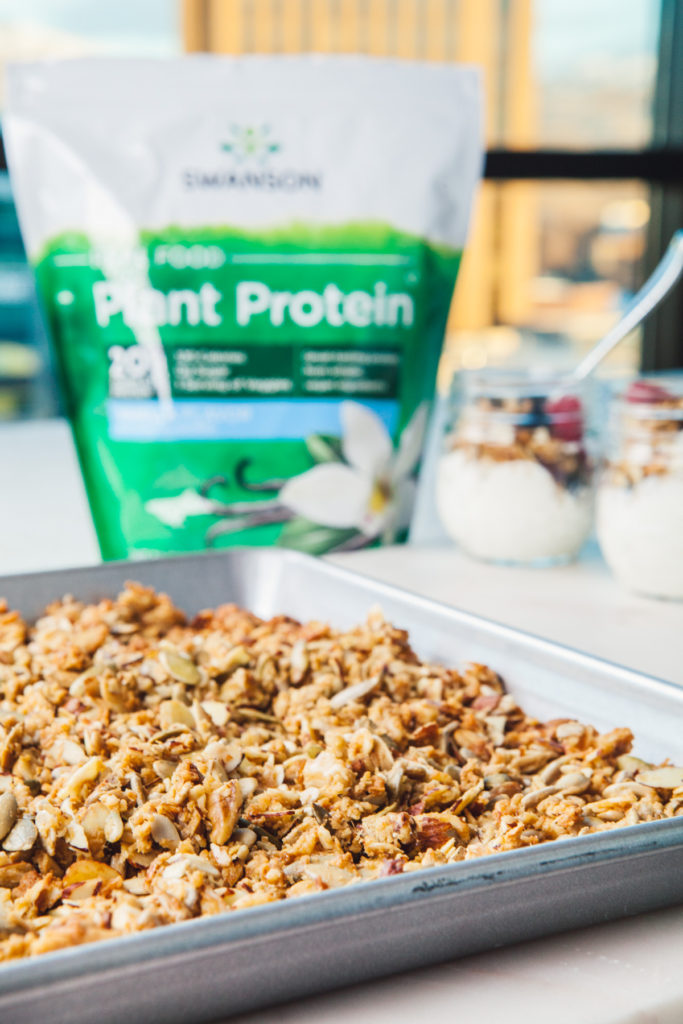 We've already made this granola at home twice in the last month. And guys, we ain't stopping! I love it and my hubby loves it. 🎉💃🏻🕺🏻
We know we'll be using it on various scenarios. For example:
The granola is perfect for a hectic weekday breakfast; add yogurt, granola and fruit to a bowl and you're good to go.
The granola is perfect for a lazy weekend; add granola to your acaí bowls or sprinkle some on your pancakes for good measure and you're good to go.
The granola is perfect for a snack on-the-go; add granola to a little container and you're good to go.
The granola is perfect for a baby shower or a bridal shower; create yogurt parfaits in mason jars (as pictured below) and you're good to go.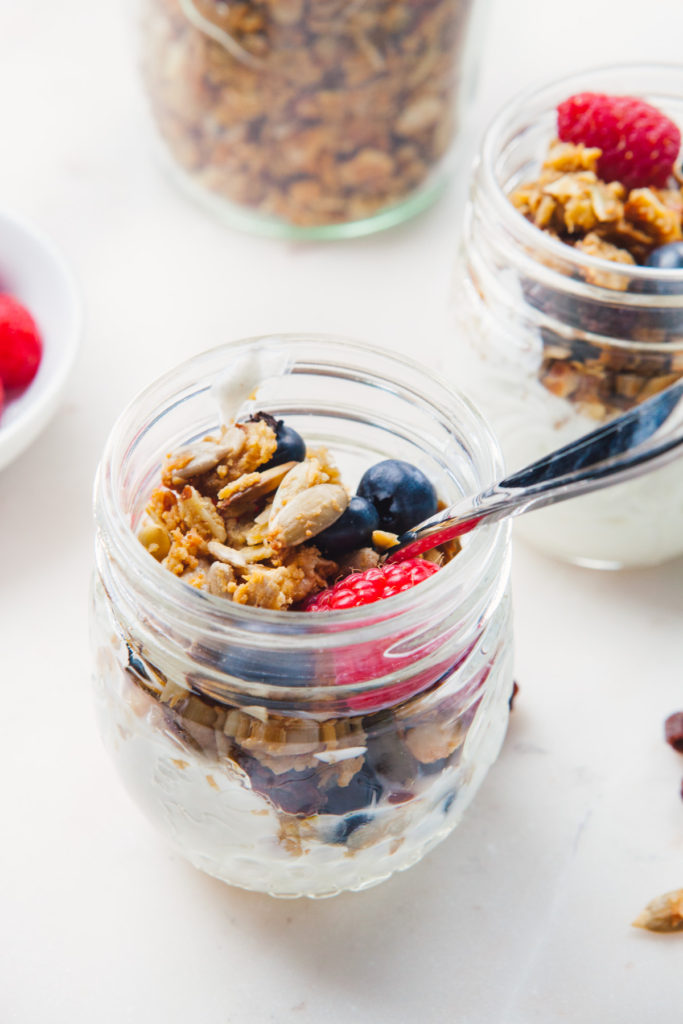 Another thing to know: sometimes I keep already made granola parfait mason jars in the fridge and eat one (or two) post-workout in the morning. DON'T EVEN JUDGE ME and I'm not actually joking.
I have baked various granolas in my life, and let me be honest, none of them have packed this much of a nutritious punch before. None had a nice macro balance to where I'd feel excited enough to enjoy post-workout.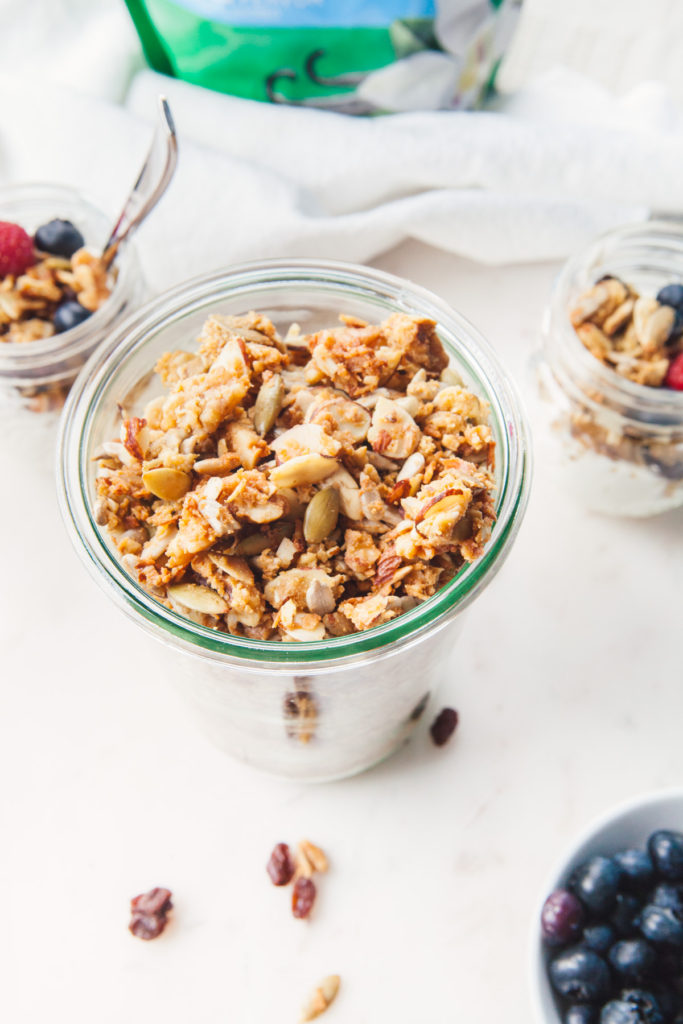 Add non-dairy greek yogurt, top with bananas and berries, drizzle some nut butter, add more seeds! Endless goodness routes to take here. Especially when you have a thing for customization. Granola parfaits do it for me every time. They are the ultimate customization-lover bff.
Why limit yourself to one same way of eating your preferred snack? Why not switch it up here in there? Make it light. Make it rich. Make it dry. Make it wet.
So. Many. Options. HURRAY!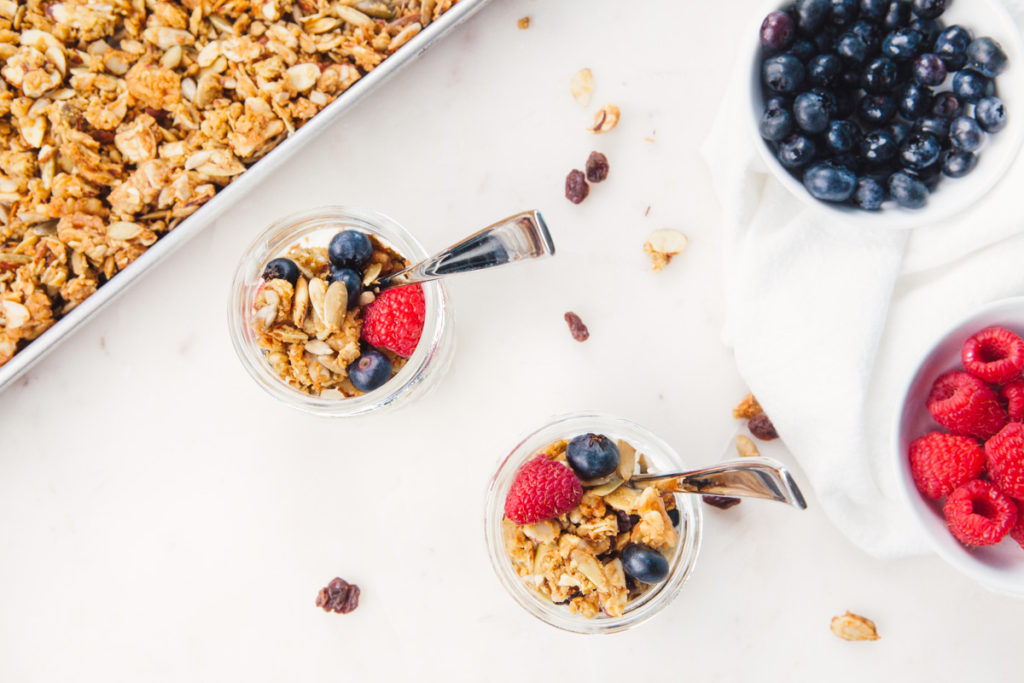 Wanna know what else?
While it bakes: house smells heavenly
After it bakes: house smells heavenly
5 hours after it bakes: house STILL smells heavenly
Just wait until you bake it, you'll know what I'm talking about. Heavenly!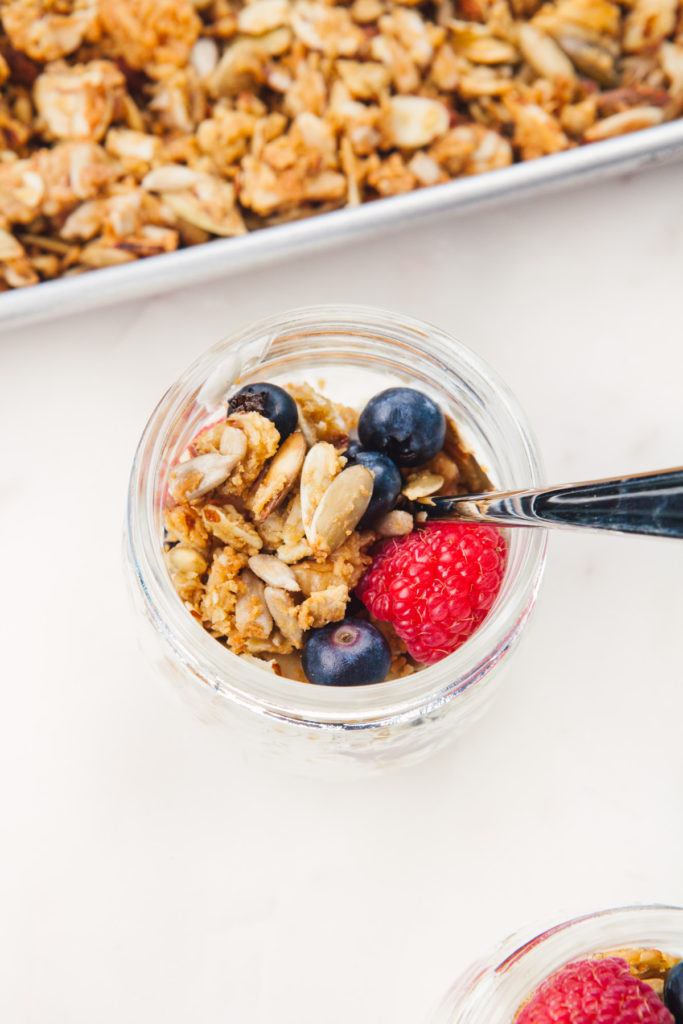 This Vanilla Almond Protein Granola is:
Gluten-free
Dairy-free
Protein-packed
Nutritious
Easy to make
Good for snacks and breakfast and brunch and brinner
Absolutely DELICIOUS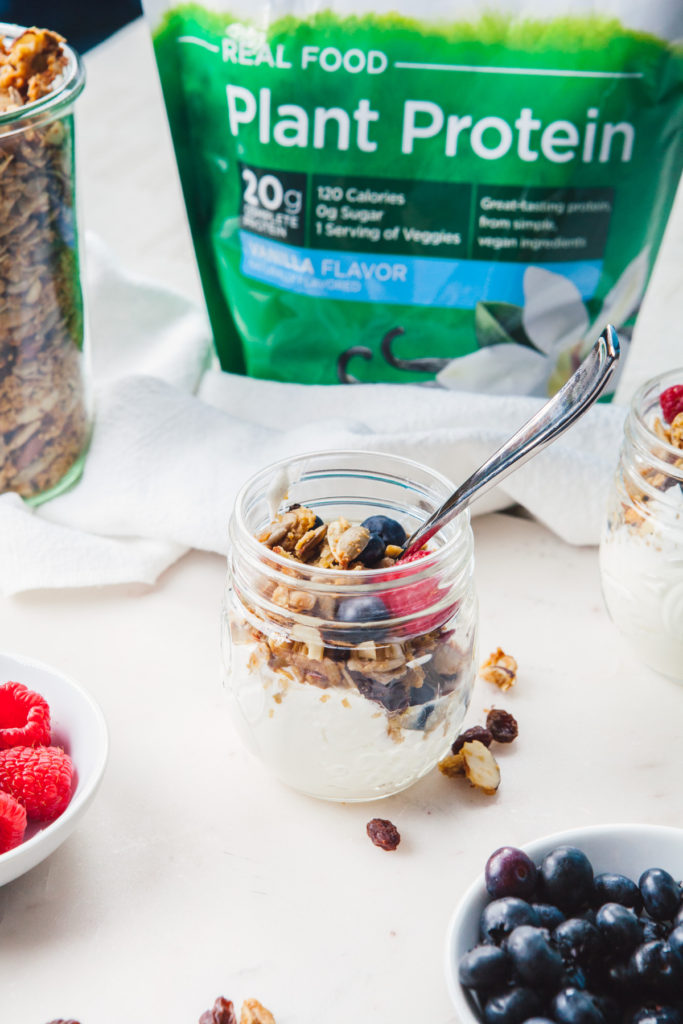 When you make this Vanilla Almond Protein Granola and customize your own healthy breakfast (or snack!) bowls or jars or plates with it, please snap a photo and share it with me on Facebook or Instagram.
I'd love to see your healthy creations and how you like to enjoy your granola!

Vanilla Almond Protein Granola
This Vanilla Almond Protein Granola recipe is made with all-paleo ingredients and with vanilla plant-based protein. A delicious and nutritious breakfast for both adults and kids!
Instructions
Preheat over to 325 degrees
Mix dry ingredients in a mixing bowl using a spatula.
Mix wet ingredients in a separate mixing bowl, using a spatula.
Mix wet and dry ingredients together.
Place mixture directly on a baking sheet (spread evenly).
Bake for about 45 minutes total; remove the baking sheet from the oven periodically and stir the mixture to prevent the granola from burning.
Once the 45 minutes pass, remove the baking sheet from the oven and let the granola cool completely. Once cool, you can fold in a ½ cup of raisins/dried fruit/chocolate chips.
Keep granola in a closed container. Lasts up to 3 weeks.
PIN ME!