These are hands down the BEST chocolate strawberries ever. Don't believe me? Ask my husband! He finished them all, with the exception of three that I inhaled as soon as the chocolate hardened, in a matter of two days!
Imma get real: I am not usually one to pick strawberries for dessert or as a treat, even when covered with chocolate (and if you know me well, you know I love chocolate), because I'm more of a creamy, very rich and heavy dessert type of gal. If I'm going to do dessert, I am allllll in…I'll make it count.
However, I was really feeling like strawberries this year for Valentine's Day for some reason.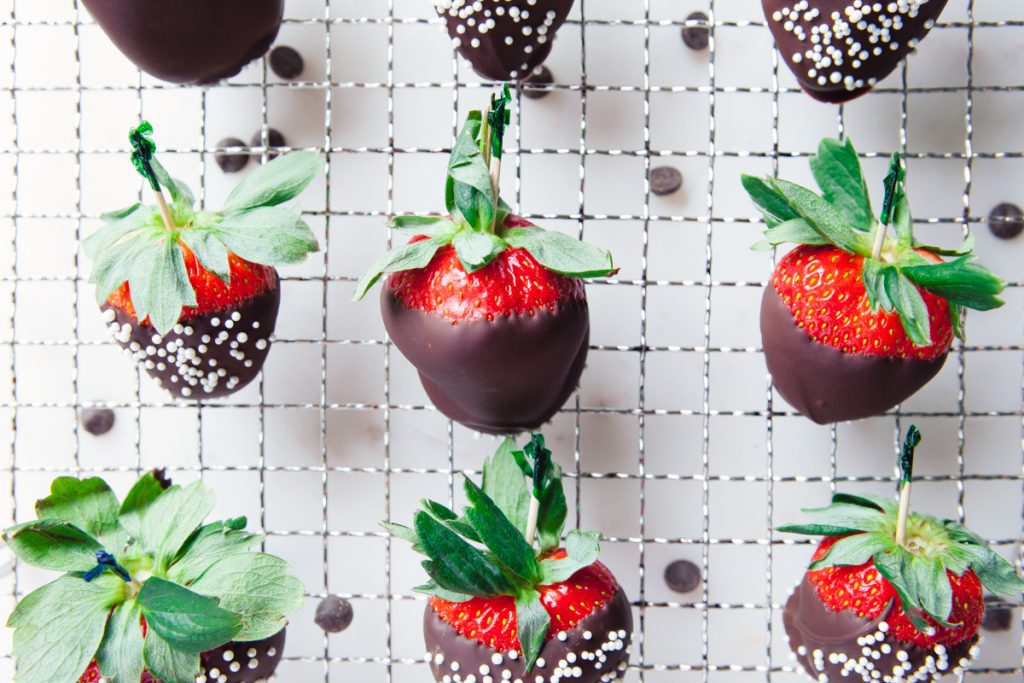 They sounded like the perfect dairy-free treat to enjoy with my honey on a romantic night in post-dinner. Something about how big and plump and red the strawberries looked at the grocery store really made me want them. Because ever since I was a little girl, all food cravings came to me via my eyesight; if it looked good, I wanted and got it and ate it.
So of course I had to get those deep-red strawberries at Whole Foods Market when I saw them. They got me good and right away. Berries are one of the first items I see when I walk in Whole Foods Market, so there was truly no escaping them. And right after I placed two large strawberry packs in my cart, I immediately headed to the bakery aisle to pick up some dairy-free chocolate chunks to melt and dip them in.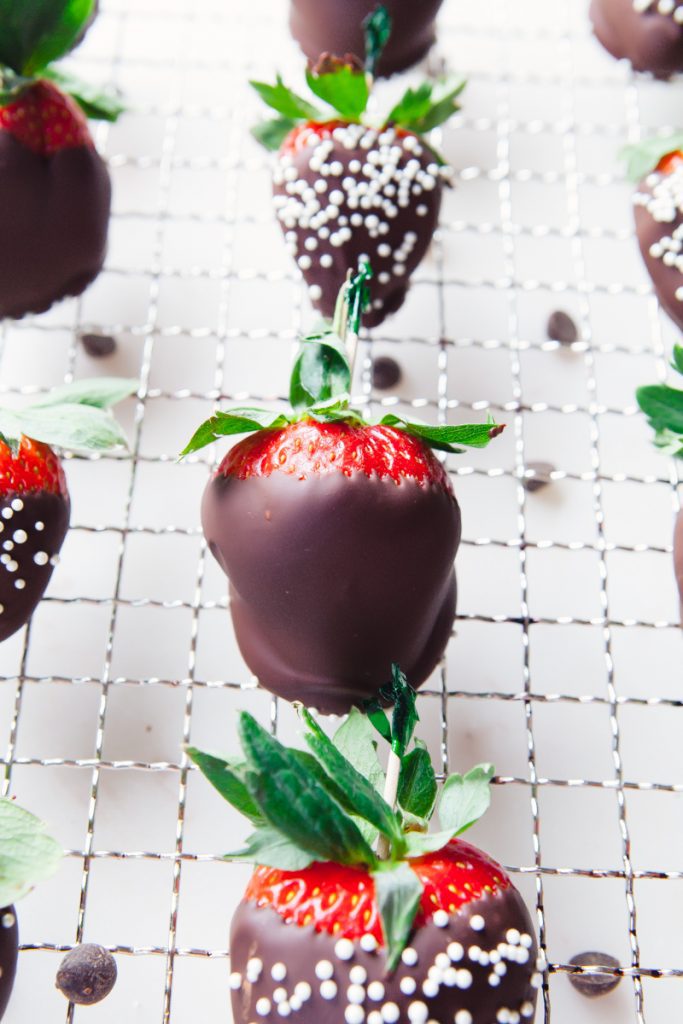 Oh, and of course I picked up come cute little sprinkles, because my honey is obsessed with sprinkles and to him, no treat in the world is complete without a heavy dose of sprinkles.
I swear, that man is a little kid. Just to give you a quick visual: as I was making the strawberries, carefully dipping them and adding a few sprinkles on them, I look to the side and there is Preston, with his mouth wide open, head back, dumping one of the sprinkle's bottles right in. Cero self control when it comes to sprinkles. In fact, the more the merrier! Haha.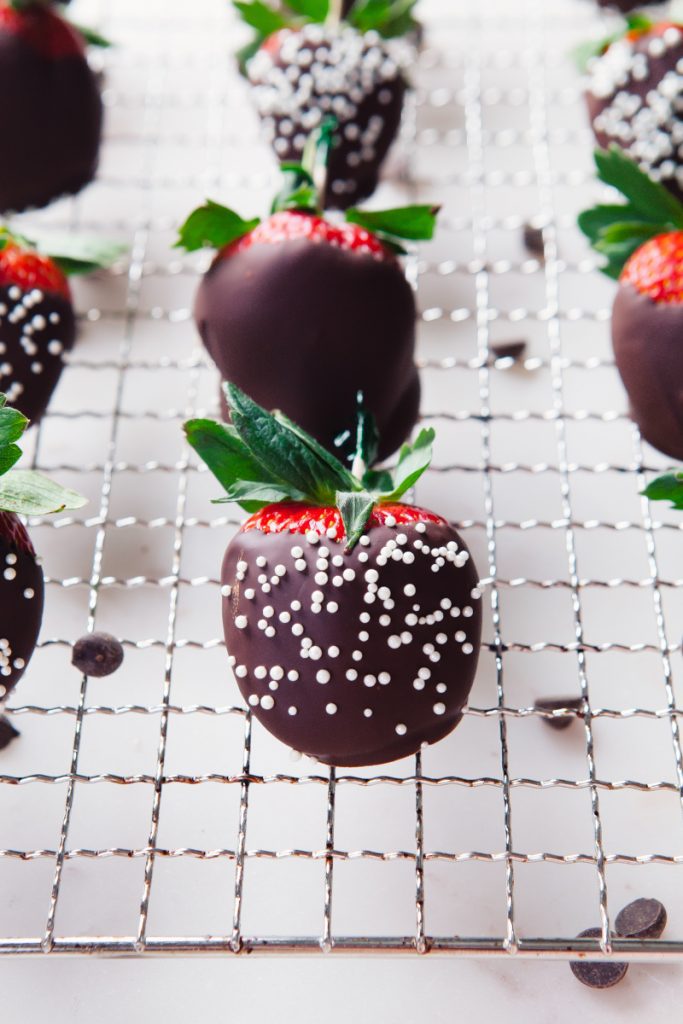 If you're into strawberries, chocolate, sprinkles, chocolate covered strawberries, or chocolate covered strawberries with sprinkles, this is a treat you cannot skip! It literally took me 15 minutes to make these from beginning to end, and it was so super simple. Simple is best when it comes to kitchen work, in my book!
You can make these ahead of time and keep them in the fridge to surprise your honey for a romantic night together (with some bubbly), you can make these together as a fun little activity, you can make these with your kids…possibilities are endless when it comes to when, where, how and who here! Results will be the same: DELICIOUS.
These chocolate strawberries are:
Paleo approved
Dairy free
Gluten free
Healthy
Quick and easy to make
Crunchy and sweet
Delightful
ROMANTIC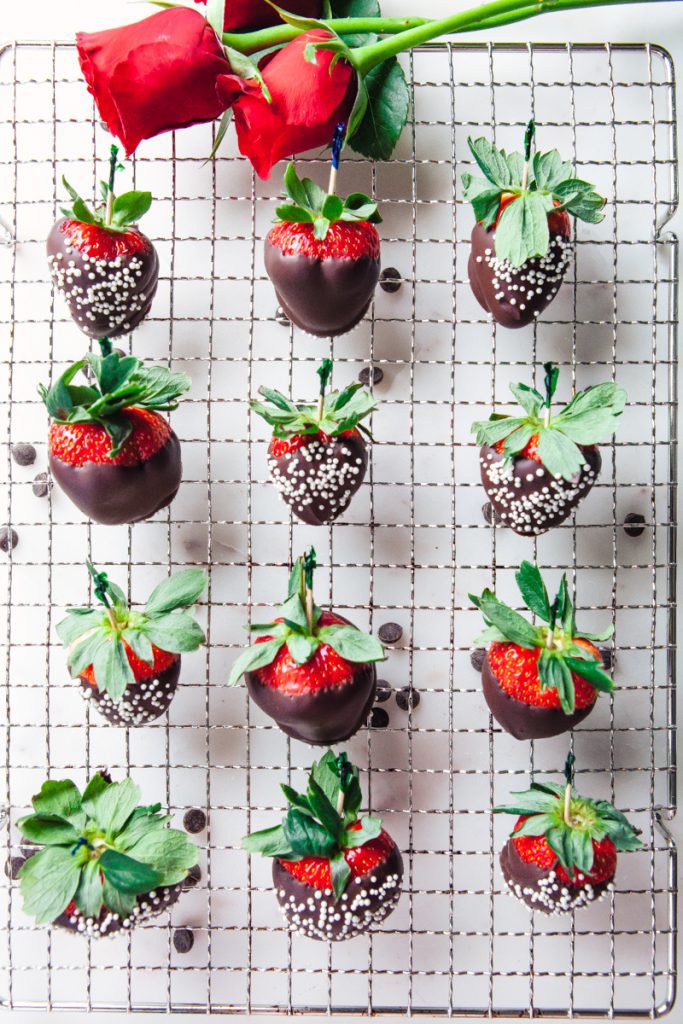 Hope you all enjoy making and eating these! If you make these (which you should!), sure to snap a quick shot and tag me on Instagram or Facebook; I'd absolutely love to see your little choc-strawb creations!

Best Chocolate Strawberries
The best Chocolate Strawberries you'll try! Easy to make and perfect for any special occasion, but especially great for Valentine's Day! Made Paleo with gluten free and dairy free ingredients!
Instructions
Line a large plate (or ceramic tray) with wax/parchment paper. Set aside.
Wash strawberries well and pat them dry,
Melt chocolate morsles in a double broiler. Pin a strawberry with a toothpick and dip it in the chocolate, covering it well; place strawberry on the lined plate and add sprinkles. Repeat this step with all strawberries.
Refrigerate for 1 hour to allow the chocolate to harden, and serve right away.
Notes
Tools You'll Need:
- Sauce pan with steamer insert
- Pyrex measuring cup
- Spoon
- Large plate
- Parchment paper
PIN ME!