This Instant Pot applesauce though. ?
It is my ultimate favorite baking ingredient and a pantry must-have for that reason.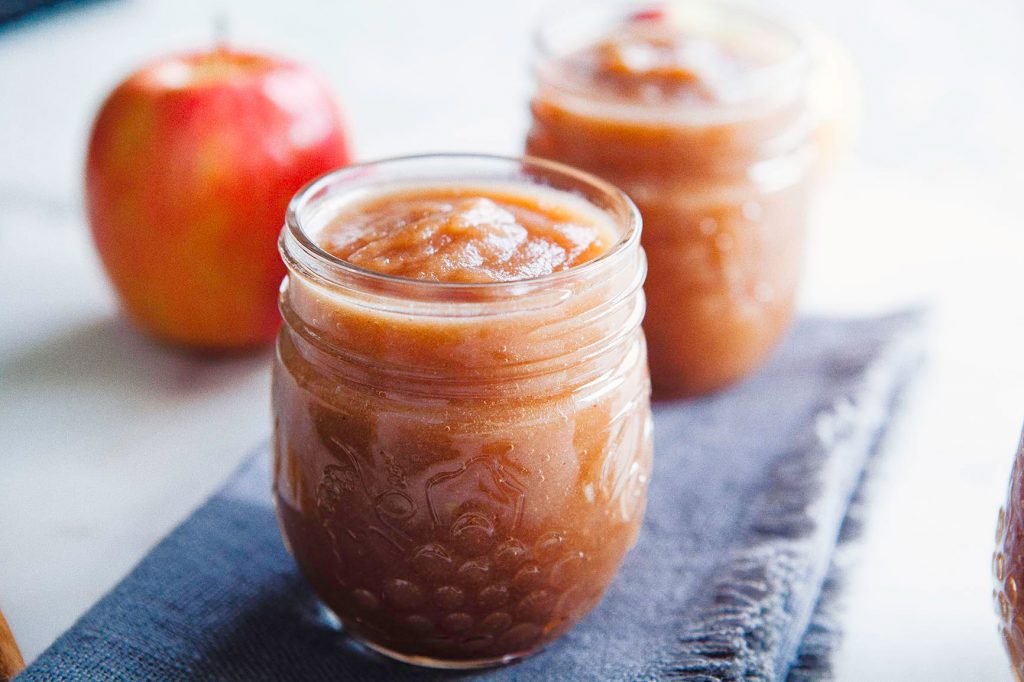 So guys, collect them apples from your apple tress (or neighbor's trees, or farmer's market, or ANY grocery store) and stock up on healthy and good-for-you applesauce with me.
Any kind of red apple will do, so no need to get too fancy in picking the right kinds of apples here. Just whatever you can get your hands on!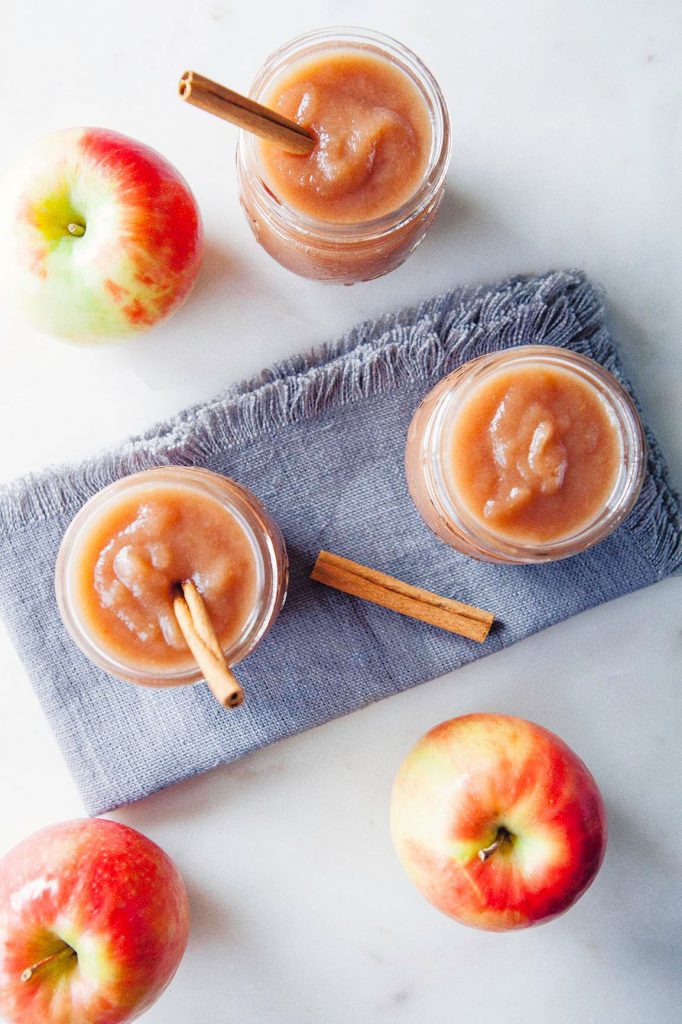 Time to channel our inner do-it-yourself'ers selves, put one of those cute aprons on we have stored in one of our kitchen drawers somewhere (the ones we always forget to wear, but are def pulling out this time, because what cuter picture can we paint than us making apple sauce with our hair up in a cute apron?), grab a wooden spoon, and get this party staaaaar-teeeeed!
Now, I know what you may be thinking? "Why make applesauce at home when you can buy some, totes hassle-free, at the grocery store?".
Well, my dears, here is why: it tastes like the heavens, it's cool to say "you made your own apple sauce at home", it makes your baking dreams come true (yes, freshly made ingredients always make dishes so much better!), and you can customize it to make it even healthier <– this is the biggie right here!
How can we make it healthier? Well…CHECK. IT. OUT.
This Instant Pot Applesauce is different, and not only because it is made in the Instant Pot (ummm, helllllllo easy), but it has the bellow ingredient combo for optimal health:
Red apples – yup, an apple a day keeps the doctor away: antioxidants, Vitamin C, Vitamin B-6, calcium, potassium, phosphorous, fiber.
100% apple juice – same benefits as above.
Cinnamon – antioxidants, manganese, cinnamaldehyde (antibacterial, anti-inflammatory and antifungal)
Collagen peptides – protein & vitality (helps strengthen hair, skin, nails, joints, and more).
Yup! Collagen peptides. In my applesauce. That's right. Because it helps make our applesauce a little thicker, while also adding a subtle berry flavor that takes this applesauce to a whole new level of goodness. Just try it and see for yourself. SO GOOD!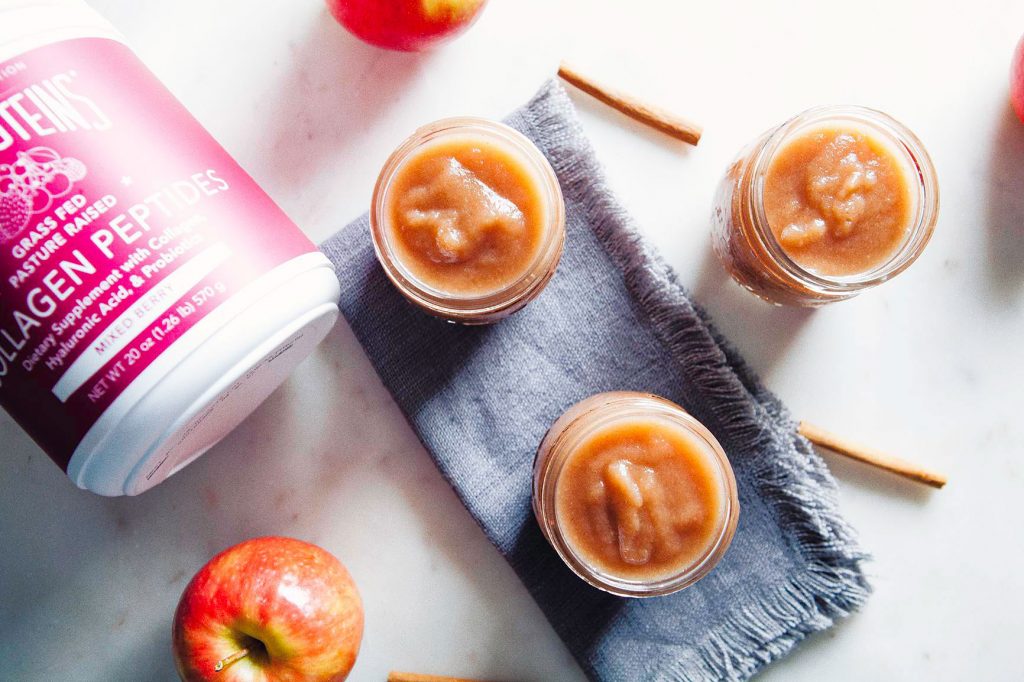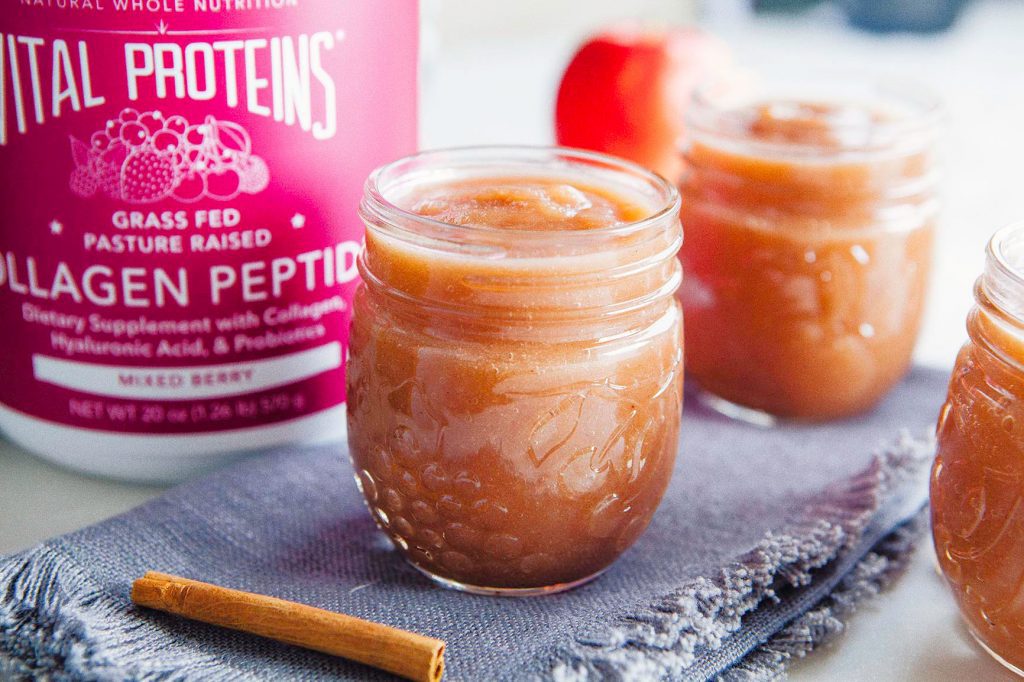 Collagen peptides is a favorite supplement of my husband's and mine; we have two scoops of it once a day every single day. Even when we travel we bring the small collagen peptides pouches with us, to not deprive our bodies from its amazing health benefits.
If you haven't tried or heard about collagen peptides before today, well beautiful friend, today is your lucky day, because let me tell you: this light and soft protein powder is the supplement of my dreams, and you definitely want in on it!
Here are a few reasons why I love collagen peptides:
First: it dissolves quickly and effortlessly in any liquid (hot or cold), so the struggle to get rid of those protein powder clumps is never present. How easy to be able to add it to our coffee, tea, soup, smoothie, dipping sauce, APPLESAUCE (especially the mixed berry flavored one)!
Second: it comes in different flavors, so you can "pick you potion" according to your preference and/or need. For this recipe I chose the Mixed Berry Collagen Peptides, because apples and berries were meant to be together. In sauce form.
Third: it does wonders for your beauty, giving you stronger and healthier looking skin, nails and hair. Not to mention, helps nails and hair grow (quick)!
Fourth: it does wonders for your wellbeing, giving you stronger ligaments, joints and muscles.
See, collagen is the most abundant protein in the body, and taking it as a supplement – in your applesauce, obvi – has been proven to help with ligament, joint and muscle strength. Feel good, look good. Such a win.
I mean, feeling younger? Heck yeah, I'll take it! But this collagen peptides supp doesn't stop there…it keep going. It helps us look younger too!
Isn't it nice when your skin, hair and nails get to look like what they did in COLLEGE? (!!) Yes, flippin' college! Let me say that again: my skin, hair and nails look like what they did in collage thanks to this incredible supplement. YES. So much YES!
A fountain of youth – that is what we become with this magic powder. Thank you, oh beautiful collagen peptides, THANK YOU! I love you now and always and forever.
Now you know why I love collagen peptides and why I sneaked it in this gorgeous applesauce recipe. Isn't it gorgeous? So vibrant, and smooth, and altogether lovely?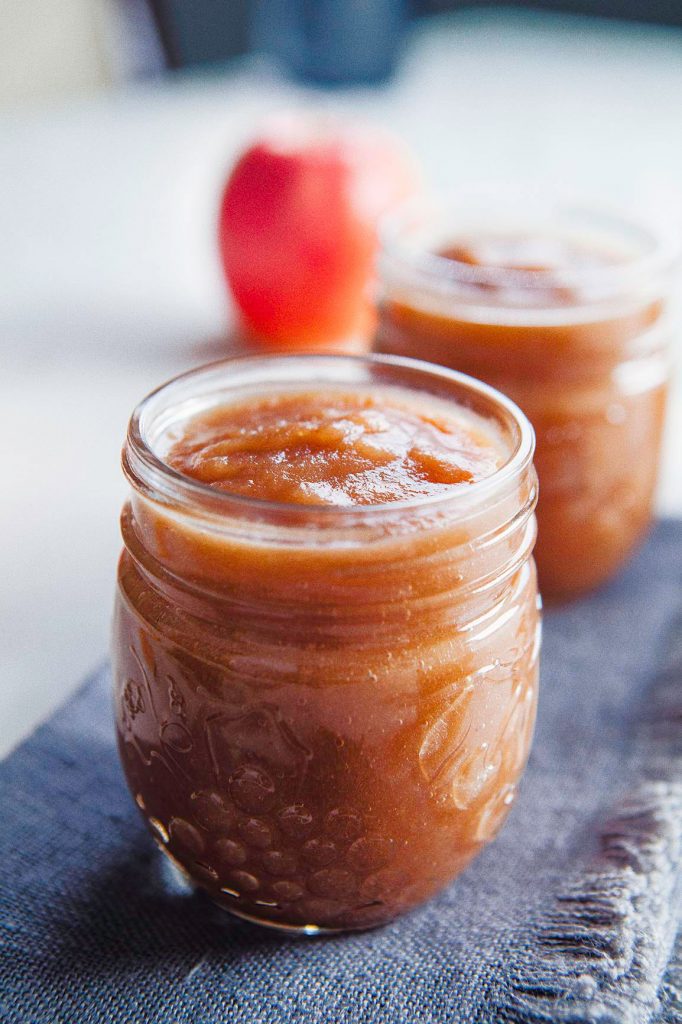 You can take this applesauce recipe to your mother-in-law's, gift it to your neighbors, share it with your friends, add it to your recipes (planning on baking bread soon? Well, there you go, add it instead of oil for added moisture!), give it to your kids as a snack, eat it yourself as a snack…oh man, the possibilities!
Highly recommend you try it. Also, only takes 5 minutes to make in the Instant Pot. Another gift of the world to us. Collagen peptides and Instant Pot. Thank goodness we were born in this century!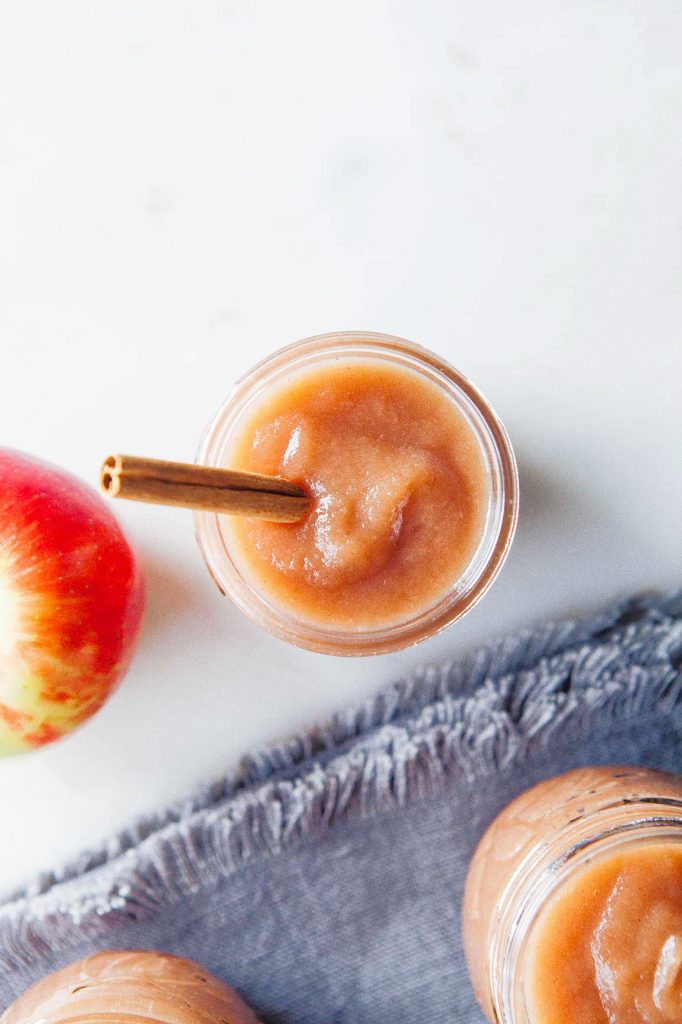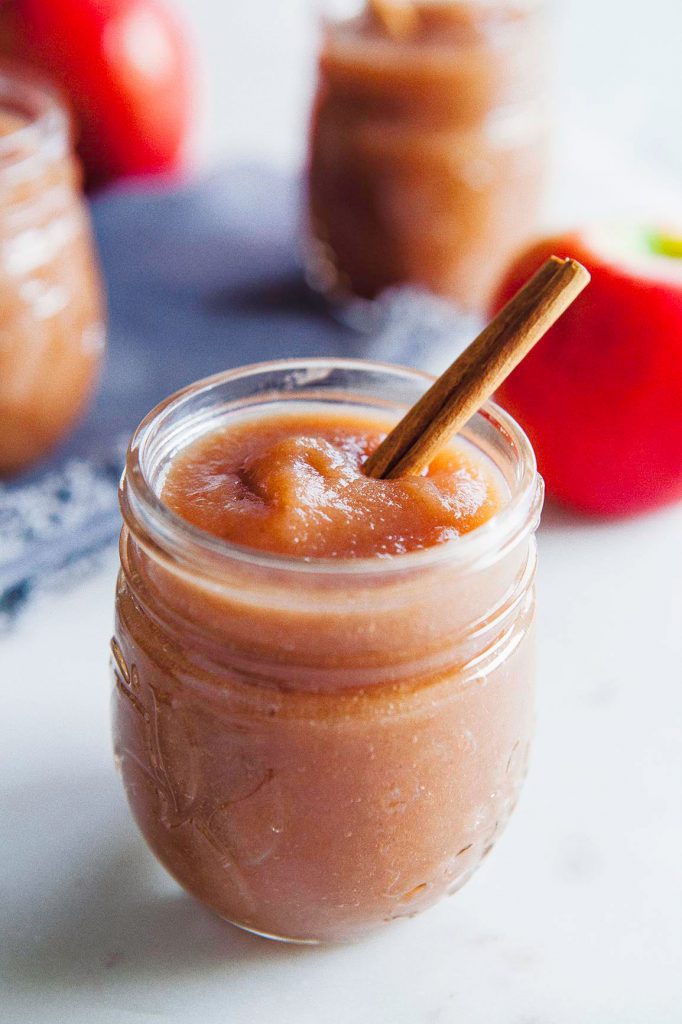 WATCH Instant Pot Applesauce recipe video:
Instant Pot Applesauce
This easy to make Instant Pot Applesauce is all Paleo, gluten free, dairy free and sugar free. Made in less than 10 minutes with a wonderful secret ingredient!
Ingredients
6 apples (I used two different varieties), peeled, cored and sliced
½ cup 100% apple juice
½ tsp ground cinnamon
2 scoops mixed berry collagen peptides
Instructions
Place apples, apple juice and cinnamon in Instant Pot. Secure the lid and press: manual and high pressure for 5 minutes.
Once done, release the steam and remove the lid. Use an immersion blender to puree into sauce.
Add in mixed berry collagen and stir well to combine (you can even keep blending with the immersion blender too). Store in jars or enjoy right away!
Notes
Tools You'll Need:
- Instant Pot
- Spatula
- Measuring cups
- Cutting board
- Knife
PIN ME!