Blender Cashew Coffee: coffee made in a blender, with WHOLE RAW CASHEWS (yep, that's right!) espresso, sea salt and honey.
Woah, things just got good, people.
One of the sweetest pleasures in life is a smooth, creamy and hot cup of coffee first thing in the morning. A close second is a smooth, creamy and hot cup of coffee mid afternoon (when that energy slump hits). Either way, a smooth, creamy and hot cup of coffee is involved…because coffee is KING. Amiright?
There's something real special about coffee. All over the world people drink this beverage, in many different ways, at different times of the day, in all sorts of temperatures and mixtures. It's a drink that has been around since it was discovered in the 9th century, and it hasn't really changed much ever since.
I can only speak for Ecuador and the Unites States, since those are the two countries in which I have lived longer than 12 years, but I can honestly say that coffee is a huge part of the culture.
In Ecuador, people drink coffee in the morning with breakfast and in the afternoon as a digestif. It's not a nighttime drink as a lot of people say they can't sleep if they drink it past 4pm.
In the United States, people drink coffee any time of day. Period.  Most Americans drink their coffee with breakfast (or sometimes instead of breakfast) and they tend to have a second or third cup of coffee at work. It's a comfort and energy thing adults do in this side of the world. There is not necessarily one common coffee usage, as you even see coffee/espresso in dessert recipes and as a meat rub ingredient.
Conclusion: people LOVE their coffee. Everywhere.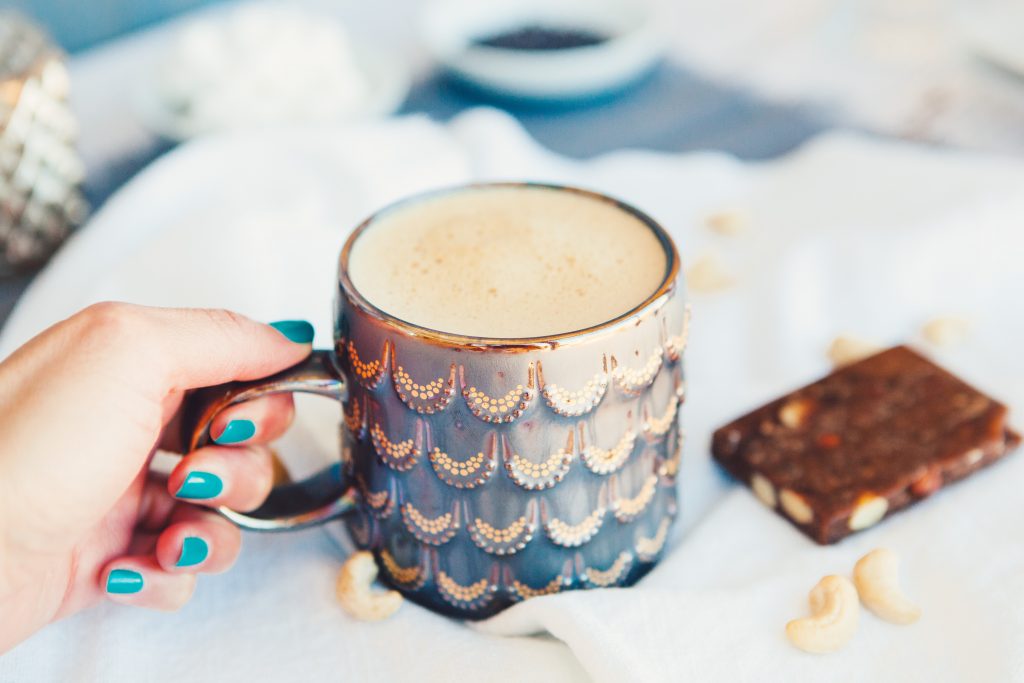 I usually have one cup a day, but no more than that. Coffee can make me anxious and jittery if I have to much of it, and I find that one cup a day works great for me.
I'll either take my coffee way dark with a small spoonful of full-fat coconut milk, or take it in the form of a latte when I feel like something a bit fancier.
This week I tried something new. A recipe I saw on another food blog, pinchofyum.com, and I though was very intriguing.
The recipe had you add raw cashews to a blender, along with a few other ingredients, to make coffee. Sounded sort of weird, so I decided to test it out to see if it actually worked.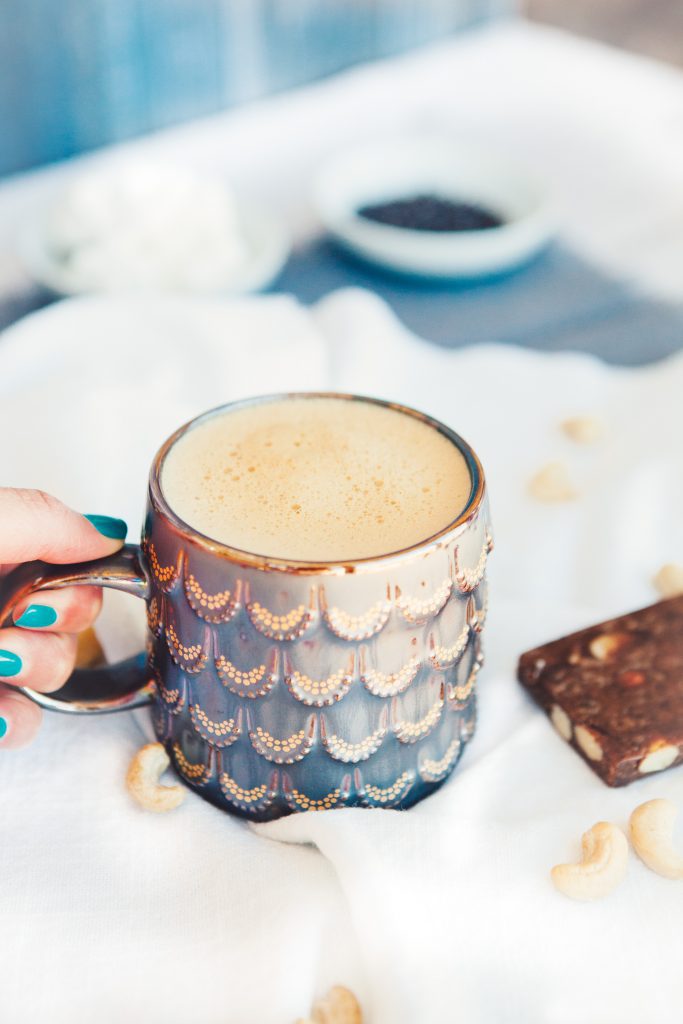 And yes, yes it did. The blended latte was crazy good. Deliciously smooth and creamy and simple.
I have a recipe here, slightly modified from Pinch of Yum's, that I think you'll find wonderful. And super easy.
Four ingredients and a blender. Doesn't get much simpler than that. Enjoy!

Blender Cashew Latte
This Blender Cashew Latte is creamy and smooth, feels like a hug on a cup. Double or triple the recipe to share with loved ones.
Ingredients
1½ cups strong coffee
¼ cup raw cashews
1-2 tbsp honey
Pinch pink himalayan salt
Instructions
Place all ingredients in a high speed blender, and blend on high until smooth, about 1 minute. Start on a low and work your way up to high speed, ending with 15 seconds on very high speed for max smoothness and creaminess.
Pour into favorite cup and enjoy right away.
PIN ME!