Disclaimer: this soup does call for rice, and rice is not Paleo. However, the soup is 100% gluten-free and dairy-free!
Let's talk Instant Pot soup. Because what's better than a super easy to make, fresh, healthy and delightful bowl of soup? Nothing. N.O.T.H.I.N.G.
Give me a hot bowl of soup on a winter night, and I'm set. Don't even care it's cold, dark and gloomy outside. Not even one bit. I call that the "magic of the soup".
Take tonight. It's a winter night, it's definitely cold outside, and I am eating a bowl of this delicious Creamy Mushroom Instant Pot Soup. And yes, I am totally experiencing the magic of the soup. All I care about right now is how GOOD this soup is. Winter? What? Ahhhhh, my soup though! (enter heart eye emoji here)
Every spoonful is a treat to my tastebuds and I am devouring the bowl rather quickly. Ahem: my SECOND bowl. But who's counting?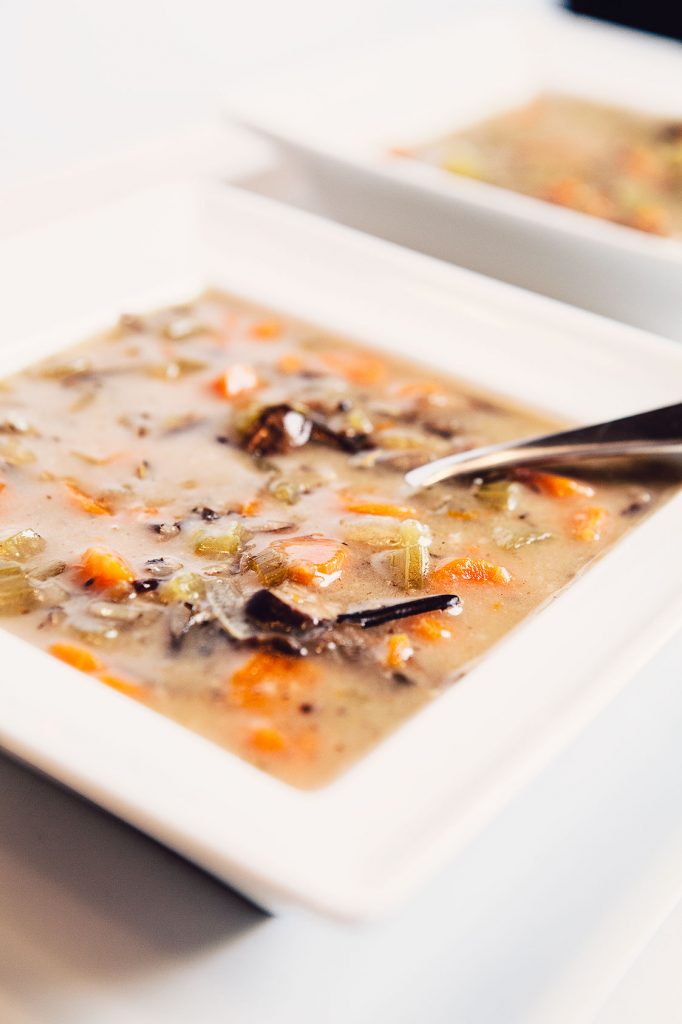 How about I describe this bowl to you right now, because it really is all I can think about and so might as well get into it with you!
Okay, this Creamy Mushroom Bowl Instant Pot soup is:
Extremely well balanced (like, as if some chef who is not me made it and won an award)
So healthy. My body keeps going back for more because it's doing it good, and it keeps craving it. Even though I am somewhat full, lol.
Sort of chewy because of the mushrooms and the wild rice in it. HEAVEN, I tell ya.
Light yet filling at the same time. Its ingredients are all vegetarian and gluten-free, which makes it a lighter soup, but the combination of vegetables with the thick broth make it feel hearty.
Earthy tasting because of the mushrooms, but so delightful and creamy and fresh. Ohmygosh, comfort in a bowl.
Best enjoyed with a side of Paleo toast or gluten-free toast. Soup is always made better by a slice of bread…but we all knew this already! (wink wink)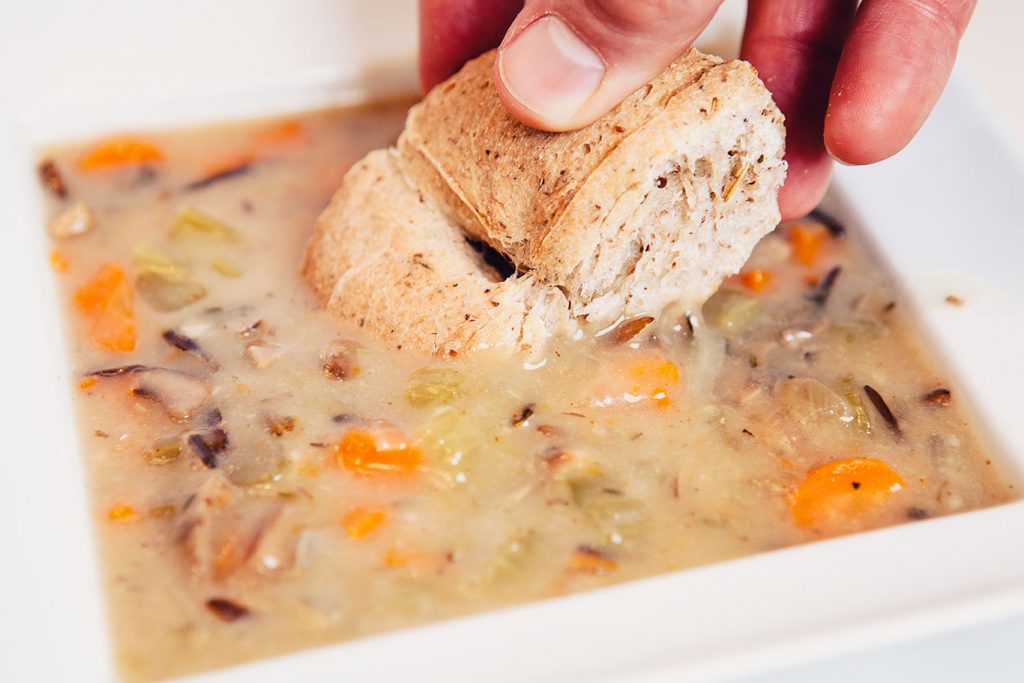 This recipe makes more than enough for about five people, so if you are a family of five, you'll be well fed. On the other hand, if you are a family of two (like me), you'll have leftovers for days.
But bless those leftovers. They make winter life so much better. Got errands to run, work till late and have appointments galore? No problem! Soup is waiting for you at home, ready to be heated and eaten. Leftover soup magic! See? What did I tell you about the magic?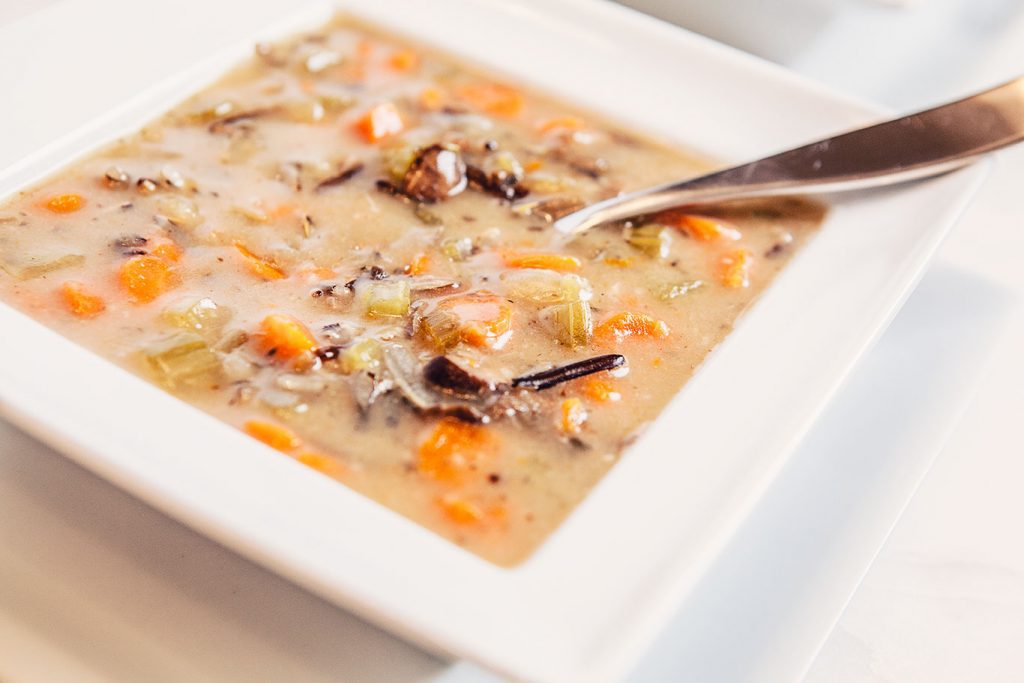 I don't know about you, but I like my soup really hot. And almost overflowing (I like a lot of it). What can I say? I grew up on the Andes and we ate soup everyday. Perfect meal to really warm you up and feed you right. My teenage days come back to me whenever I eat soup; I go back to the times when we were served HOT, boiling soup and lots of it.
If this sounds like something you'd dig, maybe you're meant to be Andean too! Well, why not? Do it like us. We always welcome new members to the hot soup eating club. Best club there is. Get a group of people together around the table, serve each person a generous bowl of hot soup, place warm sliced bread at the center of the table, and you'll get a truly priceless moment. Try it; lots of great conversation and bonding. *Ah. Magic.*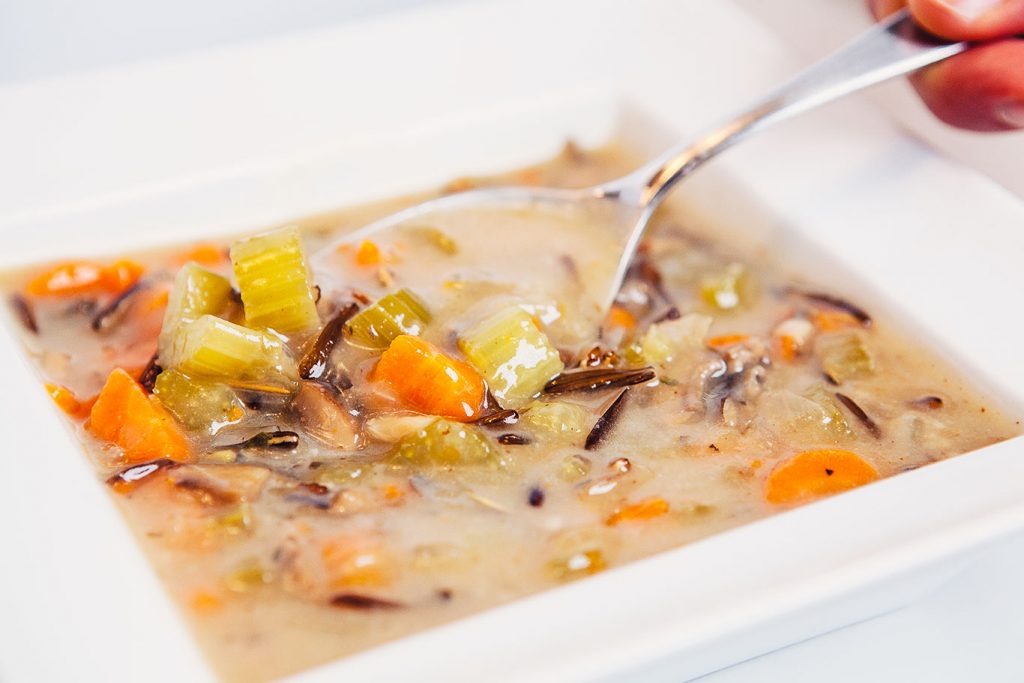 The photo below shows the kind of rice this recipe calls for. It requires a full cup of wild rice. Not wild rice mix. Actual wild rice. If you use a wild rice mix that has a bit of wild rice in it, the recipe won't turn out. Trust me. You'll find that the other types of rice will sort of fall apart, and that the nice chewiness won't be there at all (which is my favorite part of this soup). So be sure to get actual wild rice, mkay?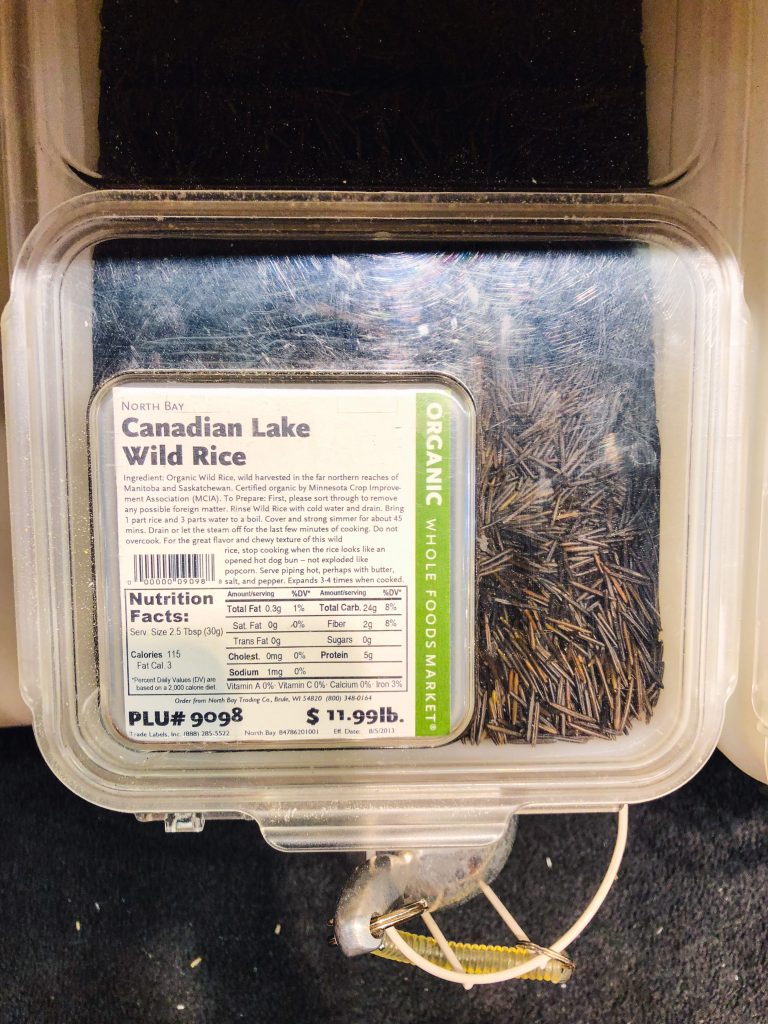 I get my wild rice from Whole Foods Market, and they only have it on their bulk section (as pictured below). And bulk section wild rice works better anyway, because you can get only what you need and avoid waste…AND the bulk section is usually more affordable than the pre-packaged branded option. So, win-win!
This recipe also calls for ghee, gluten free all-purpose flour, Herbes de Provence and carton unsweetened coconut milk. You can go ahead and order them online for convenience sake, or you can go to your nearest healthy grocery store, such as a Whole Foods Market, and find them all there. The rest of the ingredients are pretty straightforward and you can find them anywhere: vegetable broth (I like the reduced sodium kind), mushrooms, carrots, onion, garlic, dried thyme and salt.
Heck, you may have these all readily available. If you do, GET ON IT. You do not want to miss out on the soup making game!
Oh, and of course you'll need an Instant Pot. Best Amazon purchase I made in 2017. If you don't own one, I highly recommend you consider it. It makes your meal making simple, easy and quick. Plus, it truly makes one mean creamy mushroom soup!

Creamy Mushroom Instant Pot Soup
This easy-to-make Creamy Mushroom Instant Pot Soup is made in 45 minutes and is done all in one pot. It's creamy, savory, nutritious & extremely delicious!
Serves:
6 servings (1-1/2 cups per serving)
Instructions
Place carrots, celery, onion, garlic, wild rice, mushrooms, vegetable broth, salt and herbes de provence seasoning in your Instant Pot; cook for 45 minutes in the manual setting. Once done, release steam using the valve on top.
When the soup is done, melt ghee in a saucepan. Add in gluten-free flour to the saucepan and whisk; let the mixture cook for two minutes and then add in the coconut milk. Whisk sauce until it's smooth and thick.
Add sauce to your instant pot and mix well with the soup. Serve right away!
Notes
Tools You'll Need:
-
Instant Pot
- Cutting board
- Sharp knife
- Measuring cups
- Measuring spoons
- Spatula
---
PIN ME!