I have a thing for healthy treats. They are so much better than any other type of treat because they make you feel GOOD about having them! This Cacao Nice Cream is exactly that. A delicious treat, that is healthy and makes you feel really, really good.
What I love about it the most is that I can pretty much make it on demand at any given point in time, especially on those times where I really want need a treat and want it fast. It takes me less than 5 minutes to prepare and calls for only 3 ingredients. These ingredients I have in my home at all times, ready to go, which is why this treat comes together so quickly.
It is the perfect post-dinner treat, trust me. I am obsessed with it, and I am pretty sure I got my husband hooked now too.
So what are these three ingredients? 
Have you ever seen a list so clean? Dang!
Frozen bananas are always something I stock pile on my freezer, because I buy bananas non-stop and we cannot always eat them before they go brown. So, when my bananas get a little spotty, I just peel them, slice them in chunks, put them in a Ziploc bag and freeze them. They keep for a while and are amazing for smoothies and nice cream bowls.
Raw cacao powder and collagen peptides are both a pantry staple that I always keep on hand for healthy treat-making and smoothies. I set up a monthly subscription delivery with Vital Proteins, so I never run out of their incredible collagen peptides powder. And then, cacao powder is something I order on demand through Amazon prime, so that I get it in 2 days or less when we start to run out. Online ordering is magic.
And if you're one to make healthy treats on the regular, I bet you have these ingredients at home as well! And girl, if you do, you know what to do!
So why are these ingredients so healthy?
The bananas are packed with potassium, which can protect against osteoporosis and lower blood pressure, and they have a healthy dose of magnesium, which plays an important part of bone formation. They also have a good amount of fiber that helps with digestion, and Vitamin B6 that help with mood and sharper minds!
RAW cacao powder is a miracle ingredient; it is a superfood that has 40 times the anti-oxidants of blueberries! Anti-oxidants help combat against free-radicals, which cause cell and tissue damage and can lead to diseases such as cancer. It is also the highest plant-based source of iron and magnesium, which are good for our blood and brain health.
Collagen peptides contain specific essential amino acids that are needed by our bodies to produce new collagen. Collagen makes up 90% of our organic bone mass, so by encouraging the production of collagen with a supplement, we are helping increase our bone density and allow for a healthier bone metabolism. Other health benefits include: healthy digestion, balanced diet, healthy hair and stronger nails, youthful appearance, and bone and joint strength.
Note: This nice cream turns out really yummy without the collagen peptides too, so if you don't have this ingredient on hand, just use bananas and cacao powder. The collagen peptides, however, gives the treat added health benefits and protein, which is why I like to add it; it also makes it a bit fluffier, sort of like a soft serve (vs a denser ice cream).
Incredible, right? You can get all that from a TREAT! It is mind blowing to know that we can benefit so much from something we highly enjoy.
I love having this treat by itself, but my husband likes to top it with a bunch of fun toppings. Some of his favorite toppings include sprinkles, my Cacao Buckwheat Granola and chocolate chips. He is cute like that, a total kid at heart.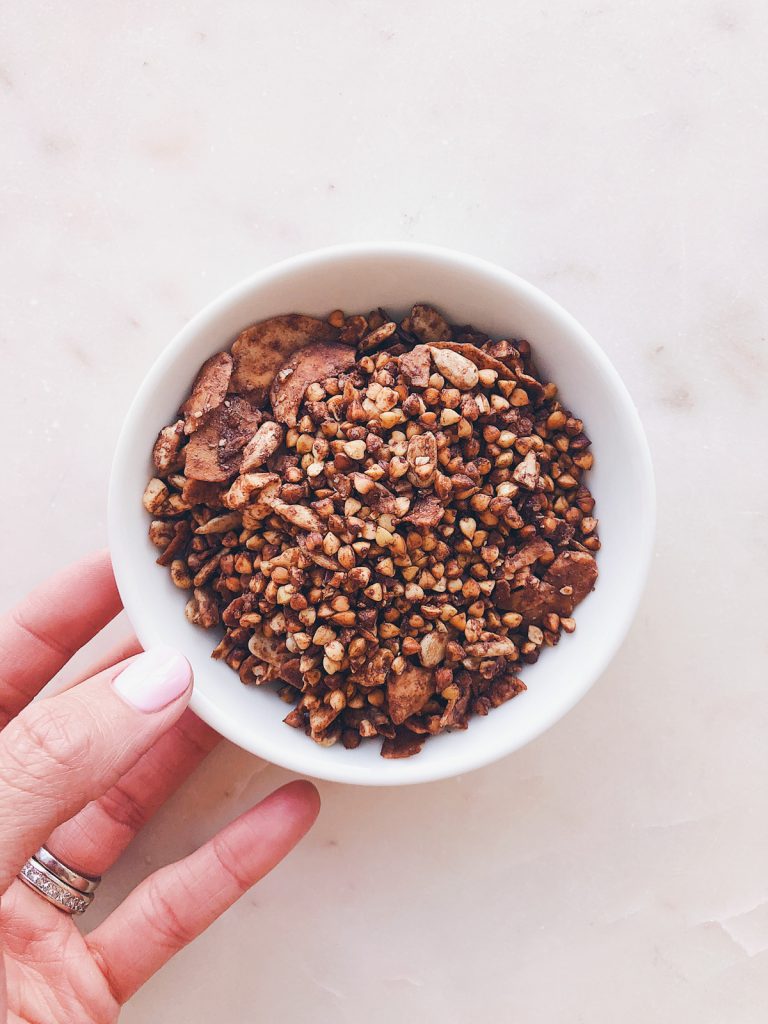 Hope you get to try this Cacao Nice Cream recipe! And if you do, be sure to take a photo and tag me on Instagram or Facebook. I'd love to see your own nice cream creations!

Cacao Nice Cream
This Cacao Nice Cream recipe is made with only 3 ingredients and in less than 5 minutes. The perfect Paleo treat for any time of day, especially during hot spring and summer days!
Instructions
Place bananas in a food processor and process until smooth.
Add in powder and process until incorporated. Serve right away.
Notes
Tools You'll Need:
- Food processor
- Spatula
- Measuring spoons
PIN ME!
SaveSave
SaveSave
SaveSave
SaveSave
SaveSave
SaveSave
SaveSave
SaveSave
SaveSave
SaveSave
SaveSave
SaveSave