I made this Curry Zucchini Hummus last night for my husband and I, and holy guacamole, it had us dipping, and dipping, and dipping some more.
This hummus is not only an alternative to the garbanzo-based hummus every grocery store has (as it doesn't use garbanzo beans as its base), but it's also a fabulous way to consume vitamin-packed vegetables. You'll learn why in a bit.
Regular hummus, the store-bought garbanzo-bean-hummus, is tasty and a total party staple, I get it. Especially in the summer time, when pool parties and BBQs are happening and we want finger food to keep us satisfied and fueled. BUT, garbanzo bean hummus can bloat many of us and cause some serious gas. And when that happens, we quickly realize that no food is worth those that discomfort, no matter how tasty it is. So, what to do? Well, we find substitutes for these things to enjoy them without the pain.
Making our own food is truly empowering, because it allows us not to rely on grocery store inventory. 💁🏻‍♀️ If they don't have a veggie-based hummus and only carry garbanzo-based hummus…pshh, no big deal. We have a kitchen and we got talent, we can make it happen!
What a beautiful thing. Homemade food is legit.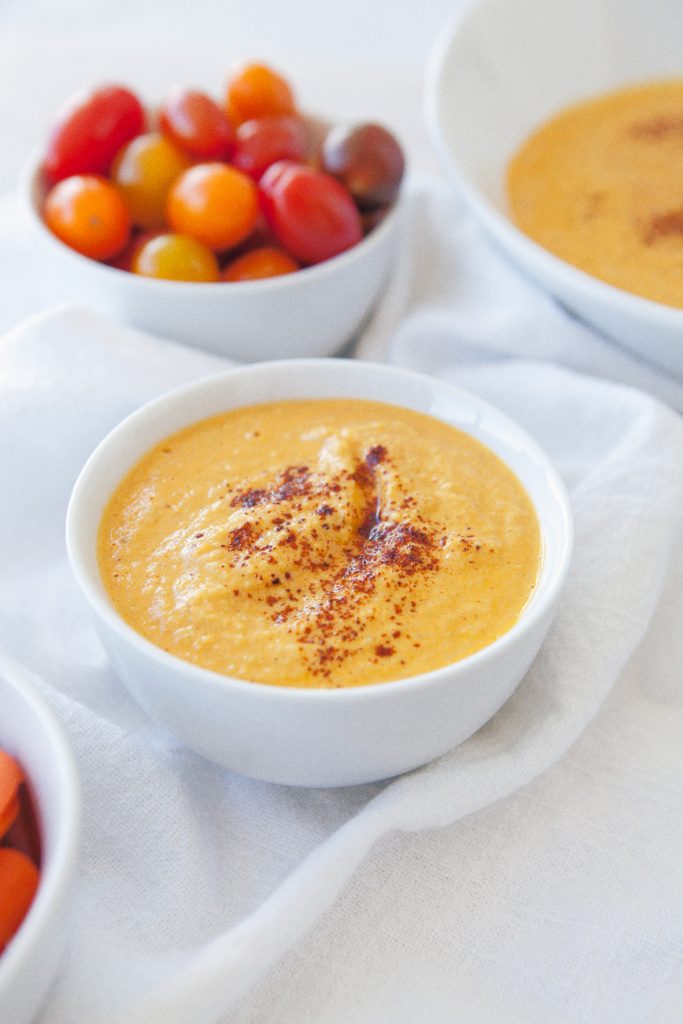 The thing I love the most about this Curry Zucchini Hummus recipe is that it takes hardly any time to prepare. Literally ten minutes is at most all the time you need to bust it out. So basically, even if time is of the essence and you're busy and running behind, making this is totally doable. I'd even go ahead and say, that it's pain free.
Just watch my video tutorial below and you'll see what I mean!
So what do I eat Curry Zucchini Hummus with?
Well, my video shows me dipping baby carrots and tomatoes, but you can get creative and pick your favorite dipper. Say, think like:
Other veggies: celery, cucumber slices, broccoli, cauliflower…
Crunchy chips: plantain chips, veggie chips, tortilla chips (Siete Tortilla Chips are a wonderful tortilla chip option if you don't do corn)
In meals: wraps and sammies (using Siete Wraps or Paleo bread if avoiding all grains)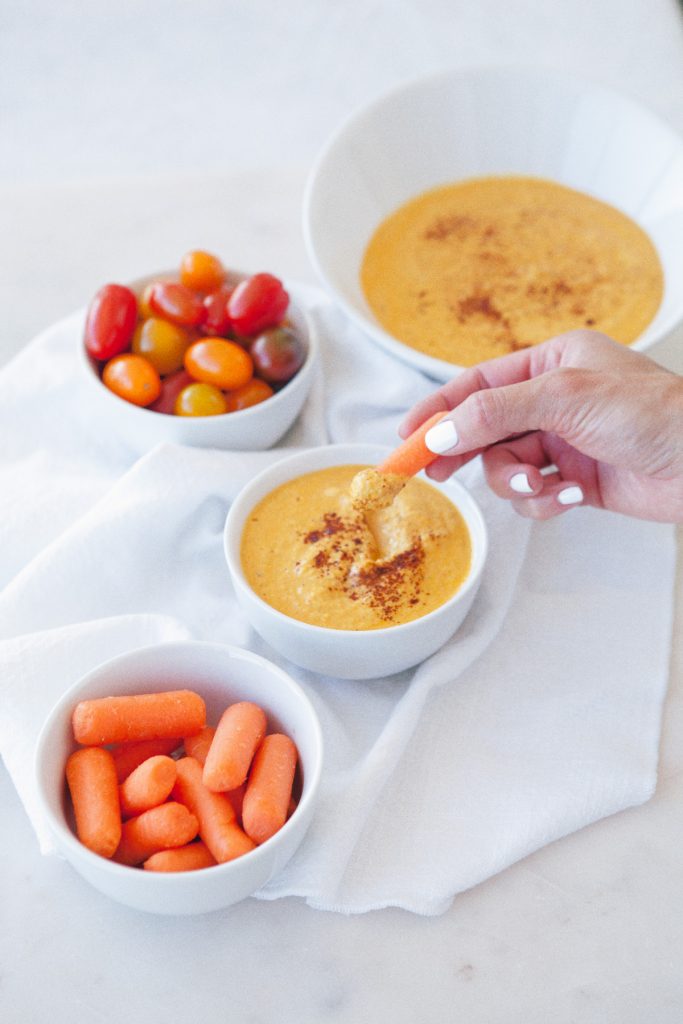 So what ingredients do I need to make Curry Zucchini Hummus?
This is where it gets fun. I bet most of the ingredients I'm about to list are already in your pantry or refrigerator, but there are a few that you can always order online or get at your nearest grocery store. To make this recipe you'll need:
Zucchinis
Garlic
Lemons
Olive Oil
Tahini
Red Curry Paste
Curry Powder
Salt
Paprika or Cayenne Pepper (optional, to top it off with and add a pinch of heat!) 
See? Very likely you have these. Except for maybe the red curry paste, but that stuff is easy to find in most American grocery stores. Just go to the Asian section and it'll be there.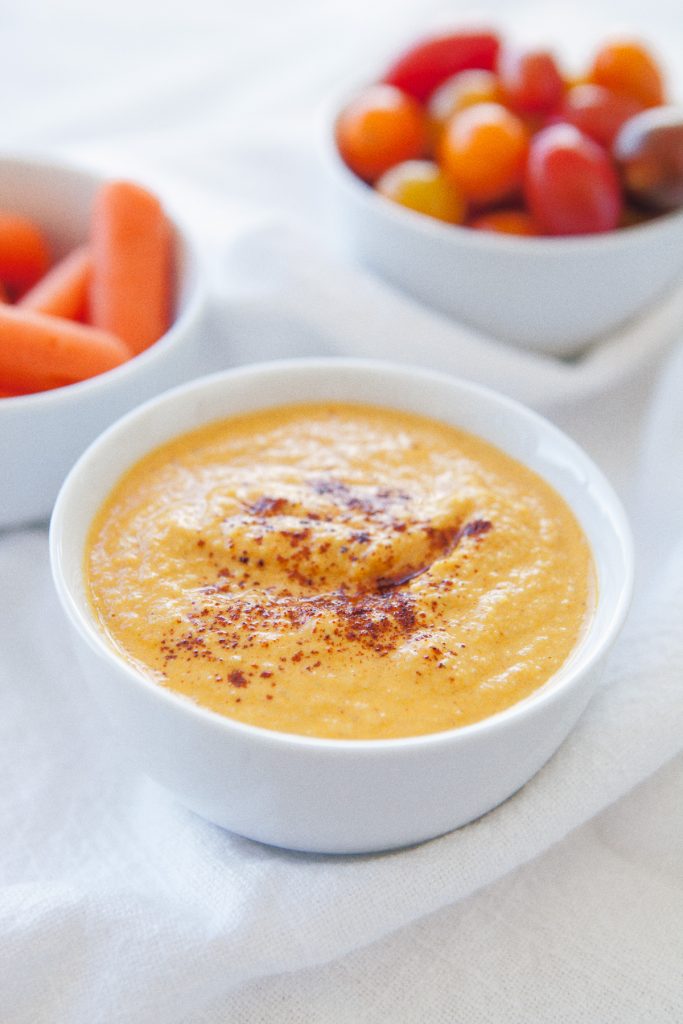 How long does the Curry Zucchini Hummus last?
If you don't devour it all in one sitting, your hummus should last fresh for about 3-4 days. And, as you now know, there is no shortage of ways to enjoy it!
Can I make the Curry Zucchini Hummus without the Curry Paste?
Yes! You can customize your hummus however you'd like!
If you want to avoid the curry altogether, you can, subbing it with say: cumin, or any other fun spices you love.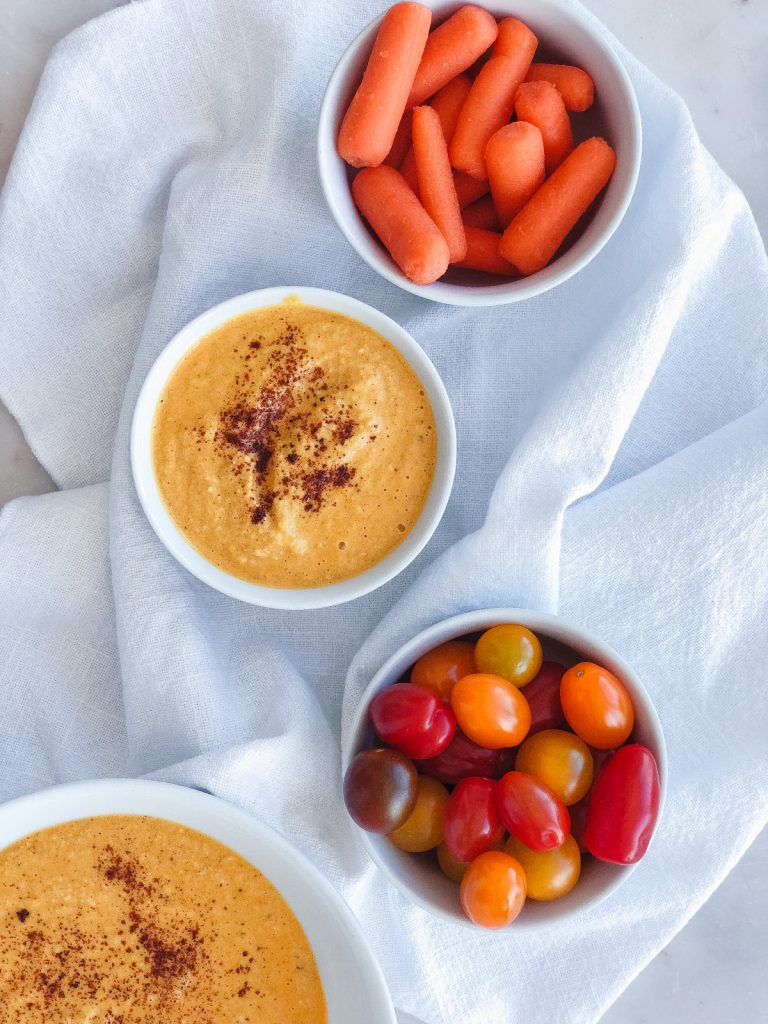 Hope you love this Curry Zucchini Hummus as much as we did, guys!
And if you decide to make it, be sure to snap a quick photo and tag me on Instagram or Facebook. I'd absolutely adore to see your own Paleo hummus creations!

Curry Zucchini Hummus
This Curry Zucchini Hummus recipe takes less than 10 minutes to prepare. It is plant-based and uses zucchinis instead of chickpeas, making it 100% Paleo!
Ingredients
3 large zucchinis, peeled and chopped
4 garlic cloves, peeled
¾ cup tahini
¼ cup extra virgin olive oil
3 lemons, juice of
1 ½ tbsp. red curry paste
1 tbsp. curry powder
2 tsp. sea salt
¼ tsp. paprika
Instructions
Add all ingredients in (except paprika) to food processor and process until smooth.
Pour mixture into a bowl; garnish with paprika and a dribble of olive oil.
Enjoy right away with fresh veggies and Paleo approved chips, use in a recipe, or store in refrigerator in a tight lid container for up to 1 week.
Notes
Tools You'll Need:
- Food processor
- Spatula
- Measuring cups
- Measuring spoons
- Citrus juicer
- Cutting board
- Sharp knife
PIN ME!

SaveSave
SaveSave
SaveSave
SaveSave
SaveSave
SaveSave
SaveSave